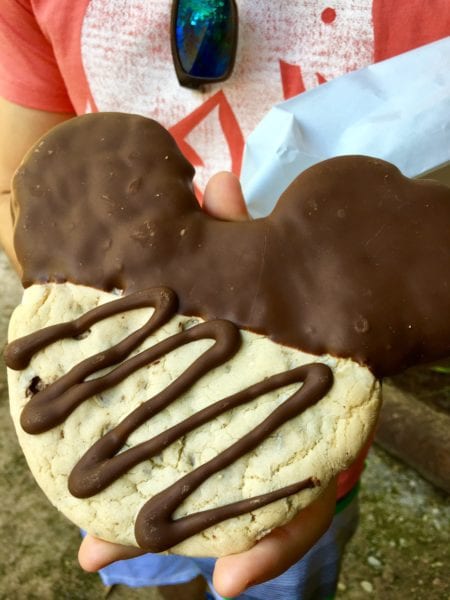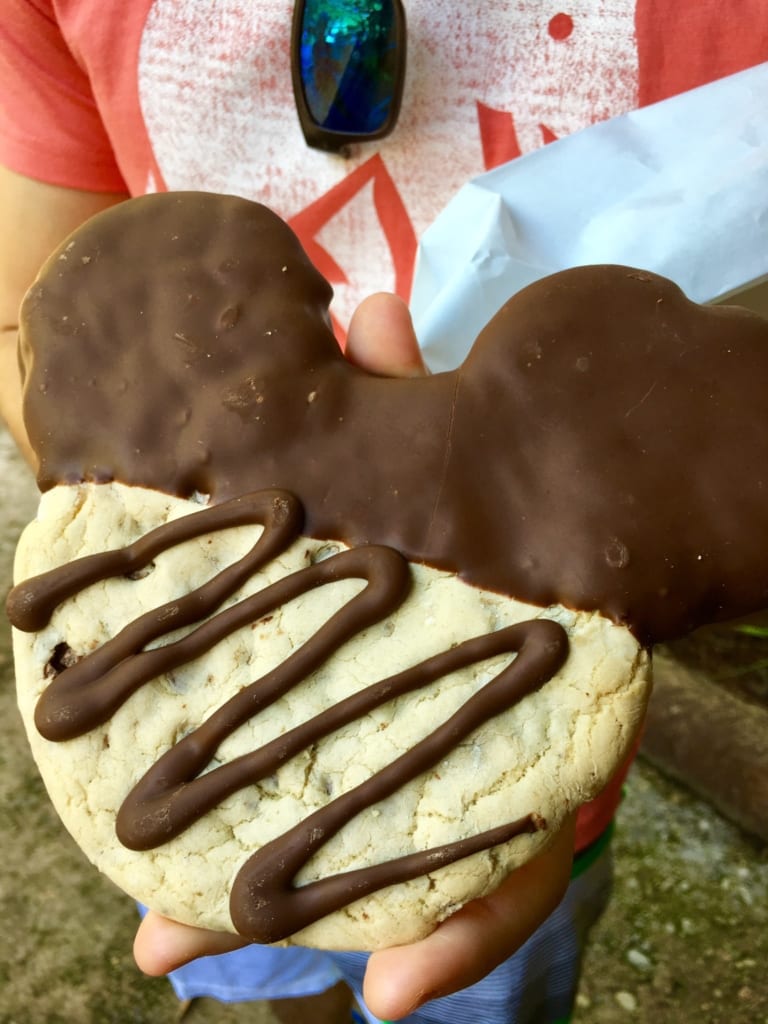 If you have a sweet tooth and are wandering around Disney's Animal Kingdom, then wander no more, I have just the spot for you: Zuri's Sweets Shop. Zuri's hasn't been around all that long (since 2015), but it's made quite a name for itself in the sweets department! The shop has a wide variety of freshly prepared snacks and treats for you of the confectionery variety like Caramel Apples, Cookies, Cupcakes and Fudge. It also has Disney prepackaged snacks and candy as well as some healthy options too. So for that reason I made the trek over to the Harambe Market in Disney's Animal Kingdom to get a Zuri's Sweets Shop Review for you. I know, I'm such a good friend!
Zuri's Sweet Shop is located in the Harambe Market in the Africa section of the Animal Kingdom. It's great because it has a great atmosphere all around and many times you can even see the street performers dancing up a storm as you walk by:
It's a super fun atmosphere and you can't help to get into it and dance!
As you walk past Zuri's Sweets Shop is right behind the Mombassa Marketplace:
Food:
Zuri's Sweets Shop is a "confectionery" so you can expect quite a lot of things that would have your dentist screaming at you, like Candy, Cookies, Fudge, Caramel Apples and Marshmallows are attached to practically everything. However it also offers a wide variety of other things, even stuff a bit healthier like Nuts, Granola and Pretzels. There are even bins where you can make and bag your own Trail Mix if you want which gives you a nice alternative to traditional sweet options. They sell a decent variety of African Wines too which you don't see in your everyday Confectionery Shop.
Zuri's is also well-known for their "poop" candies, which have long disappeared from the shelves after Disney pulled them. Of course they weren't really poop but made from chocolate, peanut butter and the like. It seemed to be a big hit and really got people coming into the shop. I don't know exactly why but probably thought they were inappropriate or something (c'mon Disney, really???) Either way I never got to try them unfortunately and probably never will.
Let's go in a check out the goods:
Right away I see like 10 things that jump out to me and my blood-sugar level instantly rises. The display case is quite large and there's a big variety of stuff. The whole top row is filled with a mix of Disney's famous Caramel Apples. There are a bunch of Cupcakes, Cookies and Marshmallow Sticks too!
The Caramel Peanut and the Mickey Sahara Desert Caramel Apples look particularly yummy!
If you're more of a cookie lover they've got you covered with all sorts of Animal Sugar Cookies which are covered in icing, everything from Elephants, Tigers, Lions and Zebras. There are even some Mickey-shaped ones there too. Then farther below there are your more Traditional Cookies like Chocolate Chip, White Chocolate Chip, Peanut Butter Chocolate Chip, White Macadamia Nut:
Of course if you're on a diet and trying to justify your presence in Zuri's, there are some Pinapple Skewers….covered in Chocolate of course! 😉 And don't miss the great looking Fudge down below…White Chocolate, Chocolate, Peanut Butter Chocolate, Seasonal and Chocolate Walnut!
Here we have more apples and on the middle shelf Cakepops, which are one of the more interesting choices, cake on a stick covered in chocolate!
As far as cute goes, these Monkey Caramel Apples are the clear winner! It's going to be hard to say no to them!
Lets see what we got…
I have a hard time saying no to anything "Mickey-shaped," it just seems wrong, so we got the Large Mickey Chocolate Chip Cookie:
It was delicious! First of all it was HUGE, which is great for sharing (if you do that sort of thing). Second it was really chewy and not too dry which is a must for me and cookies. The best part about it though was that the ears were covered in chocolate….so good! Once Dan got his hands on it it was hard to get a piece:
Next up was the Peanut Butter Chocolate Chip Cookie:
This one was good, it had a good flavor, I just wished there was more of it as it was one the smaller side. Still it was packed with flavor with chunks of peanut butter and chocolate chips were everywhere:
Lastly of course since I'm watching my figure I got some fruit, fruit covered in chocolate of course! The Pineapple Skewer:
This was really good and a quite refreshing option away from your traditional sweets. The pineapple tasted fresh and was full of juice, enough so that when I bit it, some of it came out which I wasn't expecting, so be careful! 😉 The chocolate blended really nice with the Pineapple and made for a great snack. Would get again for sure!
Overall Zuri's is a Winner! It has everything to give you that sugar high you need so badly! Both cookies were really good, with the Mickey-shaped one being a stand-out! Also the Pineapple Skewer is a great idea for fruit lovers. There are just so many great looking treats there and so few calories I can burn in one day! I definitely want to go back soon so I can try a few more things like the cakepops, marshmallow pops and maybe one of the caramel apples! Give it a try next time you're in the Animal Kingdom and let me know what you think!
Zuri's Sweets Shop is Open Daily from Park Opening to Park Closing.
I love to write Restaurant Reviews of Walt Disney World and I hope you found this one to be informative and helpful. If you liked this review then please visit my Disney Dining Reviews Page where I have many other Restaurant Reviews. I'm happy sharing with you what I love doing best…eating! ? I try to bring you the most thorough and unbiased reviews about the food and restaurants at Walt Disney World, so that as you are planning your vacation, you know the "can't be missed" places, and where you shouldn't waste your time. Hope you enjoyed this one and will enjoy many others in the future!!
Your Thoughts:
I want to know what you think about my Zuri's Sweets Shop Review and the delicious snacks you've tried there. What's your favorite item at Zuri's? Where's your favorite place to go in the Animal Kingdom to satisfy your sweet tooth? Let us know in the comments section below!
If you enjoyed this article, as always I appreciate it if you'd share it with others via social media. I work hard at making this website into a useful resource for you and your family to plan your visit to Walt Disney World, and I hope it can help you! Thanks 🙂