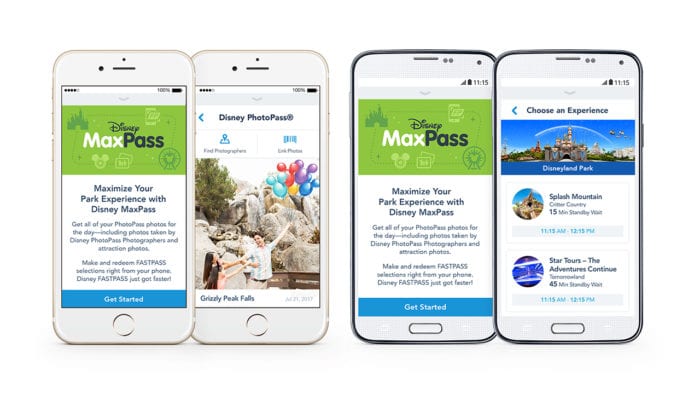 Having been to Disneyland many times, one of the only complaints I've always had was not having the ability to use a digital FastPass system. I mean gathering everyone's tickets in hand while you run to the other side of the park, then everyone digging through their pockets hours later looking for their tickets again was fun and all, but now all that is over. Yesterday was the first day of the Disney MaxPass service, which allows guests to combine a digital FastPass service and Disney PhotoPass in one place. I want to show you how to use Disney MaxPass service so you'll be well prepared when you arrive at Disneyland.
The Disney MaxPass service is available in both Disneyland Park and Disney California Adventure. The price of Disney MaxPass is $10 per day or if you are a Disneyland Annual Pass holder you can purchase a yearly MaxPass for $75. This service expires with your annual pass, so if you only have 3 months left till your annual pass expires, the MaxPass will expire with it.
Not everyone is forced to use the MaxPass system, if you still want to take advantage of the current free FastPass system you are more than able to. However you must be inside the park when using MaxPass, it isn't like Walt Disney World when you book your FastPass+ 60 days ahead of time.
How to Use Disney MaxPass Service:
Download the latest version of the Disneyland App
Purchase the MaxPass service for each member of your group
Sync your park tickets with the app
Click: Go to "My Plans" and click: "Get FastPass"
Scan the park tickets of everyone included in your MaxPass group
Select either Disneyland Park or California Adventure
Select your attraction
Go to the attraction at the time shown on your FastPass reservation
Redeem your FastPass at the entrance to the selected attraction scanning the barcode on your smartphone or each member's tickets
Guests can still only have ONE FastPass at a time.
Here's a video showing you exactly How to us the Disney Maxpass:
At $10 it's not cheap, especially if you have your family with you, but where the MaxPass earns its value is with the added benefit of being able to use PhotoPass. That allows you to take advantage of the PhotoPass photographers throughout the parks who can capture some of your family's favorite moments in the park, all included with the MaxPass. I ind value in the $10 or $75 for that reason alone.
Let's hope that the pricing stays at this level for a while, otherwise it might not be so reasonable.
Your Thoughts:
I want to know what you think about How to Use Disney MaxPass service. Have you had a chance to use Disney MaxPass yet? What have been your impressions? Let us know in the comments section below!
If you enjoyed this article, as always I appreciate it if you'd share it with others via social media. I work hard at making this website into a useful resource for you and your family to plan your visit to Walt Disney World, and I hope it can help you! Thanks 🙂