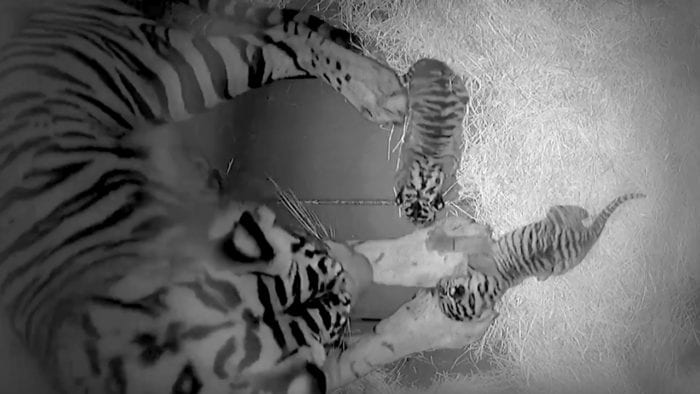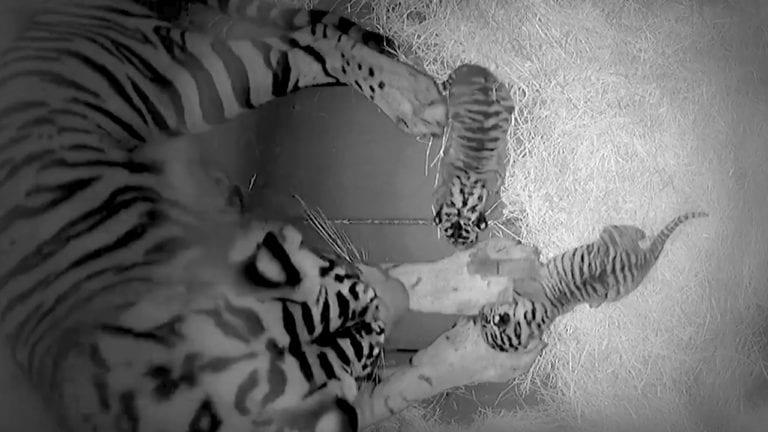 We told you last month that Sohni, a Sumatran tiger at Disney's Animal Kingdom was pregnant and ready to give birth to tiger cubs. Well this week she did just that and we're here to tell you about the first Tiger Cubs born at Disney's Animal Kingdom in the whole history of the park! These guys are sooooo cute! 🙂
We're happy to report that Sohni and her cubs are doing just fine and Disney has a dedicated team of experts and veterinarians looking after them, monitoring the cubs progress around the clock. There's no official word yet about when they will be introduced to the public in the Maharajah Jungle Trek, but you can expect them sometime in the next few months.
Disney posted a video of the cubs that you can see here:
The Sumatran Tigers are facing a significant threat as less than 500 of them exist in the wild due to the illegal wildlife trade. The Disney Conservation Fund (DCF) is working hard with groups like the Wildlife Conservation Society to develop strategies to save these amazing animals. So far the DCF has raised $4 Million to support different endangered wild cat species around the world such as tigers, lions and leopards.
In order to help wild tigers like them, visit: DisneyAnimals.com and learn more how you can support these marvelous creatures. While you're at Disney's Animal Kingdom take the time to check out "Connect to Protect," a new mobile adventure which invites guests of the park to participate in conservation missions with a digital scientist who explores Pandora and the real-life animals who are at risk on earth!
Sohni and cubs are in good hands and I can't wait to see them up close! We'll bring you any updates on them as soon as we have them!
Your Thoughts:
I want to know what you think about the Tiger Cubs born at Disney's Animal Kingdom. When are you going to get down there and see them? What do you think can be done to help protect these fantastic animals? b Let us know in the comments section below!
If you enjoyed this article, as always I appreciate it if you'd share it with others via social media. I work hard at making this website into a useful resource for you and your family to plan your visit to Walt Disney World, and I hope it can help you! Thanks 🙂