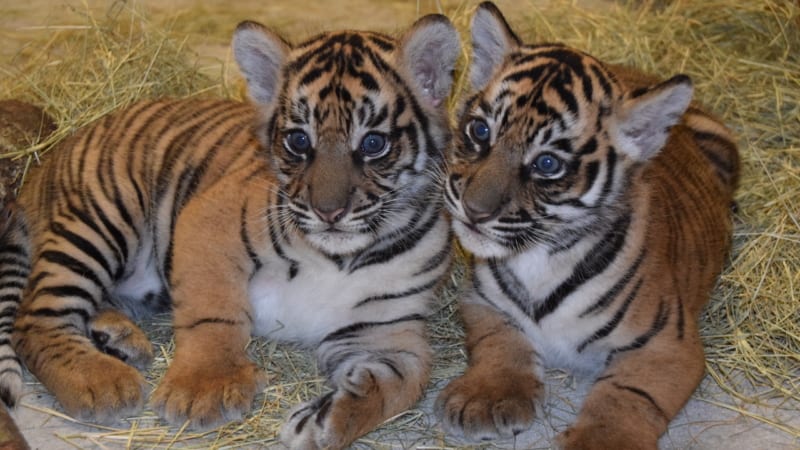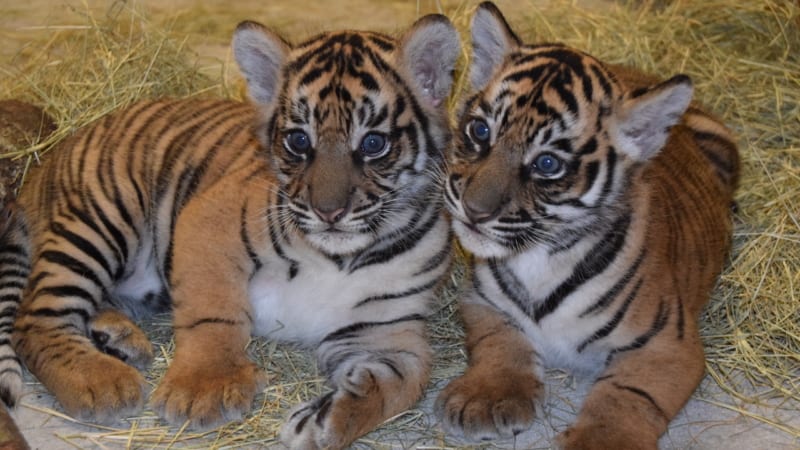 Back in August two new Sumatran tiger cubs were born in Disney's Animal Kingdom and in our last update about them, we learned they were healthy and doing well. They are currently 2 months old and we are happy to learn their names: Jeda, is the male cub, (on the left) and Anala is the female (on the right). They are almost too cute to even look at!! ?
The cubs are getting along well with their mother Sohni and their personalities are starting to come out, which is why Disney waited to give them their names. Jeda is a laid back tiger like his father Malosi, and his name means "pause" in Malay. That is also inspired by his markings which look like a pause symbol.
Anala is very independent and curious about discovering new things. Her name means "fiery or sizzling" in Hindi.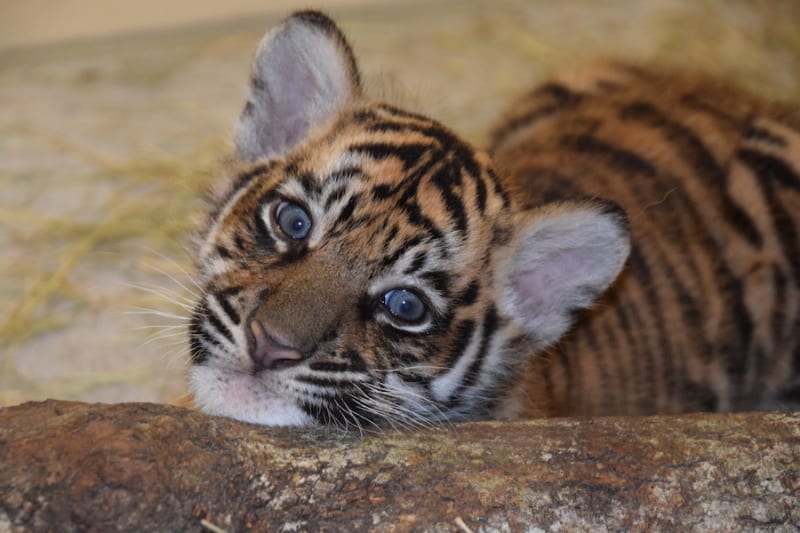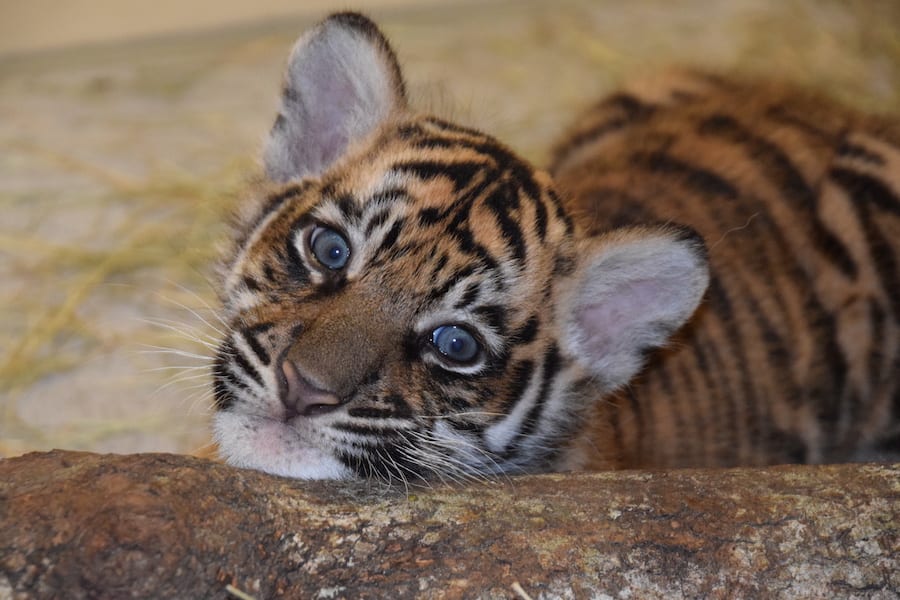 "The cubs wrestle with each other constantly and love jumping on plants and logs," said Erin Heavey, an animal care specialist who cares for the tigers. "Jeda in particular loves ripping the bark off the logs and playing with all the pieces that come off. Anala is becoming more adept at sneaking and pouncing and loves hiding behind things (even when she isn't entirely hidden) and trying to surprise attack Sohni or her brother. This is actually something she gets from Sohni, who loves to "hide and sneak" even though she isn't always very covert about it."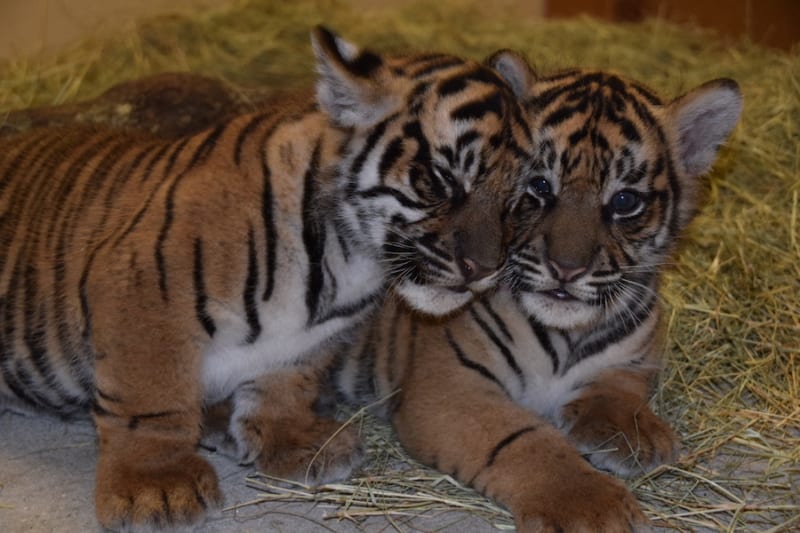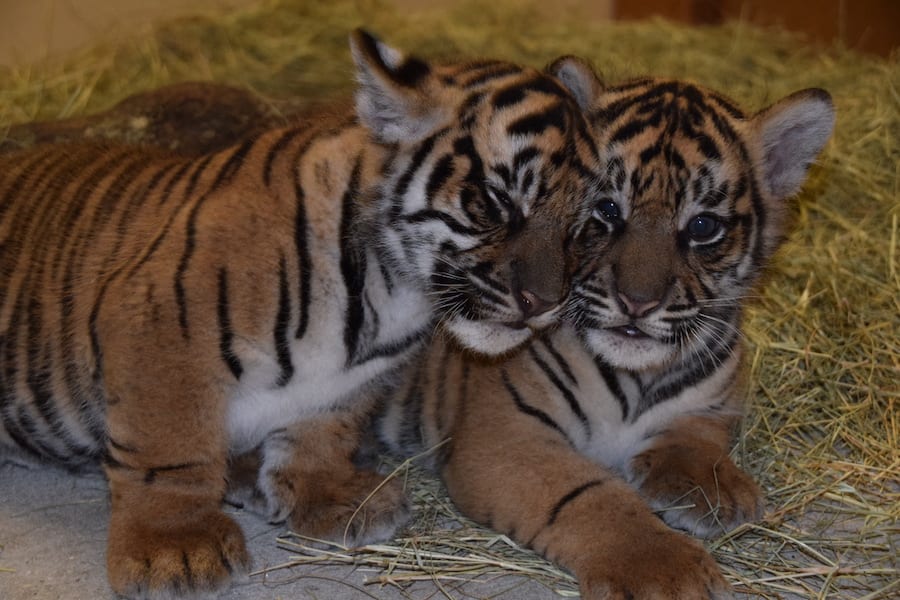 Unfortunately these beautiful Sumatran Tigers are critically endangered in the wild, with possibly only 500 left in the wild, and the Wildlife Conservation Society (WCS) is going to great lengths to try and protect these fantastic creatures. Their goal is to increase the live population of Sumatran tigers by 25% in the next 10 years. The video below features Anne Savage, PhD, who talks about the importance of this project which is aided by donations to the WCS through Connect to Protect, a digital mobile adventure at Disney's Animal Kingdom. Disney Parks, through the Disney Conservation Fund, has committed $1 million to protect and restore habitats of at-risk wildlife through the Connect to Protect program:
Still no world yet on when Jeda and Anala will be onstage in the Maharajah Jungle Trek in Disney's Animal Kingdom, we'll let you know as soon as we hear something. Guests can continue to visit their parents and learn about how they can join us in reversing the decline of these beautiful tigers in the wild at DisneyAnimals.com.
Your Thoughts:
I want to know what you think about the Sumatran Tiger Cubs names. Do you like them? What names would you give them? Let us know in the comments section below!
If you enjoyed this article, as always I appreciate it if you'd share it with others via social media. I work hard at making this website into a useful resource for you and your family to plan your visit to Walt Disney World, and I hope it can help you! Thanks 🙂