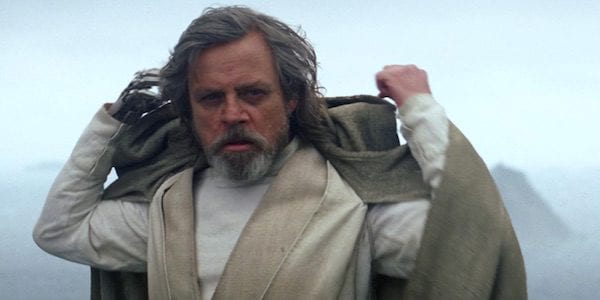 Ever since The Force Awakens finished fans (including this one) have been dying to find out what happened between Luke and Rey. Of course it would have been nice to hear some dialog between them in Episode 7, even a word or a grunt. Alas we were left with nothing. Well yesterday at the Disney Shareholders Meeting Bob Iger gave a sneak preview (albeit a short one) of Episode 8: The Last Jedi and we discovered what happens in The Last Jedi opening scene:
Of course Luke is on an island in the middle of nowhere hiding out from the First Order, when Rey finds him. She walks right up to him and then….that's it, The End. Apparently Luke asks Rey: "Who are You?" THATS what WE want to know too buddy! Rey then says…..nothing. She hands him his lightsaber. That's it, that's all there was. But still it gets my juices flowing for The Last Jedi and I'm expecting a new trailer at some point in the near future, shouldn't be long now.
Bog Iger did make one last comment, he said that The Last Jedi is worth the wait. So take it for what it's worth, but it should be awesome like we are all expecting it to be!
Your Thoughts:
I want to know what you think about The Last Jedi Opening Scene. What do you think of the opening scene so far? What would you like to happen after? Let us know in the comments section below!
If you enjoyed this article, as always I appreciate it if you'd share it with others via social media. I work hard at making this website into a useful resource for you and your family to plan your visit to Walt Disney World, and I hope it can help you! Thanks 🙂
Photo Credit: Disney