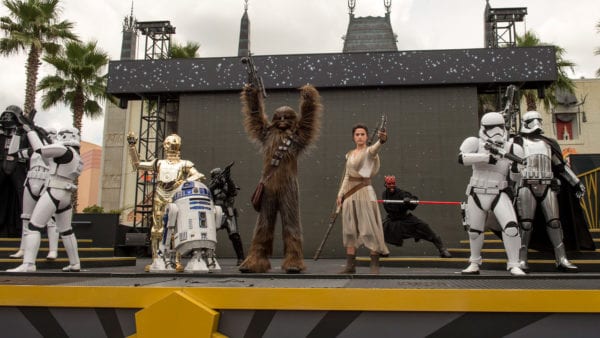 The Stage Show Star Wars: A Galaxy Far, Far Away has been down for a few weeks now, but the good news is it's now back up and running again in Disney's Hollywood Studios. Originally Disney was trying to switch the permanent stage with a mobile one that could be rolled in and out between performances. This would give guests better viewing opportunities for the nighttime shows "Disney Movie Magic" and "Star Wars: A Galactic Spectacular."
Unfortunately Disney hit a few snags in the development of its mobile stage, and they haven't yet been able to get it right. So for now the non-mobile stages are back up in the hub area in front of the Chinese Theater. Does this mean Disney has given up on the Mobile Stages? No probably not, but for now these ones will have to do until they can get the problem worked out.
And since Star Wars: A Galaxy Far, Far Away is back, we're also happy to tell you that Rey has made her debut in the show. She appears next to BB-8 holding her lightsaber just like at the end of The Force Awakens. The show now also includes scenes from Rogue One. See Rey and the rest of the cast every hour from 11:30am – 5:30pm in Disney's Hollywood Studios.
Your Thoughts:
I want to know what you think about the Star Wars: A Galaxy Far, Far Away returning to Hollywood Studios. Have you seen the show yet? Are you happy to have Rey in the show now? What other characters would you like to see join them? Let us know in the comments section below!
If you enjoyed this article, as always I appreciate it if you'd share it with others via social media. I work hard at making this website into a useful resource for you and your family to plan your visit to Walt Disney World, and I hope it can help you! Thanks 🙂