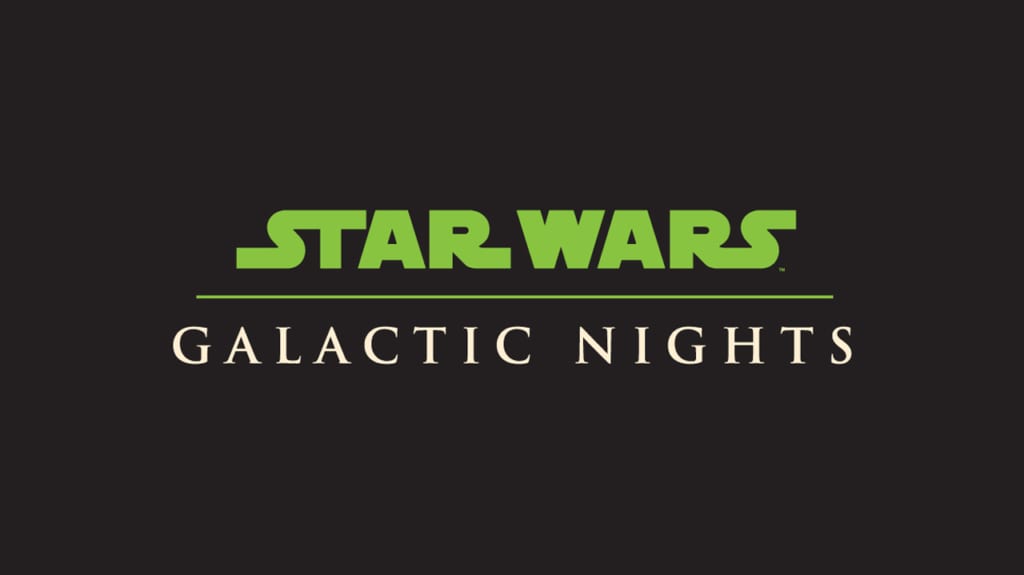 April 14th will mark the first ever Star Wars Galactic Nights and it's happening in Hollywood Studios. What is it exactly? It's a collection of Hollywood-style Star Wars based events, celebrity meet and greets and behind the scenes looks all taking place on one night in Hollywood Studios. It's a ticketed event so you'll need one over the normal Hollywood Studios admission, so park access that night will be limited to Star Wars: Galactic Nights event ticket holders only.
What are the events?
"Inside the Saga: Celebrity Chat Show" – Vanessa Marshall, the voice of Hera Syndulla from Star Wars Rebels, will be the host and take you behind the scenes of the newest entry to the Star Wars franchise, Rogue One: A Star Wars Story. This will be an event that will take place multiple times throughout the night in the Epic Theater. There will also be an Inside the Saga pre-show, featuring Star Wars Show hosts, Andi Gutierrez and Anthony Carboni.
Rebel Base – This will be the Hub for the event with various shows and events taking place here in th center of the park.
Star Wars Character Meet and Greets – We mentioned before that BB-8 would be coming to the Star Wars Launch Bay, and he's making his debut here. You'll be able to meet him and get photos as well as with other Star Wars greats and in Star Wars locations like Han Solo cast in carbonite, Jabba the Hutt's Palace, the Hoth Wampa Cave and more.
Seize the Saga Interactive Scavenger Hunt – Guest will get to step into iconic Star Wars scenes from the films and participate in a scavenger hunt and take home souvenirs.
Galactic Nights Stars in Cars Motorcade – Star Wars celebrities will make their way down Hollywood Blvd in style
Imperial March and March of the First Order – This sounds cool as first Darth Vader will lead his unit of Stormtroopers down Hollywood Blvd and then Captain Phasma will do the same with a unit of First Order troops.
Star Wars: A Galaxy Far, Far Away – I would imagine like the shows that are seen on stage in Hollywood Blvd with various Star Wars characters participating such as Chewy, Darth Vader Kylo Ren and more…
Star Wars: A Galactic Spectacular – The amazing nighttime spectacular which combines, lasers, pyrotechnics and fireworks together all with iconic Star Wars moments being shown on screen of course to the epic Star Wars music. This is one of the best shows in Disney World.
Guests are encouraged to come to the event dressed in their Star Wars costumes if desired. There will also be a whole bunch of other Star Wars characters roaming about the park, and tons of unique Star Wars merchandise as well.
So is it worth the extra cost?
That's a matter of opinion. The event will be held from 7pm – Midnight and tickets are $129 plus tax for adults and $124 plus tax for kids 9 and under. Now that's a big price to swallow for a family of 4! There are some cool things you normally wouldn't get to see, like some of the Star Wars characters that normally aren't in Hollywood Studios, and also some of the behind the scenes stuff they will show and talk about should be pretty interesting. I usually have a real hard time telling you it's worth it to shell out all that money for these types of events, as some are things that you can see normally at the park anyways: (ex the nighttime show or the stage show).
If you or someone in your family is really a Star Wars geek and would appreciate all the extra background info and details that will be learned here, or if you are really trying to score photo-ops with some characters that normally aren't available in the Star Wars Launch Bay then it might be worth it for you. If not and you are just a casual fan then you might want to skip it as you can get better value elsewhere for your money imo.
However if you do want to book tickets I would do so right away as this event will sell out very quickly. You can click here to book online, or by calling 407-827-7036.
Your Thoughts:
I want to know what you think about the Star Wars Galactic Nights Coming to Hollywood Studios. Do you think it's worth the extra cost? Do you like the different events that will be available? What would you like to see at the event? Let us know in the comments section below!
If you enjoyed this article, as always I appreciate it if you'd share it with others via social media. I work hard at making this website into a useful resource for you and your family to plan your visit to Walt Disney World, and I hope it can help you! Thanks 🙂
Photo Credit: Disney Parks Blog