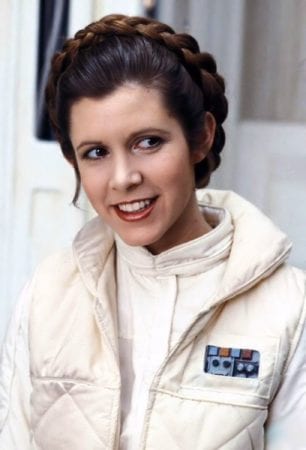 Terrible news today that Carrie Fisher has died from complications after suffering a heart attack on December 23. Fisher is best known for her iconic role in the Star Wars saga as Princess Leia Organa. Besides acting she was also known as an author, writer, producer and speaker.
The heart attack happened on a plane while going back to Los Angeles from London where she had just finished a film project. When the plane landed she was rushed to the UCLA medical center where she was placed in the Intensive Care Unit. It seemed like she was in stable condition according to her family's social media posts.
Simon Hall, spokesman for the family confirmed Fisher's death with this statement at 8:55am Tuesday morning: "It is with a very deep sadness that Billie Lourd confirms that her beloved mother Carrie Fisher passed away at 8.55 this morning. She was loved by the world and she will be missed profoundly. Our entire family thanks you for your thoughts and prayers."
Fisher had success in roles in the films: "Hannah and Her Sisters"(1986), "When Harry Met Sally" (1989) and "Soap Dish" (1991), yet she will always be known as Princess Leia in the mega-blockbuster "Star Wars" (1977) and the films many sequels. She was the first born of already famous actors Eddie Fisher and Debbie Reynolds who was struggling to make a name for herself when she got her big break with Star Wars and the rest is history.
Statements from her friends, family and long-time colleages have been pouring in:
Star Wars creator George Lucas wrote: "Carrie and I have been friends most of our adult lives. She was extremely smart; a talented actress, writer and comedienne with a very colorful personality that everyone loved. In Star Wars she was our great and powerful princess – feisty, wise and full of hope in a role that was more difficult than most people might think. My heart and prayers are with Billie, Debbie and all Carrie's family, friends and fans. She will be missed by all."
Bob Iger, Chairman and CEO of The Walt Disney Company said: "Carrie Fisher was one-of-a-kind, a true character who shared her talent and her truth with us all with her trademark wit and irreverence. Millions fell in love with her as the indomitable Princess Leia; she will always have a special place in the hearts of Star Wars fans as well as all of us who were lucky enough to know her personally. She will be sorely missed, and we join millions of fans and friends around the world who mourn her loss today.
Star Wars Co-star and longtime friend Harrison Ford had this to say: "Carrie was one-of-a-kind…brilliant, original. Funny and emotionally fearless. She lived her life, bravely…My thoughts are with her daughter Billie, her mother Debbie, her brother Todd, and her many friends. We will all miss her."
Carrie Fisher was beloved and brilliant actress whose presence truly lit up the silver screen. She was a tremendous inspiration to millions of people worldwide for her on-screen accomplishments as well as confronting her off-screen demons. I will miss Carrie Fisher, without her my favorite Movie franchise would not be the same, and I thank her for the marvelous contributions she has made to that and so much more.
Carrie Fisher was 60 years old and is survived by her mother Debbie Reynolds, daughter Billie Lourd, sisters Joley and Trisha Fisher, and brother Todd Fisher.
May the Force be with you Carrie Fisher, always
Your Thoughts:
I want to know what you think about the passing of Carrie Fisher. What do you think of her contributions to the world of the Cinema? How has she touched your life? Let us know in the comments section below! 🙂