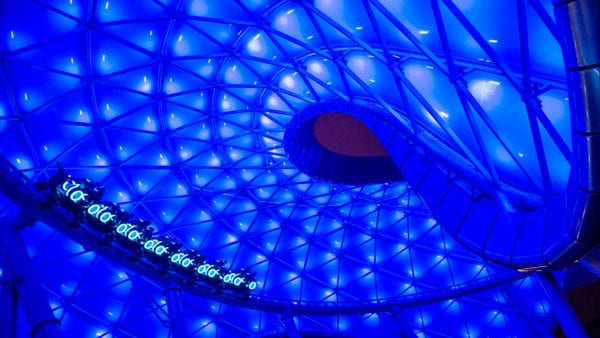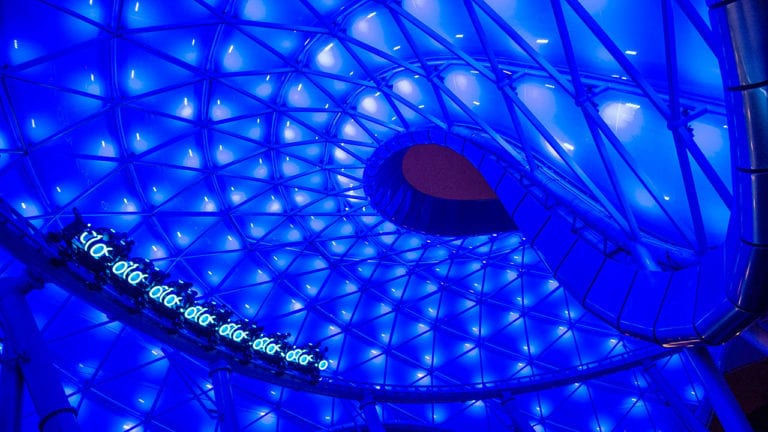 UPDATE: 7/10/17 – Just a few days before the D23 Expo this weekend it looks like a Tron Lightcycle Roller Coaster is in fact coming to Tomorrowland in the Magic Kingdom, and replacing the Tomorrowland Speedway. Several sources are confirming this and I think it's 100% that we get an announcement this weekend.
The idea is to have it open for the 50th Anniversary of the Magic Kingdom in 2021. No word yet on when the Speedway is closing. As of now it doesn't look like Tron is coming to Disneyland either but only Magic Kingdom. We should be hearing more soon!
ORIGINAL STORY:
This is a big juicy one! According to the nomidnightblog.com the Magic Kingdom and Tomorrowland could be getting that makeover we've been waiting so patiently for. The rumor is Tron Lightcycle Power Run Coming to Walt Disney World and even Disneyland California. Please, please tell me I'm not dreaming! It's been a huge success for far in Shanghai Disneyland and would be amazing here in the states. How could it happen and where would it go?

Magic Kingdom Location Options
There are two possible locations in the Magic Kingdom that make sense, one is where the Tomorrowland Speedway is. The other would be where the former Galaxy Palace Theater was which is now a cast member parking lot. This would put the between the Carousel of Progress and Buzz Lightyear Space Ranger Spin.
Of the two choices I prefer the location where the Tomorrowland Speedway is. The Tomorrowland Speedway is in REALLY BAD shape. I went on it a month and a half ago and I could barely steer the wheel of the car, and everyone in my group said the same thing. It's been around since 1971 and it just doesn't have the same appeal as it did when I was a kid. Tomorrowland is supposed to be about just that: a futuristic vision of tomorrow, and the Speedway isn't that.
I also think it's better suited there because if you put it where the Galaxy Palace Theater was, it's going to be tall and that not exactly what you want to be looking at on your right when you are walking down Main St USA. Also that space could be used for another Dark Ride which takes up less space.
There was a rumor a while back that a Tron Coaster could come to Epcot not the Magic Kingdom, maybe even replacing the Universe of Energy building. I don't think that's likely because it's too close looking to the already existing Test Track and I think it's more likely you see the Guardians of the Galaxy attraction there instead.

Disneyland Rumor:
There are two possible locations Tron could go in Disneyland California.
The first location would be In Disneyland Park in Tomorrowland where the Star Wars Launch Bay is and would be a great location as it's very visible to guests and would make a statement and be a great addition to the skyline in Tomorrowland. Would then the Star Wars Launch Bay find another location or just disappear?
The second possibility would be in California Adventure. Rumor has it that Disney is considering putting a Marvel themed land in California Adventure but the Tron Lightcycyle Power Run could go in that space instead.
Of the two it makes the most sense to put it in Tomorrowland also in Disneyland because it goes better with the theming and seeing as Disney is severely limited to what Marvel attractions it can put in Orlando, I don't think they would give up the possibility to put a Marvel based land in California, therefore Tomorrowland makes more sense.
Don't tell me you wouldn't LOVE to ride this in the States:
When would it Arrive?
That's a good question. It won't be in the next couple years because Disney is too busy completing other projects already in progress in Walt Disney World: Pandora The World of Avatar May 2017, Toy Story Land in Hollywood Studios 2018, and Star Wars Land in Hollywood Studios 2019. Then there's also the major upgrades rumored for Epcot, as it seems its next on the list after Hollywood Studios. One would guess that Epcot is in more dire need of help than the Magic Kingdom so the priority I think would go there.
But it is possible that you could see simultaneous construction projects going on at Epcot and Magic Kingdom. Looking forward there's the BIG 50th Anniversary of Walt Disney World in 2021. So taking all that into consideration if the Tron Rumor does come true then look for a 2020/2021 opening.
Now all of this is also less likely if there is no movie franchise to pair with the ride. That's why it's also important to mention that Disney is supposedly in talks with Jared Leto to reboot the Tron franchise. If that happens then the Tron Lightcycle is even more probable.
Again nothing is confirmed as of yet from Disney, but we are getting closer and closer to the big D23 event in July and expect to have more clarity on some of these many rumors for the Disney Parks. Stay tuned for the latest….
Your Thoughts:
I want to know what you think about Tron Lightcycle Power Run Coming to Walt Disney World and Disneyland. Would you jump for joy like me? What location would you put it in? Let us know in the comments section below! 🙂
If you enjoyed this article, as always I appreciate it if you'd share it with others via social media. I work hard at making this website into a useful resource for you and your family to plan your visit to Walt Disney World, and I hope it can help you! Thanks 🙂
News source: nomidnightblog.com
Photo Source: Disney