New Zealand is back at the 2017 Epcot Food and Wine Festival! Expect your favorites, Seared Venison Loin, Steamed Green Lip Mussels and a Lamb Meatball. How is it this year? Let's see in my New Zealand Review: 2017 Epcot Food and Wine Festival….
New Zealand Booth:
You'll find the New Zealand Booth just after passing Australia coming from Future World, and across the pathway from the Refreshment Port:
New Zealand Menu:
The New Zealand Menu at Food and Wine this year is mostly unchanged from last year. You still have the Lamb Meatball, Seared Venison and my favorite: Steamed Green Lip Mussels! The food options are the same, but we're excited to try out the NEW Frozen Wine Cocktail this year!
2016 Menu: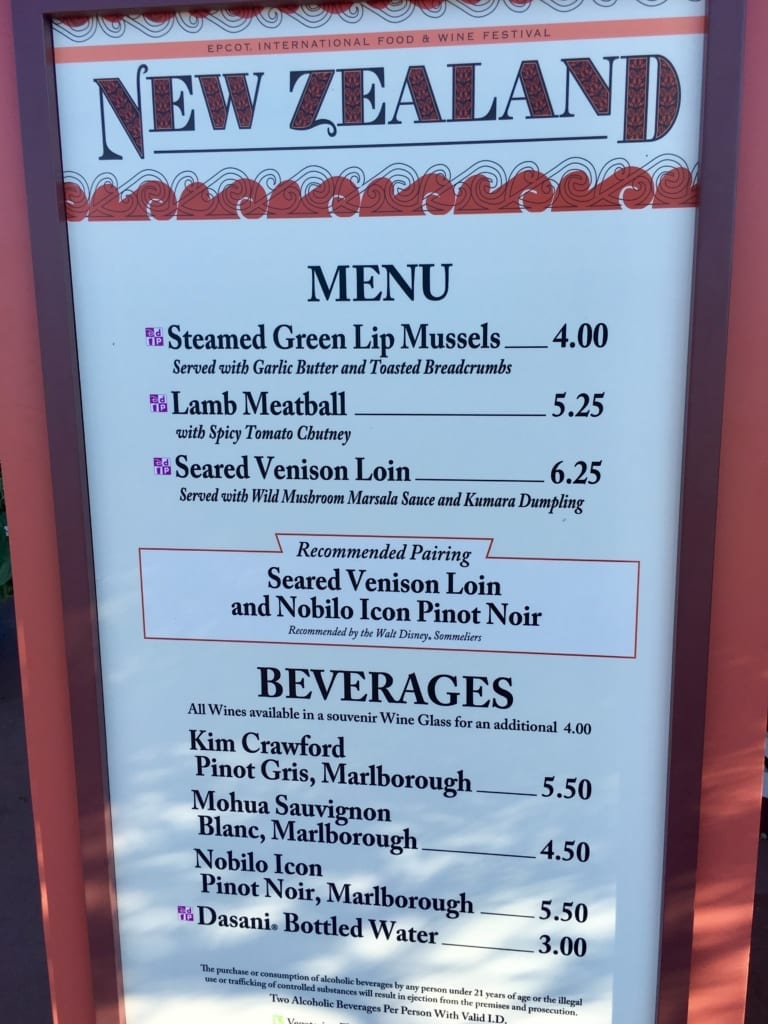 Here is this year's menu 2017:
Food:
Lamb Meatball with Spicy Tomato Chutney – $5.25, DDP Snack Eligible
Steamed Green Lip Mussels with Garlic Butter and Toasted Breadcrumbs – $4.25, DDP Snack Eligible

*Ziggy Recommended

Seared Venison Loin with Wild Mushroom Marsala Sauce and Kumara Purée – $6.50, DDP Snack Eligible
Beverages:
Kim Crawford Sauvignon Blanc, Marlborough – $6.00
Nobilo Icon Pinot Noir, Marlborough – $6.00
Frozen Wine Cocktail featuring Kim Crawford Sauvignon Blanc – $6.50. *Ziggy Recommended
Menu Review:
Of course since it's boiling hot out here in World Showcase, we need something fresh to cool us down, and there's no better choice than the Frozen Wine Cocktail! This was awesome! I just kept sipping and sipping it. This is made from the Kim Crawford White Wine, and has some acidity and sweetness from the fruit, while giving it a balanced finish. Really refreshing and zesty taste, and just what we needed! Would order this again in a heartbeat!
The first hold-over from last year is the Lamb Meatball. I wouldn't say the lamb is too gamey, but you can definitely notice it which is good for lamb lovers. On top it has a tomato chutney, which is spiced but not what I'd call spicy at all. Overall the meat is tender and juicy, and the sauce works perfectly with it. I also like the bread puff thingy it's served on. Worth trying.
This next dish goes great with the Frozen Wine Cocktail, and that is the Steamed Green Lip Mussels! There are only 4 mussels to the dish, but they are a really big size, and really tasty at that! I loved the breadcrumbs on top which were a little thick and hearty. They are cooked in a buttery, garlic sauce which is unbelievable, and they also aren't real fishy tasting which is why some don't like mussels. If you have never tried mussels before, or not in a while, give them a shot as they are fantastic!
The last dish in New Zealand is the Seared Venison Loin. This is a hard dish to cook, because venison if not done right can be very tough, even shoe-leather like. I'm happy to say this was not like that at all. The meat was very tender and cooked just right, and it's served in a marsala-like sauce which keeps the meat even more juicy. The mushrooms are a great addition to the plate, as well is the Kumara Dumpling, which is so moist and just soaks up all that sauce! While not my favorite dish it's worth trying if you've never had it before!
Booth Summary and Grade:
New Zealand is a very solid marketplace at Food and Wine this year, just like last year. The Lamb Meatball and Green Lip Mussels are the stand-out food items, though the Venison is solid too, and the Frozen Wine Cocktail is a MUST-try and perfect for a hot Florida day. I"m hoping we see a new addition next year, and possibly a dessert too which would really take New Zealand to the next level!
If you have to get just one thing:
Steamed Green Lip Mussels
Grade:
8
Take a look at all of my 2017 Epcot Food and Wine articles. I have a 2017 Epcot Food and Wine Info Guide with a complete Index of the Food and Wine Menus, The Top NEW Items for 2017, Top Food and Wine Booths and more…I want you to be able to have the best info on the Festival so you have a great time and don't waste your time!
Your Thoughts:
I want to know what you think of my New Zealand Review 2017 Epcot Food and Wine Festival. Which was your favorite item? Where does it rand on your list of 2017 Food and Wine booths? Let us know in the comments section below!
If you enjoyed this article, as always I appreciate it if you'd share it with others via social media. I work hard at making this website into a useful resource for you and your family to plan your visit to Walt Disney World, and I hope it can help you! Thanks 🙂