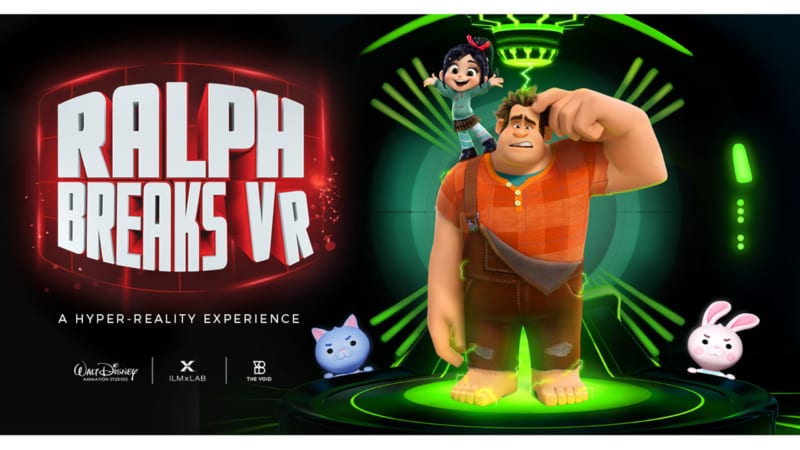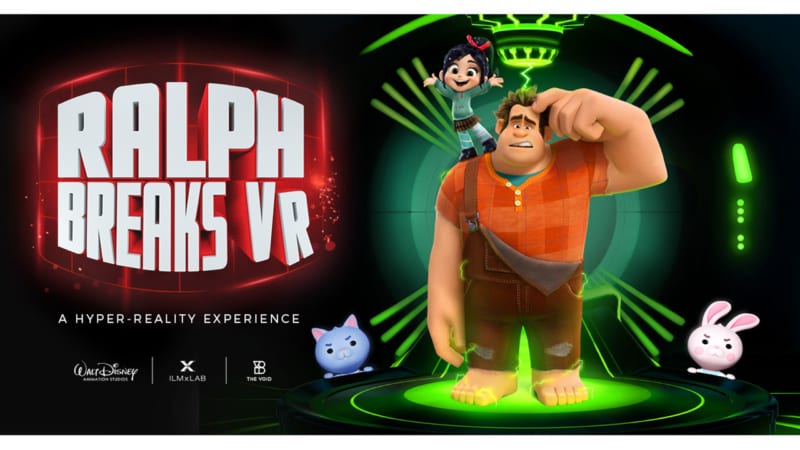 Well it's still not the Wreck-it Ralph attraction we've been expecting, but today Disney announced a new 'Ralph Breaks VR' Hyper-Reality Experience coming to Disney Springs in Fall 2018.
Ralph Breaks VR is a groundbreaking hyper-reality experience being brought together by ILMxLAB and The VOID similar to the "Star Wars: Secrets of the Empire" experience which recently launched in Disney Springs and Downtown Disney District in Disneyland. According to Disney this is going to be "one-of-a-kind" original adventure which is based on Walt Disney Studio Animation's upcoming "Ralph Breaks the Internet" which is coming to theaters on November 21.
This new experience is going to allow guests to experience the world of Ralph Breaks the Internet using hyper-reality technology and promises to deliver an immersive environment full of the world and characters from the film. ILMxLAB is also teaming up on the project and helping to bring Ralph Breaks VR to life.
"Our filmmakers and the terrific people at ILMxLAB have collaborated to bring an incredible hyper-real experience, for all ages, to The VOID," said Oscar-winning "Ralph Breaks the Internet" producer, Clark Spencer. "We can't wait for people to be immersed in the worlds of the internet and online gaming with Wreck-It Ralph and Vanellope."
"At ILMxLAB, we are truly excited for fans to 'Step Inside Our Stories' by extending our award-winning creative collaboration with The VOID across The Walt Disney Company. Together, we will soon invite guests into other beloved Disney franchises where they can explore rich worlds, engage with compelling characters, embark upon heart-pounding adventures, and indulge the senses — experiencing the magic as never before," said Vicki Dobbs Beck, ILMxLAB Executive in Charge.
The only question after this announcement is whether or not Disney will be building a new facility for Ralph Breaks VR, or if they will use the same one that Star Wars: Secrets of the Empire already uses. Theoretically they could use the same building since 90% of the attraction is based on what you see in your VR headset, but Disney hasn't said whether or not that's the case. What we do know is that Star Wars: Secrets of the Empire is not going away so it's just a matter of knowing if they will also share the spaces.
Disney is working on other Hyper-Reality VR projects based on other IPs, even a possible "Aliens" experience once the Fox-Disney acquisition goes through.
No date has been given yet for Ralph Breaks VR except Fall 2018, so we'll keep you updated on the opening date, pricing and other info once it comes out, and hopefully info on that Magic Kingdom attraction too!
Your Thoughts:
I want to know what you think about the 'Ralph Breaks VR' Hyper Reality Experience coming to Disney Springs this Fall…
Are you excited for Ralph Breaks VR?
What do you think of the Star Wars: Secrets of the Empire experience?
Let us know in the comments section below!
If you enjoyed this article, as always I appreciate it if you'd share it with others via social media. I work hard at making this website into a useful resource for you and your family to plan your visit to the Disney Parks and I hope it can help you! Thanks 🙂
News Source: Disney Parks Blog
Need Help Planning Your Disney Vacation? Show You the World Travel is Here to Help!
Just fill out the form below and one of our trusted travel agents will contact you for all your Disney Vacation Planning Needs….
[rainmaker_form id="19792″]