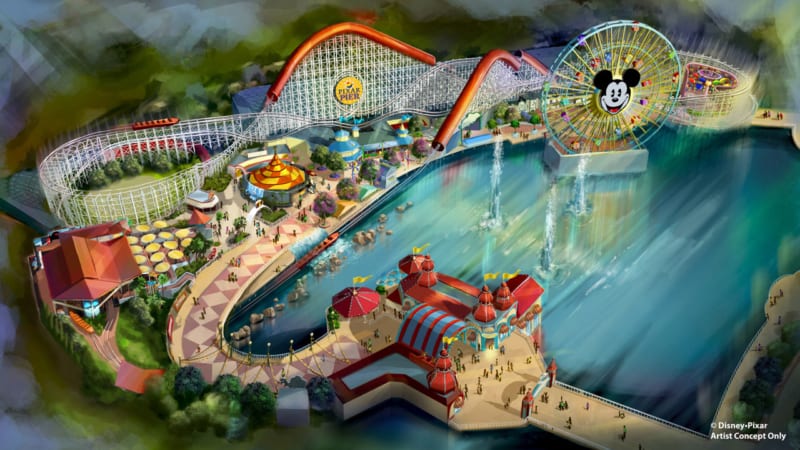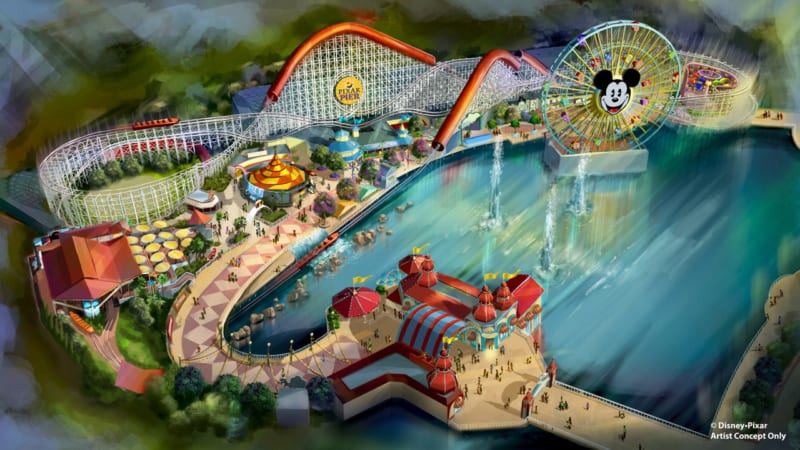 As we learned at the D23 Expo, Disneyland California Adventure is going to have some big changes for Summer 2018, including a re-theming of Paradise Pier into: Pixar Pier, which will introduce four new neighborhoods representing our favorite Pixar stories.  Pixar Pier isn't going to be a temporary change but a total and permanent re-theming of the area.
The most noteworthy change is the California Screamin' Coaster permanently changing to the new Incredicoaster.  This was inevitable as you knew an attraction without an IP already attached to it was going to transform into something Pixar.  It will have a mid-century modern style loading area, new character movements and new-look ride vehicles.  While I've always hoped for a more unique attraction for the Incredibles in the Disney Parks, I'm find with this change and think it's about time the Incredibles get their own attraction.  California Screaming' will close down on Jan 8th, and should have a Summer 2018 opening.  This makes sense as The Incredibles 2 is coming out in theaters in June 2018, just in time.
Toy Story Mania of course is staying where it is, but it will now be home to a new "Toy Story" inspired neighborhood.  I don't know how much will change here as Disney hasn't yet said.
A third new neighborhood will be one inspired by "Inside Out" and will be found on the western side of the boardwalk.  You can see the Inside-Out attraction all the way to the right in the above concept art, which looks like a spinning attraction and will be family-friendly attraction.  Expect this to open later than Summer 2018 at an unknown date.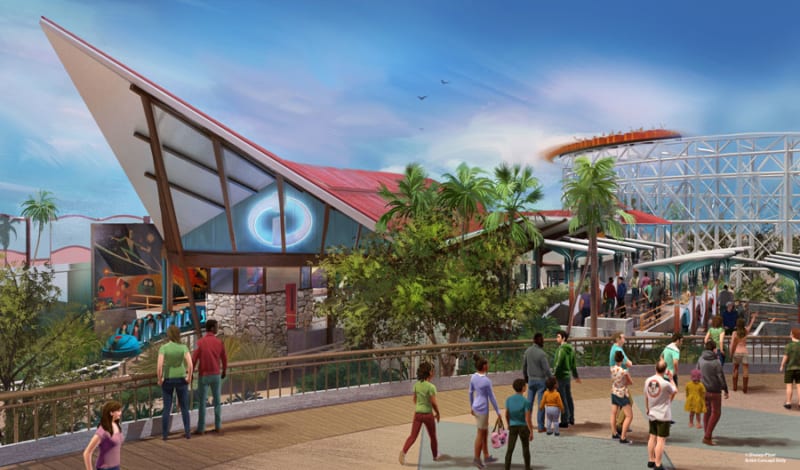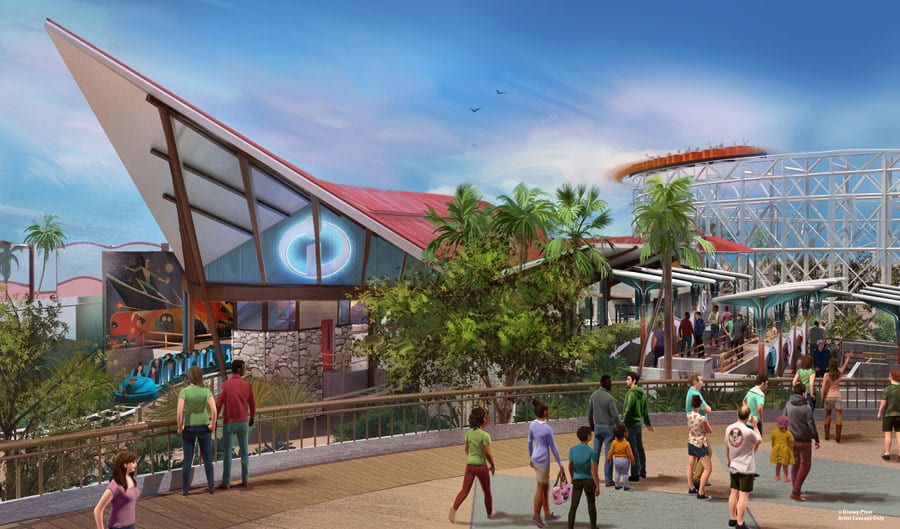 Mickey's Fun Wheel will be the center of the fourth neighborhood which will be a celebration of many of your favorite Pixar stories.  Expect Mickey's Fun Wheel to have a new look, with each of the 24 gondolas featuring different Pixar characters, but thankfully the iconic face of Mickey Mouse isn't going anywhere and is staying on the Paradise Bay side of the wheel.
The Games of the Boardwalk, are getting a re-do with all of the midway games will be inspired by Pixar characters.  In order for this transformation to happen, Mickey's Fun Wheel, Games of the Boardwalk and Sideshow Shirts will also close Jan. 8th.
Ariel's Grotto restaurant and the Cove Bar will be transformed into a new lounge and grill which will have great views of Paradise Bay and the new Pixar Pier.  Both locations will close Jan. 8, with Cove Bar reopening briefly in April before closing again for its permanent transformation. Guests wishing to reserve "World of Color" dining packages after Jan. 7 may consider Carthay Circle Restaurant or Wine Country Trattoria.
The remaining areas of the land that is now Paradise Pier, including Paradise Gardens, Silly Symphony Swings, Jumpin' Jellyfish, Goofy's Sky School, Golden Zephyr and The Little Mermaid ~ Ariel's Undersea Adventure, will become a new land called Paradise Park.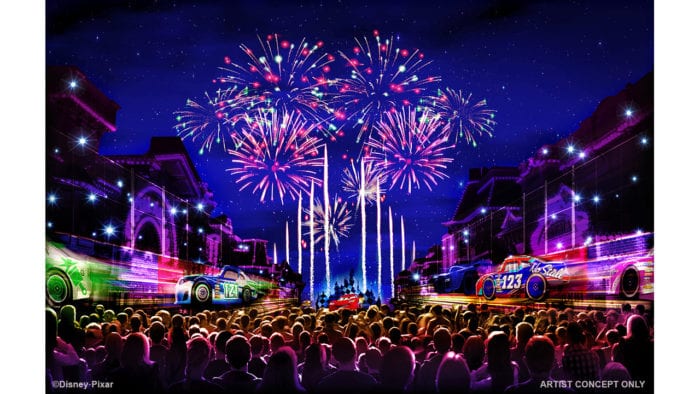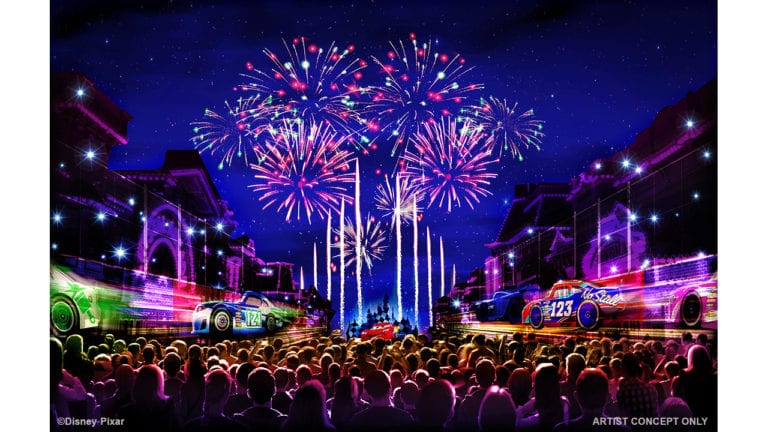 Pixar Pier will open in Summer 2018 right in the middle of the new limited-time Pixar Fest celebration, which begins April 13.  The celebration will include a brand new fireworks show: "Together Forever – A Pixar Nighttime Spectacular," as well as the return of Pixar Play Parade and "Paint the Night" parade, and much more.
It looks like there's going to be lots of action over at Disney California Adventure this Summer, and DCA is finally getting the attention that it's desperately needed for some time.  Overall I like the new Pixar Pier theming even though I know people are getting sick of all the IP branding throughout the parks.  You have to understand that THIS is the new Disney model you will see in all the parks for now on.  If done well though (see Carsland) that isn't a bad thing.  My only fear is that it won't be a really immersive, theme-driven land, but will end up a big mix of Pixar movies and that's it.  I hope Disney Imagineering proves me wrong and can give it actual immersive theming.
Losing Paradise Pier won't make me lose sleep, it's one of the weaker lands in California Adventure, I just want whatever replaces it to be better, otherwise what's the point in doing it?  It also makes me wonder that if in the long run this will have a part in changing the California Adventure park name.  I mean, Pixar Pier has nothing to do with California, whereas Paradise pier clearly did.  We also know there is a Marvel Land coming to DCA as well, and that doesn't scream California to me either.  Just a side thought but really wondering if the park will change down the road to a more Hollywood Studios-style park with a bunch of IP's together, not really following a central theme….
Your Thoughts:
I want to know what you think about the new Pixar Pier details in Disney California Adventure.  Are you happy to see the attractions get a Pixar face-lift?  Do you think California Adventure will change names eventually?  What do you think about the Incredicoaster?  Let us know in the comments section below!
If you enjoyed this article, as always I appreciate it if you'd share it with others via social media.  I work hard at making this website into a useful resource for you and your family to plan your visit to Walt Disney World, and I hope it can help you! Thanks 🙂
News Source: Disney Parks Blog