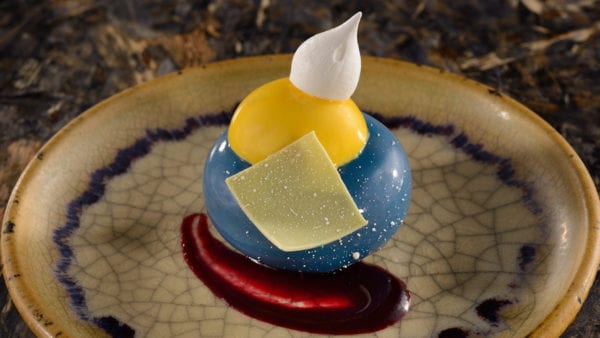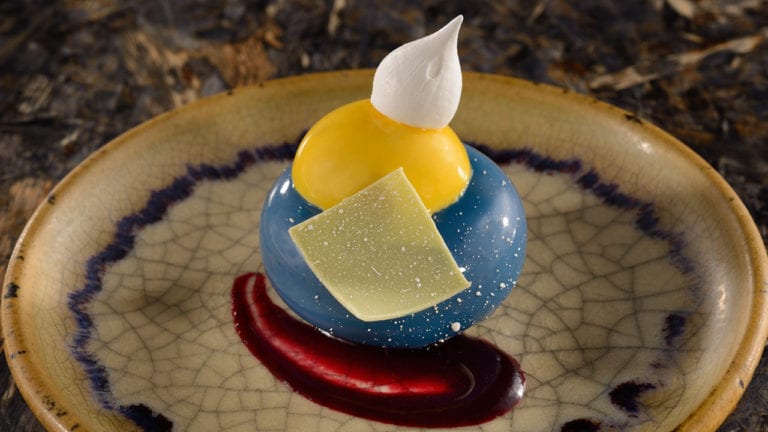 Recently we got a look at some of the drinks coming to Pandora: The World of Avatar, now Disney has given us a sample of some of the Pandora The World of Avatar desserts. The chefs behind these wonderful creations in the Satu'li Canteen are working hard using the element of storytelling to bring them to life. So far we know of two desserts that will be on the menu there: Blueberry Cheesecake and Chocolate Cake. On both of them it looks like Disney is going for more than your average "Quick Service Dessert" here, they both look like something you'd find at a signature restaurant. Take a look:
Blueberry Cheesecake (see photo above)
This looks like something from an alien planet alright, but at the same time also very appetizing. This is made from passion fruit curd, blueberries and cream cheese! I love the deep blue color and the way it contrasts with the yellow and reds.
"We watched 'Avatar' and noted that the Na'vi are in stellar shape – very lean, with beautiful skin and bright yellow eyes," said Executive Pastry Chef Stefan Riemer. The Na'vi colors were the inspiration for the Blueberry Cheesecake with Passion Fruit Curd, a cream cheese and blueberry creation with passion fruit to connect to the film's tropical environment.
Chocolate Cake: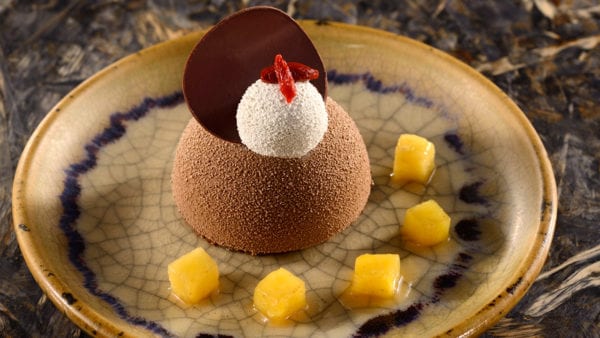 The Chocolate Cake combines a Crunchy Cookie, Banana Cream and Goji Berries and again looks like something the healthy Na'vi would probably eat.
Riemer says: "We used dark chocolate because it's rich in antioxidants, then add a little crunch with a cookie wafer and the contrast of creamy mousse."
The cake is topped with banana cream, made from: cream, white chocolate and bananas, with a little drizzle of lemon.
"The chocolate-banana is a great flavor combination," says Riemer. "Then we added goji berry on top – it tastes a little like a raisin, and we hydrated it with simple syrup. The taste of the goji berry with the banana cream and chocolate is a lovely balance of flavors."
This one excites me a bit less because I'm not a big banana guy, but the presentation on this one looks great too. I like that Disney is going a bit fancier because honestly most of the quick service desserts you can find in the parks are not worth getting, where as these actually look great. How they taste is yet to be determined but I'm impressed so far by the effort.
For what it's worth, both options have gotten good response from the kid taste testers. We'll see how they are May 27th when Pandora: The World of Avatar opens!
Your Thoughts:
I want to know what you think about the Pandora The World of Avatar Desserts. Do you like the look of these desserts? Which one looks more appetizing to you? Let us know in the comments section below!
If you enjoyed this article, as always I appreciate it if you'd share it with others via social media. I work hard at making this website into a useful resource for you and your family to plan your visit to Walt Disney World, and I hope it can help you! Thanks 🙂
Photo Credit: Disney Parks Blog