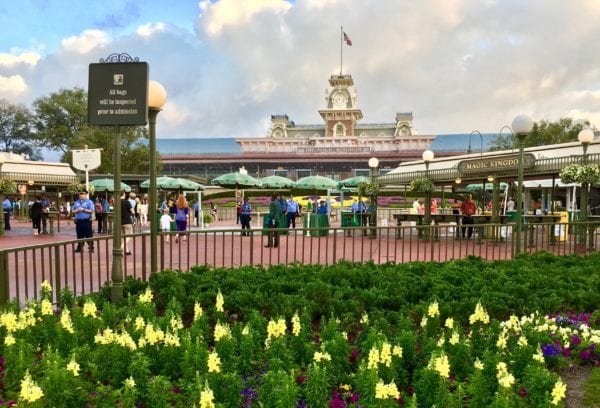 Last week we told you that there would be a New Magic Kingdom Security Check and that system is starting today. Right off the bat you're probably thinking: "Oh no! Now how much longer am I going to have to stand in line before actually getting into the park and getting my day started?" Well, it's actually a change that will make your entrance to the Magic Kingdom better and even faster than before!
What exactly can you expect now at the Security Check? Here's what you need to know:
The bag check will no longer be at the front entrance to the Magic Kingdom but you will check your bags at security points BEFORE arriving at the Magic Kingdom. This will actually make your entrance to the park faster as there won't be a huge bottleneck at the entrance with everyone trying to get through at once.
Arriving by Car – If you are coming to the MK by car and parking in the Transportation and Ticket Center (TTC) then the Security/Bag Check will be BEFORE you get on the Monorail or Ferry. This is also good because if you are carrying something prohibited then you have a shorter walk back to your car to drop off your stuff.
Arriving by Monorail from the Resorts – Guests will go through Security Checkpoint now AT THE RESORT before getting on the Monorail. Only downside is it will be a bit more inconvenient if you like going Resort-hopping on the Monorail Loop.
Arriving by Bus from the Resorts – Guests will go through Security Check at a location closer to the Bus Drop-off Point.
Arriving by Resort Boat – (Grand Floridian, Wilderness Lodge, Contemporary, Polynesian) – Guests will be screened at a check point almost immediately getting off the boats.
Arriving by Foot from Magic Kingdom Area Resorts – Guests arriving from the Contemporary Resort on foot will be screened as soon as they exit the walkway
Arriving by Non-Disney Bus, Shuttle of Drop-off – Guests arriving in any of these ways will be screened at the same areas at the TTC used for guests coming by car.
Arriving by Monorail from Epcot – This is actually the easiest because guests coming from Epcot are already inside a secured zone because they have already went through security entering Epcot. They will just get on the Monorail and head over with ease.
I know they are a lot of changes, but honestly I fell that it's for the best. Not only is Disney keeping a thourough screening process to keep park guests safe, but it's actually making the whole process more efficient and faster at the same time. Of course we'll see how things develop in the next weeks to come, and really see the test when the busy season starts, but in theory it should be an improved system over the old one.
Your Thoughts:
I want to know what you think about the New Magic Kingdom Security Check. Are you happy with the change? Is there anything you'd like to see different? Let us know in the comments section below!
If you enjoyed this article, as always I appreciate it if you'd share it with others via social media. I work hard at making this website into a useful resource for you and your family to plan your visit to Walt Disney World, and I hope it can help you! Thanks 🙂