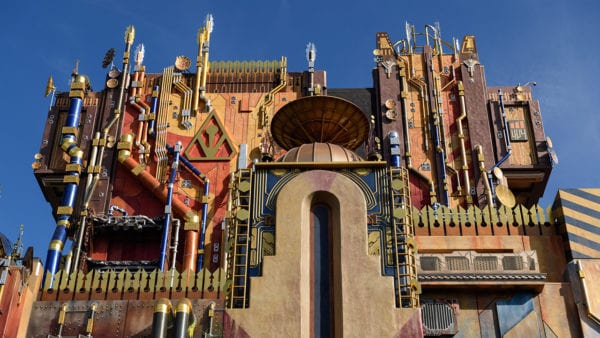 We're all excited about the opening of Guardians of the Galaxy Mission: BREAKOUT! in Disneyland California Adventure this Saturday May 27th, it's going to be a wild ride for sure. Now before you ride, you have the opportunity to meet one of the personalities of the attraction, the mysterious Taneleer Tivan (aka The Collector).
Meet The Collector:
Who is this mysterious Collector? It's hard to say, but what we do know is he has the Guardians of the Galaxy on display as his newest acquisitions deep inside his fortress-like collection. Taneleer Tivan has been obsessed with preserving artifacts from throughout the universe in his fortress after foreseeing a vision showing the end of all life, that's how he became known as The Collector.
In his fortress his is a dictator, threatening his employees, and if they do not abide by his wishes they become part of the permanent collection there for all to see! Hopefully his obsession with collecting one-of-a-kind items doesn't lead to your adding to his collection!
In the Guardians of the Galaxy film as well as the attraction Mission: BREAKOUT! The Collector is played by Benicio del Toro. Benicio, who is a regular visitor to Disneyland recently shared his excitement over the Guardians of the Galaxy Mission: BREAKOUT! ride with the Disney Parks Blog. Watch the video here:
I can't wait to try Mission: BREAKOUT! for myself and see if it lives up to the hype. On one hand I'm sad to see Tower of Terror go, but as long as it's still in Hollywood Studios I don't have that much of a problem with it as some do. I'm all about each park having different attractions and I'm excited to see if Mission: BREAKOUT! brings something new and refreshing being built on top of such a classic Disney attraction. See you in the fortress!
Your Thoughts:
I want to know what you think about The Collector from Guardians of the Galaxy Mission: BREAKOUT! Do you like the new overlay for the attraction or do you prefer having Tower of Terror there? Let us know in the comments section below!
If you enjoyed this article, as always I appreciate it if you'd share it with others via social media. I work hard at making this website into a useful resource for you and your family to plan your visit to Walt Disney World, and I hope it can help you! Thanks 🙂