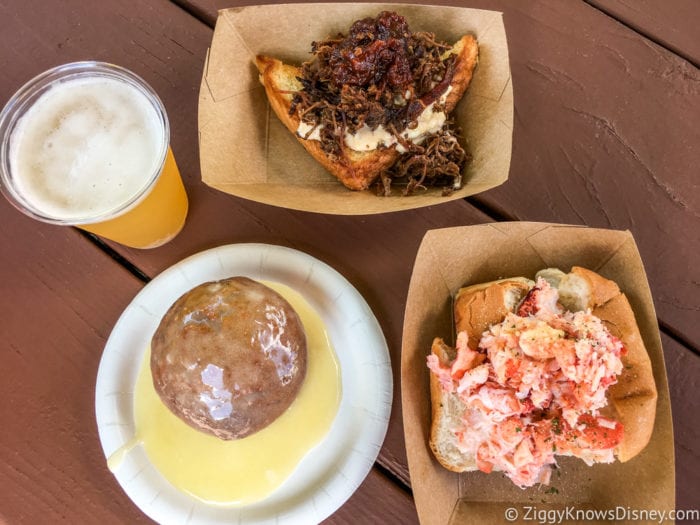 Hops and Barley always brings something good for us to fill us up, and we can't wait to try it again in 2017. Look for classics like the Lobster Roll, Smoked Beef Brisket, and that oh so delicious Carrot Cake! Will it be as good as last year? Only way to find out is to check out my Hops and Barley Review: 2017 Epcot Food and Wine Festival….
Hops and Barley Booth:
I'm not sure why Hops and Barley has to be different, why can't we just call this the America Booth again??
Hops and Barley Menu:
A couple of drink changes are the only changes to the Hops and Barley menu from last year to this year. The Lobster Roll and Smoked Beef Brisket also get 0.25 cent increases:
2016 Menu:
Here is this year's menu 2017:
Food:
New England Lobster Roll – $8.00, DDP Snack Credit *Ziggy Recommended
Smoked Beef Brisket and Pimento Cheese served on Griddled Garlic Toast – $5.50, DDP Snack Credit
Freshly Baked Carrot Cake and Cream Cheese Icing – $3.75, DDP Snack Credit

*Ziggy Recommended
Beverages:
New Belgium Brewing Fat Tire White Ale, Fort Collins, CO – $4.25
Anchor Brewing Liberty Ale, San Francisco, CA – $4.25
Orange Blossom Brewing Foxtail Cold Brew Coffee Pilsner, Orlando, FL – $4.25
Mer Soleil Reserve Chardonnay, Santa Lucia Highlands – $6.00
Atalon Pauline's Cuvée Red Blend, Napa Valley – $6.00
Beer Flight – $9.00
Menu Review:
What can I say about the New Belgium Brewing Fat Tire White Ale? It's a light beer, but maybe a little more. Scent is mild, clean and aroma of oranges. Medium texture, and simple flavors. Definite spicy orange taste, but flavor is rich and smooth. Better than some light beers, but I'm not going to go out and get a six-pack tomorrow or anything. Decent beer.
The New England Lobster Roll in my opinion has been getting better and better in the last couple years. We loved the Lobster Roll last year, and this year it was even better. Just look a the quantity of lobster in last year's photo:
Now look at this years:
It's flowing out of the roll. Now I don't know if that's always the case or someone had a heavy hand today, but either way, we'll take it! Everyone raved about it! Most lobster rolls use a lot of filler and pile loads of mayo to hide the lack of lobster. This has a ton of lobster and uses a flavored seasoned mayo and butter mix. In the end it's really light and you just taste that fresh lobster! The slightly toasted roll only adds to the fame that is this lobster roll. Totally delicious and worth the $8.00 price tag!
Another stay-over from last year is the Smoked Beef Brisket and Pimento Cheese served on Griddled Garlic Toast. I think this has improved from last year, but it still isn't where it needs to be Imo. I love brisket, but this just wasn't super tender and moist like I'm accustomed to. A little over-cooked, which is why they loaded the sweet sauce on top. I did like the toast and cheese, which made for an interesting texture contrast with the meat. Don't get me wrong it's good, but it's not going to be at the top of my list to come back for.
Ok, now this IS going to be high on my list to come back to….Freshly Baked Carrot Cake and Cream Cheese Icing. The only word that comes to mind is: DANGGGGG! I don't even like carrot cake and once I took a forkful, I wasn't giving this thing up! The cake itself was really moist and flavorful, with some nice chunks of crunchy, caramelized carrot in there. And that Cream Cheese Icing, is the stuff of legends! I like how they didn't go skimpy like some booths, but literally drowned may cake in it! I found a way to sop up every single ounce of that stuff up onto the cake.
Everything about it was great and exactly what I think of when wanting a great Food and Wine dessert. MUST try!
Booth Summary and Grade:
Even though the menu is essentially the same, this year Hops and Barley hit it out of the park. Everything we had was good to over-the-top-awesome! I would like to see one more savory option on the menu, which is really the only thing keeping it from a perfect score. And I can't bring myself to choose between the Lobster Roll and Carrot Cake for my favorite, it's like choosing between two children…you need both!
If you have to get just one thing:

2-way tie Lobster Roll and Carrot Cake



Grade:

9



Take a look at all of my 2017 Epcot Food and Wine articles. I have a 2017 Epcot Food and Wine Info Guide with a complete Index of the Food and Wine Menus, The Top NEW Items for 2017, Top Food and Wine Booths and more…I want you to be able to have the best info on the Festival so you have a great time and don't waste your time!
Your Thoughts:
I want to know what you think of my Hops and Barley Review 2017 Epcot Food and Wine Festival. Which was your favorite item? Where does it rand on your list of 2017 Food and Wine booths? Let us know in the comments section below!
If you enjoyed this article, as always I appreciate it if you'd share it with others via social media. I work hard at making this website into a useful resource for you and your family to plan your visit to Walt Disney World, and I hope it can help you! Thanks 🙂