Hops and Barley Review: 2016 Epcot Food and Wine Festival
I never really got why the Hops and Barley is Hops and Barley and why they hide it from what it really is..The America Booth. That being said, Hops and Barley can be hit or miss, with some great options and some really bad ones. Let's look at what is being offered this year…
Booth:
As you notice from the picture, the Hops and Barley actual Kiosk got a make-over this year, and I'm digging the new look. It looks like an authentic colonial style house you would find in New England. Well done!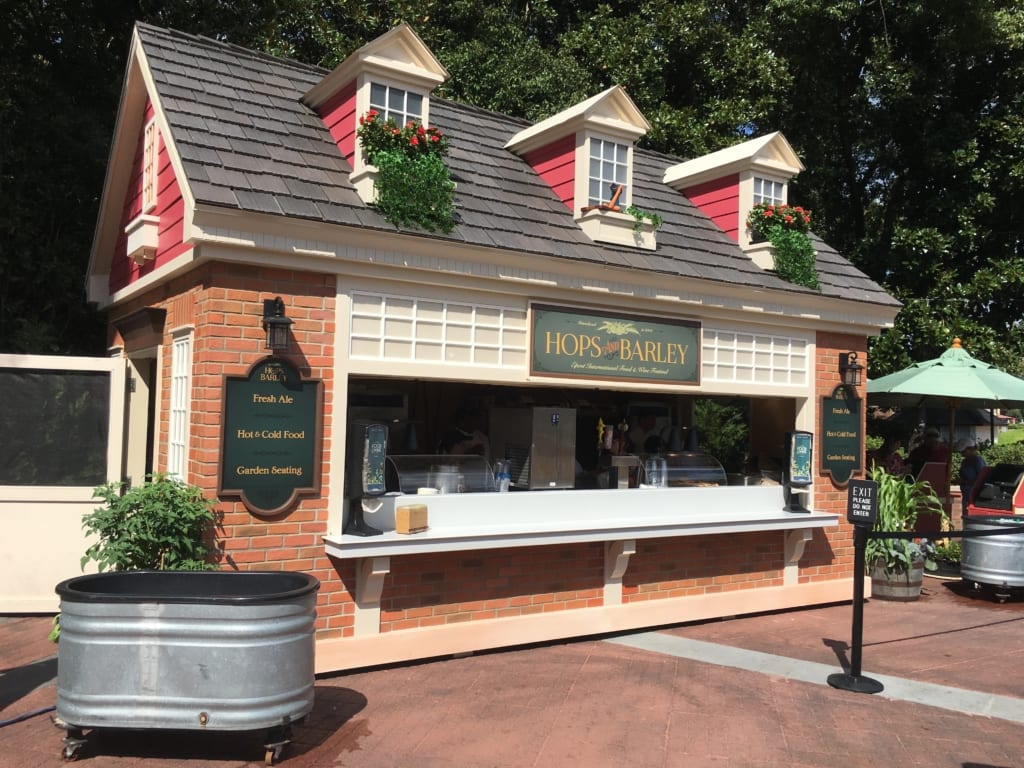 Menu:
You'll notice from the menu that the usual suspects are back being the Lobster Roll and Carrot Cake, with the addition of a Smoked Beef Brisket and Pimento Cheese.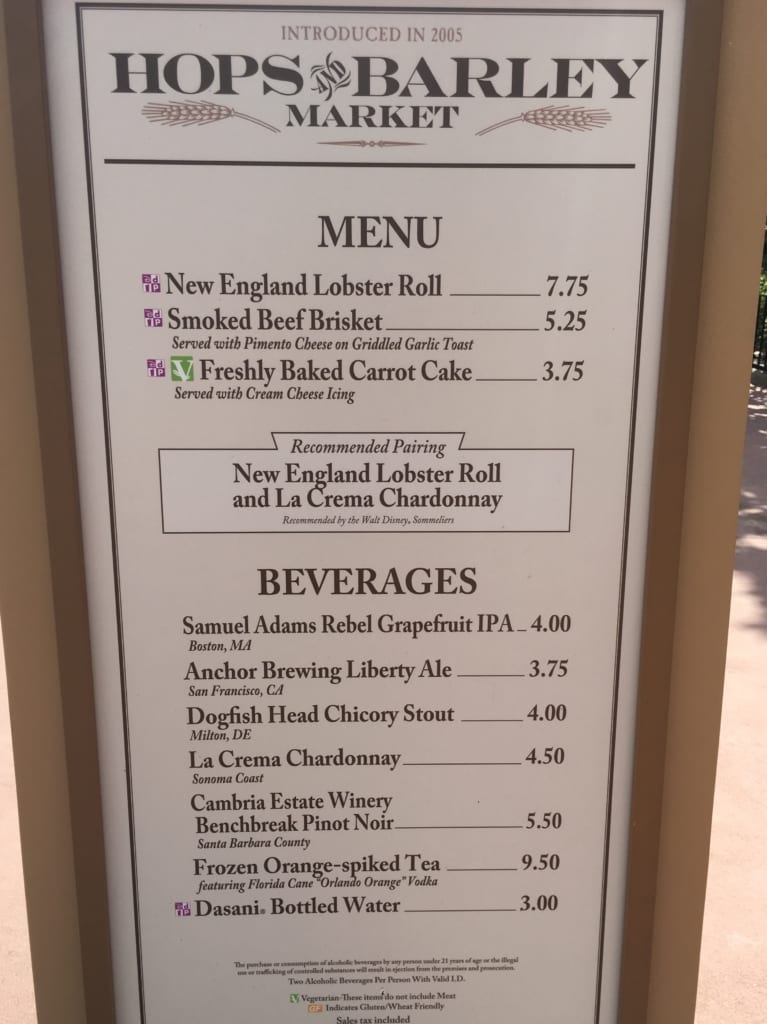 Food:
Smoked Beef Brisket and Pimento Cheese Served on Griddled Garlic Toast – $5.25, DDP Snack Eligible

*Ziggy Recommended



New England Lobster Roll – $7.75, DDP Snack Eligible
Freshly Baked Carrot Cake and Cream Cheese Icing – $3.75, Vegetarian, DDP Snack Eligible

*Ziggy Recommended
Beverages:
Samuel Adams Rebel Grapefruit IPA, Boston, MA – $4.00

*Ziggy Recommended

Anchor Brewing Liberty Ale, San Francisco, CA – $3.75
Dogfish Head Chicory Stout, Milton, DE – $4.00
La Crema Chardonnay, Sonoma Coast – $4.50
Cambria Estate Winery Benchbreak Pinot Noir, Santa Barbara County – $5.50
Frozen Orange-spiked Tea featuring Florida Cane "Orlando Orange" Vodka – $9.50
Menu review:
Right away I wanted to try the Smoked Beef Brisket and Pimento Cheese on Griddled Garlic Toast. It's been getting mixed reviews around the internet, some love it, some say it's terrible. I'm somewhere in the middle on this one. Having just come back from Austin Texas in August, any other Brisket you find around the country will be absolutely no match in comparison, but I tried to be partial.
The Brisket itself was decent, it wasn't very tender, a little stringy, but it had a decent flavor to it. The toast was ok, I couldn't really taste the garlic in it though because the other flavors were overpowering, it may have well been normal toast. The salsa on top and the pimento cheese both had nice flavor, I just couldn't help feeling they had to be added because the meat itself wasn't tender enough. I'd say try it if it really appeals to you just don't get your hopes up if you think it's Texas Brisket.
Next there was the Lobster Roll.
This I thought was very good. It is the most expensive item at the Festival at $7.75, but it is much better than last year's version. Last year's had way to much mayo and filler and not enough Lobster. Instead this year as you can see, there are some nice chunks of Lobster in there and you can really taste it. There's also a buttery mayo on top, but it isn't overpowering like there's something to hide. It's a great use of a snack credit also if you are on the Dining Plan. A very good option and I recommend it.
Lastly for dessert is the Freshly Baked Carrot Cake and Cream Cheese Icing. It doesn't sound like much, in fact it's really simple, but it sure is delicious!! It's served nice and warm, and that sweet cream cheese icing melts al over the place. Don't get it to share, you won't want to….trust me!
Booth Summary and Grade:
Overall the Hops and Barley (America) booth was really good. I loved the Lobster Roll this year much more than last. The Smoked Beef Brisket is it or miss, I thought it was a nice effort to be creative and it sounds really good on paper, but falls short a little bit. And the Carrot Cake although nothing fancy, pleases over and over again.
I find it strange that there's no Bacon on the menu..what's up with that Iger?? Bacon is the most unique food to America and it has to be represented imo. I just feel like something is missing, as this should be the absolute best of what this country has to offer in cuisine. It had a chance to be the best booth this year and just fell a little short. We'll see what they do next year.
If you have to get just one thing:

Lobster Roll



Grade:

8



Take a look at all of my 2016 Epcot Food and Wine articles. I have the Top 15 Things You Must Try this year at Food and Wine, and also a complete Index of the Food and Wine Menus and other Helpful Info. I want you to be able to have the best info on the Festival so you don't waste your time and you have the best time possible!
If you enjoyed this article, as always I appreciate it if you'd share it with others via social media. I work hard at making this website into a useful resource for you and your family to plan your visit to Walt Disney World, and I hope it can help you! Thanks 🙂
Your Thoughts:
I want to know what you think my review of Farm Fresh at the 2016 Epcot Food and Wine Festival. What are your favorites? What keeps you coming back again and again? What would you like to see next year? Let us know in the comments section below! 🙂