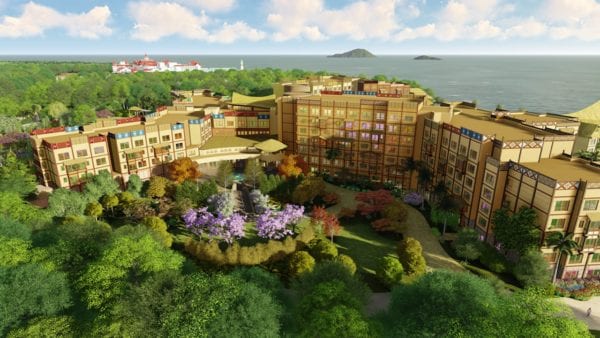 There are Big Plans in store for Disney's smallest castle park, Hong Kong Disneyland. In fact little while back we said how Hong Kong Disneyland is making a major $1.4 Billion Expansion, adding a Marvel themed land, Frozen Land, and much more. This will be happening from 2018-2023. To get ready for the influx of what is sure to be new guests after that expansion, Disney is getting ready to open their new hotel, Disney's Explorers Lodge. It's just weeks from opening, which will be on April 30th, 2017.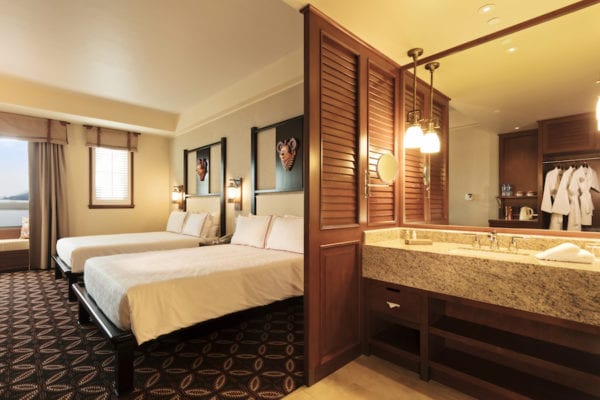 The Explorers Lodge will be Hong Kong Disneyland's third hotel, joining Disney's Hollywood Hotel and the Hong Kong Disneyland Hotel, and will hold 750 rooms among four wings. This brings the resort's grand room total to 1,750). Enfolding the four wings, there's the Kevin Garden, themed to South America and named for the colorful bird in Up, the Little Squirt Garden of Oceania named after the Crush's son in Finding Nemo,; the Hathi Jr. Garden named for the baby elephant from The Jungle Book in the heart of Asia, and the Rafiki Garden on the African Savannah with a name, of course, in allusion to The Lion King.
I love the theming of this resort, having 4 different wings, all coming from different parts of the world. It's kinda like a ore modern Wilderness Lodge, but with influences in style from all around the world, not the Northwest. It also is sure to bring more to life Disney's secret society S.E.A, and you can expect to find some clues around the resort of their presence there!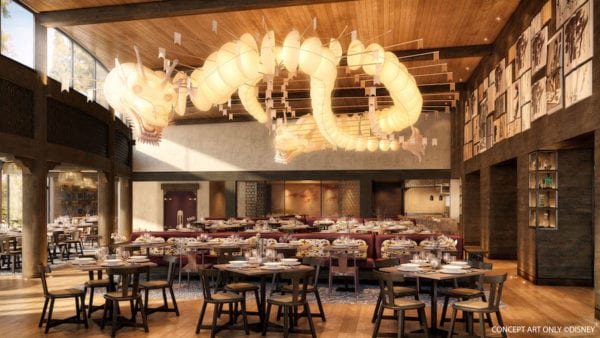 The Explorers Lodge will also be home to three new dining locations: Dragon Wind, World of Color Resturant, and Chart Room Cafe. The Trading Post will be the resort's gift shop where you will find unique artifacts and memorabilia.
Reservations are now available for Disney's Explorers Lodge. You can go on the Hong Kong Disneyland website and look for special offers there or by calling Reservation Center hotline at (852)-1-830-830. One offer guest can have is a complimentary character buffet breakfast for two adults in the Chinese restaurant Dragon Wind and a photo moment with a Disney character, or a 20% discount with the "2 Nights Plus Offer". If you book a standard room you will also enjoy free upgrade to a deluxe room. Magic Access Members can enjoy the Hotel Room Seasonal Offer of up to 25% off!
Your Thoughts:
I want to know what you think about the Hong Kong Disneyland Explorers Lodge Opening in April. Are you going to book a trip to Hong Kong Disneyland in the near future? If so would you like to stay at the Explorers Lodge? Do you think Disney will work in its S.E.A to the resort? Let us know in the comments section below!
If you enjoyed this article, as always I appreciate it if you'd share it with others via social media. I work hard at making this website into a useful resource for you and your family to plan your visit to Walt Disney World, and I hope it can help you! Thanks 🙂
Photo Credit: Disney