Germany is a long-time Epcot Food and Wine favorite. The food here just makes you feel good, I mean, Brats, Beer, Schinkennudeln…huh? Just keep reading… Germany is always a solid choice, but how does it stack up this year? Let's dive into my Germany Review: 2017 Epcot Food and Wine Festival….
Germany Booth:
Here it is as always, located in the same location, right next to the Brewer's Collection booth and my new obsession: Pomegranate Beer. That's another story though.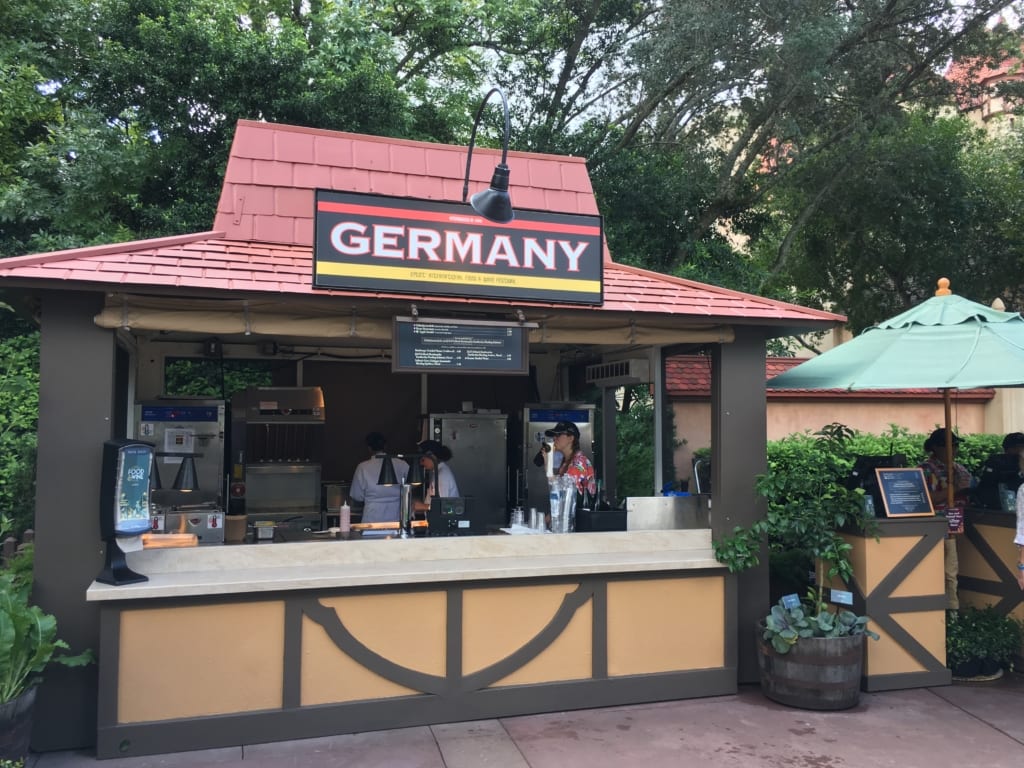 Germany Menu:
I was so excited to get my brat that I forgot to take a pic of the menu!
Took their usual 0.25 cent hike up from 2016, but the menu is unchanged except for the Decorated Gingerbread Heart…
Food:
Schinkennudeln: Pasta Gratin with Ham and Cheese – $4.00, DDP Snack Credit *Ziggy Recommended
Roast Bratwurst in a Pretzel Roll – $5.25, DDP Snack Credit *Ziggy Recommended
Apple Strudel with Vanilla Sauce – $4.00, DDP Snack Credit

*Ziggy Recommended

Lebkuchenherz: Decorated Gingerbread Heart – $7.00, DDP Snack Credit
Beverages:
Radeberger Zwickel Pilsner (Unfiltered) – $4.25
Selbach Bernkasteler Kurfürstlay Riesling Kabinett, Mosel – $5.00
Dr. Heyden Oppenheimer Sacträger Riesling Spätlese, Rheinhessen – $5.00
Selbach Riesling Classic Dry, Mosel – $5.00
Wine Flight Also Available -$6.50
Menu Review:
So I'm super hungry and there is no need to waste any more time! Let's start out with our favorite wennie, the Roast Bratwurst in a Pretzel Roll! Let me tell you guys, it doesn't get much better than a roasted brat on a pretzel bun! The bun is amazing, super chewy and essentially the same one you're going to find over at the Canada booth they serve with the Cheddar Cheese Soup, which is A-ok in our book! The brat itself is a beer brat, and you can really taste the beer, which was unbelievable! It's a good size portion, but I feel like it used to be a little longer before. This to me is a classic Epcot Food and Wine items that has to be enjoyed with a beer in hand while walking World Showcase!
As good as the Brat is, the next item is even higher on our list of must-try items for Food and Wine: Schinkennudeln. Come again? The description is Pasta Gratin with Ham and Cheese, so essentially it's Mac and Cheese. But imo it is this year, just like always, the BEST Mac and Cheese of the festival! Blows the Loaded Mac and Cheese in Active Eats out of the water by a mile! I don't what there isn't to like about it…pasta, cheese and ham all together is always a win in my book! We did notice our portion was a little less this time around which I've also noticed depends a bit whose running the spatula. Still at $4.00 it remains a good bargain and an absolute can't miss item!
When I think of German desserts the first thing that comes to mind is Apple Strudel, and this one is exceptional! The Apple Strudel with Vanilla Sauce here is a perfect example of what strudel should be, a light, somewhat crispy and flakey dough, and filled with a sweet apple mix on the inside. This one has raisins mixed in as well which I LOVE in my strudels. The vanilla sauce compliments the strudel perfectly, giving it just another layer of flavor, even though the strudel is so good. that it doesn't even need it! Let me just say that I spent a whole day in Vienna once on a search for the best strudel in Austria, and I only had one that was as good as this! My only complaint is the portion is just a bit small and I would have eaten 5 if I could. Perfect for Fall and MUST try!
Last on the menu was the Lebkuchenherz: Decorated Gingerbread Heart. We didn't try this because I couldn't bring myself to spend $7 on a gingerbread cookie, just couldn't. What we heard from other guests was that it was just ok anyways, and nothing special. Sounds like a skip to me unless you get an unnatural gingerbread craving on your trip to Walt Disney World! 😉
Germany also has a great beer: Radeberger Zwickel Pilsner and a fantastic Wine Flight we recommend. We didn't get them this time though because we were still enjoying our Pomegranate Beer from Brewer's Collection! 🙂
Booth Summary and Grade:
Germany was an absolutely fantastic booth, like always, but I thought even more so this year the tastes when we went were right on with everything. The Brat was amazing and a German classic. The Schinkennudeln Pasta Gratin was equally as good as always and remains the best Mac and Cheese at Food and Wine. And I love apple desserts and the Apple Strudel was simply perfect! This is going to be a tough one for me as I'm sure Germany will be right up there towards the top of Best Food and Wine Booth 2017. Just make sure you stop there!
If you have to get just one thing: It was basically a 3-way tie but I'll go with

Schinkennudeln



Grade:

9.5



Take a look at all of my 2017 Epcot Food and Wine articles. I have a 2017 Epcot Food and Wine Info Guide with a complete Index of the Food and Wine Menus, The Top NEW Items for 2017, Top Food and Wine Booths and more…I want you to be able to have the best info on the Festival so you have a great time and don't waste your time!
Your Thoughts:
I want to know what you think of my Germany Review 2017 Epcot Food and Wine Festival. Which was your favorite item? Where does it rand on your list of 2017 Food and Wine booths? Let us know in the comments section below!
If you enjoyed this article, as always I appreciate it if you'd share it with others via social media. I work hard at making this website into a useful resource for you and your family to plan your visit to Walt Disney World, and I hope it can help you! Thanks 🙂