Even though it's only been open just over 1 month, Star Wars Galaxy's Edge is already sold out of some of the most popular merchandise like Kyber Crystals, Lightsabers and Droid Parts in Disneyland.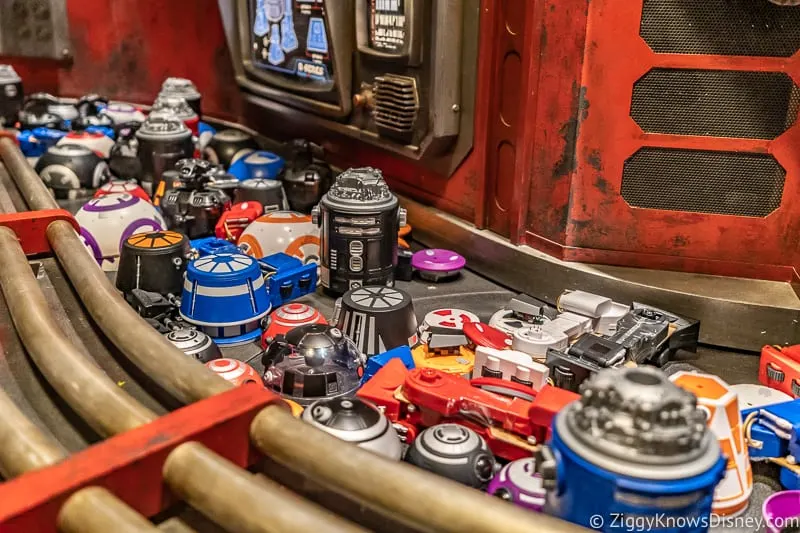 Galaxy's Edge is truly a paradise for any Star Wars collector with some of the rarest collectibles that you can find anywhere. Some of the highlights are full stormtrooper armor, Kylo Ren's mask and even interactive shopping experiences like the possibility to build your own custom lightsaber or build your own droid!
However according to various reports including CNBC, guests entering Star Wars Galaxy's Edge in the last few days have been pretty disappointed upon entering Star Wars Galaxy's Edge when some of the souvenirs they had been looking forward to buying were not there.
Right now Millennium Falcon: Smuggler's Run is the only attraction currently open in Galaxy's Edge, making the many merchandise options all the more important for a great guest experience, and this has been disappointing for many:
Some of the sold out merchandise in Galaxy's Edge includes:
Legacy Lightsabers
Kyber Crystals
Droid Parts
Droid Backpacks
Legacy Lightsabers:
Normally legacy lightsabers are available in Dok Ondar's Den of Antiquities from Star Wars Legends which are very realistic replicas of the originals. Currently the Luke Skywalker, Obi-Wan Kenobi, Rey, Mace Windu and Darth Vader sabers are currently out of stock, with Ahoska Tano also likely out of stock.
Custom-built lightsabers from Savi's Workshop are still currently available.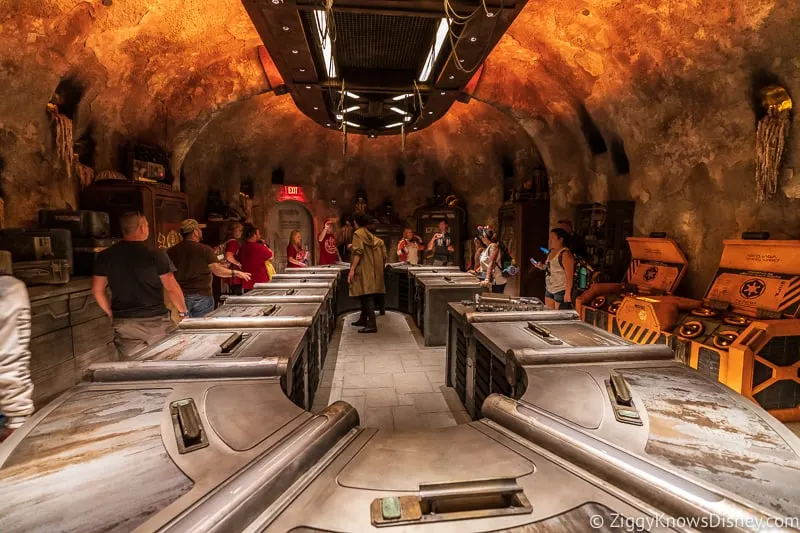 Kyber Crystals:
Inside each lightsaber there is a colored cyber crystal which powers your blade. The crystal is what gives each lightsaber it's individual color. When you do the Savi's Workshop experience of building your lightsaber, you are given a choice of one color.
However more colors were available in Dok Ondar's Den of Antiquities to purchase separately, giving your lightsaber a different color with choices of: Blue, Red, Green, Purple, Yellow, Black and White. The individual cyber crystals for sale there are currently all sold out.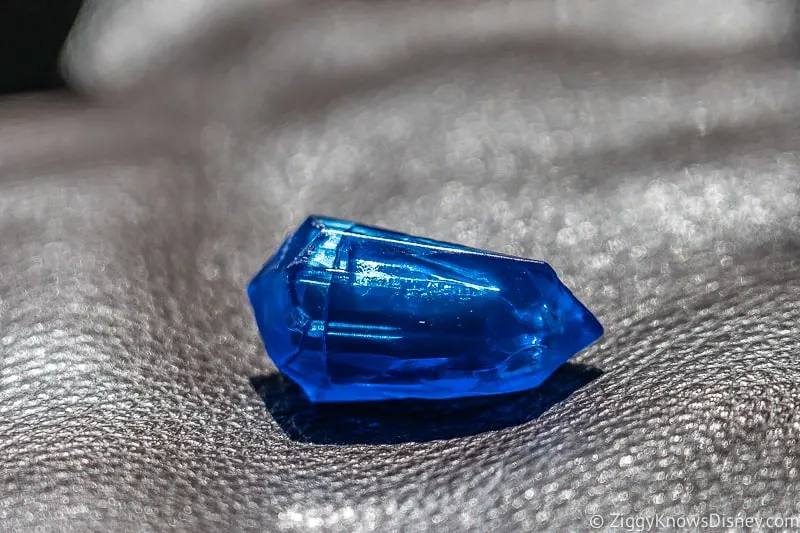 The only ones still available are the red and blue ones, but only when purchasing a Sith or Jedi holocrons.
Droid Parts / Gear:
While Savi's experience is not being interrupted by sold out inventory, the Droid Depot experience is. According to fans and a Disney cast member, who works in the park and asked not to be identified, one of the R2 unit heads (black and clear) is currently not available and neither are the droid personality chips. The droid building experience starts at $99.99 and no reservation is needed to participate.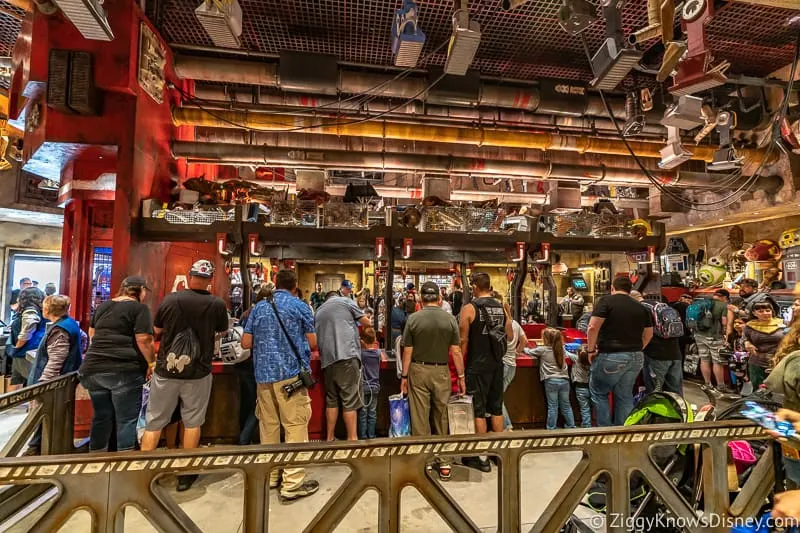 Other Sold Out Items:
Besides the lightsabers, cyber crystals and droid gear, some of the plushes, Loth-cats, and even the Sabacc card game, and Han Solo's lucky dice are all among the merchandise currently not available in Galaxy's Edge as of writing.
This doesn't mean there isn't any interesting souvenirs to take home from Batuu on your trip there, many of the clothing, robes, and a good number of toys are still available. However it is pretty disappointing if you make a trip all the way to Disneyland, which can be a once-in-a-lifetime thing for many, only to find a lot of the most interesting items missing.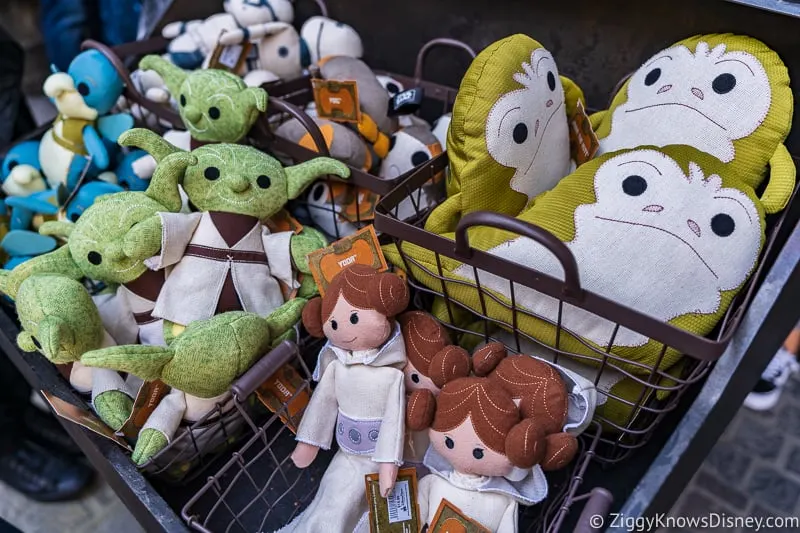 This is not the first time Disney has understocked its popular items with a new land opening. Just a couple of years ago when Pandora: the World of Avatar opened in Disney's Animal Kingdom, the popular banshee toys sold out within days of the new land's opening. That drove prices on the third-party market like eBay sky-high for these must-buy items.
I think you're seeing something similar here with the Star Wars Galaxy's Edge merchandise. Unfortunately some visitors know they can make a killing on eBay reselling these things, which causes people to buy merchandise they aren't really interested in, leaving the scraps for people actually looking for a souvenir. One look on eBay at the sporks from Docking Bay 7 going for $200 will amaze you.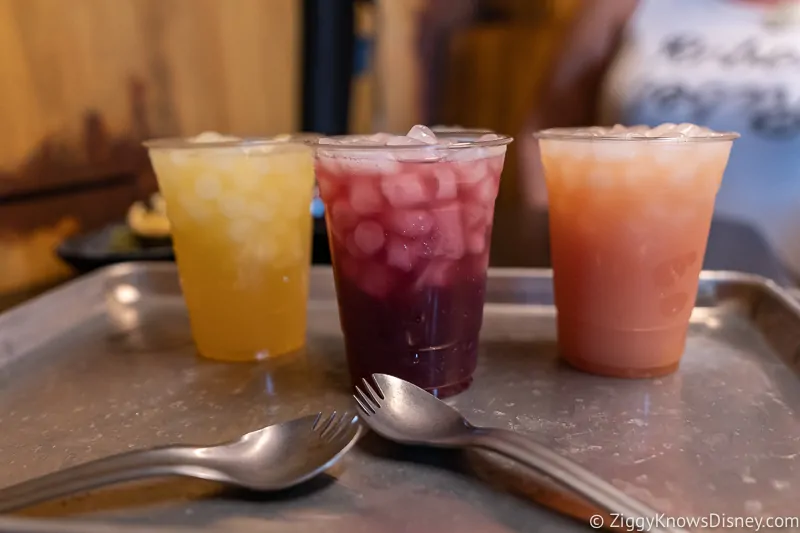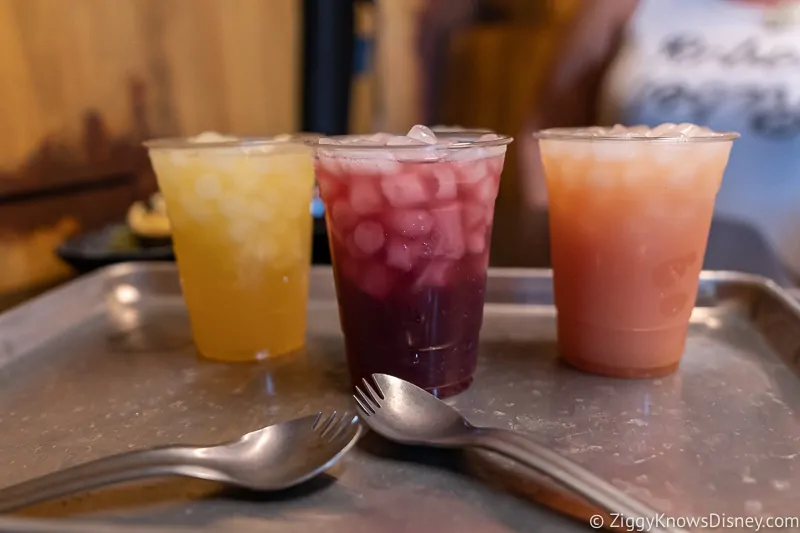 Disney hasn't commented on the missing merchandise, but a company spokeswoman said "There are a handful of items we are working diligently to restock." I don't think it's anything to worry about, it's tough to predict some of the buying habits of guests to a brand new land. Hopefully Disney will have the goods back in stock soon and will have a better feel on what are the hottest sellers next time around.
If you are going to Disney's Hollywood Studios to visit Galaxy's Edge I wouldn't worry about them not having one of these items you are looking for, they should have everything on opening day. That said, if there is an item you really want to buy I would wait long to get it, you can't expect them to last long there either.
No word yet on when Disney plans to restock the missing items like Kyber crystals, but we'll keep you updated as soon as we start to see them being restocked…
If you are going to Disneyland or Walt Disney World soon, read our complete guide to Star Wars: Galaxy's Edge which will help you will all your planning needs!
Your Thoughts:
I want to know what you think about Galaxy's Edge selling out of some merchandise…
What have you bought in Galaxy's Edge?
Is the shopping experience important to you there?
Let us know in the comments section below!
If you enjoyed this article, as always I appreciate it if you'd share it with others via social media. I work hard at making this website into a useful resource for you and your family to plan your visit to the Disney Parks and I hope it can help you! Thanks 🙂
News Source: CNBC