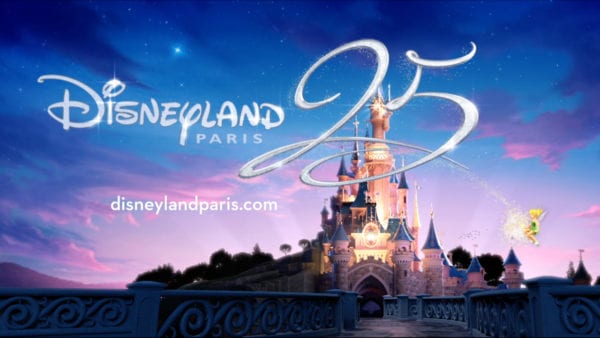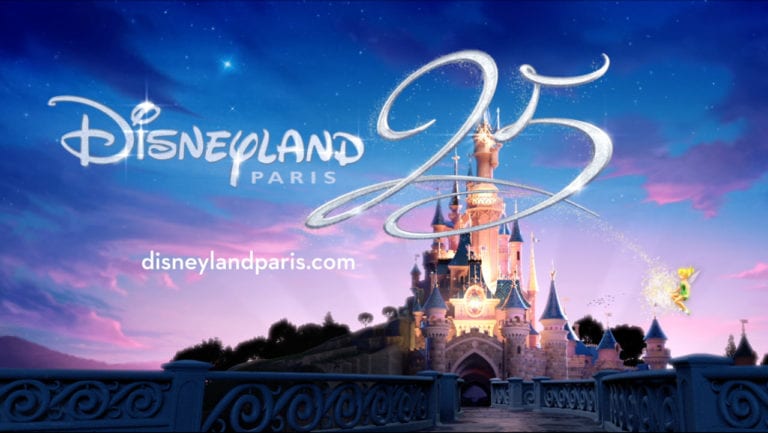 It's hard to believe it's already been 2 1/2 decades since Disney made the move to Europe, and they have a lot of special things planned for the Disneyland Paris 25th Anniversary Celebration. If you haven't ever been to Disneyland Paris then now might be a good time to go seeing all the festivities are coming.
The cast of nearly 15,000 are preparing for the big day which starts March 26th. There will be updates to your favorite attractions, shows, and special merchandise, food and drink. Here's what you can look forward to:
Star Wars Hyperspace Mountain – Later in Spring 2017, Star Wars will take over a legendary space-themed ride. Space Mountain will become Star Wars Hyperspace Mountain for a totally unique experience. In a brand new environment inspired by the Star Wars universe, guests can join the famous Rebel Alliance and become pilots on a sensational mission. They will travel through the Star Wars galaxy at intense speed, to the epic soundtrack of the saga.
Star Tours: The Adventures Continue – Launched at the opening of Disneyland Park in 1992, Star Tours soon established itself as a cult ride. 25 years later, it's back with a new experience, new destinations, a new pilot, new characters and new 3D technology. Introducing Star Tours: The Adventures Continue! Prepare for lift-off on an all-new, action-packed, 3D intergalactic voyage…it's sure to be epic.
Meet the Dark Side of the Force – Disneyland Paris guests will finally get the chance to meet the formidable Darth Vader every day. Head to the new dedicated area near the Star Tours: The Adventures Continue ride for a private meet and greet.
Disney Stars on Parade – Another exciting journey awaits guests in the brand new Disney Parade. With dizzying new floats, new music, a plethora of Disney Stars and new costumes, Disney Stars on Parade will dazzle guests of all ages. Guests follow Mickey and Friends on a real journey of discovery to the land of imagination – with eight "chapters" of fun.
Mickey presents "Happy Anniversary Disneyland Paris" – A brand new stage show specially-created for the 25th Anniversary. Disney Stars invite guests to gather in front of the stage at Sleeping Beauty Castle for a huge anniversary celebration, every day of the year.
The Starlit Princess Waltz – Another brand new show. With a sprinkle of fairy dust, Tinker Bell opens the festivities in front of Sleeping Beauty Castle. Aurora wants to invite the other Disney Princesses to the ball: Ariel, Belle, Snow White, Cinderella, Jasmine, Rapunzel and Tiana. Each princess makes her entrance in a magnificent ball gown, specially created for the 25th Anniversary. Their message: to remind the audience that every little girl, regardless of her age or background, is a Princess.
Disney Illuminations – As night falls, it is time for the final spectacular new experience: Disney Illuminations. This all-new show, featuring state-of-the-art technology, incorporates sound, lights, projections, fountains and breathtaking pyrotechnic effects.
Even though it's much smaller than Walt Disney World, if you haven't been before it's still worth the trip at least once. The Castle in Disneyland Paris is amazing, and so is the Dragon that lives underneath! The redesigned Hyperspace Mountain sounds really cool too, as well as Phantom Manor (Haunted Mansion), Ratatouille, and the best version of Pirates of the Caribbean in the world(the traditional ones, not counting the Shanghai version.) Also Disneyland Paris has two awesome Spectaculars/Shows in Disney Magic on Parade and Disney Dreams which are totally worth seeing.
It's going to be a great celebration, we'll keep you updated on all the events and news taking place!
Your Thoughts:
I want to know what you think about the Disneyland Paris 25th Anniversary Celebration. Have you ever been to Disneyland Paris before? Do you think the 25th anniversary is a good time to go? Let us know in the comments section below!
If you enjoyed this article, as always I appreciate it if you'd share it with others via social media. I work hard at making this website into a useful resource for you and your family to plan your visit to Walt Disney World, and I hope it can help you! Thanks 🙂
News and Photo Credit: Disney