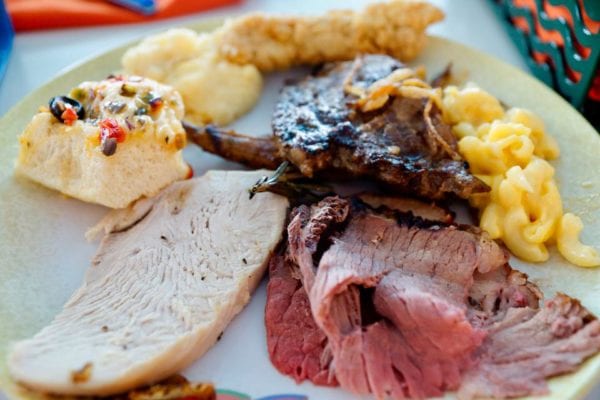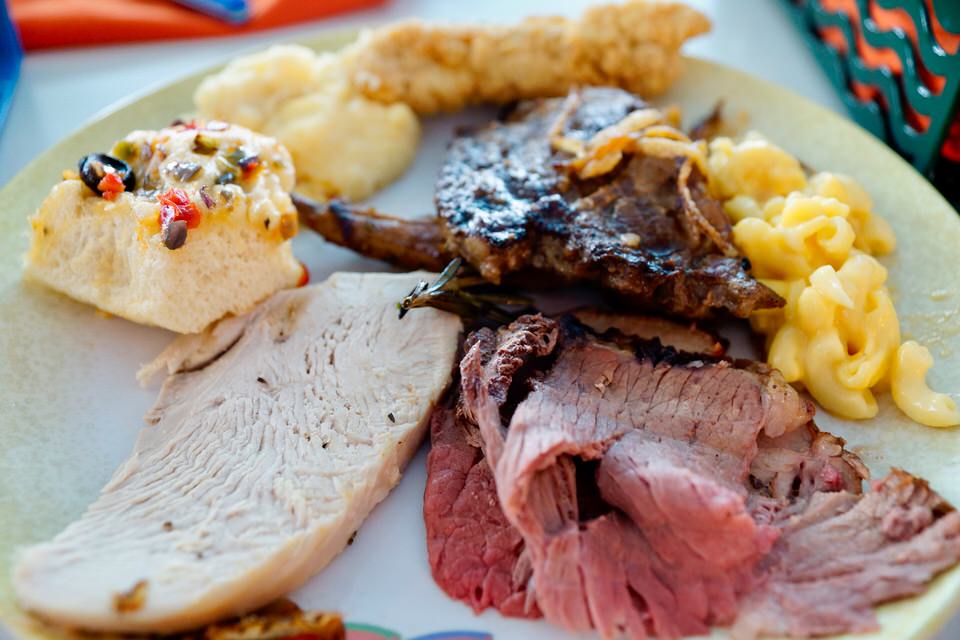 I recently had the pleasure of going on a 5 Day Bahamas Cruise on the Disney Magic and it was fantastic! There are so many fun things to do, one of which is eat of course! 😉 There are a number of amazing restaurants on-board, Animator's Palate, Lumiere's, Palo, and the one we made the most trips to: Cabanas. Now Cabanas is open for Breakfast, Lunch and Dinner, but for now I'm doing Disney Cruise Cabanas Lunch Review so that you will know what to get when you're starving at mid-day!
Cabanas is a Self-Service Buffet restaurant (except at dinner), which means you just stroll through all the different food stations and pile on whatever and however many times your little heart desires….aren't cruises great? For a Cabanas Lunch you're going to find your typical contemporary favorites: Salads, Soups, Burgers, Chicken, Steak, Seafood, Pizza, Pasta, etc. Also lots of Vegetarians options and a great variety of "Kid friendly" food.
The thing I noticed is the quality on a Disney Cruise is much higher than most other mainstream cruise lines. Even though I was eating a buffet, and I've tried some scary buffets throughout the years, it didn't feel like the quality was suffering because of it. Everything was excellent quality, probably the best of any cruise I've been on.
Cabanas can be found on all of the 4 Disney Cruise Line ships: Disney Fantasy, Disney Dream, Disney Wonder and our ship the Disney Magic.
If you just want a Video of the Cabanas Lunch you can see that here:
Let's go inside and take a look:
Atmosphere: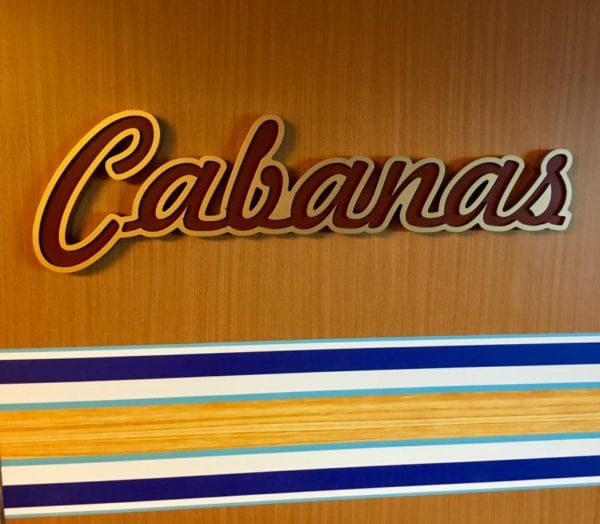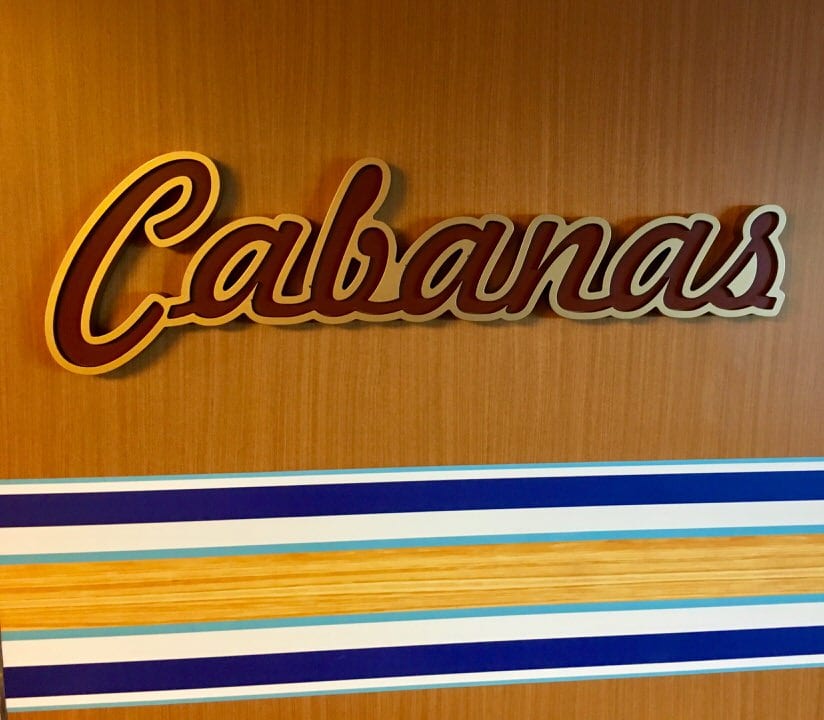 To get to Cabanas on the Disney Magic you need to take the stairs or elevator up to the 9th floor. Once you are there you'll see the entrance. Every time before we went in Cabanas, either for breakfast or dinner, we were greeted by one of the cast mates at the entrance saying hello and giving us hand sanitizing wipes, it wasn't even an option. It was nice to see that they are so health conscious enough to worry about that!
You'll notice the beach side theming to the restaurant right away when you walk in. Cabanas has a fun and light atmosphere, very casual. It's a no brainer if you have kids and they feel the need to exert some of that extra pent-up energy of theirs! It also has indoor and outdoor seating. Let's look at the inside first: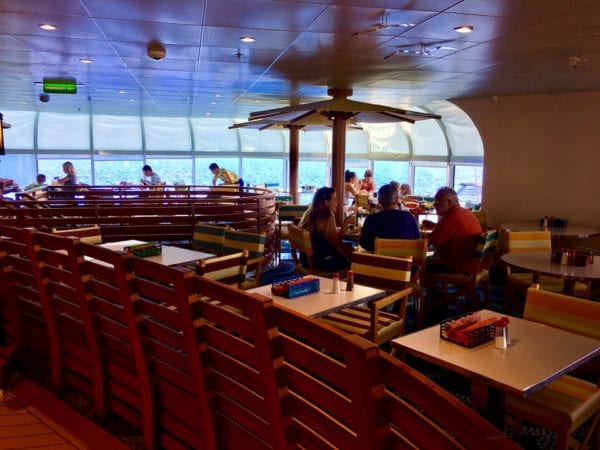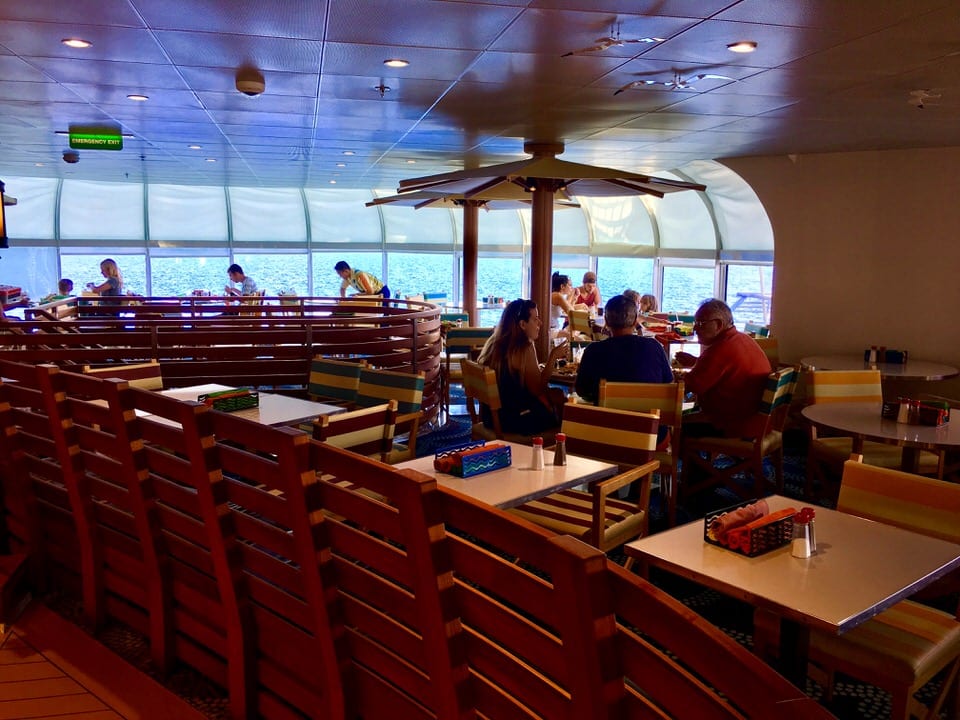 Cabanas is the biggest and most spacious restaurant on-board the Disney Magic, but even then it filled up often, especially for breakfast. Lunch was a bit calmer with most people off visiting the sites or at the pool.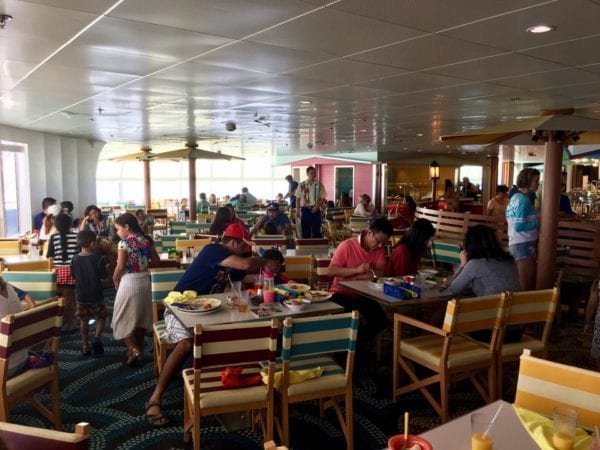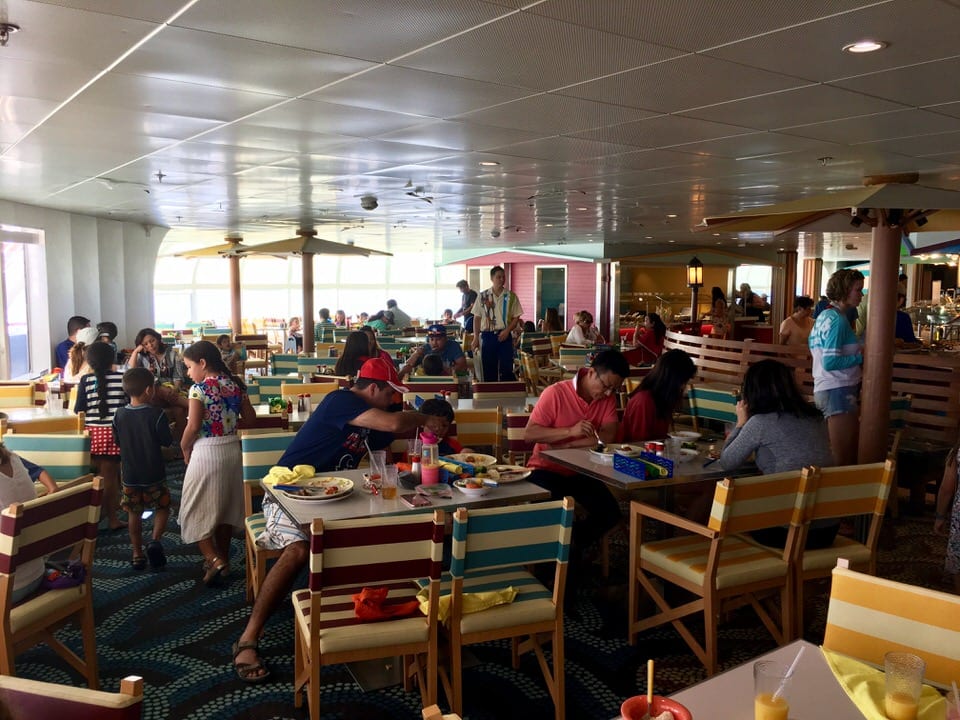 These are great tables along the windows with an ocean view: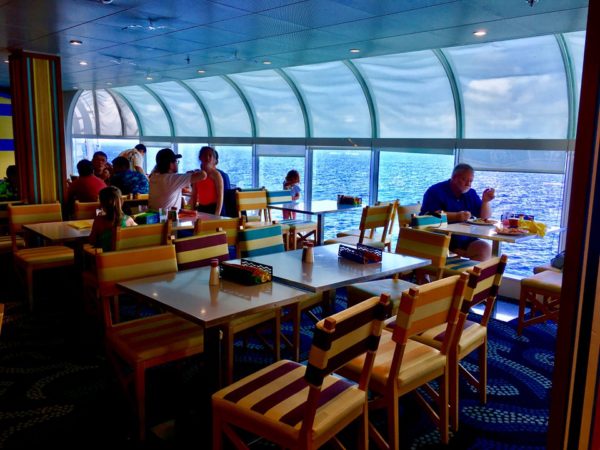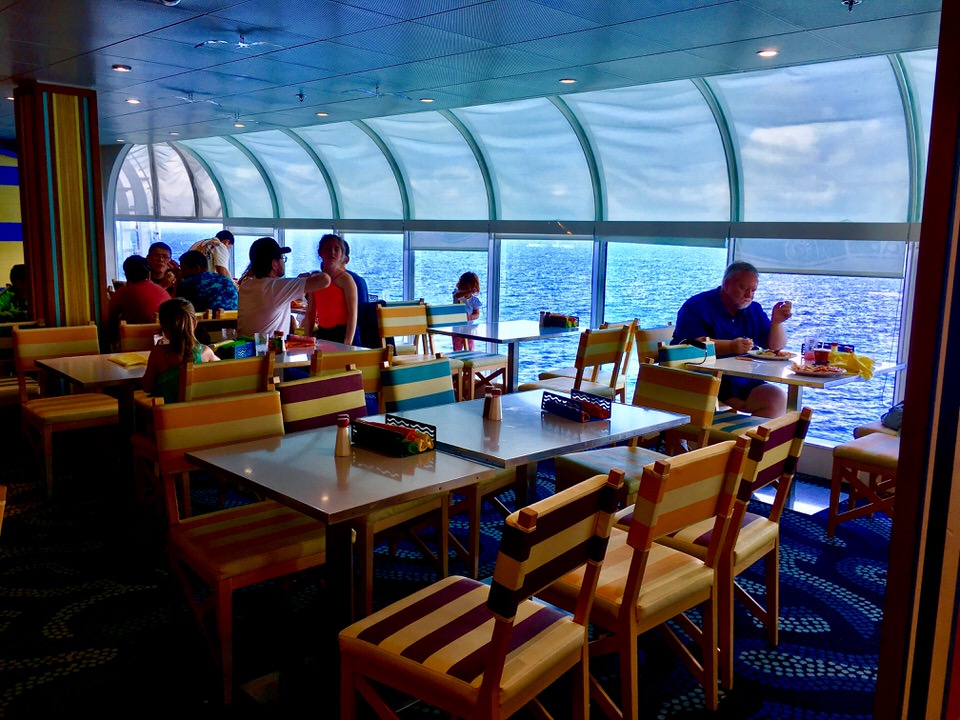 These little counters are really cute! They give you a front row view of all the hungry passengers passing by: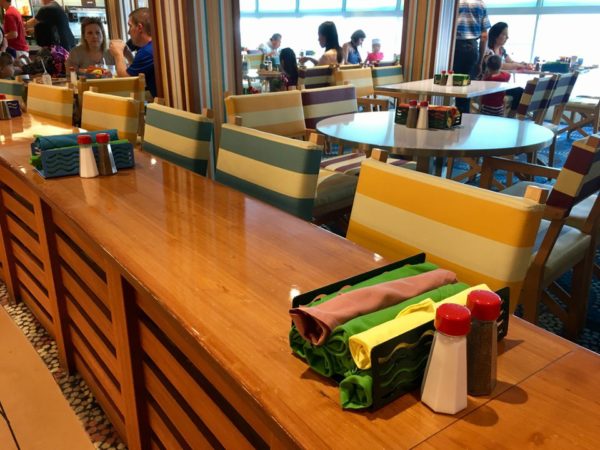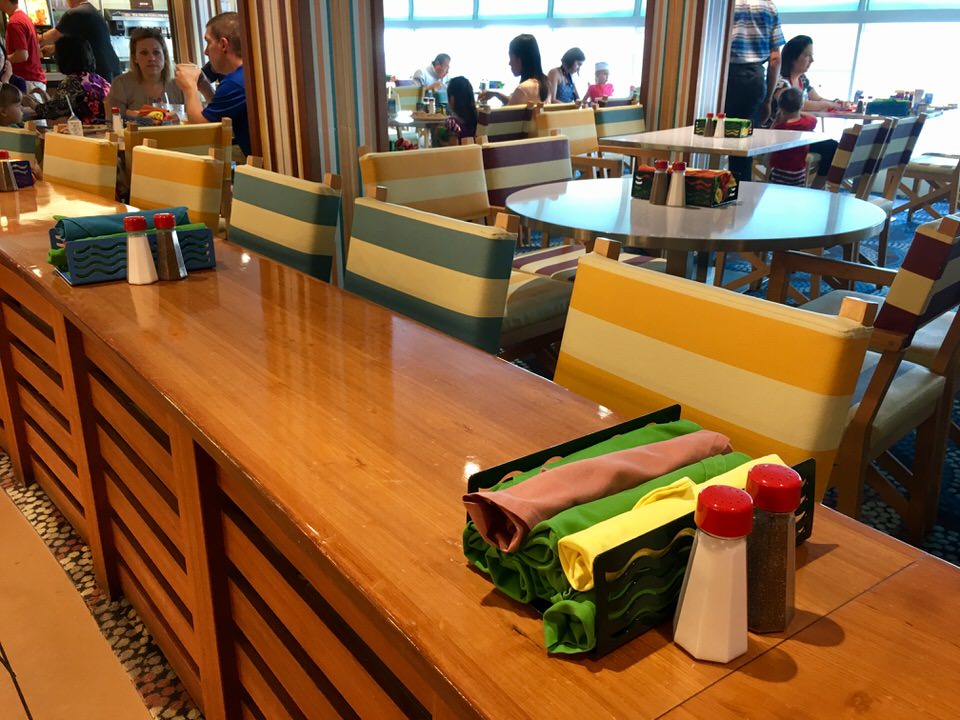 Let's look at the outside seating now which is by far my favorite: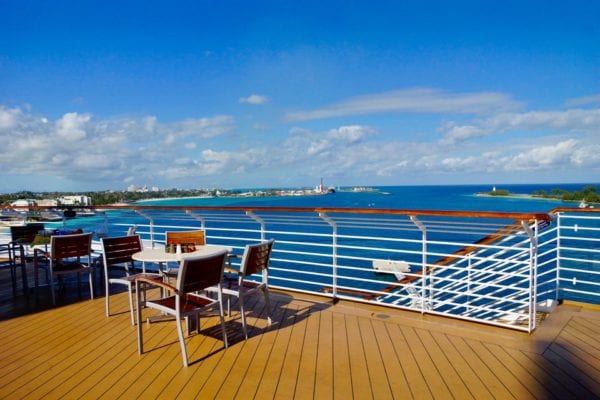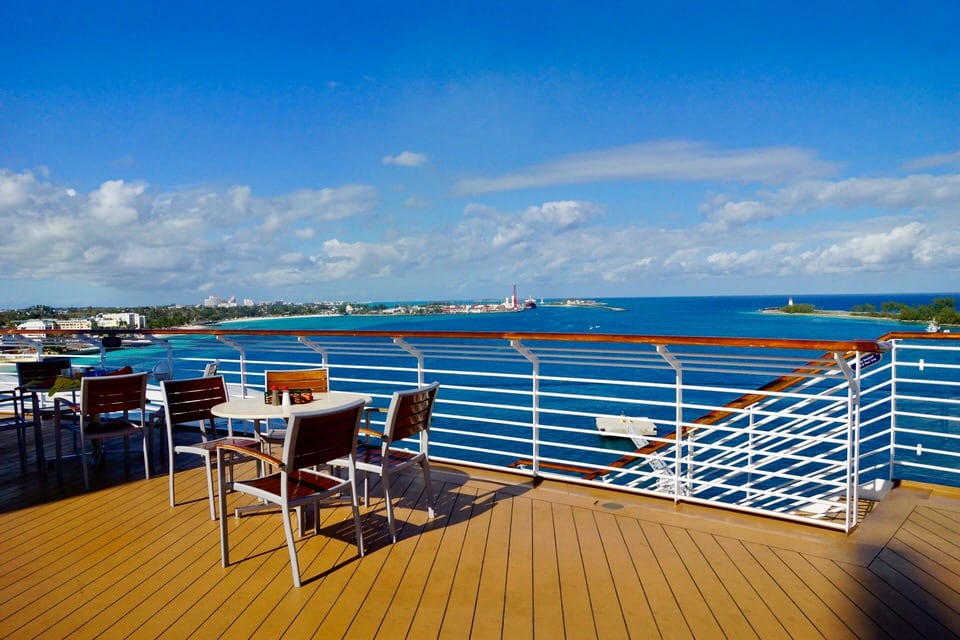 TIP: If you really want a good seat go up to the 10th level and sit out on the upper deck. You'll have an amazing view while having your lunch (or breakfast)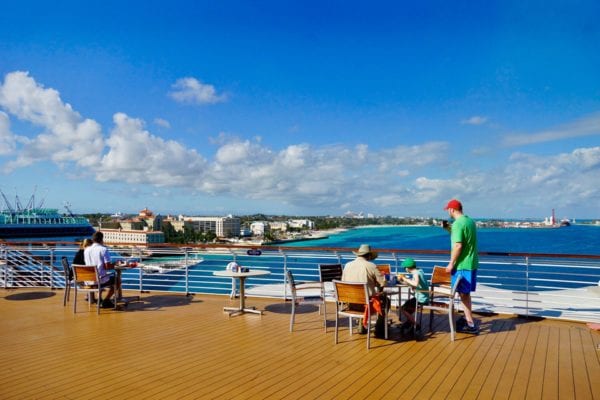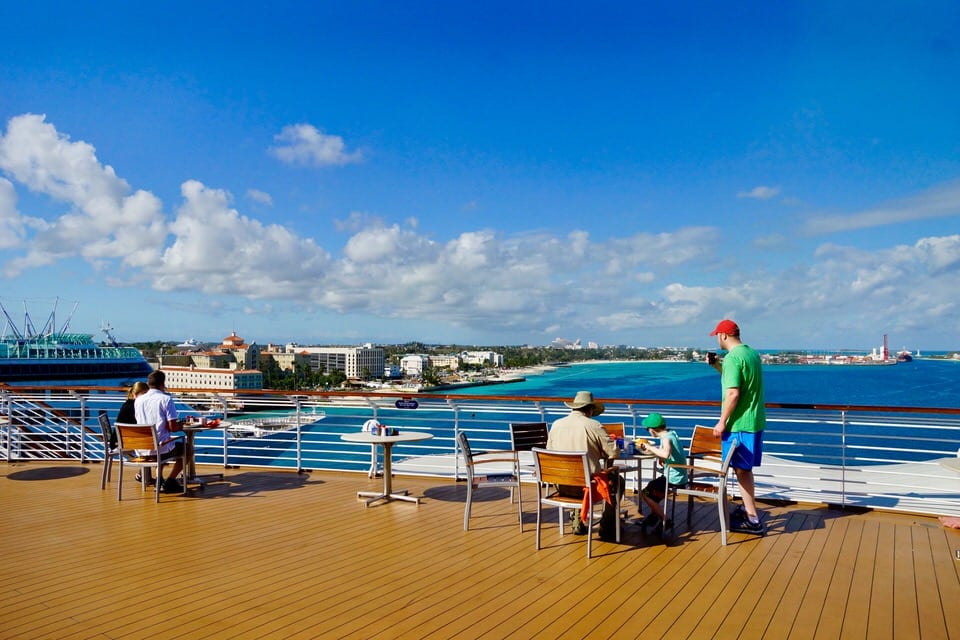 Imagine sitting down here to eat: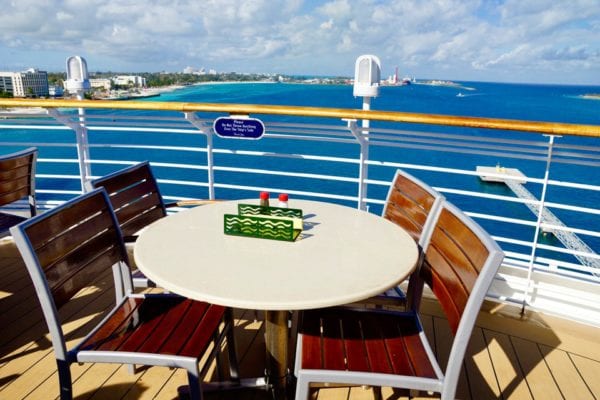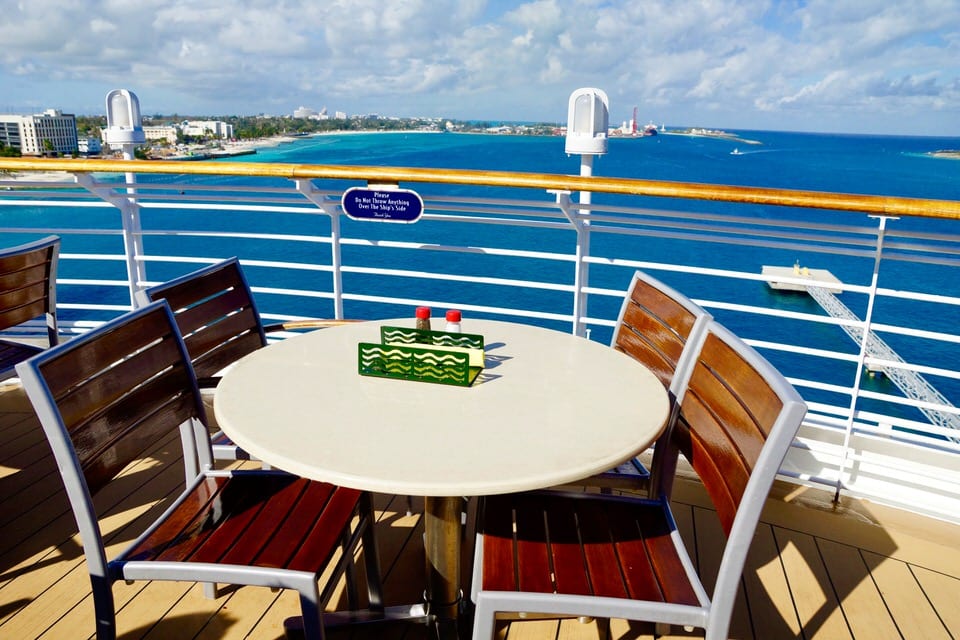 This was the awesome view I had when standing up very woozily after destroying the buffet: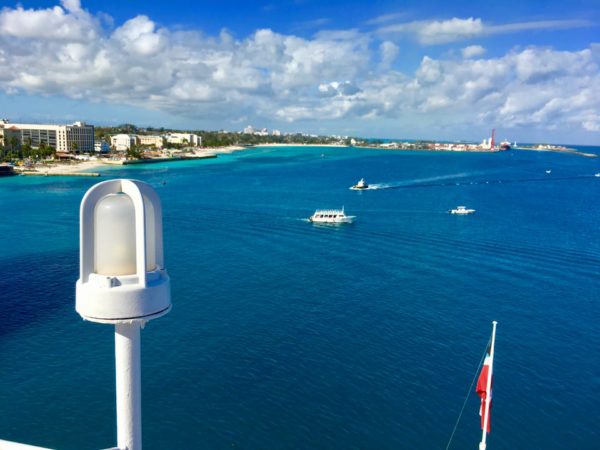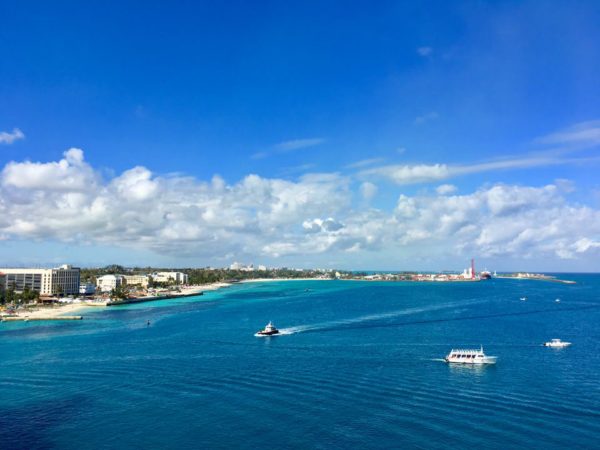 Enough of this, let's eat!
Food:
The Lunch at Cabanas is one of the best cruise ship buffets bar none. So many times we think "Buffet" only means QUANTITY, but Cabanas also offers a lot of great QUALITY too! I mean you fear seeing old, gross looking food that's been sitting out for hours, instead everything always looked very fresh.
The Cabanas Lunch buffet offers a TON of choices, it's really huge!! The nice thing about it is that they offer some of the same "staples" everyday (Pizza, Chicken, Salads, Soups, Pasta, Veggies, etc), but they also mix in different food themes everyday. For example one day will be themed: Mexican, Asian, BBQ, etc. So for each day you come there is always a nice variety outside of the norm.
I noticed there are also lots of healthy options such as for vegetarians. There's even a Seafood Bar which serves a variety of options depending on the cruise, usually Fresh Shrimp with either Crab Legs, Oysters or Clams.
This buffet is longggggg: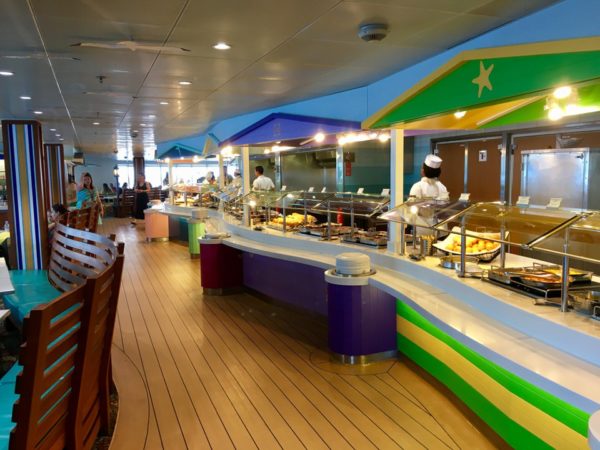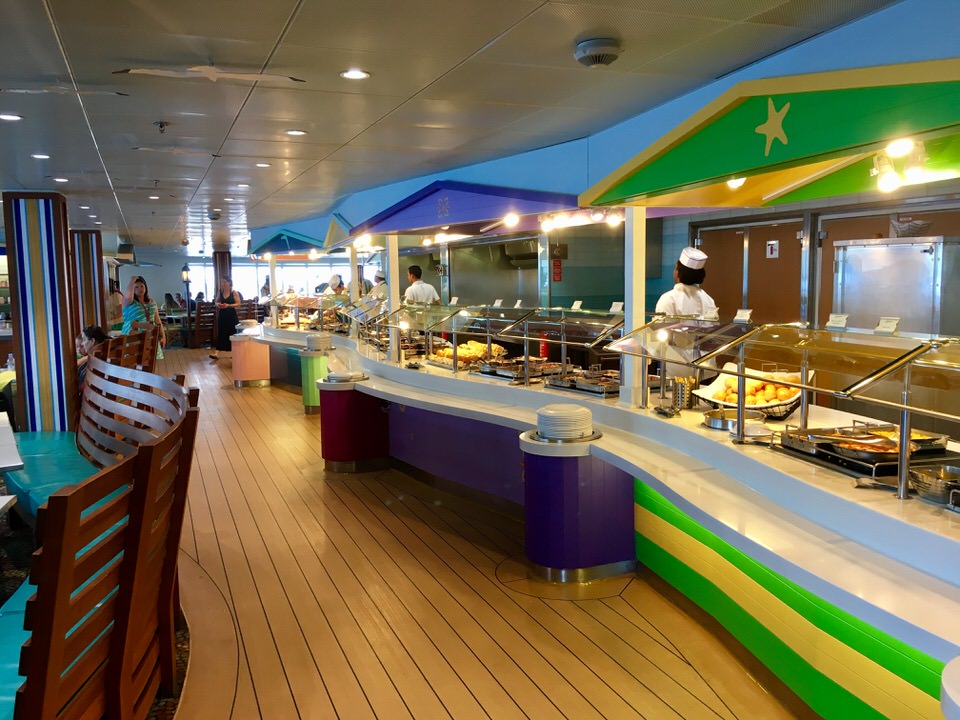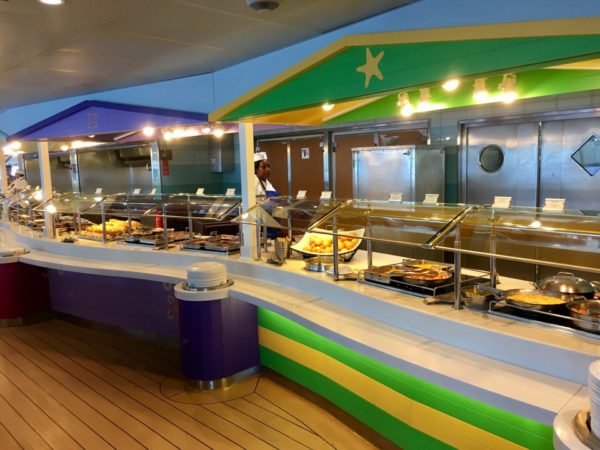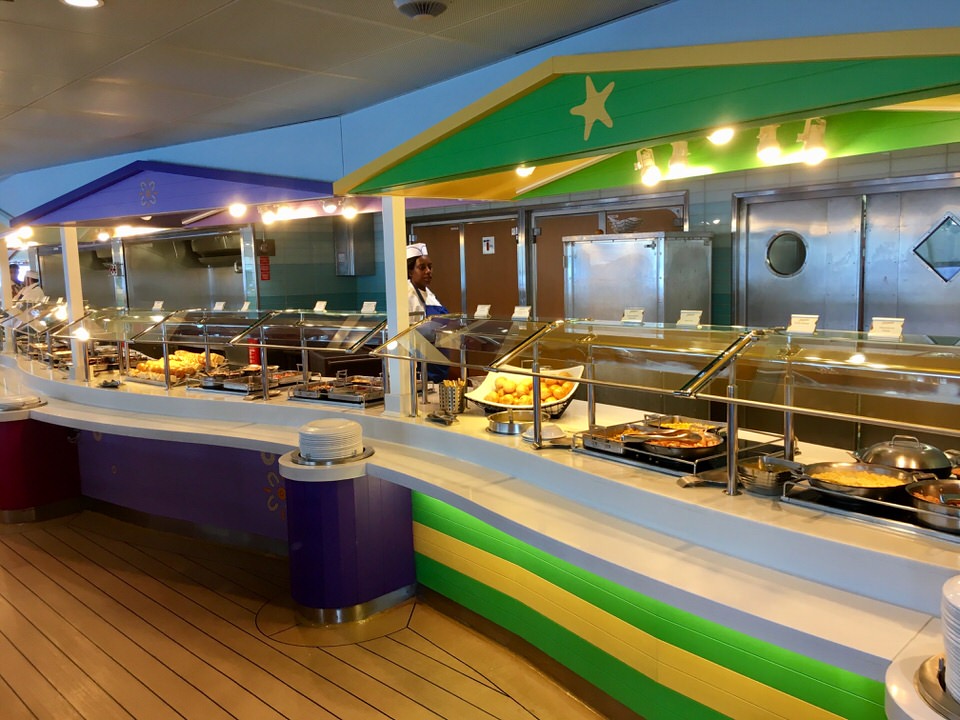 It continues around that corner where there are some specialty items of the day and the dessert counter too: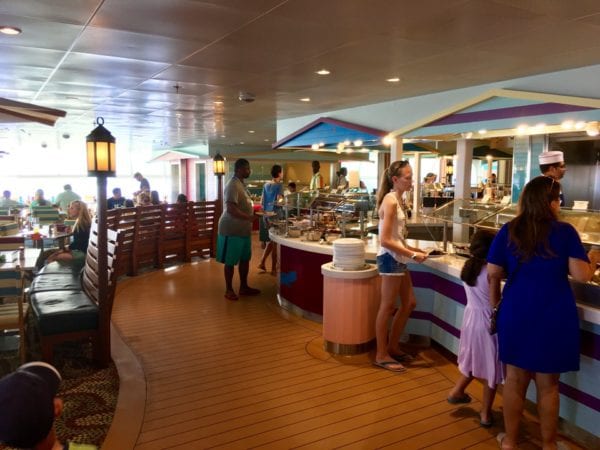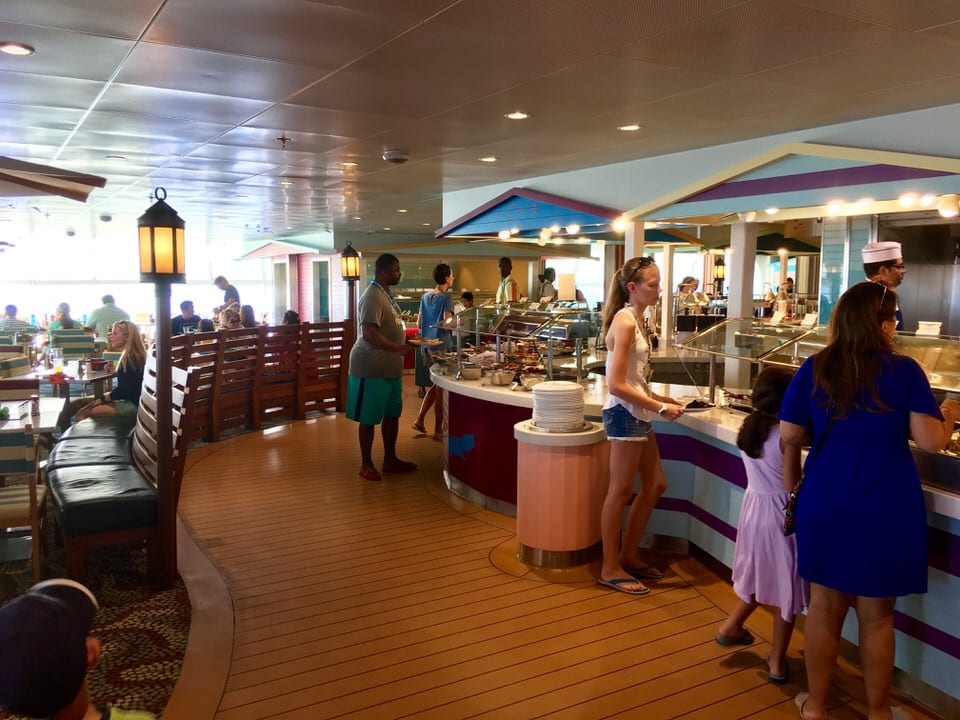 I didn't take pictures of the Cabanas Lunch buffet everyday even though we ate there almost every day, it would have been repeating many of the same things. I did take some pics of the Food Stations along the Buffet though on the Asian Food day so you could get an idea of the offerings.
Grab a plate or two. loosen your belt and follow me to a food lover's paradise!
Starting out we find some kid's (and Ziggy's) favorites, Chicken Nuggets and Mac and Cheese: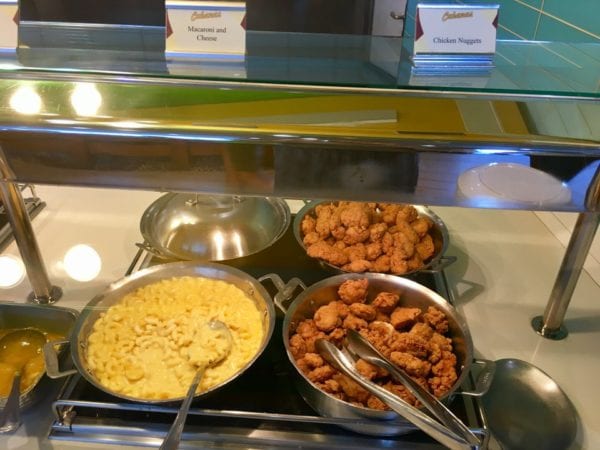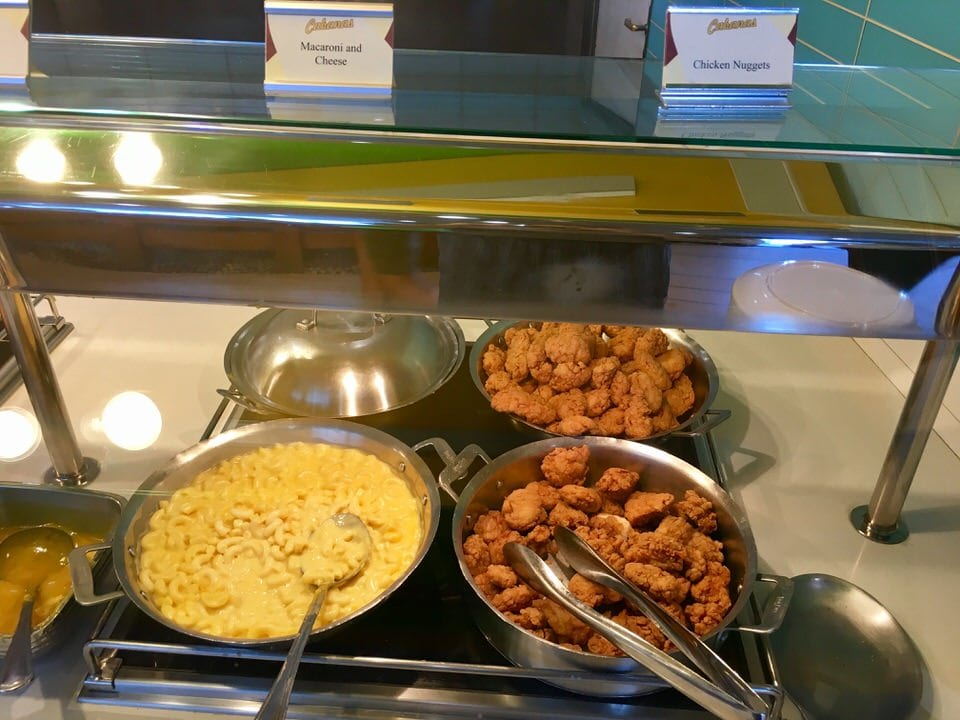 Everyday there were different vegetables, today it was Corn and Steak Fries (those are vegetables right?):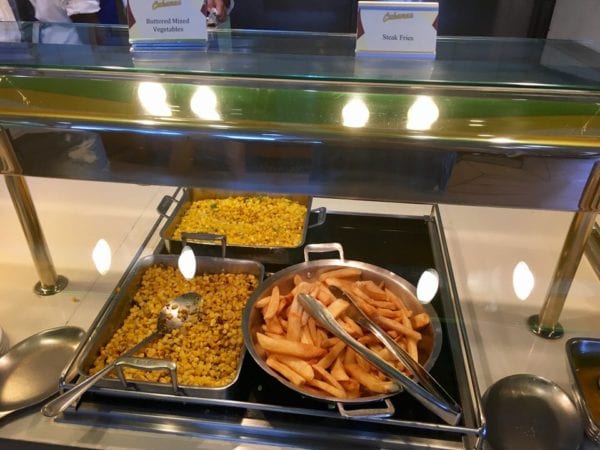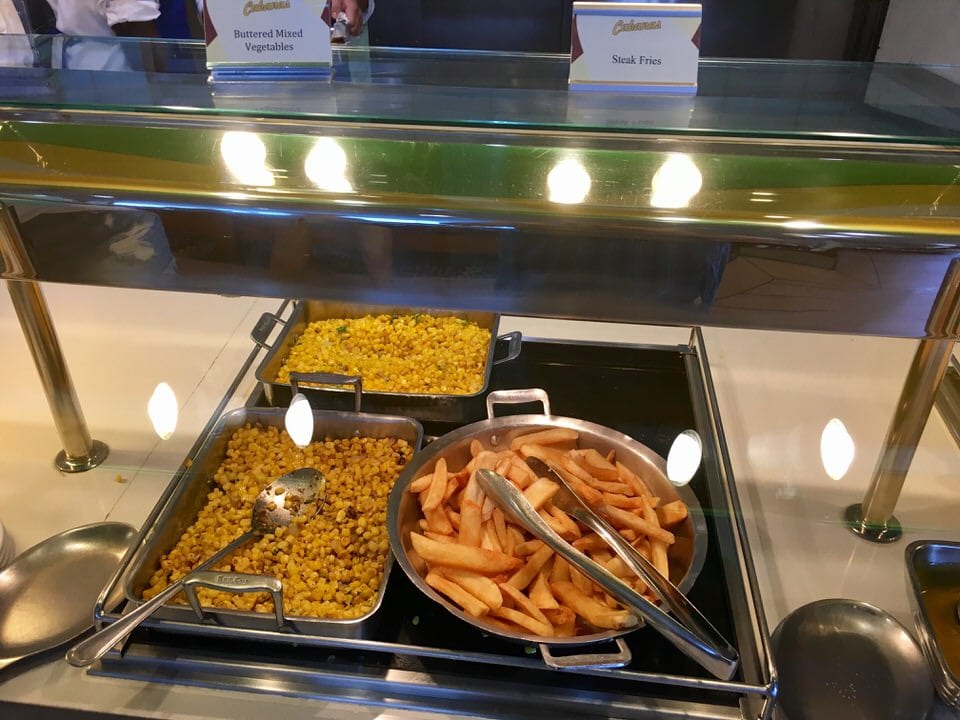 Of course there was an awesome Pasta Station, with 4 different kinds of pasta. One word…..Gnocchi!!: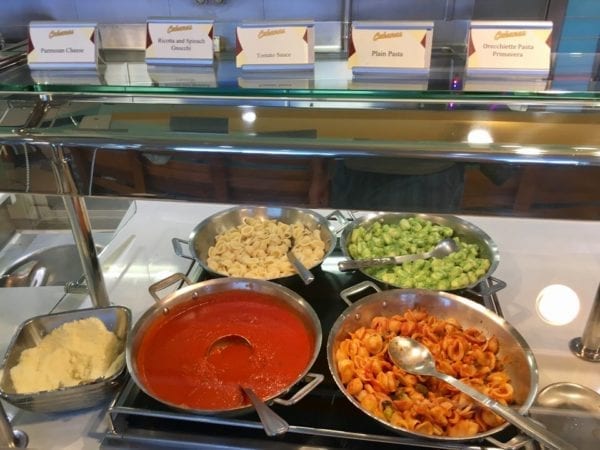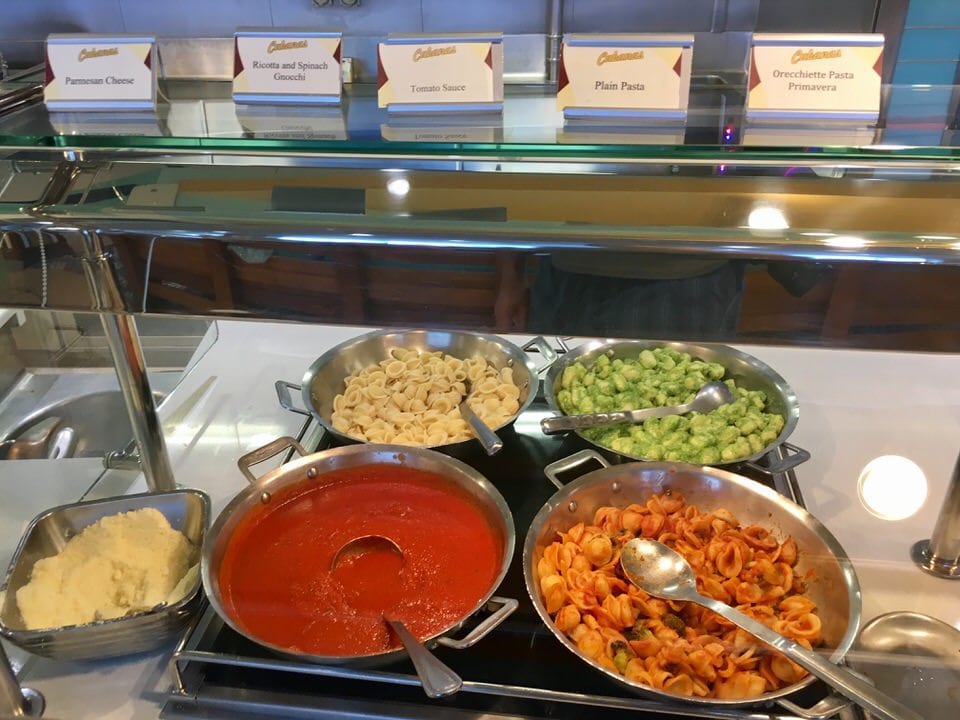 Today there was a Shepard's Pie and some BBQ Short Ribs which were both great: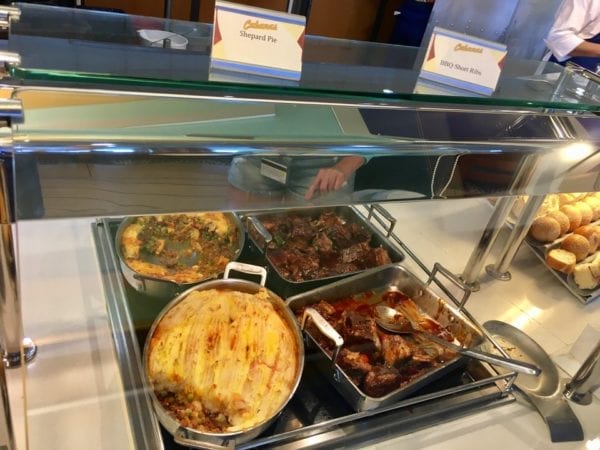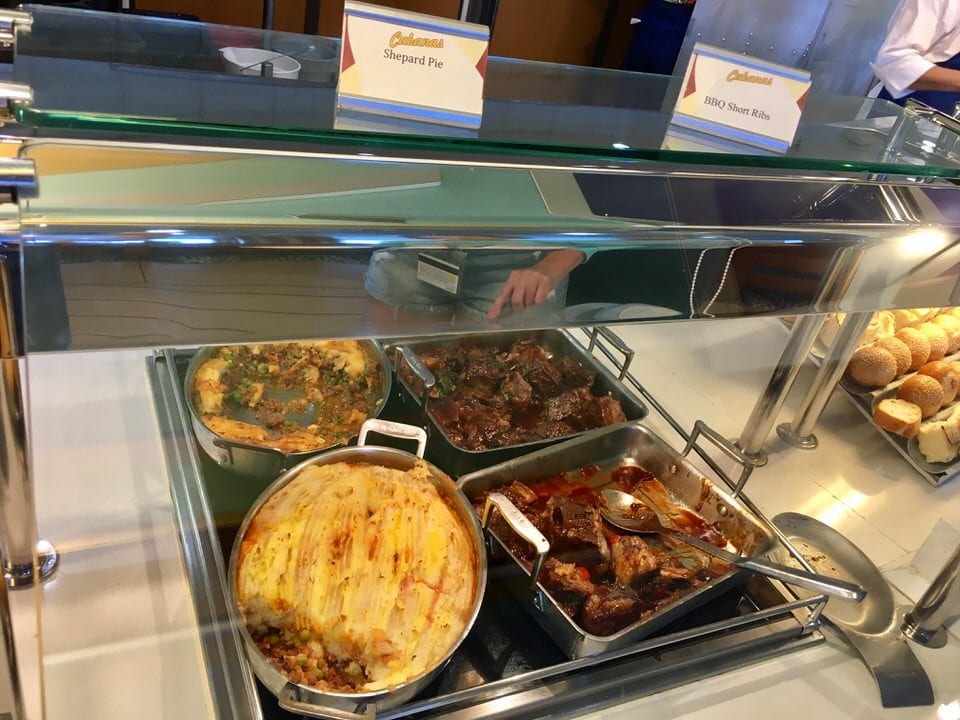 The Mashed Potatoes were your average normal mashed, but the Grilled Chicken was actually very moist and tender: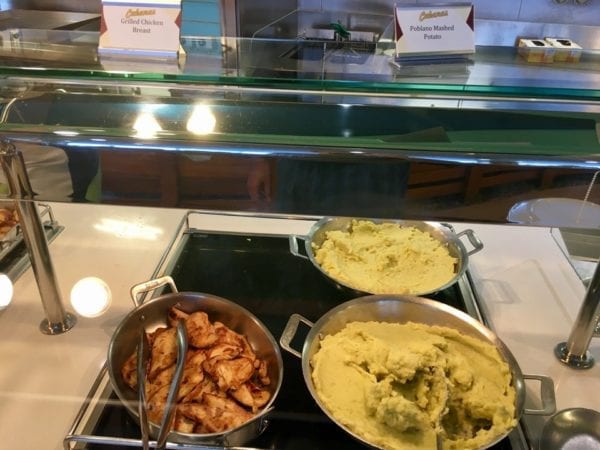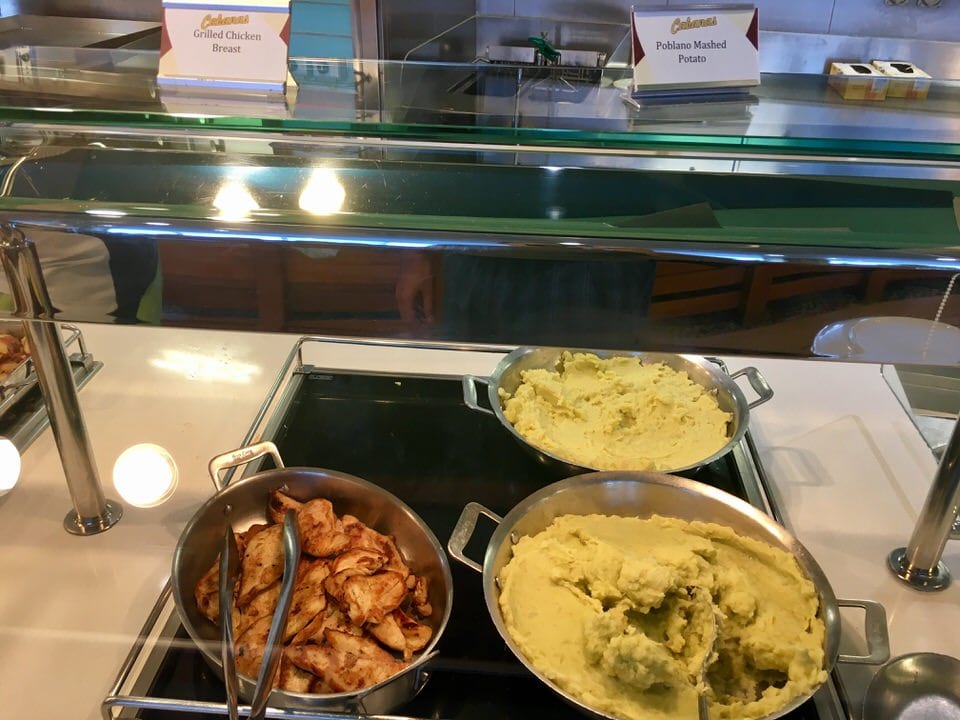 The Wiener Schnitzel wasn't there everyday so I gobbled them up while I could and the Bavarian Roasted Sliced Potatoes were a really nice side: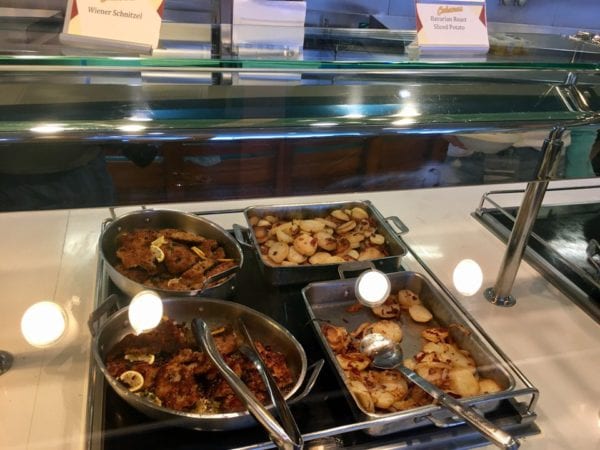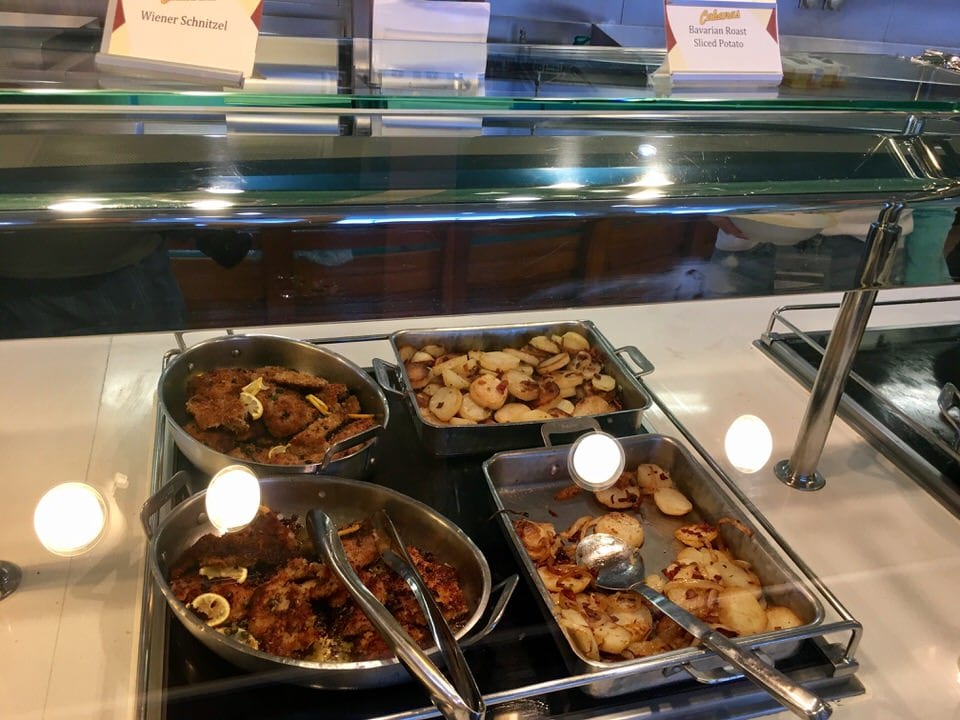 There were always some healthier options, including this Cajun Spiced Grouper and Marinated Breaded Tofu: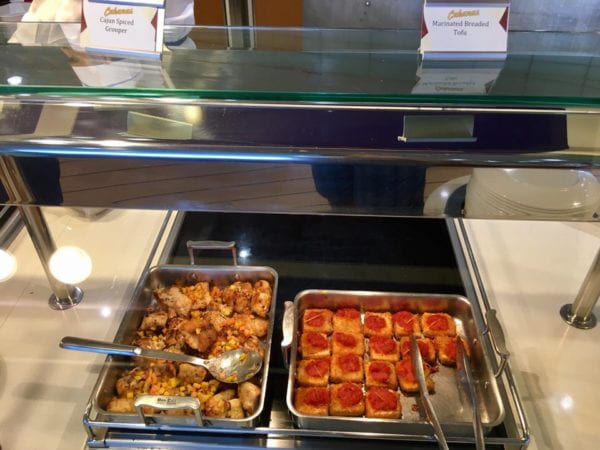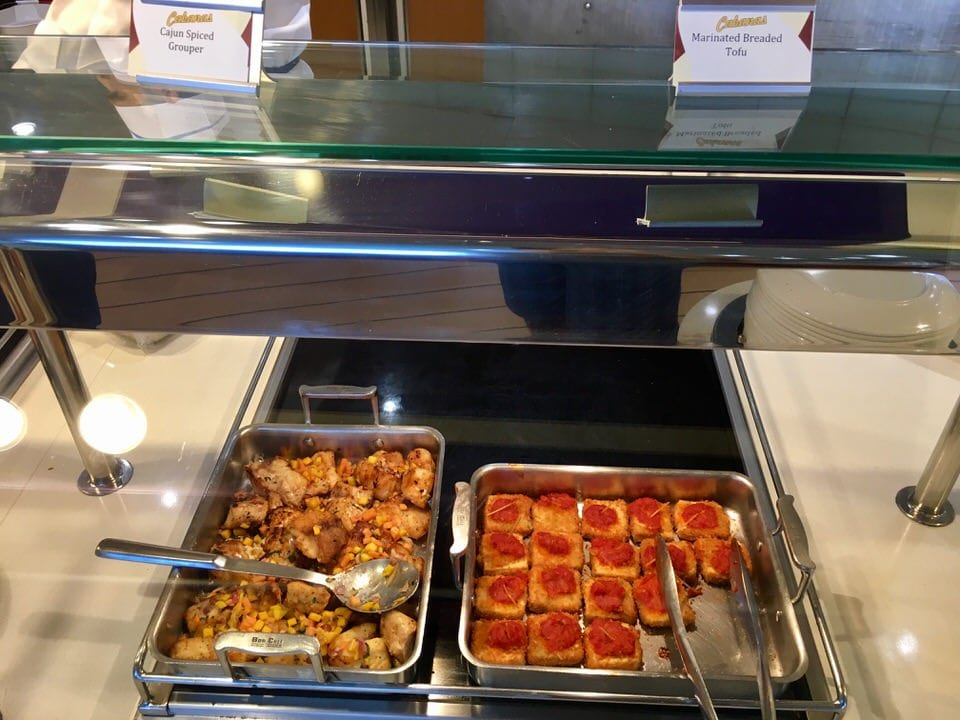 More fish with a Grilled Salmon and a Black Bean, Corn and Rice Mix: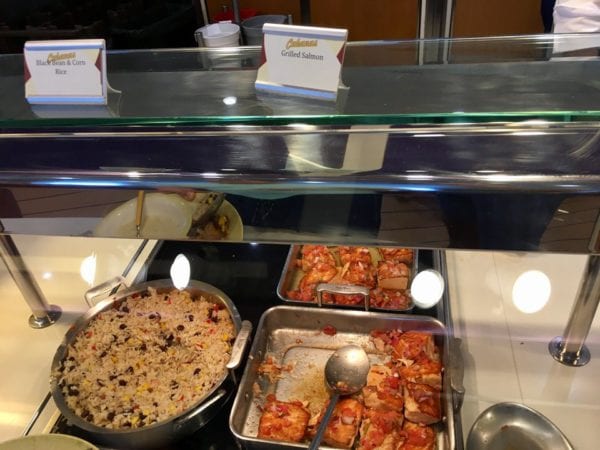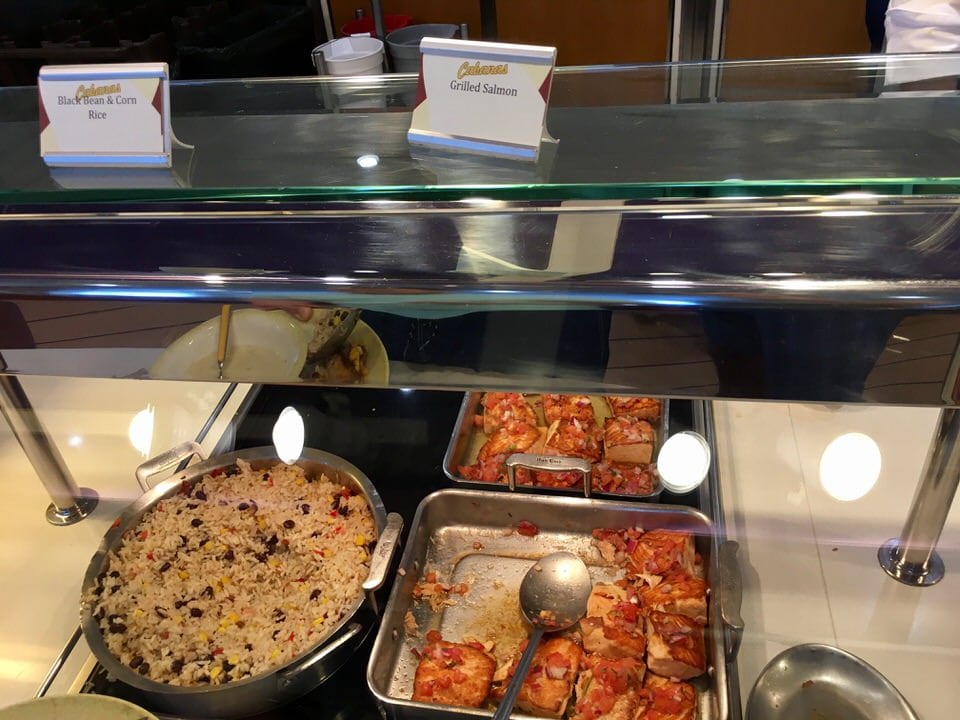 A little international flavor was given with the Lamb Tikka which was very flavorful if you like lamb: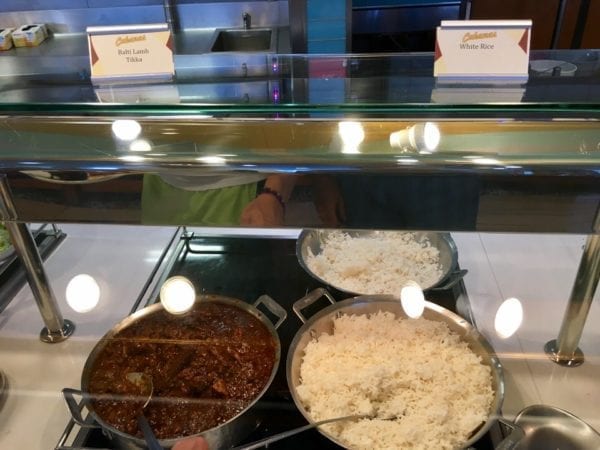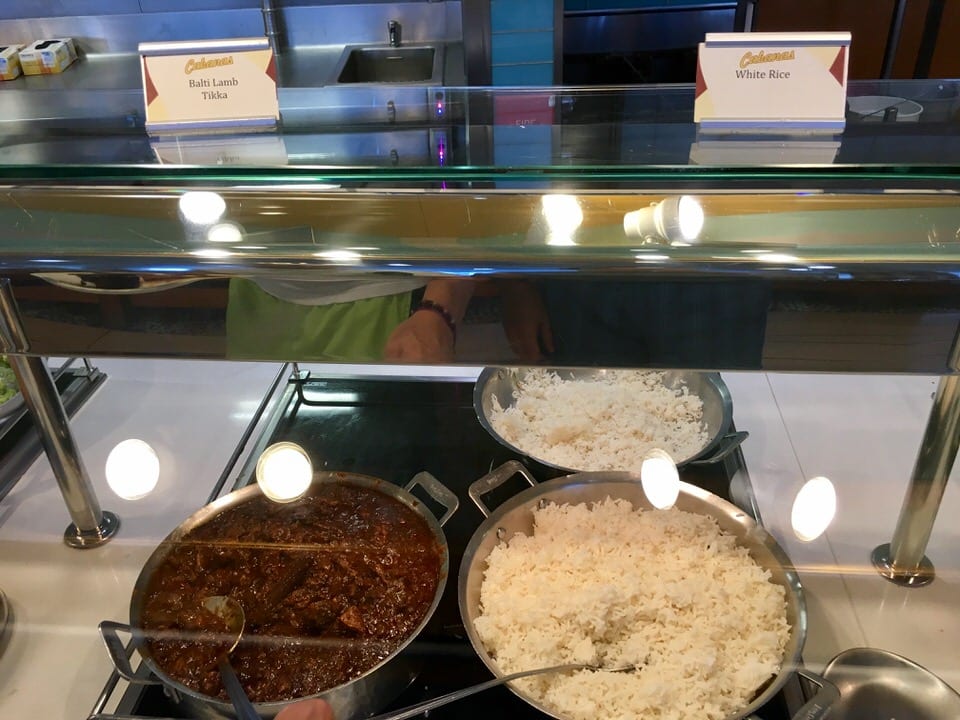 There was always a Soup of the Day, coming from New England I was happy to see one of my all-time favs, New England Clam Chowder: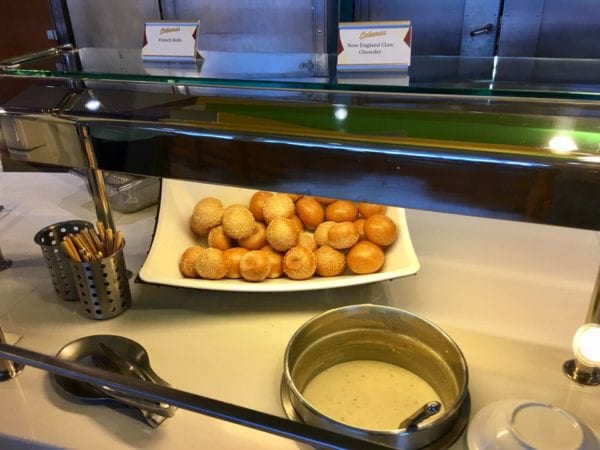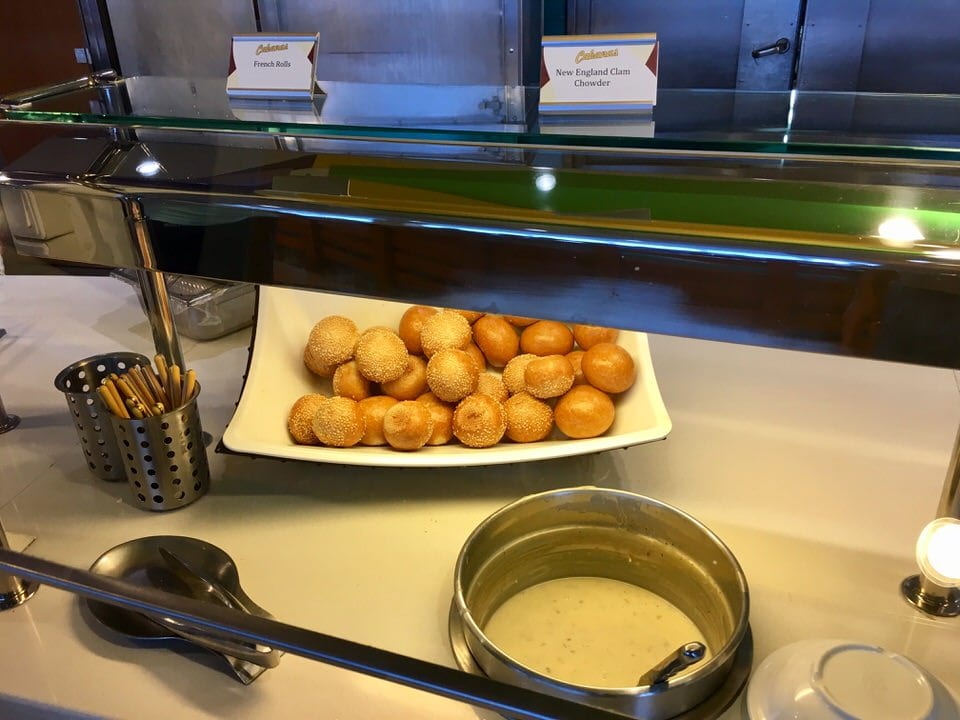 The variety of Assorted Breads, Focaccias, and Dinner Rolls were always nice: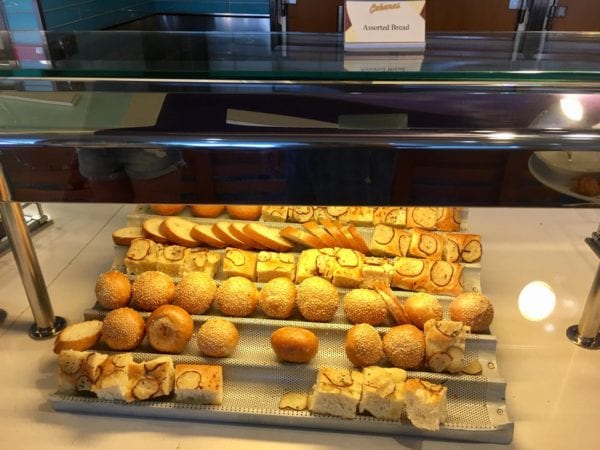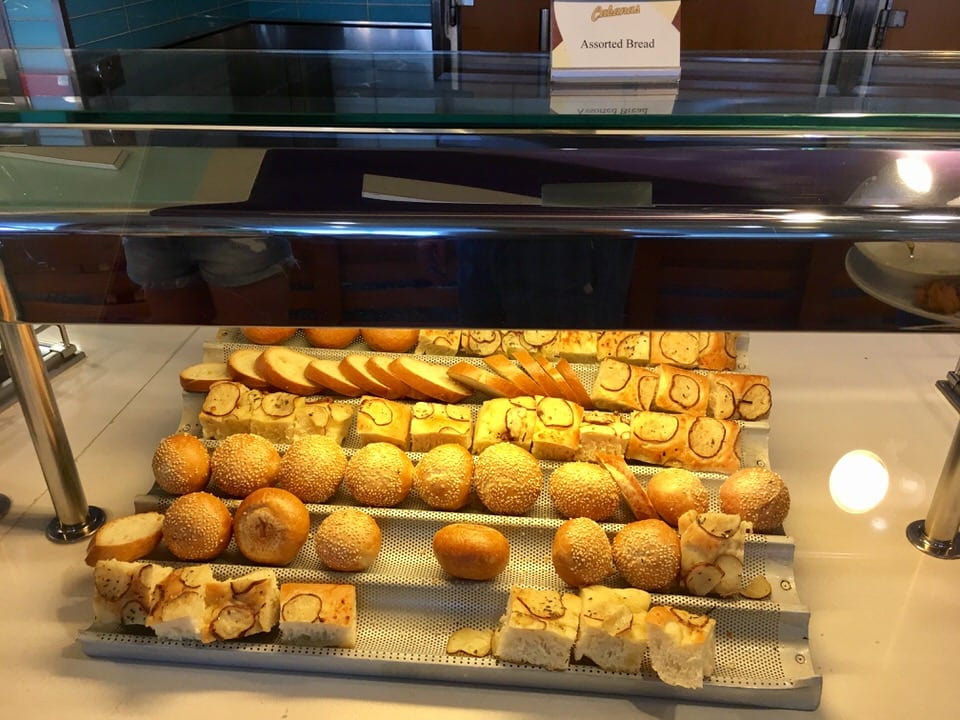 Some more Mixed Veggies and those Steak Fries again, however this time with Au Jus…perfectly for dipping!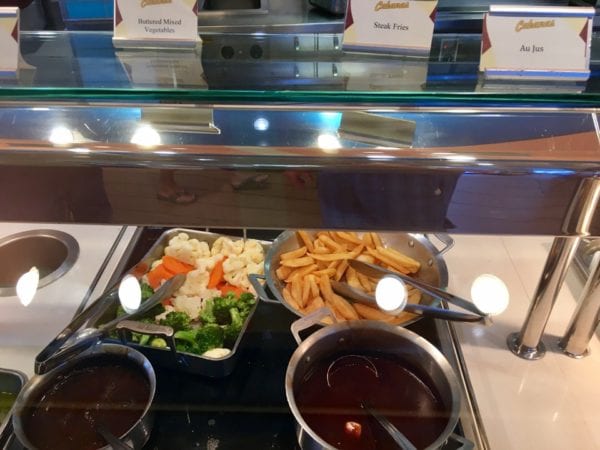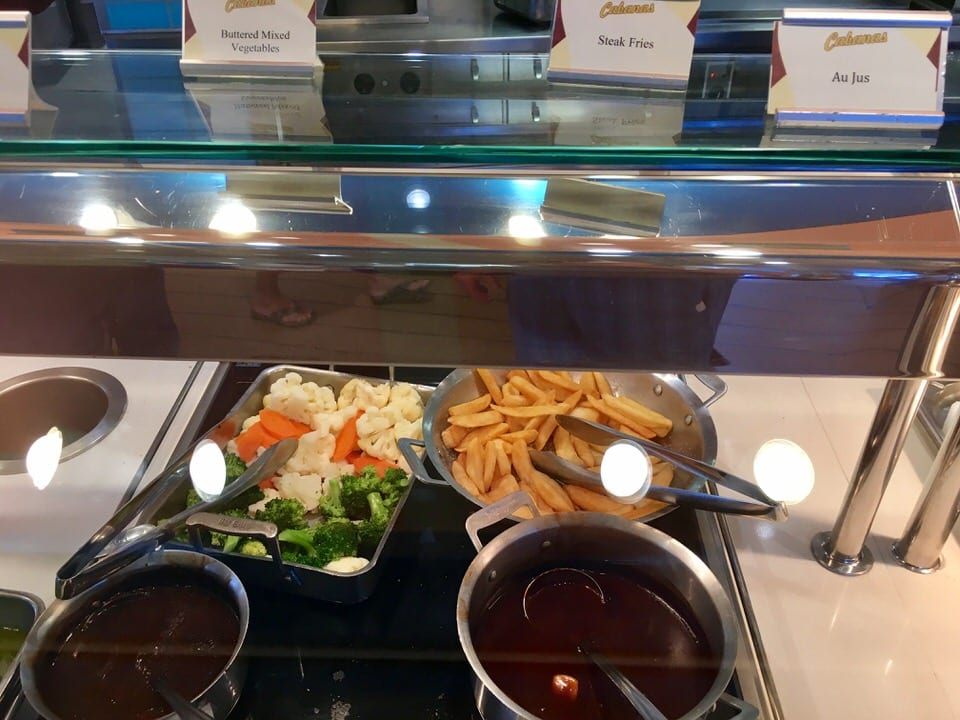 The Au Jus was also used for the Meats at the Carving Stations. Everyday the meats changed, today we had Honey Glazed Duck: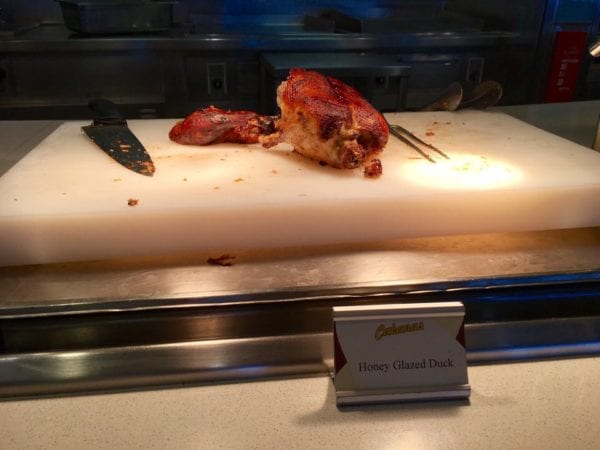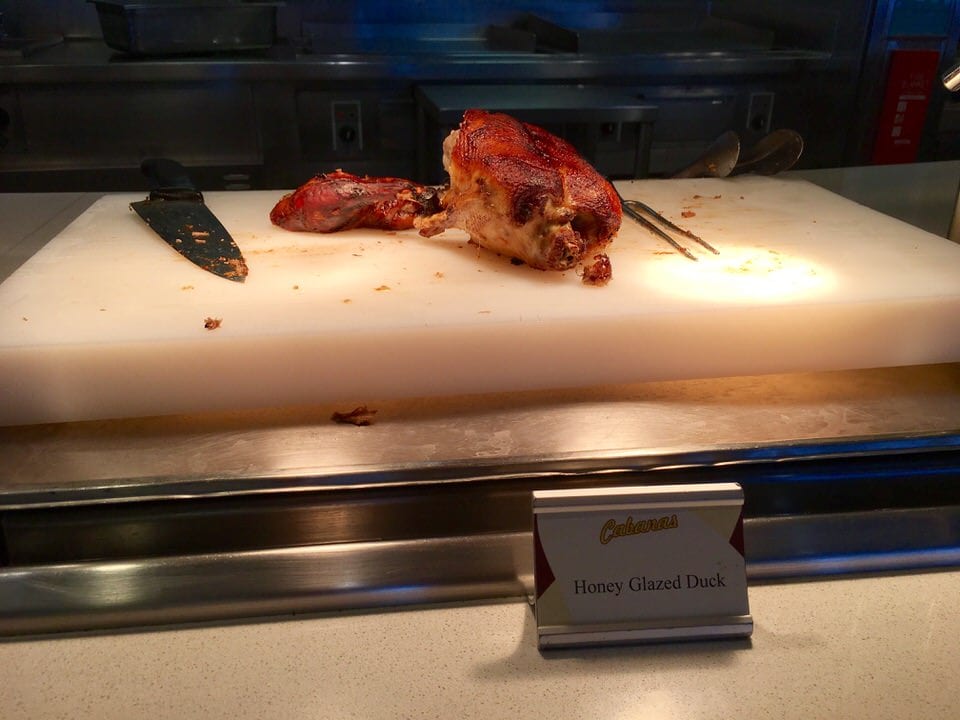 and Roasted Leg of Lamb, which I was partial to myself: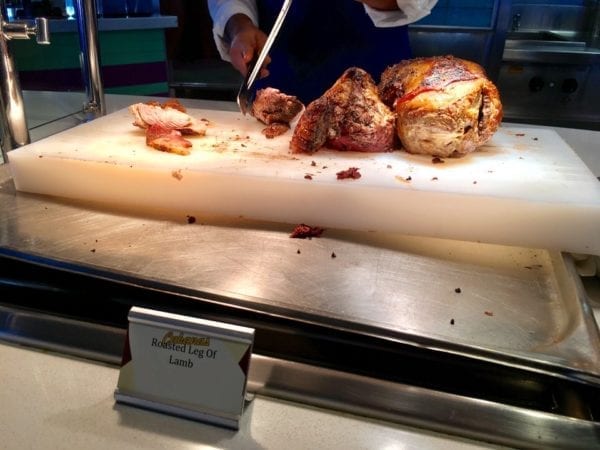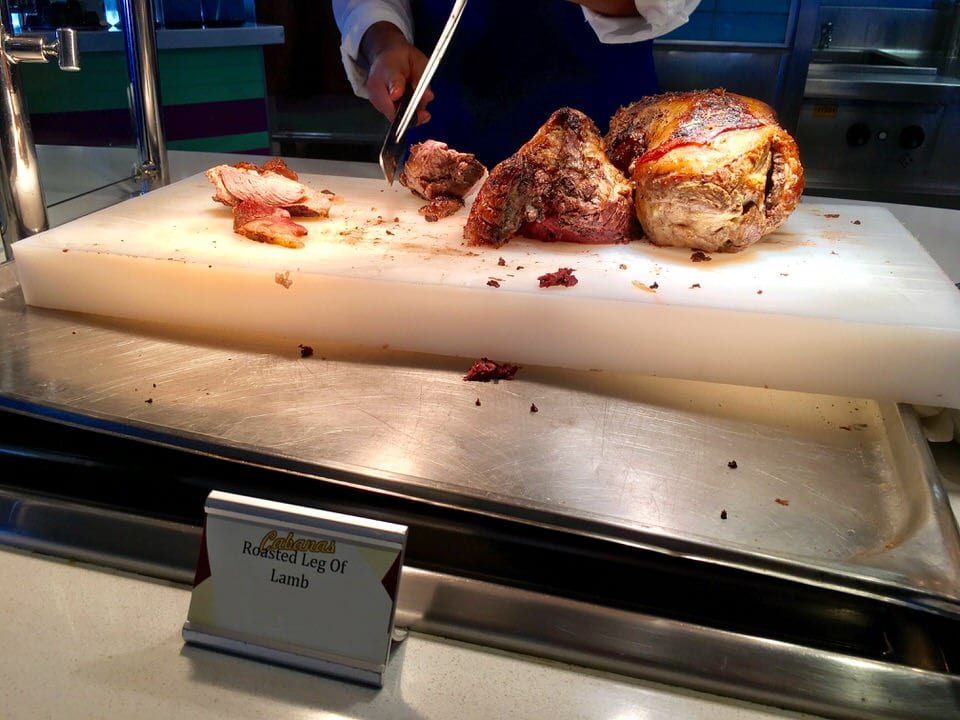 Think we're finished? Think again!! Now we had a sampling of the theme of the day menu which was Asian. Here we had Nasi Goreng, Chicken Teriyaki and more Tofu: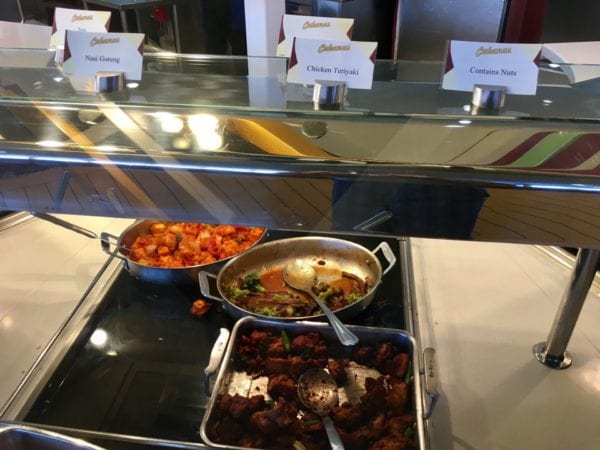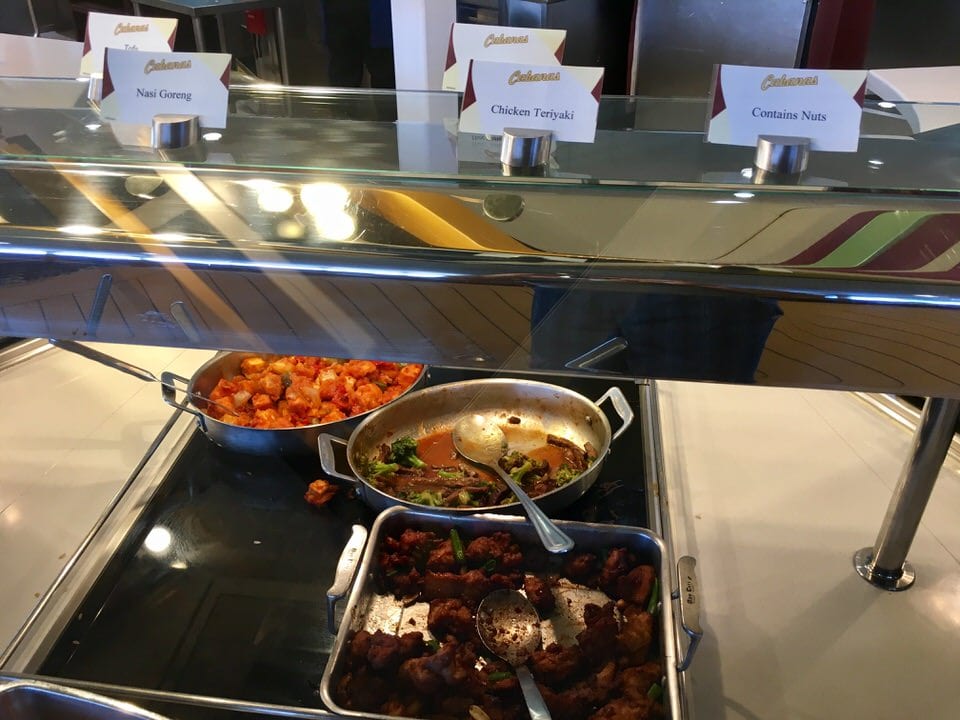 TIP: if you have allergies so can rest easy because many things are marked with warnings, like the above sign saying the food contains nuts. The Disney Cruise Line staff is also super helpful with any questions you have, and if you ask nicely they will even special prepare you something for your dietary needs.
More Asian food with Kung Pao Chicken, Bejing Beef and Mild Spicy Szechwan Prawns were all really good, better than your average Chinese restaurant, that's for sure: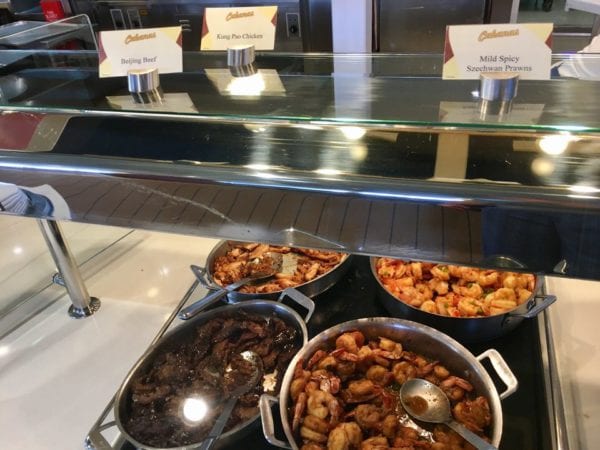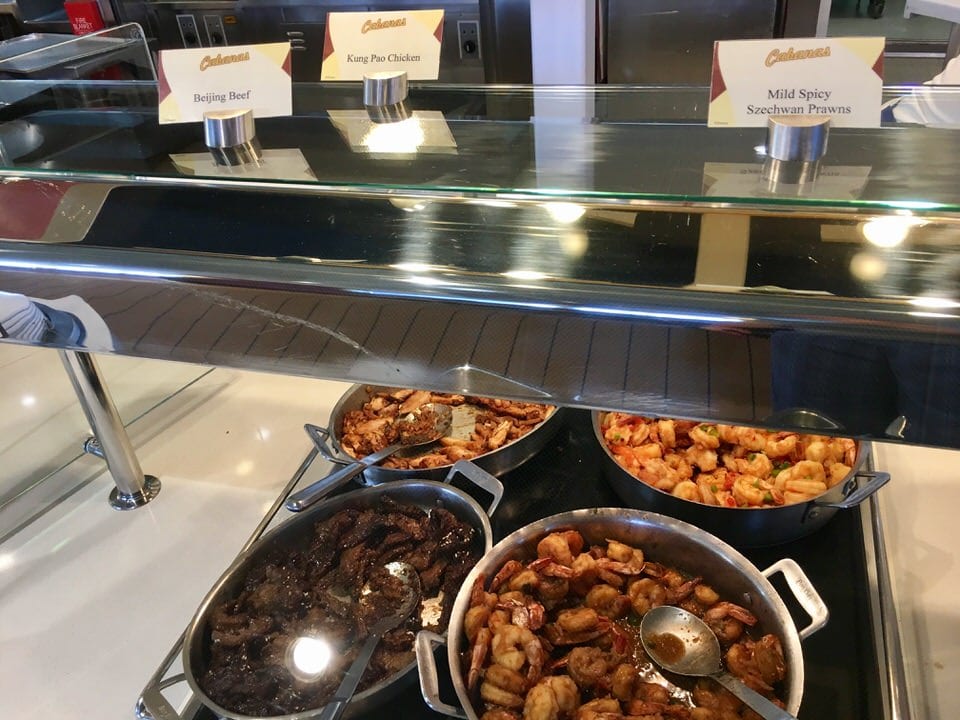 Orange Chicken, Babi Kecap, and my favorite….Pot Stickers, I literally could eat dozens of these bad boys, and if you want to…you can! 🙂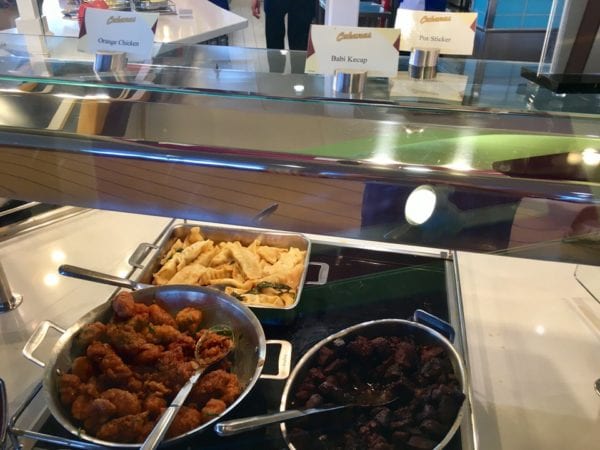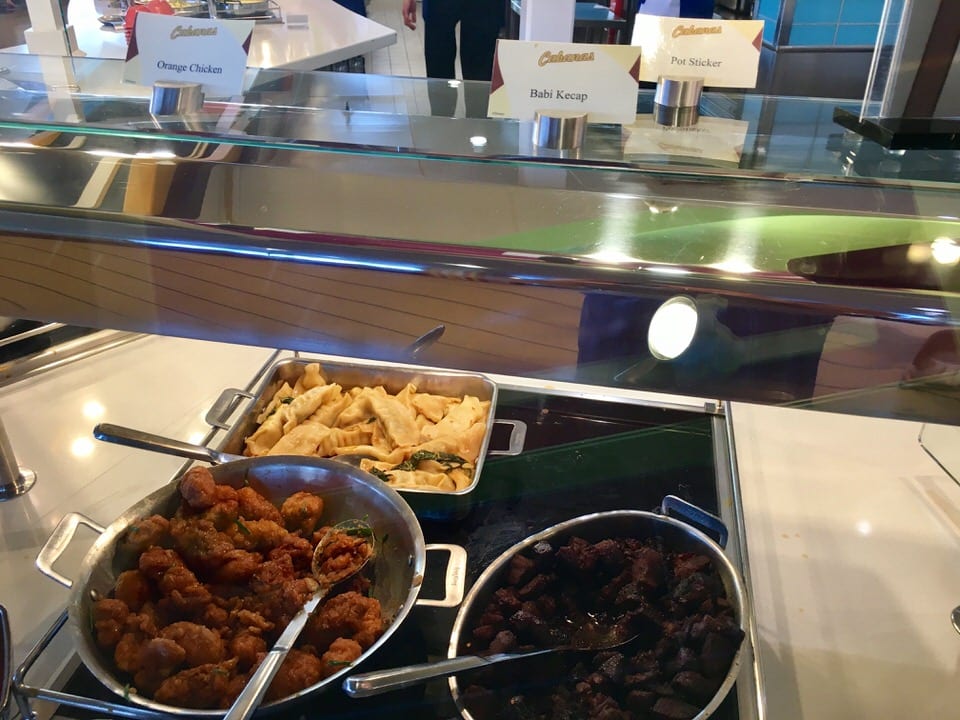 In front there were some nice garnishings to add on top, Roasted Peanuts, Scallions, and Fresh Cilantro: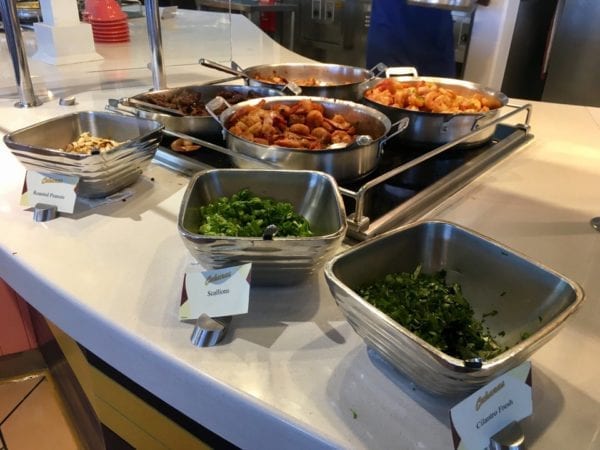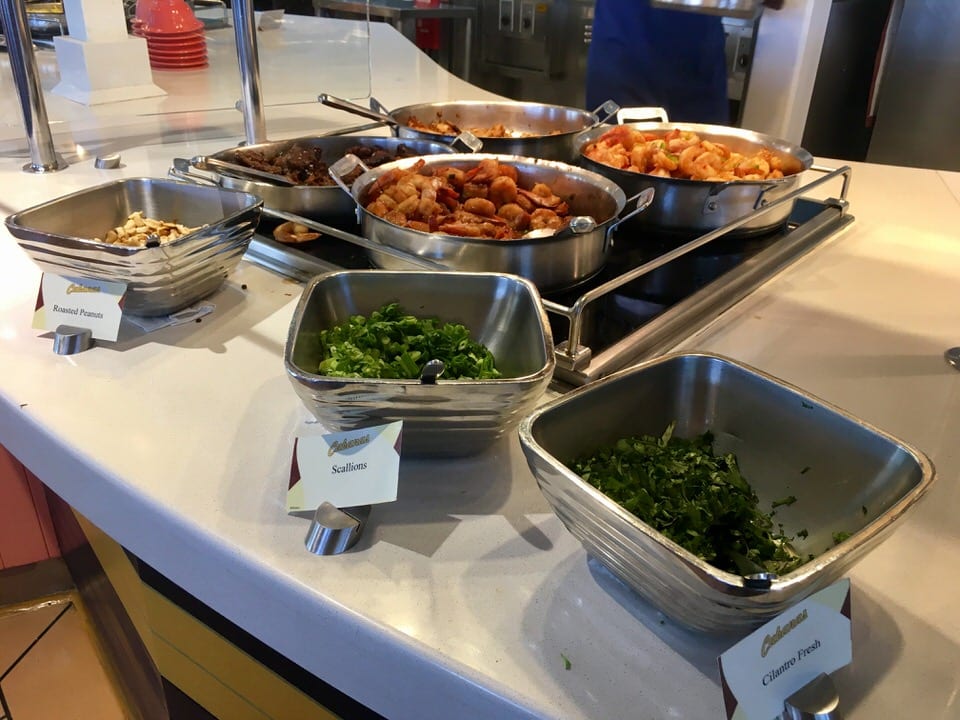 also to put on top were Acar, Sambal Oelek, Garlic Sweet Chili Sauce, Homemade Sambal and Chili Flakes: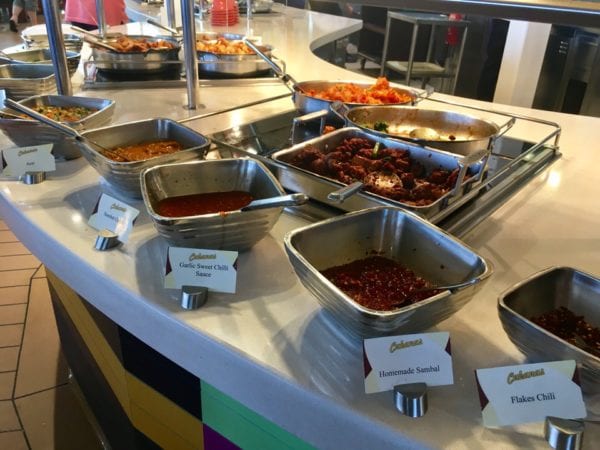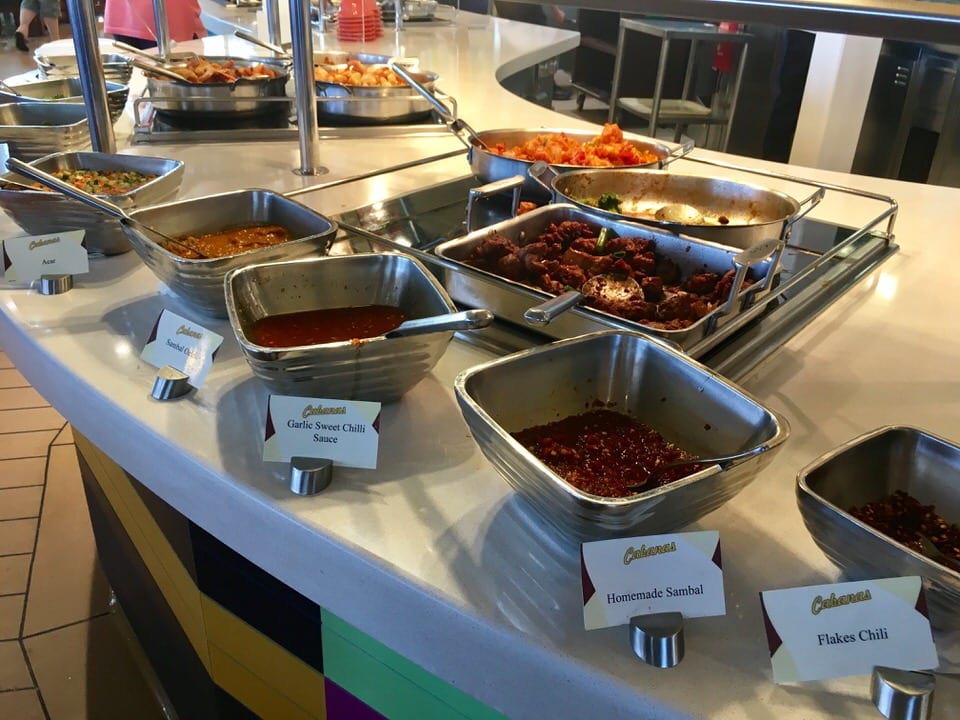 and more, Mango Chutney, Tamarind Sauce, Grated Milk Soaked Coconuts and Dates Chutney: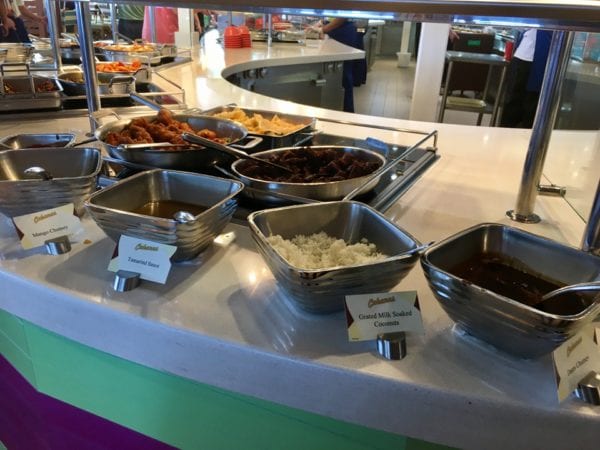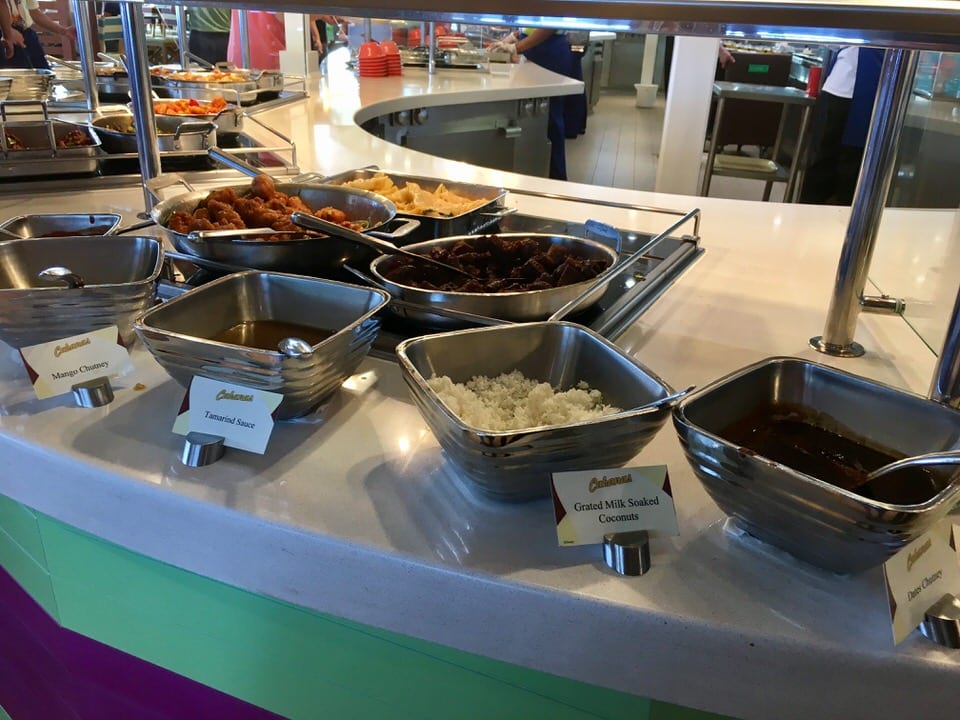 If you are really trying to be good (don't resist, come over to the dark side with us…) you can find what you're looking for here at the Salad Bar where there's a slew of toppings to create whatever kind of salad you are looking for: Tomatoes, Lettuce, Olives, Peppers, Carrots, Chick Peas, Cheddar Cheese, Ham, Bacon Bits (it can even be an unhealthy salad if you like!), and a slew of Coleslaws and Potato Salads: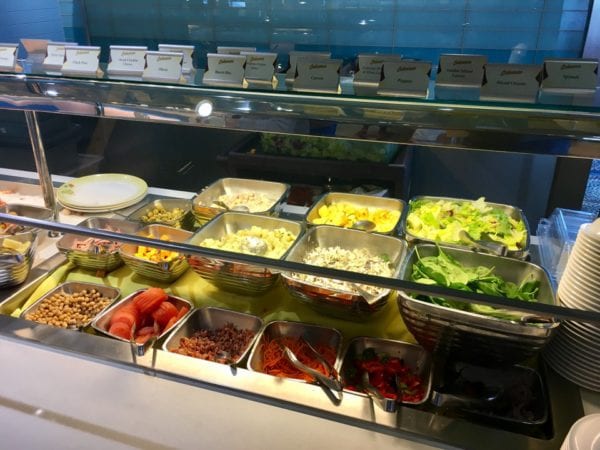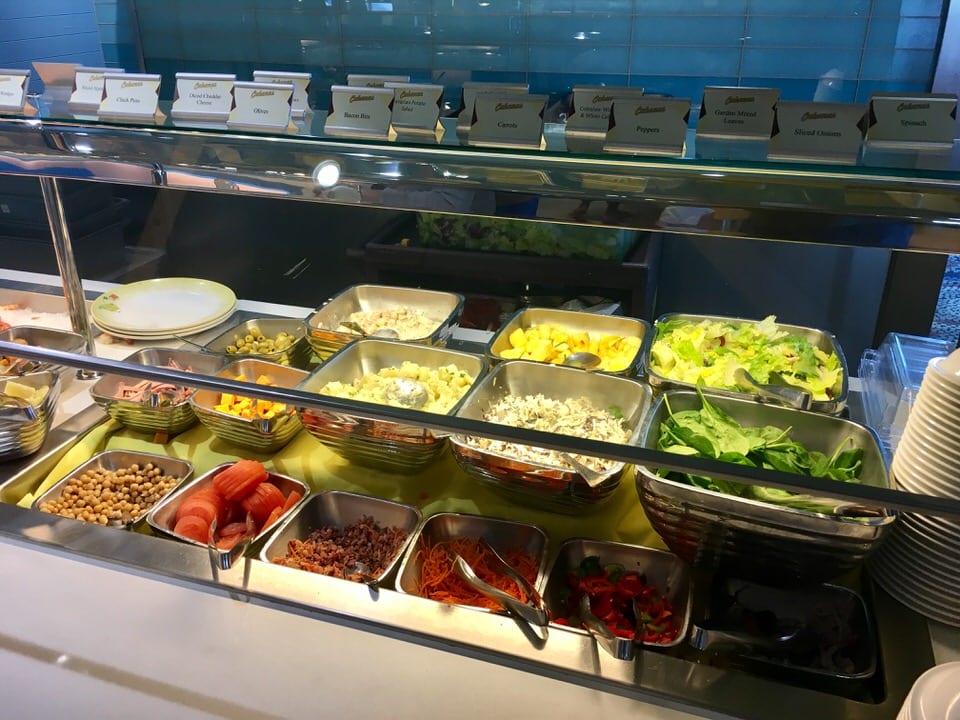 Right along side at the Cold Bar is the Seafood!! There are all-you-can-eat Peel and Eat Shrimp as well as Alaskan King Crab Legs!! I spent most of my time right here getting my money's worth: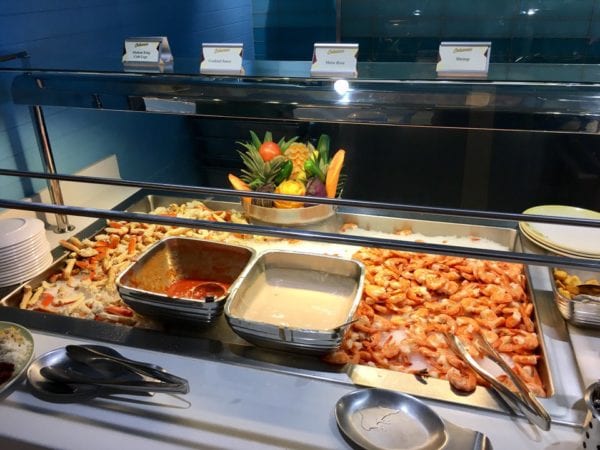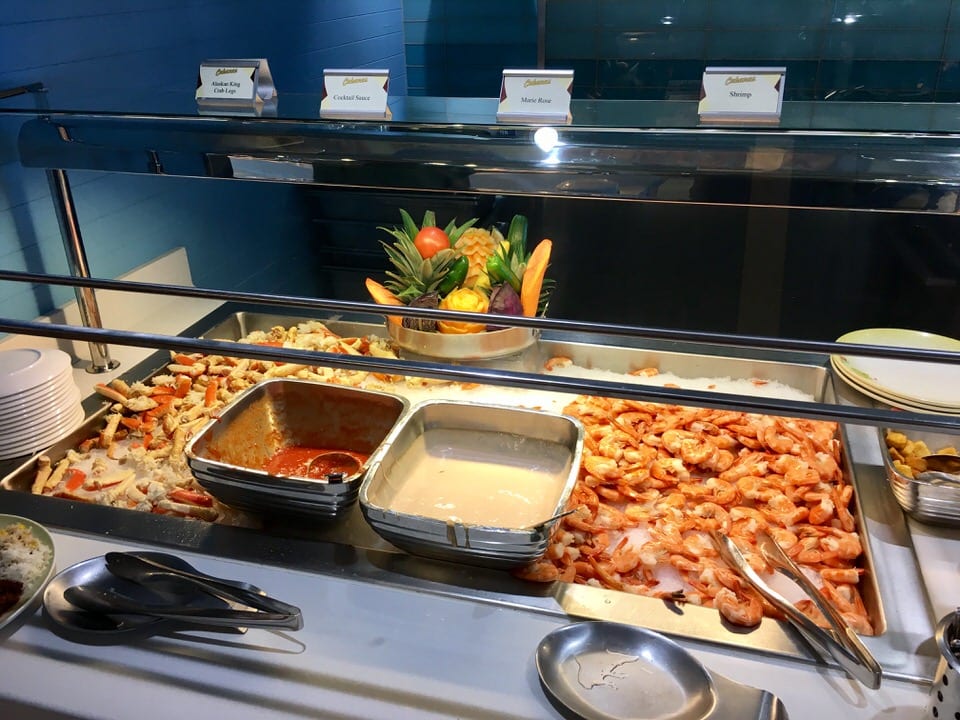 If you still have room for Dessert, which you should always have, there are always a variety of different choices. Today Chocolate Fudge Pudding and Saffron Rice Pudding: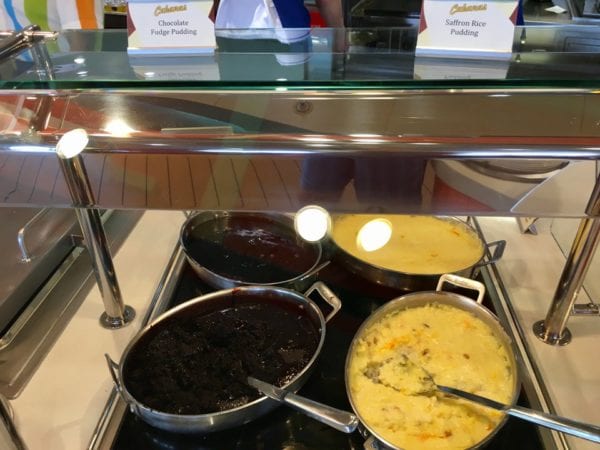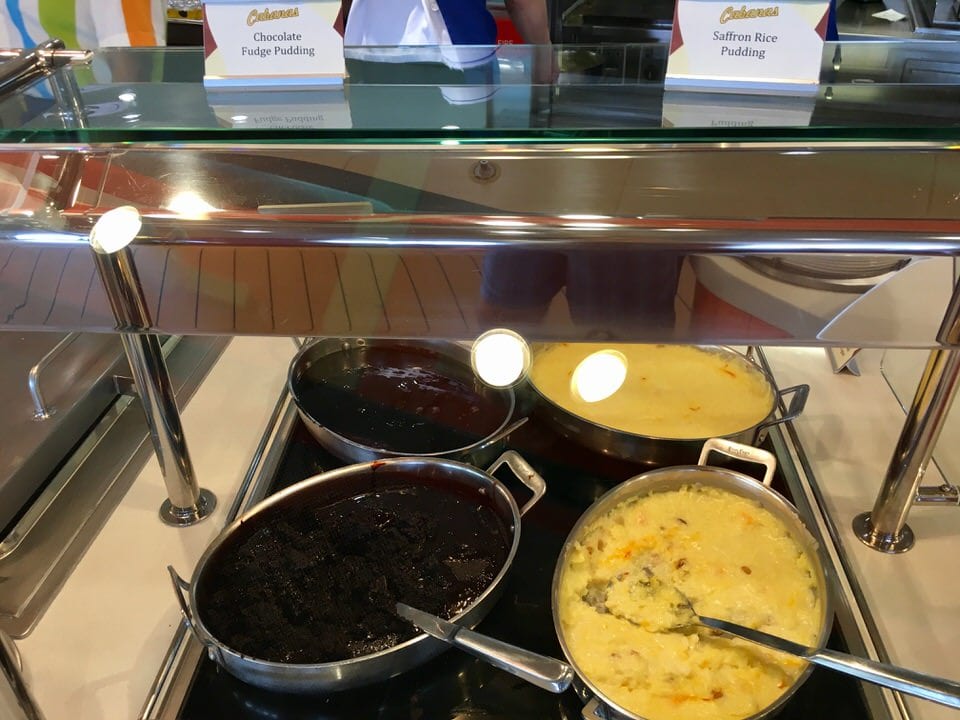 The always present Ice Cream Stand where you can make a Sundae or get some of those delicious Chocolate Chip Cookies and make an Ice Cream Sandwich: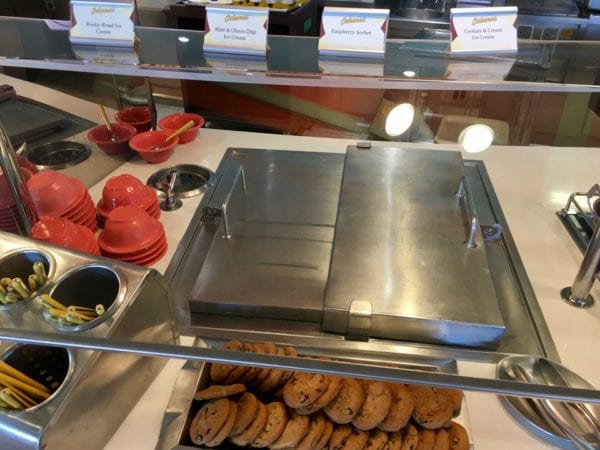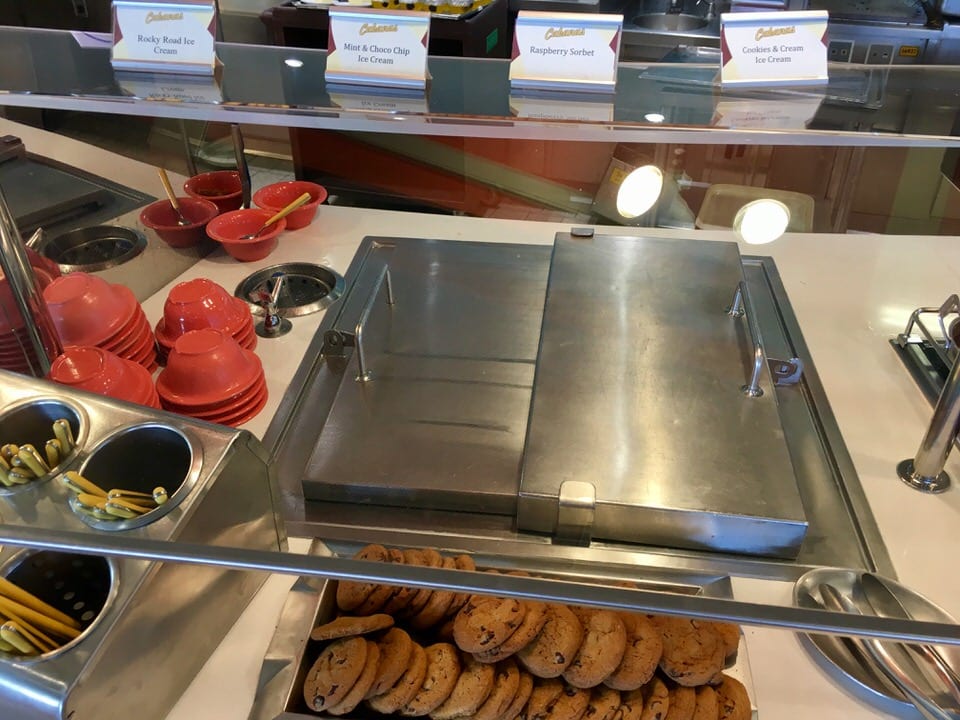 Not to mention the loaded Dessert Counter with a variety of Cakes, Pies, Tarts, Mousses, etc that changes daily. Just another reason to come back each day: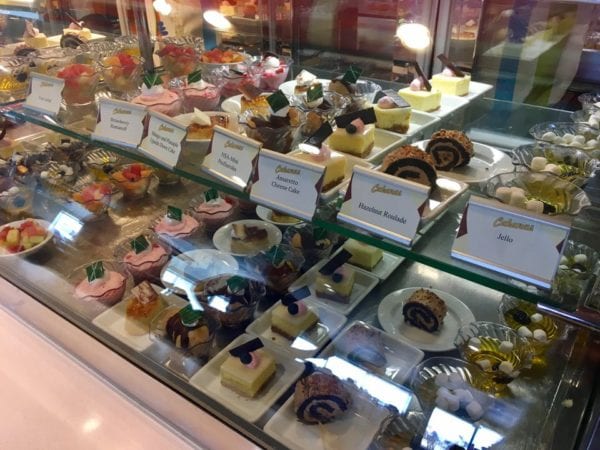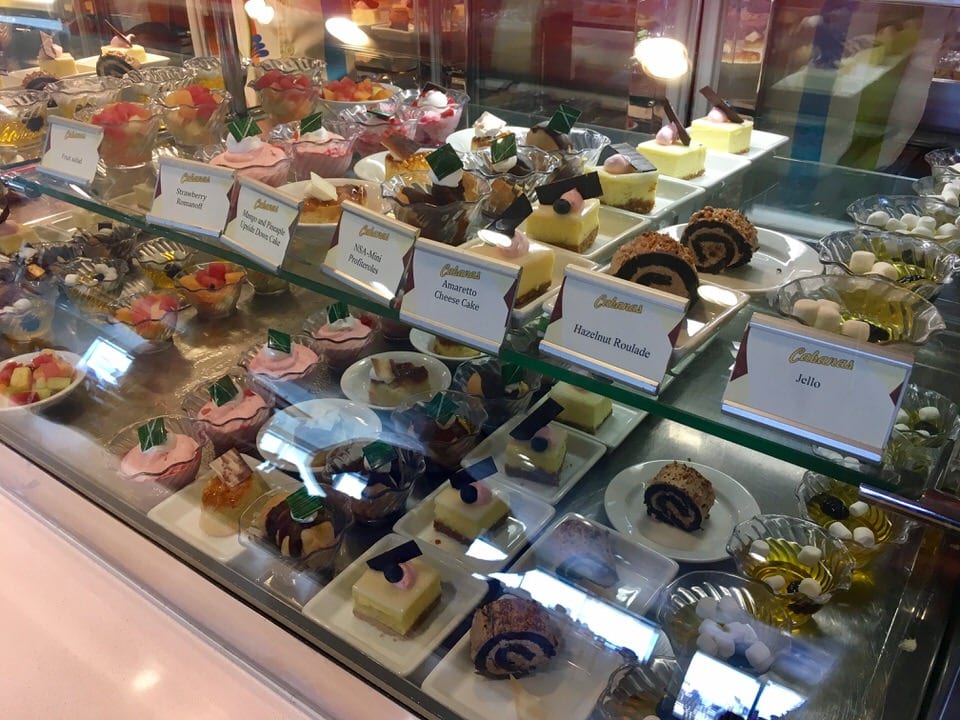 I forgot to take a pic of the drinks, but there's a Soft Drink Dispenser with the normal variety of Sodas, Ice Tea and Fruit Juices, plus Water of course. And you can always order a cocktail from your waiter as he comes around to the table.
TIP: We got one of the re-fillable Plastic Disney Cruise Cups at the beginning of our cruise which is bigger than the normal cups they give you if you just order a drink normally, and each drink costs less, with the drink of the day costing only $6. A good deal for a cruise ship which usually rip you off. Actually I found all the drinks onboard to be quite reasonable, much less expensive than a drink at Walt Disney World.
This is heaven: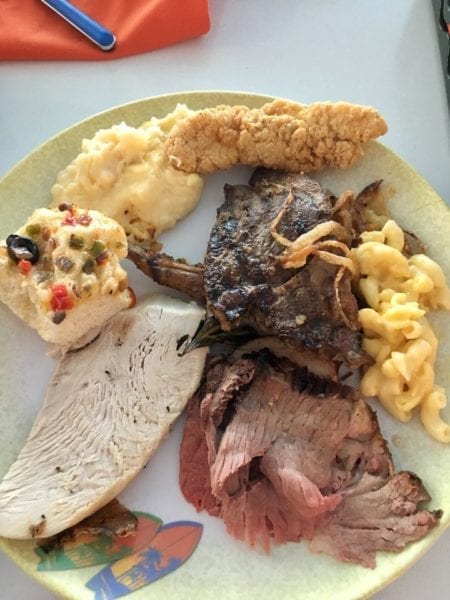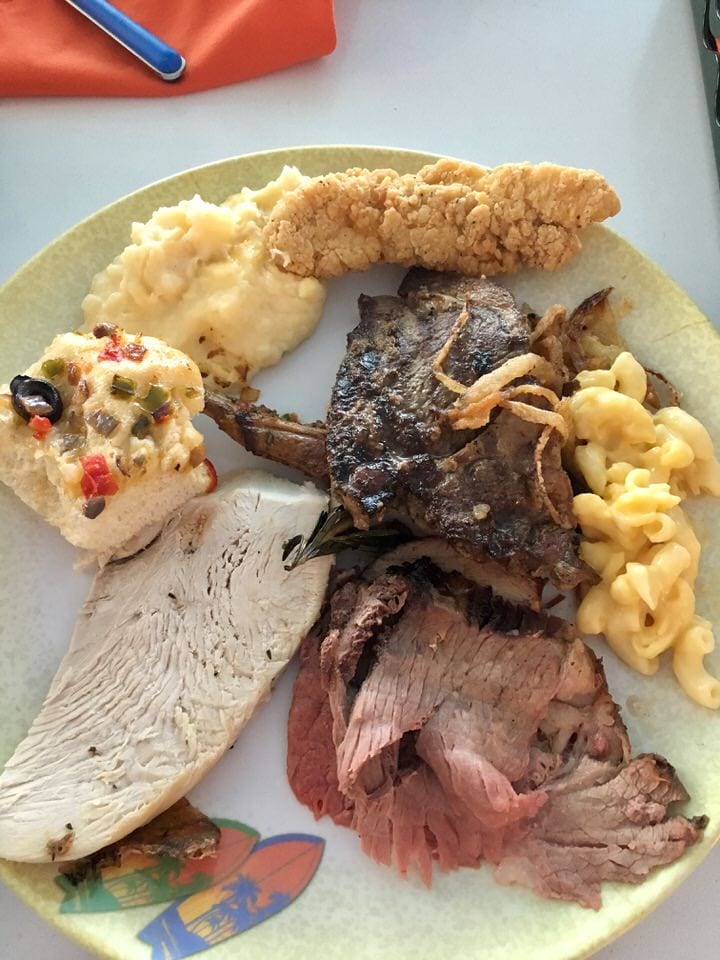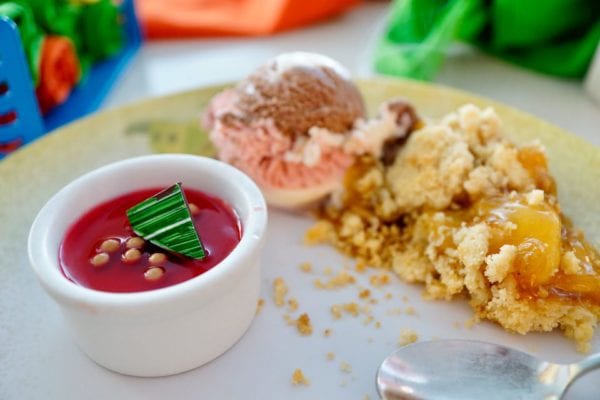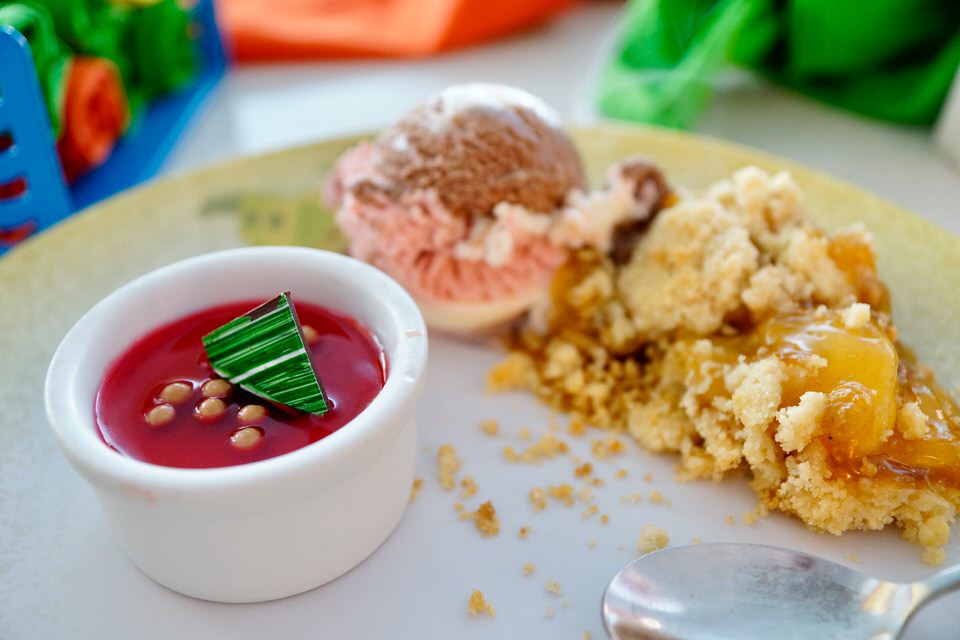 Time to go take a snooze by the pool now!
Summary:
Overall I really enjoyed the Cabanas Lunch Buffet, it was really good quality food, fresh, and a really big variety of choices that changed everyday. No matter if you're a meat and potatoes kinda person, vegetarian or seafood lover, you will always find something you like. It's by far the best "included" buffet I've had on a cruise before, and one of the best period. They don't cheap out on guests and you will even find all you can eat Alaskan King Crab Legs and Ribeye Steaks, I mean where in the real world do you find that if you aren't paying $60 a person?
Cabanas has a great atmosphere to eat in too, very casual and light with a beach setting. Best seats imo are up on the 10 level deck, outside. You can eat with a view that will take your breath away!! Nice thing is too that most of the time it's almost empty for Lunch because people are either on expeditions or at the pool, so you don't have to fight people off!
I really recommend Cabanas Lunch to any guests on-board any of the 4 Disney Cruise Line ships, you will love it, and go back again and again for as many plates as you can! 😉
In case you missed it, here's a Video of the Disney Cruise Cabanas Lunch Buffet:
If you are looking for a Cabanas Breakfast Review, check back on my site soon as I'm working on it. Cabanas is equally as good an option for breakfast!
I love to write Restaurant Reviews of Walt Disney World, Disneyland and Disney Cruise and I hope you found this one to be informative and helpful. If you liked this review then please visit my Disney Dining Reviews Page where I have many other Restaurant Reviews. I'm happy sharing with you what I love doing best…eating! ? I try to bring you the most thorough and unbiased reviews about the food and restaurants at Walt Disney World, so that as you are planning your vacation, you know the "can't be missed" places, and where you shouldn't waste your time. Hope you enjoyed this one and will enjoy many others in the future!!
Your Thoughts:
I want to know what you think about my Disney Cruise Cabanas Lunch Review. Have you eaten there yet on your Disney Cruise? What did you think of the food? Let us know in the comments section below!
If you enjoyed this article, as always I appreciate it if you'd share it with others via social media. I work hard at making this website into a useful resource for you and your family to plan your visit to Walt Disney World, and I hope it can help you! Thanks 🙂