Desserts and Champagne Review: 2016 Epcot Food and Wine Festival
For all those with a sweet tooth (me) a must-do for Food and Wine is always the Desserts and Champagne kiosk toward the entrance to World Showcase. For years they have been offering up some great treats and some nice alcoholic drinks to go along with them. Let's find out what they have this year…
Booth:
Desserts and Champagne Kiosk…Oh so elegant!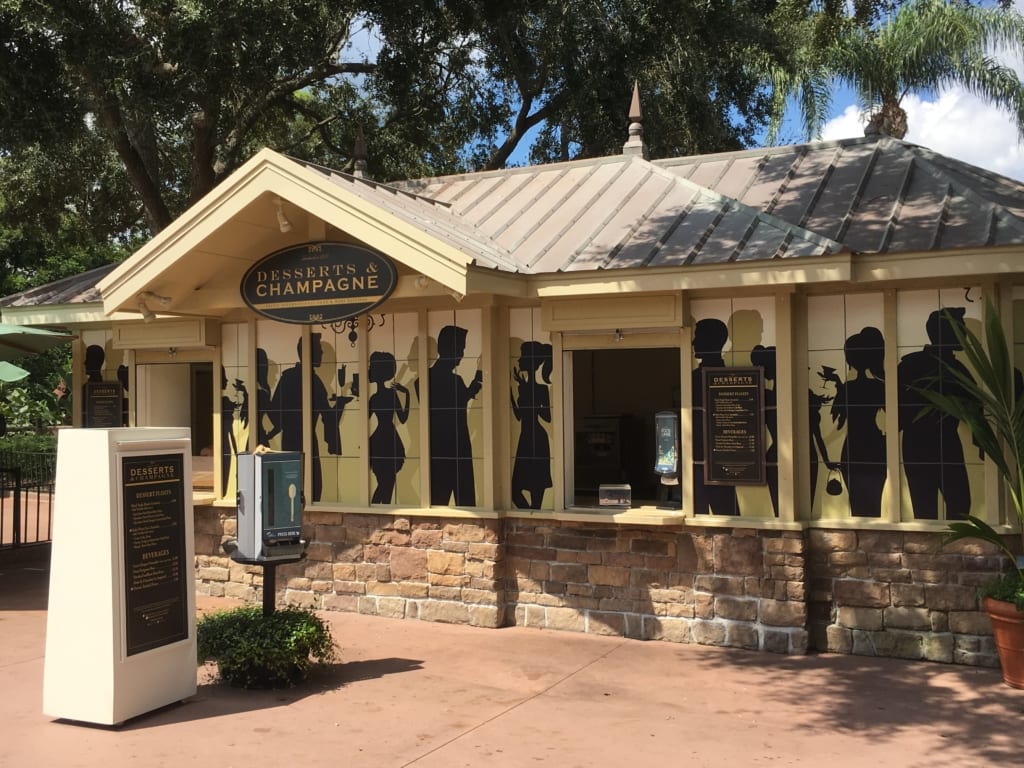 Menu: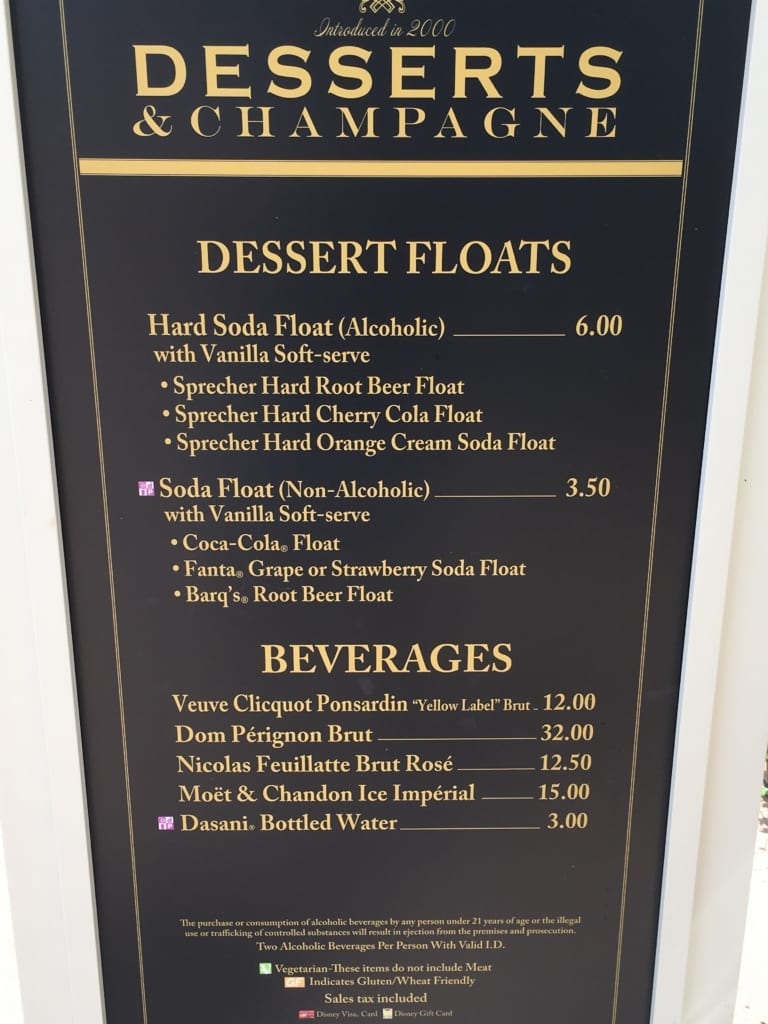 Beverages:
Veuve Clicquot Ponsardin "Yellow Label" Brut – $12.00
Dom Pérignon Brut – $32.00
Nicolas Feuillatte Brut Rosé – $12.50
Moët & Chandon Ice Impérial – $15.00
Hard Soda Floats with Vanilla Soft-Serve (alcoholic) – Best Damn Hard Root Beer Float, Sprecher Hard Cherry Cola Float or Sprecher Hard Orange Cream Soda Float – $6.00

*Ziggy Recommended

Soda Floats with Vanilla Soft-Serve (non-alcoholic) – Coca-Cola® Float, Grape Fanta® Float or Strawberry Fanta Float – $3.50
Menu review:
My first reaction honestly was: "Where the heck are all the desserts???" I mean this is a Desserts and Champagne booth right? Throughout the years one of the best things to try every year at Food and Wine was the Dessert Trio offered here….and now it's gone?!?! Not even replaced by one single dessert??
Even though in my book it's not classified as a real dessert, the Hard Soda Floats are fantastic!! Anyone you get is great…Hard Cherry, Hard Root Beer or Hard Orange Cream. If you are form the Mid-West then you are already familiar with the Sprecher brand name and I don't have to tell you how good of a soda/pop it is! It comes with vanilla soft-serve. I love them and recommend them highly!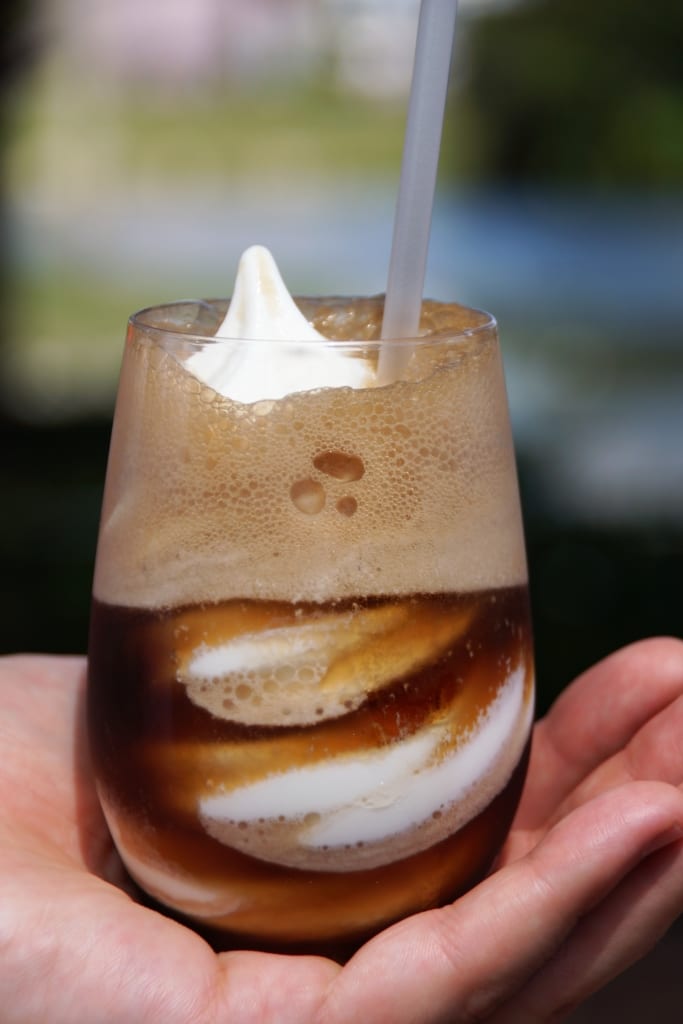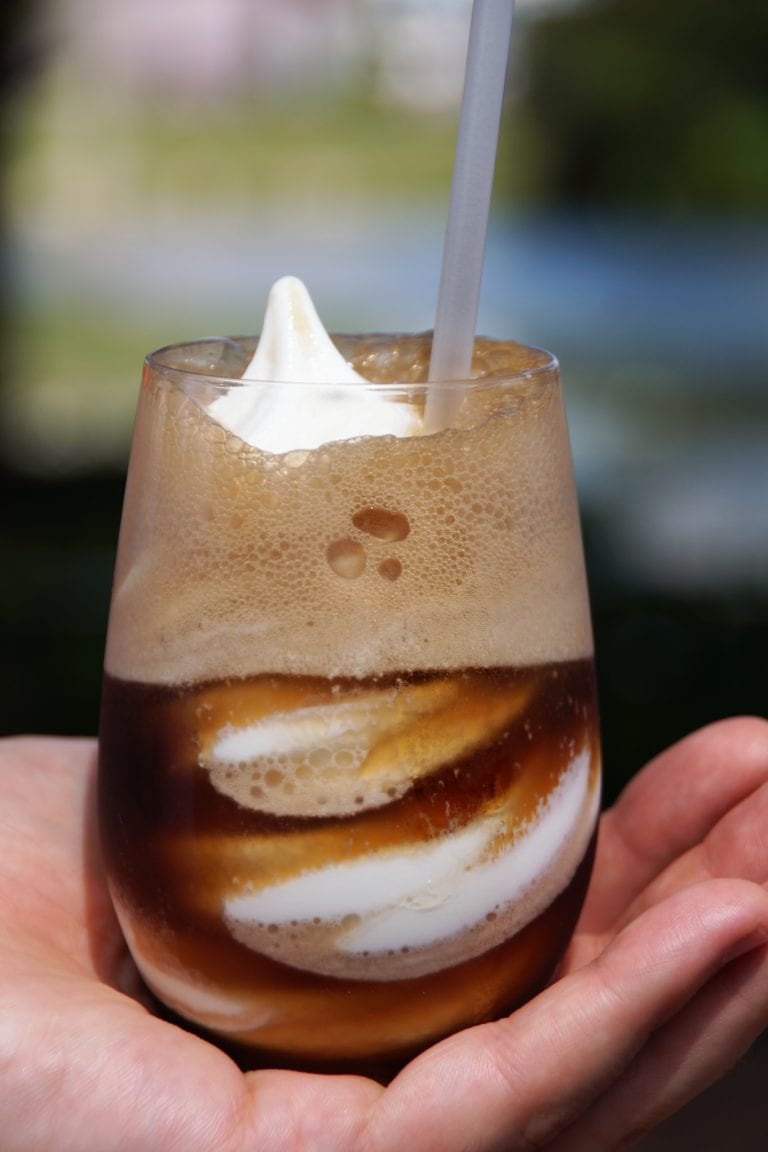 Honestly at $6.00 I think it's a good value compared to other items similar around Food and Wine (The Dole Whip with Rum will cost you $10.75). Go with a group and get a bunch so you can share. The non-alcoholic versions are alvailable with Coca-Cola, Grape Fanta or Strawberry Fanta. So if you have kids it's a nice option.
As for Alcohol, there is a variety of high-end options available, and as you can expect you will pay a pretty penny for them. The Dom will run you $32 a glass for example, but maybe you roll like that. 😉
Of all the Champagnes I like the Veuve Clicquot Ponsardin "Yellow Label" Brut. Veuve Clicquot is one of my favorite champagnes and this is their signature label. It's full-bodied and has a rich flavor, with a nice balance of fruit aromas and toast aromas. It's a better deal and at least doable at $12 a glass if you are in the mood for champagne.
Booth Summary and Grade:
I would be lying if I said anything other than I'm a bit disappointed with Desserts and Wine this year. Yes the Hard Soda Floats are amazing and made the list of my Top 15 Things you must try at Food and Wine with year, but besides that it was a bit of a let-down for me. I really missed the Dessert Trio as it's always one of the highlights for me. And the fact it wasn't replaced by a "real-dessert" and only another thing you can drink lets me down. Here's to hoping they make some additions next year to change it.
If you have to get just one thing:

Hard Soda Floats



Grade:

7



Take a look at all of my 2016 Epcot Food and Wine articles. I have the Top 15 Things You Must Try this year at Food and Wine, and also a complete Index of the Food and Wine Menus and other Helpful Info. I want you to be able to have the best info on the Festival so you don't waste your time and you have the best time possible!
If you enjoyed this article, as always I appreciate it if you'd share it with others via social media. I work hard at making this website into a useful resource for you and your family to plan your visit to Walt Disney World, and I hope it can help you! Thanks 🙂
Your Thoughts:
I want to know what you think my review of Desserts and Champagne at the 2016 Epcot Food and Wine Festival. What are your favorites? What keeps you coming back again and again? What would you like to see next year? Let us know in the comments section below! 🙂