Craft Beer Review: 2016 Epcot Food and Wine Festival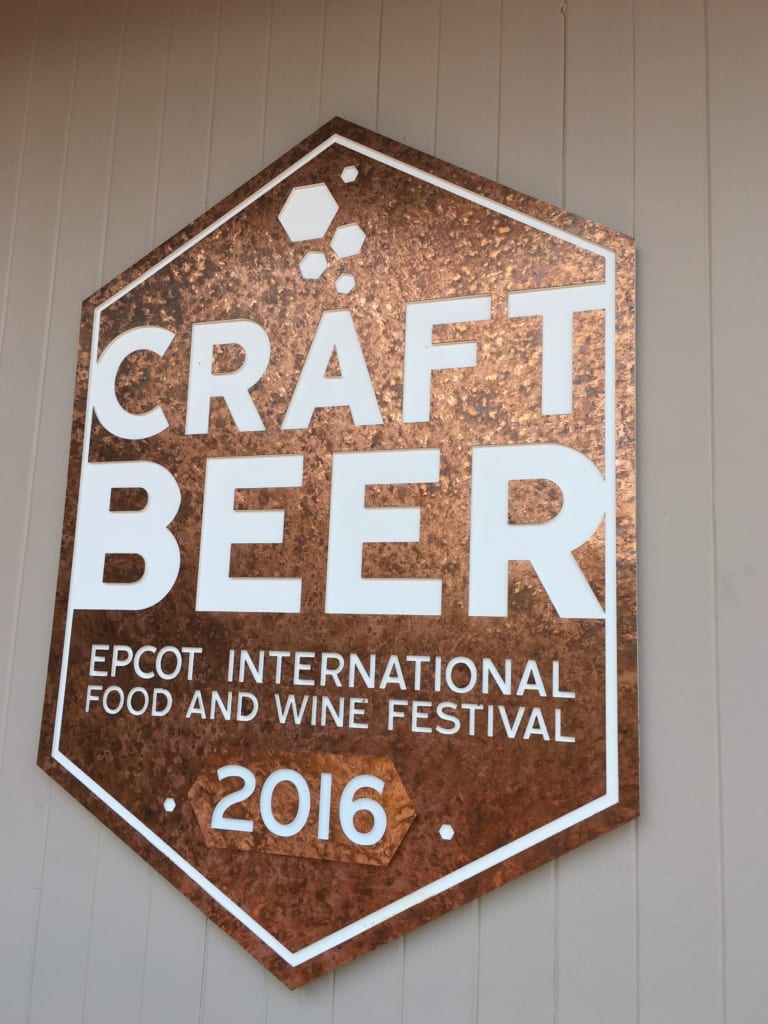 If you are a Beer lover, consider this home! Craft Beer offers the best and broadest selection at Food and Wine. It also is home to some great eats too. Let's take a look!
Booth:
The best things about this marketplace is it's inside and air conditioned. That means when it's roasting hot out side you can slide on in for a few and cool down. That's exactly what we did. The heat index was 98 the day we were here and it felt so good to get into the A/C. That said millions of others will have the same idea so you might have to be patient and wait for a table.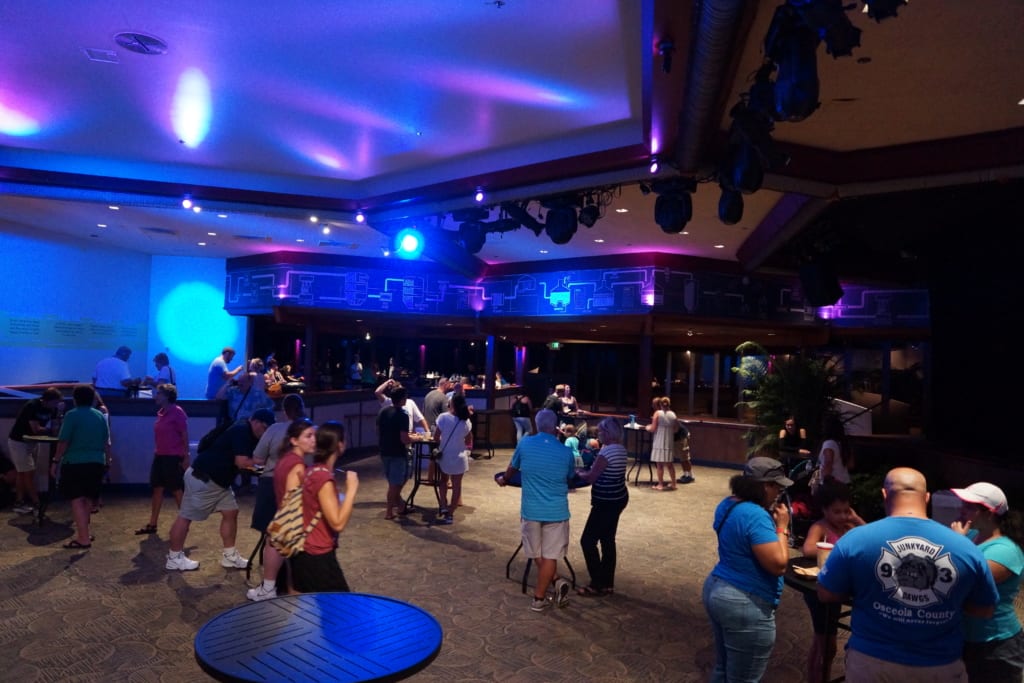 I like the decoration to the old Odyssey Pavilion for Craft Beers. I love the blue lighting and the cool vibe it gives. Almost like stepping into a hip club or something.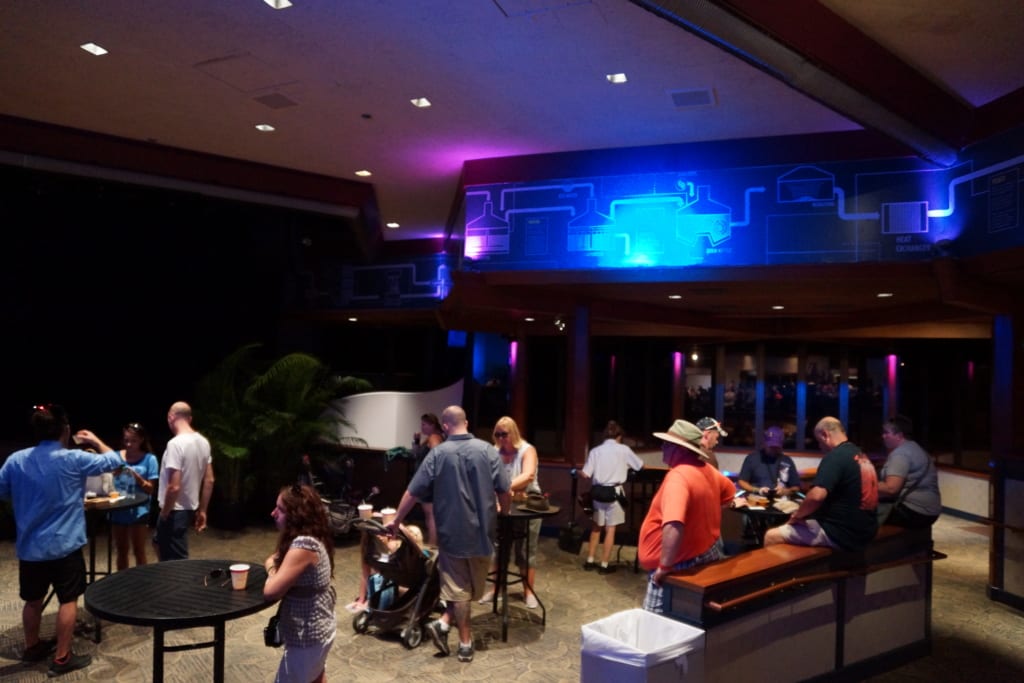 Menu: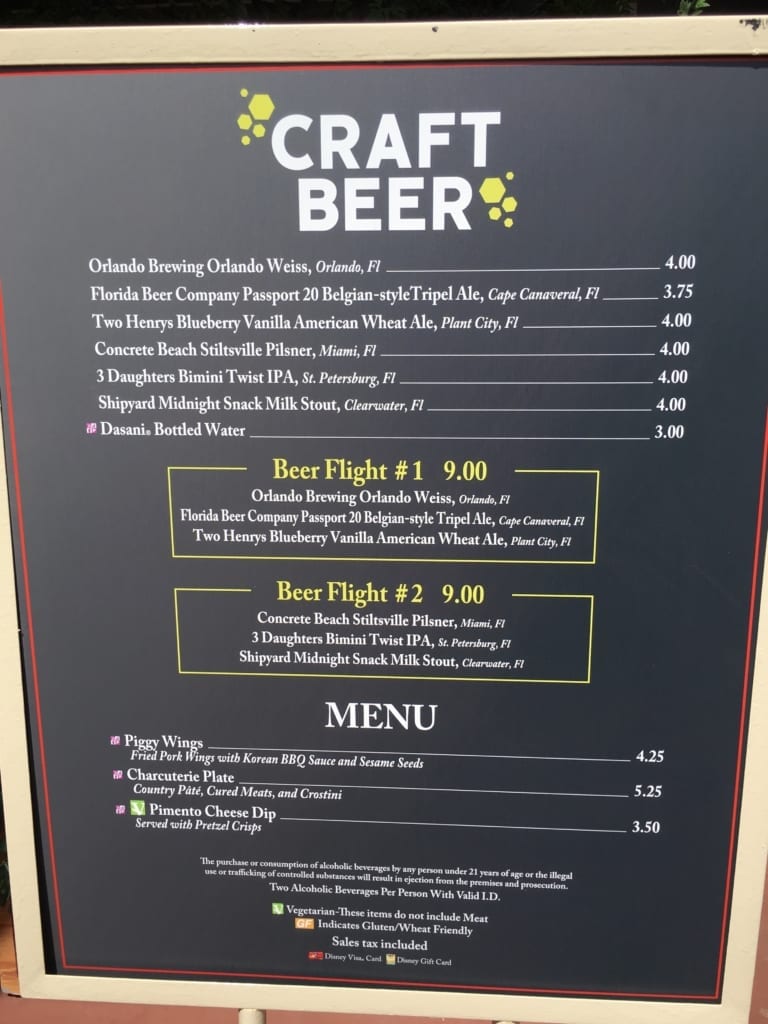 Food:
Pimento Cheese Dip with Pretzel Crisps – $3.50, Vegetarian, DDP Snack Eligible

*Ziggy Recommended



Charcuterie Plate: Country Pâté, Cured Meats and Crostini – $5.25, DDP Snack Eligible
Piggy Wings: Fried Pork Wings with Korean BBQ Sauce and Sesame Seeds – $4.25, DDP Snack Eligible

*Ziggy Recommended
Beverages:
Orlando Brewing OTown Weiss, Orlando, FL – $4.00
Florida Beer Company Passport 20 Belgian-Style Tripel Ale, Cape Canaveral, FL – $3.75
Two Henrys Blueberry Vanilla American Wheat Ale, Plant City, FL – $4.00
Concrete Beach Stiltsville Pilsner, Miami, FL – $4.00
3 Daughters Bimini Twist IPA, St. Petersburg, FL – $4.00
Shipyard Midnight Snack Milk Stout, Clearwater, FL – $4.00
Beer Flights also available – $9.00
Menu review:
The food selection is great, with three offerings. The Pimento Cheese Dip with Pretzel Crisps was outstanding! Love the creamy texture of the Pimento cheese and the Pretzel Crisps are more like pieces of pretzel bread, but either way they are nice and fluffy and they soak up all that cheesy goodness. Would get it again!
Next up was maybe my item I was most curious about at Food and Wine this year. When I read the title: Piggy Wings I was a bit confused because obviously pigs don't have wings, otherwise that clever saying about pigs flying would make no sense! 😉 Actually they are a part of the pork shank, and they are really, really good!
Once I got my hands on them I couldn't put them down! They are covered in like a sticky soy sauce glaze, and then sprinkled with sesame seeds. The pork is so moist and juicy. I licked those bones clean! A great option and one of my Top 15 items you must try at this year's Food and Wine.
Besides that there's also a Charcuterie Plate: with Country Pâté, Cured Meats and Crostini. I didn't have it but it looked ok. There was about two slices of salami, a slice of ham, a couple small pieces of what looked like sausage and some bread with it.
Then there are the Beers. Most beers are priced in at about $4.00 each, but the awesome thing they do here is Beer Flights. So for $9.00 you can get 3 beers which is a much better deal.
One of the best imo is the Two Henrys Blueberry Vanilla American Wheat Ale. Very aromatic. Light wheat in color. It has a blueberry sweetness on the taste, but not too much, and a lingering vanilla finish. It's like eating a blueberry muffin in a beer!!
Another good one is the Concrete Beach Stiltsville Pilsner. It's lighter in body and has a nice mild scent of hints of biscuit and lemon. It's a nice refreshing beer for the blistering hot days in Orlando.
Booth Summary and Grade:
Craft Beer is a great option for Food and Wine and the premier option for beer drinkers. If that is you then that should be your first stop when you are there. They also offer great eats with the Piggy Wings and Pimento Cheese Dip being excellent offerings. We'll see what they craft up next year.
If you have to get just one thing:

Piggy Wings



Grade:

8



Take a look at all of my 2016 Epcot Food and Wine articles. I have the Top 15 Things You Must Try this year at Food and Wine, and also a complete Index of the Food and Wine Menus and other Helpful Info. I want you to be able to have the best info on the Festival so you don't waste your time and you have the best time possible!
If you enjoyed this article, as always I appreciate it if you'd share it with others via social media. I work hard at making this website into a useful resource for you and your family to plan your visit to Walt Disney World, and I hope it can help you! Thanks 🙂
Your Thoughts:
I want to know what you think my review of Craft Beer at the 2016 Epcot Food and Wine Festival. What are your favorites? What keeps you coming back again and again? What would you like to see next year? Let us know in the comments section below! 🙂