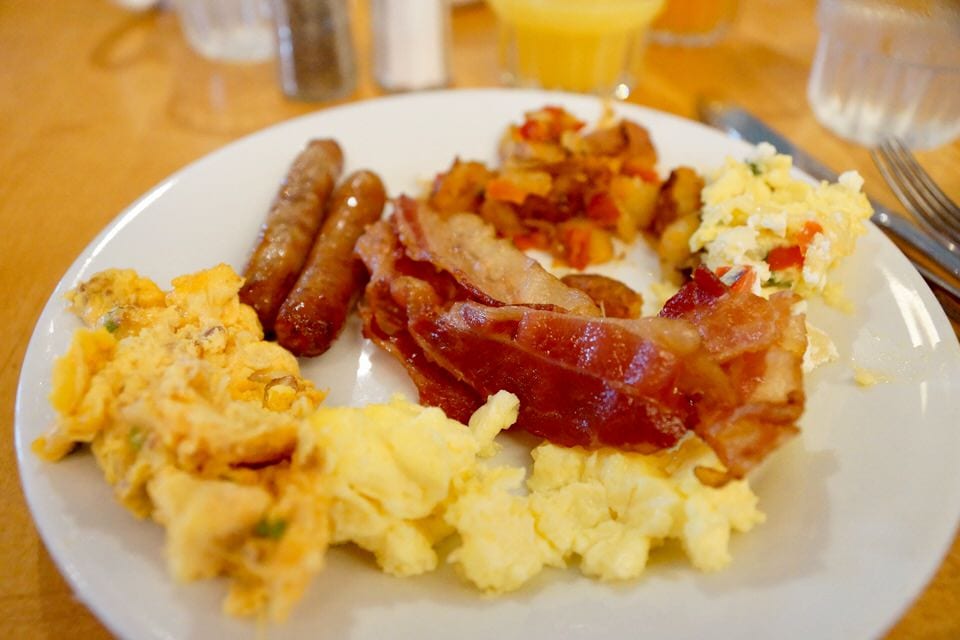 We told you back in February that the Caribbean Beach Food Court Centertown would be closing for a while during the ongoing construction of the Caribbean Beach Resort expansion. Because of this expansion the restaurant Shutters is already closed and the bar Banana Cabana is closing soon. To make up for it though as a temporary arrangement there is now a new buffet at the Caribbean Beach Resort called: Centertown Buffet.
The Centertown Buffet is only for guests staying at the resort and is a Quick Service style buffet. Don't even try to sneak in as your MagicBand will be scanned upon entering. The Centertown Buffet is open for Breakfast and Dinner and you can use the Disney Dining Plan on it if you like costing 1 Quick Service dining credit.
The cost of the Breakfast buffet is $13.99 for Adults and $7.99 for Children age 3-9. For the Dinner buffet it's $20.99 for Adults and $11.99 for Children age 3-9.
The breakfast buffet is basically what you expect: Scrambled Eggs, Bacon, Sausage, Potato Casserole, Pancakes, Grits, Biscuits and Gravy, Crepes, Fruit, Yogurt, Granola and more. Not a bad spread for $13.99, definitely WAY less than what you'd pay at a normal sit-down breakfast buffet.
For dinner the options are equally as good: Carved and Sliced Meats, Soup of the Day, Salad, Pasta, Mahi Mahi, Curried Shrimp, Turkey Breast, Glazed Ham, Sustainable Fish, BBQ Chicken, Mac & Cheese, Chicken Nuggets, Beans, Mashed Potatoes, a Variety of Vegetables, and a whole slew of desserts. Again this is a killer value for a Disney buffet.
Hours are 6:30 am – 11:30 am for Breakfast and 5:00 pm – 10:00 for Dinner
I suggest if you are staying at the Caribbean Beach Resort you take advantage of this offer. I don't know how long it's going to be around but you can't be the value imo.
Your Thoughts:
I want to know what you think about the new Centertown Buffet at Disney's Caribbean Beach Resort. How does the buffet sound to you? Do you think it's a good value? Let us know in the comments section below!
If you enjoyed this article, as always I appreciate it if you'd share it with others via social media. I work hard at making this website into a useful resource for you and your family to plan your visit to Walt Disney World, and I hope it can help you! Thanks 🙂