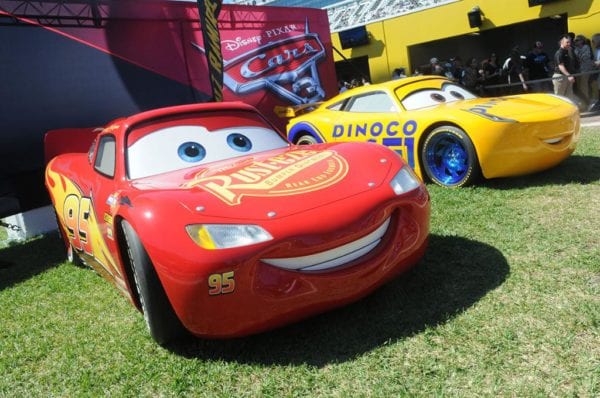 While we are anxiously waiting the release of Cars 3 on June 16th, fans of the Cars series will get a chance to meet characters from the film and get an inside look of the story before the movie at the Cars 3 Road to the Races Tour which is starting in Disney Springs.
The Road to the Races Tour is a nationwide event beginning March 23-26th in Disney Springs and then coming to 27 cities coast to coast to celebrate the release of the newest Cars movie, including stops such as: Miami, Dallas, Chicago, Boston, New York, Philadelphia, Denver and Los Angeles
Fans will be able to meet and get pictures with the stars from Cars 3: Lightning McQueen, Cruz Ramirez and Jackson Storm. There will be many fun activities for the young and not-so-young alike including a "sneak peak" of the film.
Corporate sponsors will be involved with the event with companies like Alamo Rent a Car, Crest, Oral-B, Mattel and others providing some of the entertainment like a Pit Crew Tire Changing activity, the chance to create a digital postcard with Lightning McQueen and an interactive play area. There will also be a Dole Refueling Station with special smoothies you can sample…you sold me! 😉
Lastly keep on the look out for special Cars merchandise and some special menu items throughout Disney Springs during the event.
The event will be held at Disney Springs in the former Marketplace Bus Loop near "Once Upon a Toy."
Times for the event include:
Thursday March 23th from 12:00 pm – 7:00 pm; Friday and Saturday March 24 and 25th from 11 am – 7 pm; and Sunday March 26th from 11:00 am – 5:00 pm.
The full list of cities on the Cars 3 Road to the Races Tour can be found here at www.cars3tour.com.