Canada Review: 2016 Epcot Food and Wine Festival
Again another long-time Food and Wine favorite…Canada. This year looks to be another great one for this Food and Wine staple. Let's take a look and see how it stacks up to the rest.
Booth:
Nothing says Food and Wine to me more than entering into World Showcase and passing this Canadian mountain refugee house they use for the festival. I love the stone work with the chimneys and the wooden shutters! So cool!!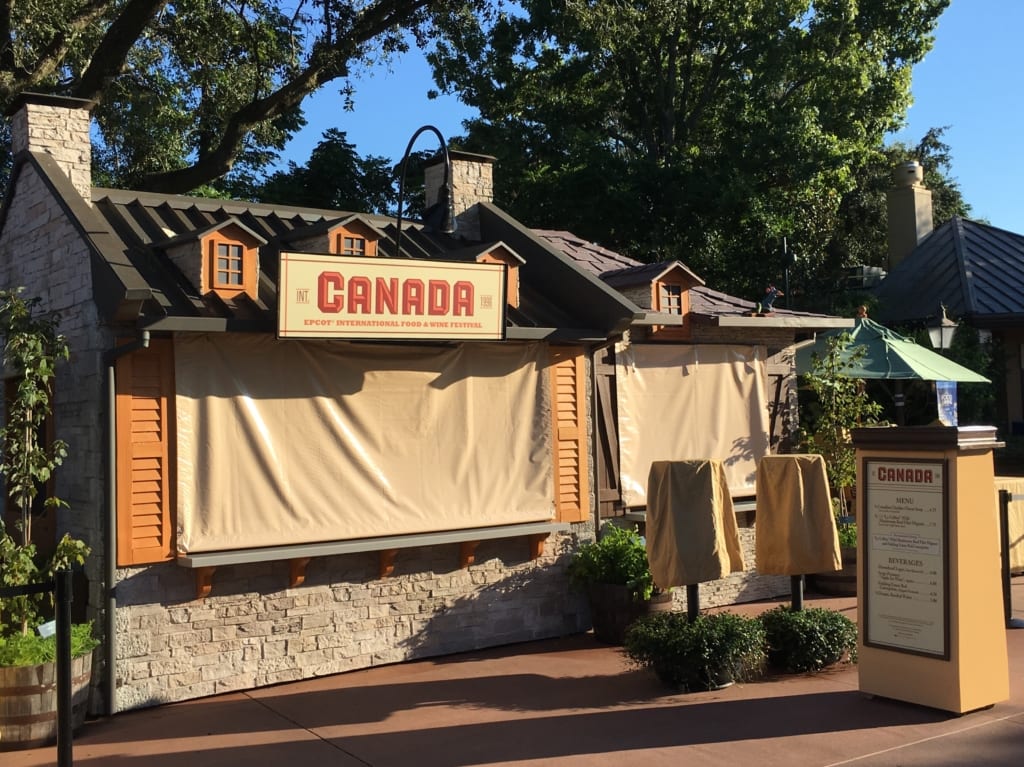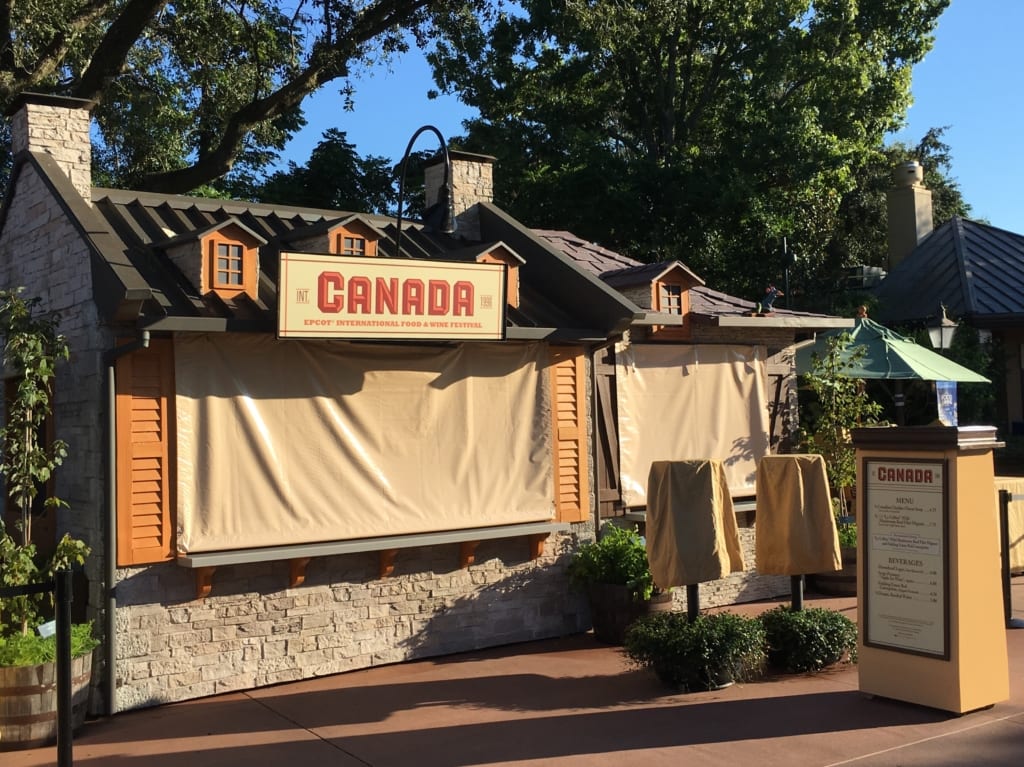 Menu: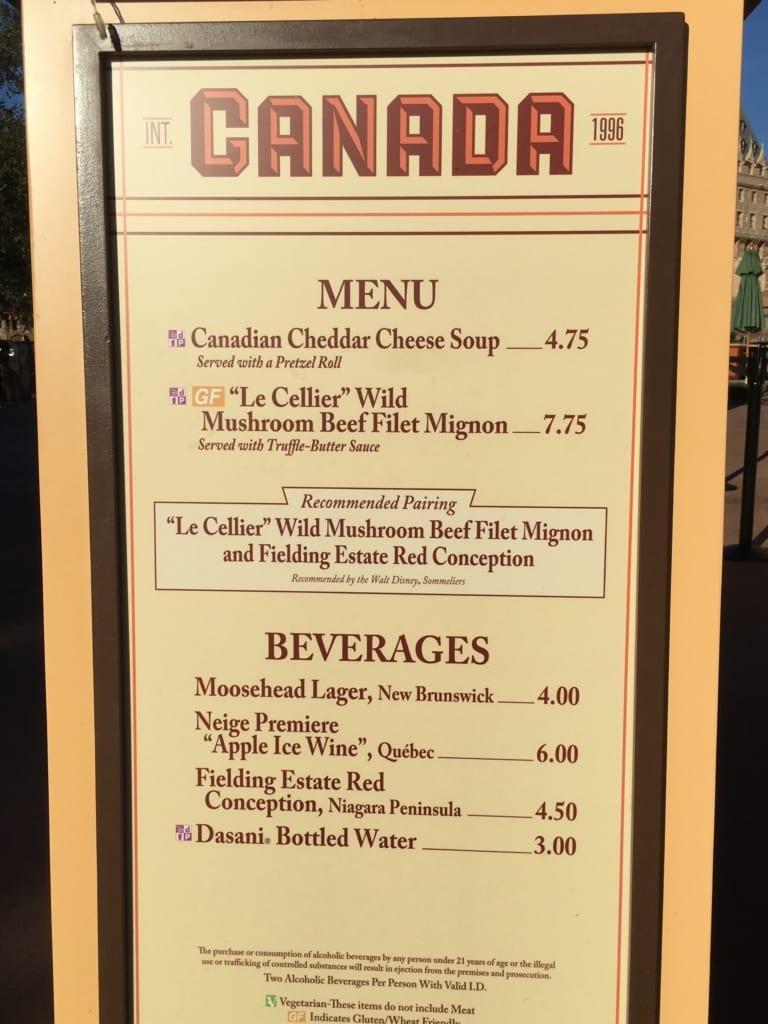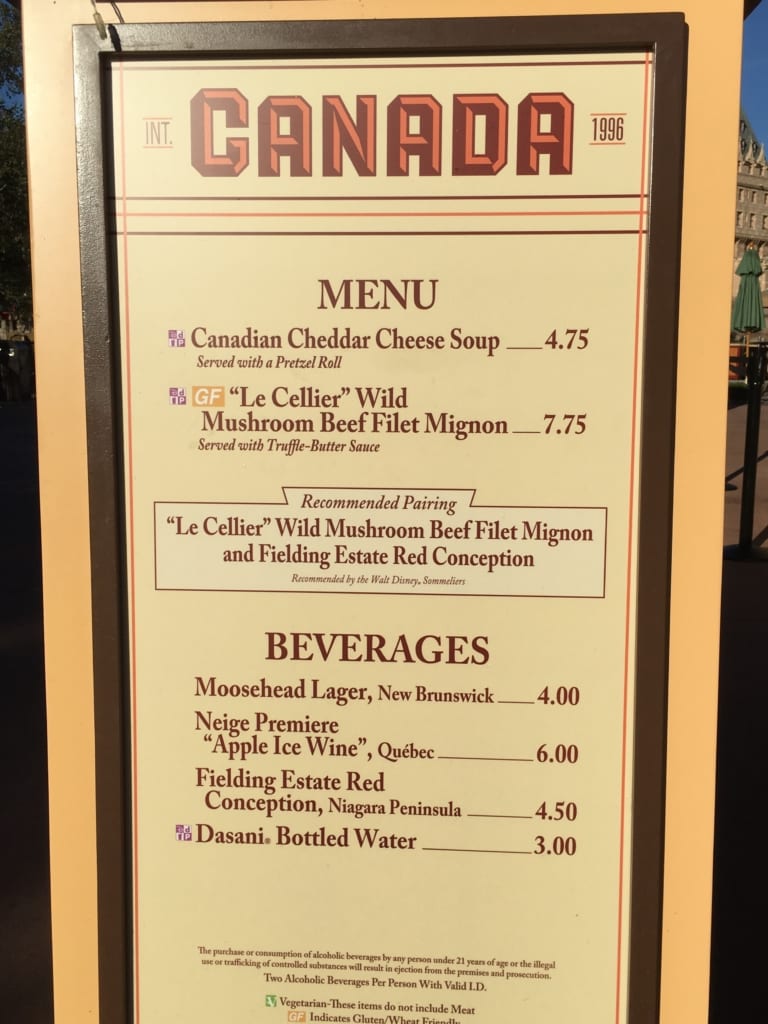 One look tells me two of my favorite all-time items are still on the menu….let's go!
Food:
Canadian cheddar cheese soup served with a pretzel roll – $4.75, DDP Snack Eligible

*Ziggy Recommended



"Le Cellier" Wild Mushroom Beef Filet Mignon with Truffle-Butter Sauce – $7.75, Gluten-Free, DDP Snack Eligible

*Ziggy Recommended
Beverages:
Moosehead Lager – $4.00
Neige Premiere Apple Ice Wine, Québec – $6.00
Fielding Estate Red Conception – $4.50
Menu review:
Canada has a small menu this year, although it probably offers the best 1-2 combo at the whole festival, those being the Canadian Cheddar Cheese Soup and the "Le Cellier" Wild Mushroom Beef Filet Mignon with Truffle-Butter Sauce.
Let's start with the soup. The Cheddar Cheese Soup in Canada is legendary. I mean Darth Vader status here, as it is probably the most sought after item, year-after-year at Food and Wine. As you know if you've ever tried it, it's made with a Canadian Cheddar, nice and sharp full of flavor, then mixed with some spices(pepper and others) and there's also beer in the recipe. It is so rich and creamy and full of flavor it's hard to describe, and even harder to stop eating once you start. I had it not even a week earlier and I had to come get some more. They go through hundreds and hundreds of gallons of this stuff all the time..
This year they finally have added a pretzel bread stick to the dish, which is amazing!! Basically just like the Le Cellier ones, soft and fluffy on the inside and nice and strong outside. Not hard but you have to tear the bread a bit to break it up. So stinking good! Only thing is these ones don't have salt on top like at Le Cellier. An absolute must try and on my list of the 15 Best Items at Food and Wine 2016.
Next up was the "Le Cellier" Wild Mushroom Beef Filet Mignon with Truffle-Butter Sauce. Again if you have had the privilige to dine at Le Cellier then you might already be familiar with how good this is. Now I'm going to be honest and state the obvious…cooking filet for thousands of people is super hard and doesn't always come out perfectly medium-rare like any fine steak should be cooked, but they do an excellent job here of almost always getting it right.
For example mine that I had was a little more medium than medium rare, but again you can't expect perfection like you get when you go to Le Cellier, but this was darn close anyhow. The steak has such a nice texture, and the buttery truffle sauce will blow you mind, so rich and smooth. The mushrooms tasted awesome too and went perfectly with the steak. Another stellar option!
That unfortunately was it for food though. That was the only disappointment, that at least there should have been a dessert or something. In the past they have even had a third savory item like a salmon or something, but unfortunately this year no.
The drinks offered some good choices, especially the beers are nice and give you a decent bang for buck at only around $4. I had the the Neige Premiere Apple Ice Wine from Québec, which I really wanted to try days earlier when I went to Le Cellier but for some unknown reason I decided against it. I have to say I loved the apple wine, it was a little sweet and so refreshing. The only thing was it was $6.00 and it was super small. Look at the size compared to my fingers.
It was a much better deal at Le Cellier for a flight, but lesson learned. To bad it wasn't a bit bigger because I really enjoyed it and would love to drink it again, I just can't justify it for the price and the small quantity they give you.
Booth Summary and Grade:
Overall Canada didn't let me down, just like usual. The Canadian Cheddar Cheese Soup was incredible as usual, only this time even better with the added pretzel roll. The Filet was amazing also and the best steak offering at Food and Wine. I wish there was another food offering or at least a dessert, but the two that it does offer are so strong it's hard to even take away points where Canada is weak. You have to visit Canada and try both food items, it's a Food and Wine must! Thank me later! 🙂
If you have to get just one thing:

Canadian Cheddar Cheese Soup



Grade:

9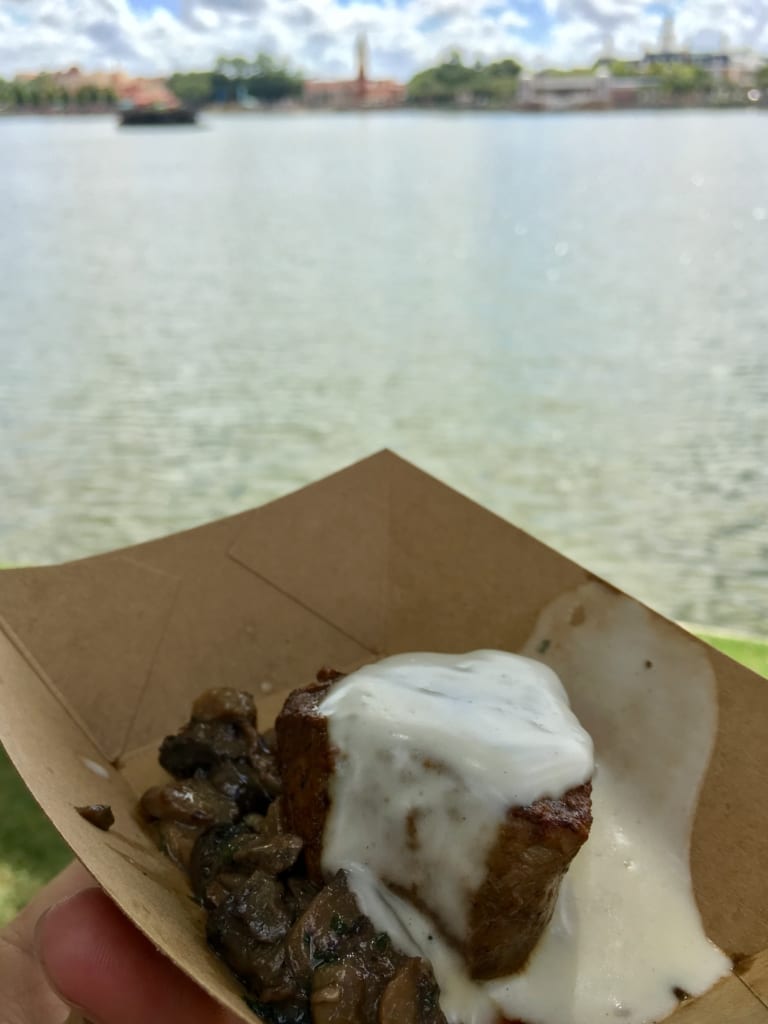 Take a look at all of my 2016 Epcot Food and Wine articles. I have the Top 15 Things You Must Try this year at Food and Wine, and also a complete Index of the Food and Wine Menus and other Helpful Info. I want you to be able to have the best info on the Festival so you don't waste your time and you have the best time possible!
If you enjoyed this article, as always I appreciate it if you'd share it with others via social media. I work hard at making this website into a useful resource for you and your family to plan your visit to Walt Disney World, and I hope it can help you! Thanks 🙂
Your Thoughts:
I want to know what you think my review of Canada at the 2016 Epcot Food and Wine Festival. What are your favorites? What keeps you coming back again and again? What would you like to see next year? Let us know in the comments section below! 🙂