Brazil Review: 2016 Epcot Food and Wine Festival
Brazil is always one of my favorite kiosks every year at Food and Wine, and for good reason, the food is amazing and it has one of the best atmospheres of the kiosks. Let's see if this year lives up to the hype…
Booth:
I love the booth setup for Brazil. It's tucked away nicely towards the back between France and Belgium, and it has such a cool jungle vibe going for it. Below you see the vibrant colors in the tiles that decorate the kiosk.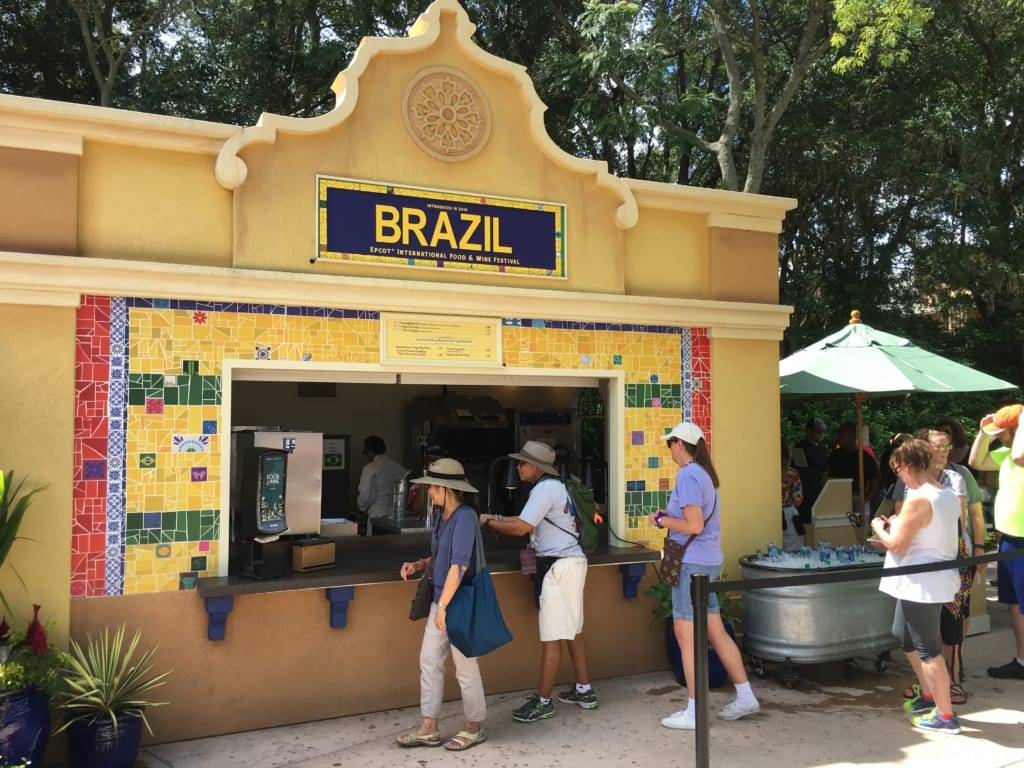 One of the big problems with some of the Food and Wine kiosks is sometimes there isn't a place to sit and enjoy your food, that's not the case here. Here there's a little enclave in the Brazilian rain forest, all colored nicely, very festive and bright, with plenty of room to sit, relax and enjoy what's coming next…the food!
Menu: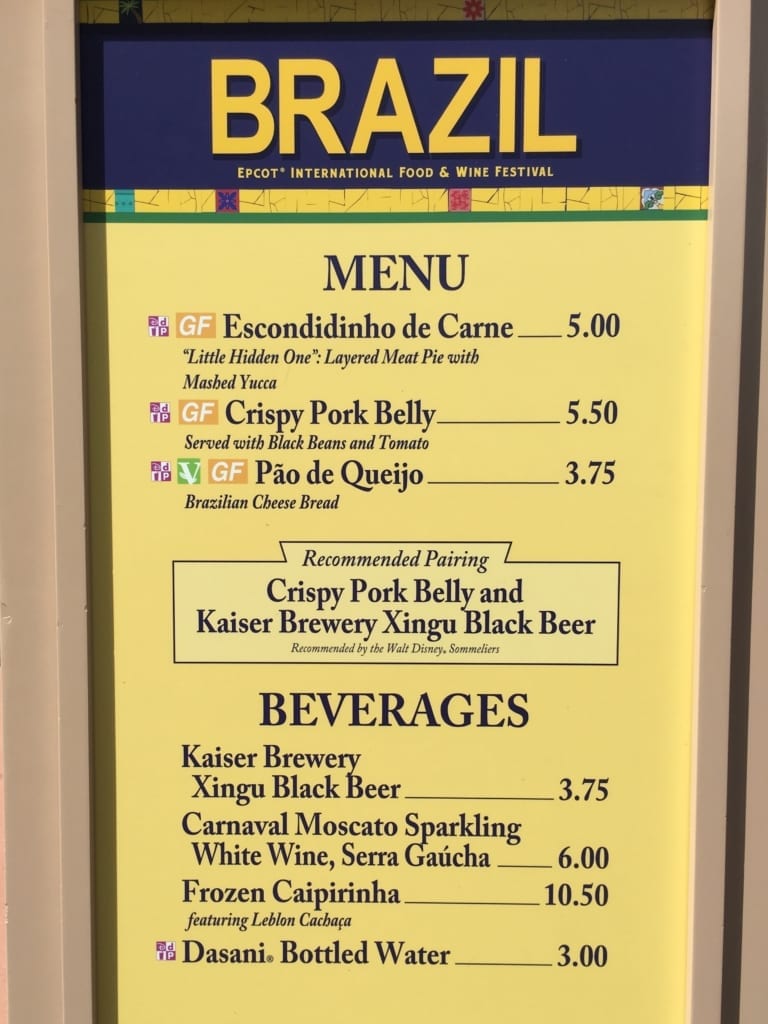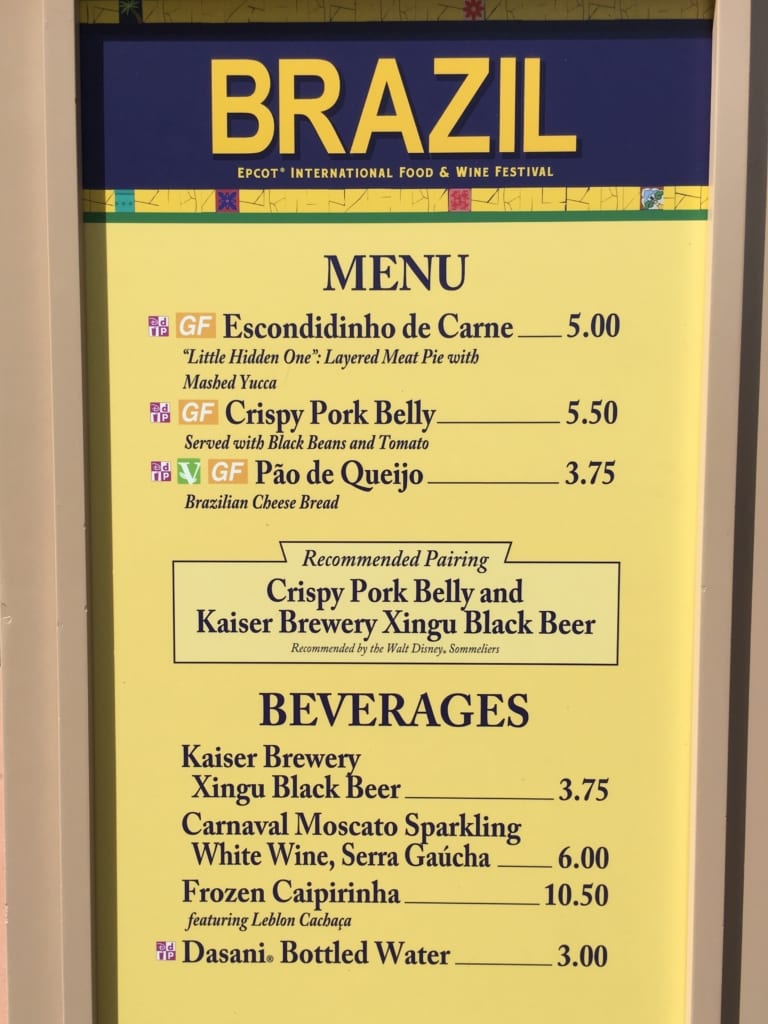 Food:
Pão de Queijo: Brazilian cheese bread – $3.75, Vegetarian, Gluten-Free, DDP Snack Eligible

*Ziggy Recommended



Crispy pork belly with black beans and tomato – $5.50, Gluten-Free, DDP Snack Eligible

*Ziggy Recommended



Escondidinho de Carne: Layered Meat Pie with Mashed Yucca – $5.00, Gluten-Free, DDP Snack Eligible
Beverages:
Kaiser Brewery Xingu Black Beer – $3.75
Carnaval Moscato Sparkling White Wine, Serra Gaúcha – $6.00
Frozen Caipirinha featuring LeBlon Cachaça – $10.50
Menu review:
As I said before, Brazil is one of my favorite booths at Food and Wine, and it's not just because of the cool seating area… All I have to say is "Pork Belly" and you understand why I come back time and time again.
The Crispy Pork Belly is one of my all-time favorite Food and Wine snacks and I'm so happy to see it return again this year!! First it looks beautiful, with all the pretty colors from the fresh tomatoes, onions and peppers on top. And the black beans give it a nice bed as well. But man that pork…mmmm.
As you can see it has a nice golden brown color on top and inside it's nice a juicy, not dry at all. I will say in the past this item can be hit or miss depending on who is cooking because I have had it a little to cooked before, but this one was nice and tender and full of flavor. It blended nicely too with the creaminess of the black beans. I literally could have eaten five of these. Also for $5.50 they give you a nice chunk of pork, I didn't feel it was small by any means.
Next we have the Pão de Queijo: Brazilian cheese bread for $3.75. Here they give you two pieces of this amazing cheesy heaven. They aren't the biggest pieces, but they are super dense filled with cheese. In fact I was surprised by the weight when I picked them up.
You can see inside how dense the cheese is, and they taste incredible! Outside a little crispy, but inside gooey and soft. I'm not sure what kind of cheese they use, I'm assuming a local Brazilian kind, but it had a great flavor and not overpowering, but just real savory and great with the bread itself. Again, Brazil hits it out of the park with this offering!!
There's also the Escondidinho de Carne: Layered Meat Pie with Mashed Yucca, which was pretty good. If you don't know what Yucca is, its a veggie local to South America that here is mashed and a bit sweet yet bitter at the same time. It's similar to a potato, only a bit stringy. This came mashed and was sitting on top of ground meat underneath. Meat was juicy I thought it was a good option as well and I'd recommend it.
As for the drinks I didn't try any, but from what I saw, the Frozen Caipirinha featuring LeBlon Cachaça looks like it's worth a shot. Try one and tell me how it is.
Booth Summary and Grade:
The Brazil marketplace is always a smash hit, one of the best places to go during Food and Wine, and this year is no exception. The atmosphere is one of the best with the jungle vibe in the great seating area they have. The food options are stellar, the Layered Meat pie is good, the Cheese Bread outstanding and the Crispy Pork Belly just unbelievable. Only thing keeping this Brazil from a perfect score is its lack of dessert option, other that that it's perfect. Truly a must visit booth when you attend Food and Wine!!
If you have to get just one thing:

Crispy pork belly



Grade:

9.5



Take a look at all of my 2016 Epcot Food and Wine articles. I have the Top 15 Things You Must Try this year at Food and Wine, and also a complete Index of the Food and Wine Menus and other Helpful Info. I want you to be able to have the best info on the Festival so you don't waste your time and you have the best time possible!
If you enjoyed this article, as always I appreciate it if you'd share it with others via social media. I work hard at making this website into a useful resource for you and your family to plan your visit to Walt Disney World, and I hope it can help you! Thanks 🙂
Your Thoughts:
I want to know what you think my review of Brazil at the 2016 Epcot Food and Wine Festival. What are your favorites? What keeps you coming back again and again? What would you like to see next year? Let us know in the comments section below! 🙂