The Active Eats booth is a new booth but bringing back some classics that you're very familiar with from last year. Remember the Loaded Mac 'n' Cheese from Farm Fresh? Or the Roasted Verlasso Salmon from Patagonia? Well they're back now here at Active Eats, but are they better than ever?? Let's find out in my 2017 Epcot Food and Wine Festival Active Eats Review….
Active Eats Booth:
The Active Eats booth is tucked away in my favorite area of Future World West and shares the garden area with a beautiful eating area with Coastal Eats and Earth Eats too: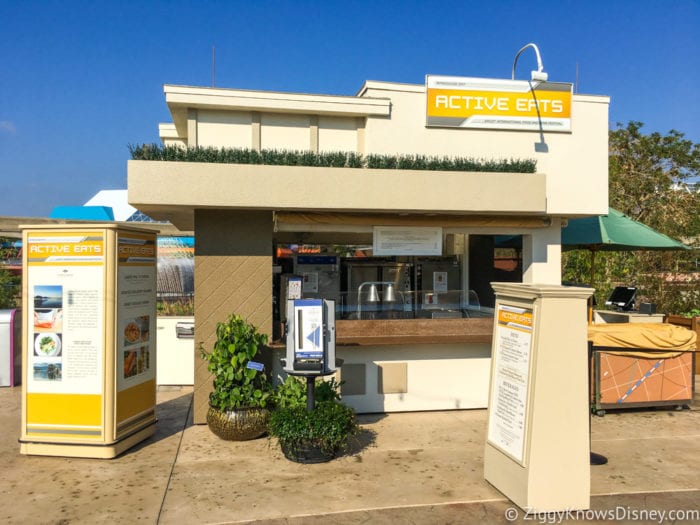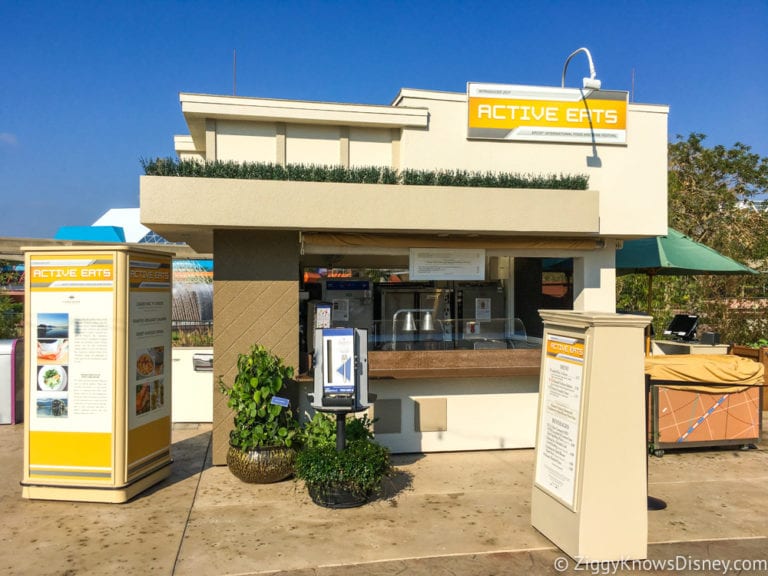 Active Eats Menu: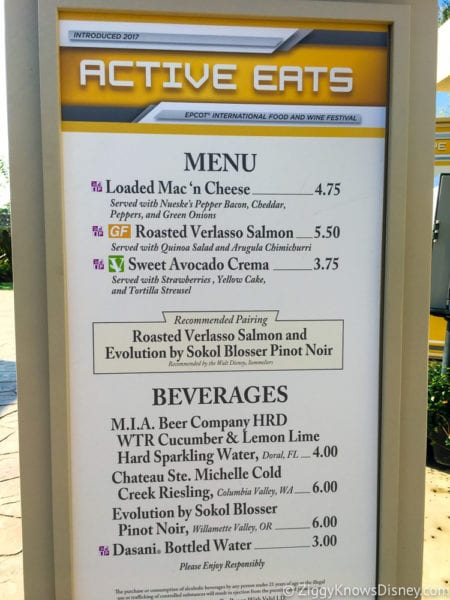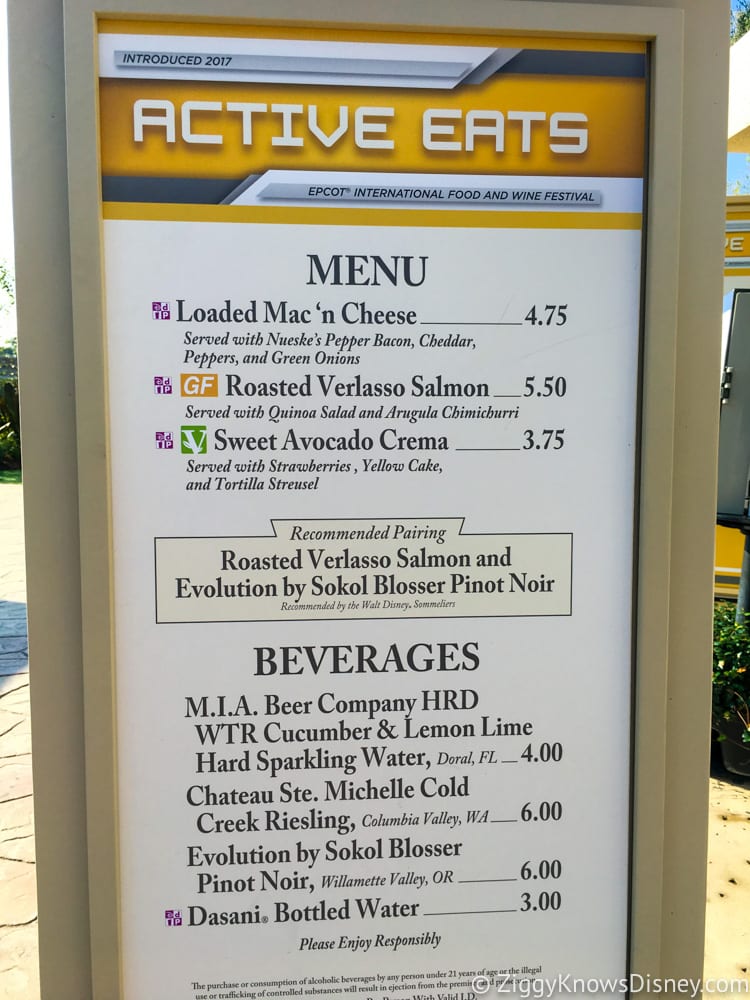 Food:
Loaded Mac 'n' Cheese with Nueske's® Pepper Bacon, Cheddar Cheese, Peppers and Green Onions – $4.75, DDP Snack Credit
Roasted Verlasso Salmon with Quinoa Salad and Arugula Chimichurri (Gluten-Free) – $5.50, DDP Snack Credit

*Ziggy Recommended

Sweet Avocado Crema with Strawberries, Yellow Cake and Tortilla Streusel – $3.75, Vegetarian, DDP Snack Credit
Beverages:
M.I.A. Beer Company HRD WTR Cucumber & Lemon Lime Hard Sparkling Water, Doral, FL – $4.00
Chateau Ste. Michelle Cold Creek Riesling, Washington – $6.00
Evolution by Sokol Blosser Pinot Noir, Willamette Valley -$6.00
Menu Review:
Right away I couldn't wait to try the Loaded Mac 'n' Cheese as it was one of my favorite items of the whole festival, in fact it made my list of the Top Items at Epcot Food and Wine 2016. We dug in expecting greatness again, but I supremely let down. To look at it you would think it's going to be amazing, but not so. The pasta was a bit overcooked, the pepper taste was just too strong, and the cheese flavor just wasn't that good. Not to mention the portion is skimpier this year. Don't get me wrong I like a good Mac and Cheese as much as the next guy, it's very high up for me on my Food Pyramid, but this one just isn't very good. Do your self a favor and skip it this time as it's not the same.
Next up was the Roasted Verlasso Salmon with Quinoa Salad and Arugula Chimichurri. You might recognize it from Patagonia last year, but like the Mac and cheese I think this is actually even better this time around! Stefy loved it! This was very strong imo, and I was really impressed. It was really tasty, which is hard for a festival where the fish can be hit or miss. Wasn't too dry, quite moist, and not super fishy. Love that chimichurri sauce, can't get enough! And hey, it actually felt like I was eating something healthy for a change, especially with all those sides! Recommended!
Lastly we had the Sweet Avocado Crema. Ok, so let me start out by saying I don't like avocado, so I'm maybe not the best judge, but it was better than I though it was going to be, it for sure had a strong avocado taste. I thought the strawberry at the bottom balanced out the avocado taste, and personally I would have liked a bit more strawberry. Again Stefy liked it a lot, and she is an avocado fan so you can trust her.
Booth Summary and Grade:
Overall the Active Eats booth was good but nothing great. Honestly I was expecting more since I really loved the Mac and cheese last year but this year it just wasn't the same. I hope they make it better next year because looking at it it really does look good. The Salmon is very good though and I would go there again for that, but for me that's about it. If you like avocado then try the dessert, you'll probably like it too!
If you have to get just one thing:

Roasted Verlasso Salmon



Grade:

7



Take a look at all of my 2017 Epcot Food and Wine articles. I have a 2017 Epcot Food and Wine Info Guide with a complete Index of the Food and Wine Menus, The Top NEW Items for 2017, Top Food and Wine Booths and more…I want you to be able to have the best info on the Festival so you have a great time and don't waste your time!
Your Thoughts:
I want to know what you think of my Active Eats Review: 2017 Epcot Food and Wine Festival. What was your favorite item? Were you as disappointed with the Mac and Cheese as me? What should they add next year? Let us know in the comments section below!
If you enjoyed this article, as always I appreciate it if you'd share it with others via social media. I work hard at making this website into a useful resource for you and your family to plan your visit to Walt Disney World, and I hope it can help you! Thanks 🙂