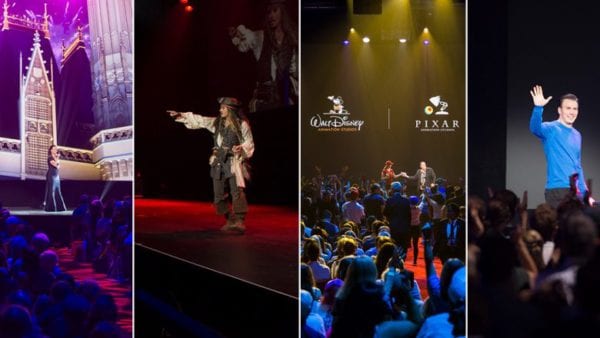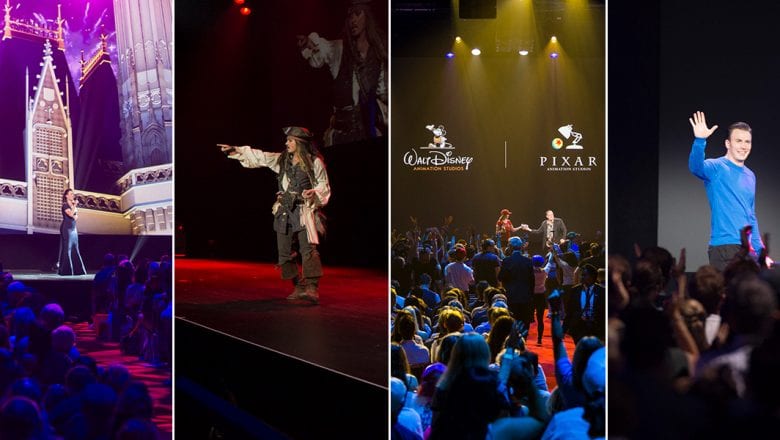 Summer is almost here and now we have the 2017 D23 Expo Schedule with all of the different events that will be taking place July 14-16 in Anaheim California. This is an event I am looking forward to more than I can say because this event gives you a glimpse of the the future of the Walt Disney Company, showing all the great things to look forward to in the coming years. Here's the breakdown of the schedule:
Friday, July 14
Disney Legends Awards Ceremony (10 a.m.) – This will be a great start to this year's D23 Expo and will have Disney Chairman and CEO Bob Iger beginning with the special ceremony that honors this year's Disney Legends Award recipients. Among them are Oprah Winfrey, Carrie Fisher, Mark Hamill and more. You can see the full list of 2017 honorees here.
Walt Disney Animation Studios and Pixar Animation Studios (2:30 p.m.) – The heart and soul of the Walt Disney Company is its Animation, and here we will see just what the Disney and Pixar animators are dreaming up for future animated films. It's also here that we should find out more about the exciting lineup of films Disney has already announced: Frozen 2, Ralph Breaks the Internet: Wreck-it Ralph 2, Coco, and The Incredibles 2, just to name a few.
What new films could they announced here? You'll have to wait and see.
Saturday, July 15
The Walt Disney Studios Live-Action Films (10:30 a.m.) – Having a ton of success are the Walt Disney Live-Action Films, and now you will get a look at the latest news from Disney, Marvel and Lucasfilm, with them showing what future projects they are working on for us. Last time at D23 2015 is where we got our first look at Star Wars: The Force Awakens, Beauty and the Beast, Doctor Strange, and more fan favorites…
This year should be jam-packed, with more info coming about the future Star Wars Movies (The Last Jedi, Episode 9, Han Solo movie, etc), the Marvel Lineup, Mary Poppins, The Lion King, Aladdin, Dumbo, and so much more! Who knows what else they will show us…
Walt Disney Parks and Resorts (3 p.m.) – For me this is the most anticipated of all the presentations of the entire Expo. It's here that we will see the future of the Disney Parks not only here in the USA, but around the world. Disney Parks and Resorts Chairman Bob Chapek will take the stage during this presentation to share what's new and what's next at Disney Parks and Resorts.
Last time is when they announced Star Wars Land and Toy Story Land and gave us first looks at what they would be like. Will we get info on the big changes coming to Epcot? Is a Tron Coaster coming to the Magic Kingdom? A Star Wars Luxury Resort? You'll have to wait and find out….
Sunday, July 16
A Whole New World of Alan Menken (1:30 p.m. and 5 p.m.) – Celebrate the magic of Disney music with Disney Legend and eight-time Oscar®-winner Alan Menken in his brand-new one-man show. You will have the opportunity to watch Alan perform his own music and tell tales from his storied career.
Overall this is going to be such an exciting event, I have goosebumps now just thinking about it. If you haven't been to a D23 Expo before this year is a great chance to make the jump and join in on the fun! It's going to be a a record setting event full of fun and surprises and I hope to see you there!
Tickets are still on sale and you can order them on the D23.com Website.
Your Thoughts:
I want to know what you think about the 2017 D23 Expo Schedule. Do you like the lineup of events? Which one are you looking forward to seeing the most, and why? Let us know in the comments section below! 🙂
If you enjoyed this article, as always I appreciate it if you'd share it with others via social media. I work hard at making this website into a useful resource for you and your family to plan your visit to Walt Disney World, and I hope it can help you! Thanks 🙂
Photo Credit: D23