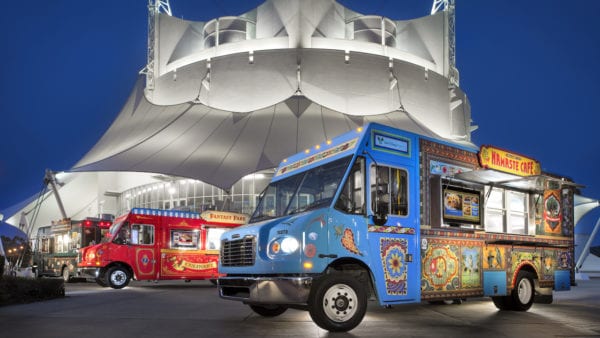 A new fun dining event is coming to Disney Springs in June called Spring Street Eats. It will bring 8 Food Trucks to Disney Springs in the West Side neighborhood outside of Cirque du Soleil starting Friday June 2 from 4pm – 11pm to Saturday June 3rd from 12pm – 11-pm. You just had to say "Food Trucks" and that's the magic word!
Spring Street Eats will include the Fantasy Fare and World Showcase of Flavors trucks which are normally found in the Exposition Park in Disney Spring's West Side, but will also include 6 more new trucks. Here's a list of all of them:
Fantasy Fare – This truck gives you a taste of Disney treats from parks all around the world, most famously the Hand-dipped Corn Dog!
World Showcase of Flavors – These treats are themed from the cuisine from the countries around World Showcase Lagoon and you can try some signature sandwiches featured in the annual Epcot International Food and Wine Festival.
(New) Caketeer – Any cupcake lover will make this a priority on their list. It offers high end gourmet cupcakes and custom cake products from the Orland and Central Florida area. Only the finest culinary ingredients are used!
(New) Philly's Best Cheesesteaks – Finding a good Cheesesteak outside of Philly can be a challenge, not any more! Philly's Best Cheesesteaks serve up hot and fresh cheesesteak sandwiches just for you! My mouth is watering already!
(New) 900 Degreez Pizza – This food truck contains a wood-fired oven imported directly from Italy and can cook these delicious pizzas in only 90 seconds. It has a glass facade panel which allows you to watch the pizza chefs in action.
(New) Magic 4 UR Palate – This one is a bit more mysterious sounding, we know just that they use a high standard and quality to creativity, making eats which are both appealing to the eye and taste buds. Will be interesting to see exactly what they have in mind.
(New) The London Fish and Chippy – I LOVE me some Fish and Chips and this truck uses a homemade beer batter which is the perfect dip to prepare these haddock fish and chips. Sounds like it won't only be haddock but also other fried seafood! A must try!
(New) Tikiz Shaved Ice – If you've been to Hawaii then you've tried shave ice already and you know how good it is. Now the Tikiz Shaved Ice ice cream truck is here offering Ice Cream as well as refreshing Hawaiian Shaved Ice where Guests can make their own custom shaved ice syrup creations.
Sounds like an event you don't want to miss, I know I sure don't! I'm all for more events like this, I think the Food Trucks are under-utilized and they could be doing more stuff like this more often. I think they should add more Food Trucks to Disney Springs on a regular basis, maybe switching them up from time to time. That would give guests a reason to keep coming back to try everything.
Your Thoughts:
I want to know what you think about the Spring Street Eats Food Trucks Event. Are you going to go check it out? Which truck sounds the best to you? Let us know in the comments section below!
If you enjoyed this article, as always I appreciate it if you'd share it with others via social media. I work hard at making this website into a useful resource for you and your family to plan your visit to Walt Disney World, and I hope it can help you! Thanks 🙂