There is never any shortage of good things to eat in Walt Disney World, and now Disney is giving a sneak peak to 11 New Character-themed Snacks coming to Disney's Magic Kingdom in the month of March. Man do they look delicious!! ?
Most of them are sweet and there is one savory option thrown in at the end too. Let's dive in to see what's coming and what we have to prepare our bellies for next month!
First up on Main Street are these awesome looking Minnie Mouse Sundaes at the Plaza Ice Cream Parlor. Each sundae has two scoops of ice cream topped with chocolate sauce, whipped cream, strawberries, chocolate cream cookies, and a chocolate Minnie bow.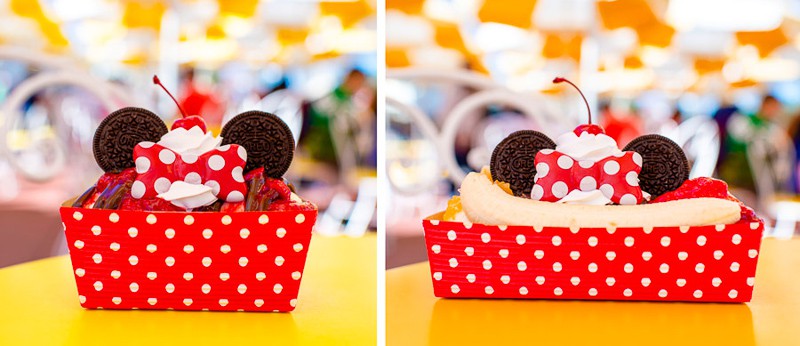 If you are going all out, then get the The Main Street Split comes with ice-cream and a banana topped with strawberry and pineapple sauces, hot fudge, chocolate cream cookies, and a chocolate Minnie bow.
We can never get enough Mickey Waffles on any trip to Walt Disney World, and if you throw them on top of an ice cream sundae…even better! That's where the Mickey and Minnie Waffle Sundae at Sleepy Hollow comes in. As part of Mickey and Minnie's Surprise Celebration this comes with Mickey and Minnie-shaped waffles and a scoop of vanilla ice cream topped with chocolate sauce, whipped cream, sprinkles, and a cherry.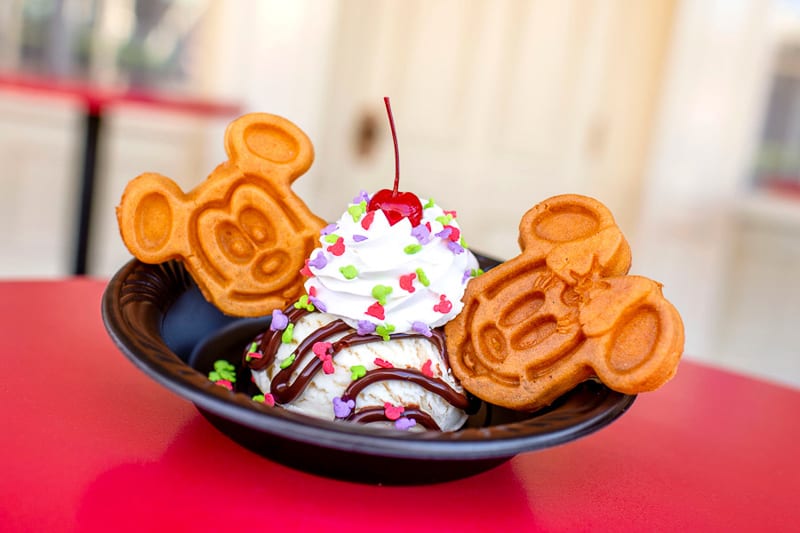 Besides these special offerings for March, you can get new ice cream containers featuring Mickey and Minnie Mouse cups with ice cream at various locations throughout the park!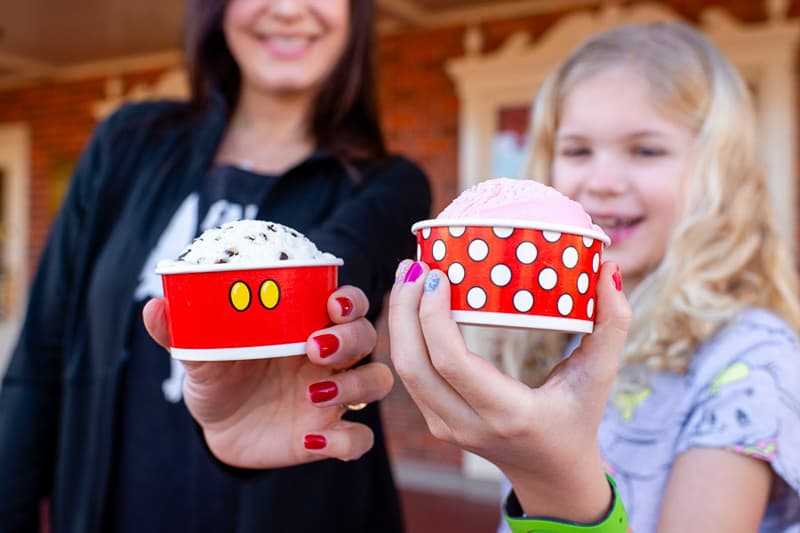 Over at Columbia Harbour House or Tony's Town Square Restaurant you will find these adorable and yummy Mickey and Minnie Whoopie Pies. They are red velvet whoopie pies come filled with cream cheese icing and are topped with chocolate decorations.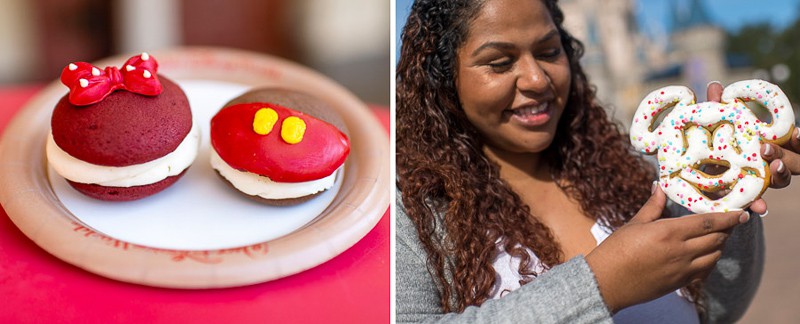 And something we're even more excited about it that the Mickey Confetti Pretzel is coming back, too! It's dipped in marshmallow fluff and topped with confetti sprinkles, and can be found at Tortuga Tavern.
I don't know how you feel about eating frogs, but for a limited time in Liberty Square Market you can get this Frog Prince Whoopie Pie (it's not real, don't worry!) This cinnamon whoopie pie comes with graham cracker icing, sprinkles, and a chocolate frog.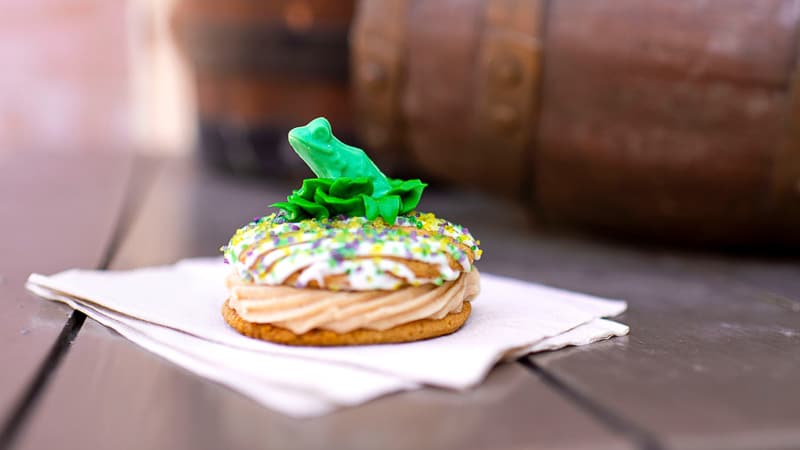 Of course the weather is starting to get hot in Orlando, and what better way to cool you down than a nice cold ice cream cone? There are 3 new cones that you're definitely not going to want to miss!
The first one is the The Lost Princess Cone from Storybook Treats in Fantasyland. It's is a purple one and comes topped with lemon soft-serve and a beautiful display of edible flowers. I'm not sure it beats the Peter Pan Float, but I'll have to try it for sure!
Next you don't want to miss the "Adventure is Out There" Cone from Auntie Gravity's Galactic Goodies in Tomorrowland which of course is based on the Pixar film UP! This is a blue sugar cone topped with mango soft-serve and a candy balloon piece.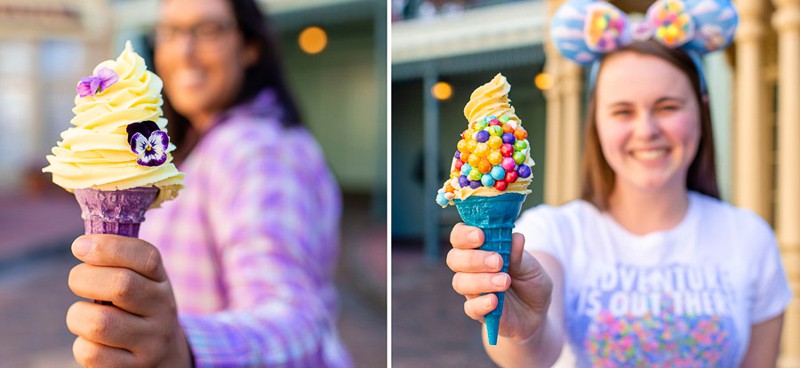 And the third and final cone is the Hei Hei Cone which you'll find right next to the Dole Whip at Aloha Isle in Adventureland. This to me sounds like the best one as it's a blue sugar cone topped with raspberry soft-serve, pineapple Dole Whip, sugar eyes, and sour candy!! Raspberry soft-serve with dole whip just sounds like an unbeatable combo to me, so I can't wait to try it!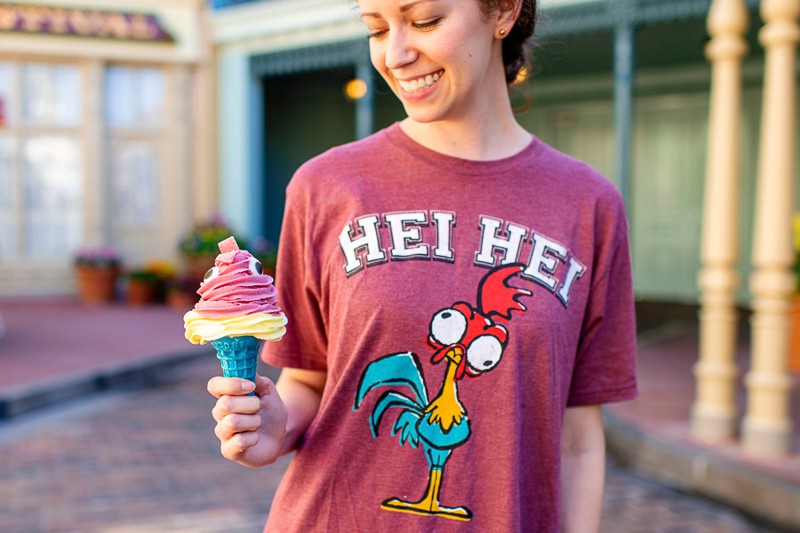 Ok so this last one is a savory treat and it isn't really character-themed, but we had to list it anyways. It's the Casey's Corn Beef Hash Dog, which is March's Hot Dog of the Month from Casey's Corner. It definitely goes back to its Irish heritage as it's topped with crispy potatoes, corned beef, cabbage, and a Blarney sauce drizzle.
Another must-try Magic Kingdom snack!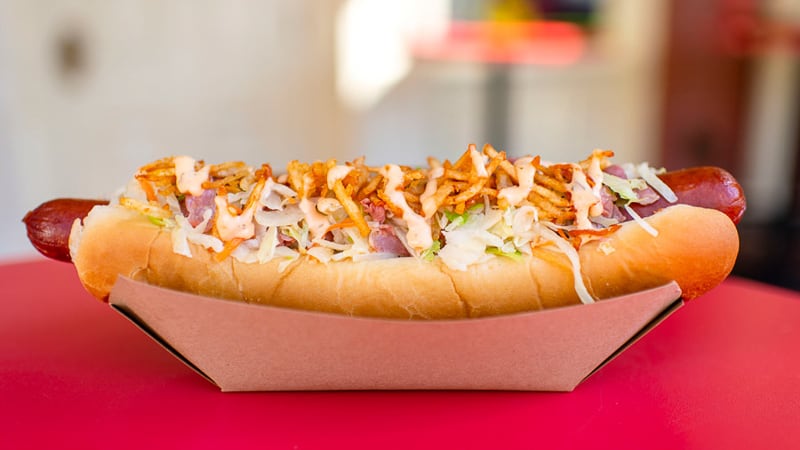 I don't know about you but I'm officially drooling after all those new snacks coming to the Magic Kingdom. Not only do they look visually appealing, but the ingredients sound great too and should keep us filled up all month!
Which one looks the best to you??
Your Thoughts:
I want to know what you think about the 11 character-themed snacks coming to the Magic Kingdom in March…
Which one is your favorite?
What other characters should Disney incorporate into treats?
Let us know in the comments section below!
If you enjoyed this article, as always I appreciate it if you'd share it with others via social media. I work hard at making this website into a useful resource for you and your family to plan your visit to the Disney Parks and I hope it can help you! Thanks 🙂
Photo Source: Disney