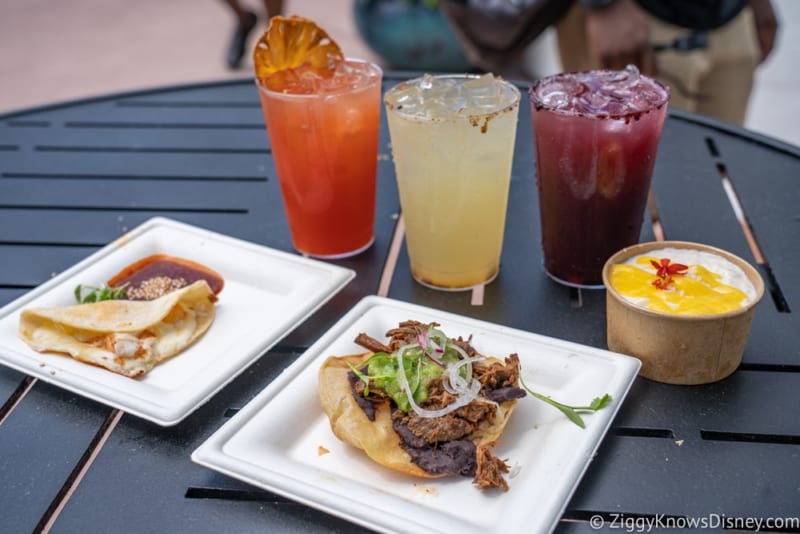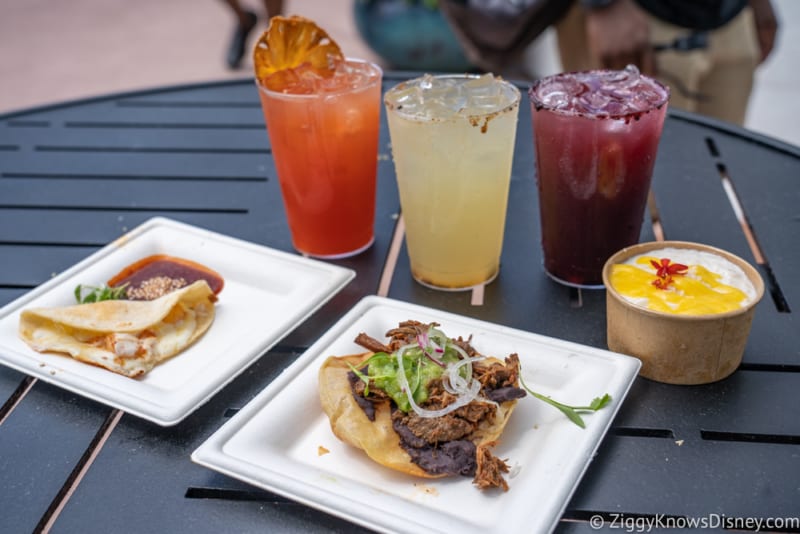 Mexico is a Food and Wine staple, and this year is no different as it assumes its normal position along the World Showcase promenade.  It's always our stop when we want a good margarita and they usually have some kind of delicious tacos or quesadillas to try.  Let's see what's being served this time in our Mexico Review from the 2018 Epcot Food and Wine Festival!
Mexico Marketplace:
The Mexico marketplace is logically located right in the Mexico Pavilion, right on the promenade in World Showcase.  You can't miss it: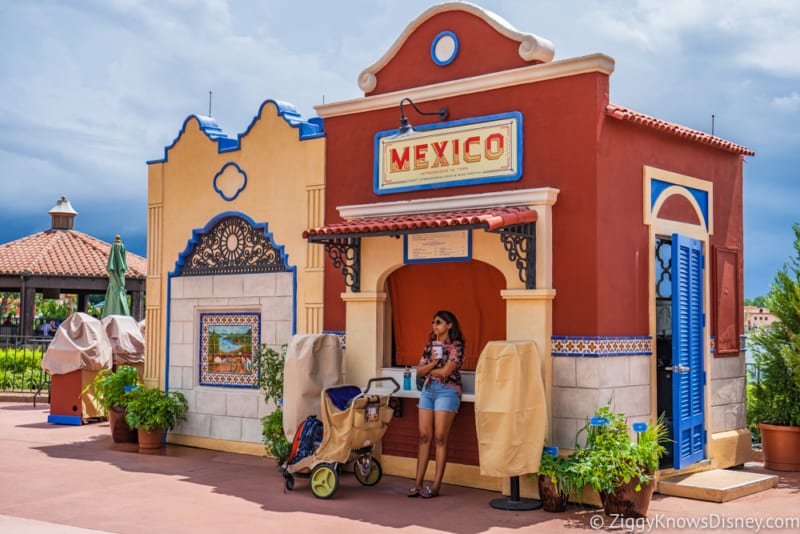 Mexico Menu:
This is another menu for Food and Wine that's completely changed this year.  I love when that happens and the different marketplaces take risks, trying new recipes instead of just al the same old stuff.  This year we have a: Short Rib Tostada, Shrimp Quesadilla and Coconut Rice Pudding.  One thing to note though is Mexico is notorious for having high prices as it's one of the "safe" international foods, and for that they can charge more.
2017 Menu: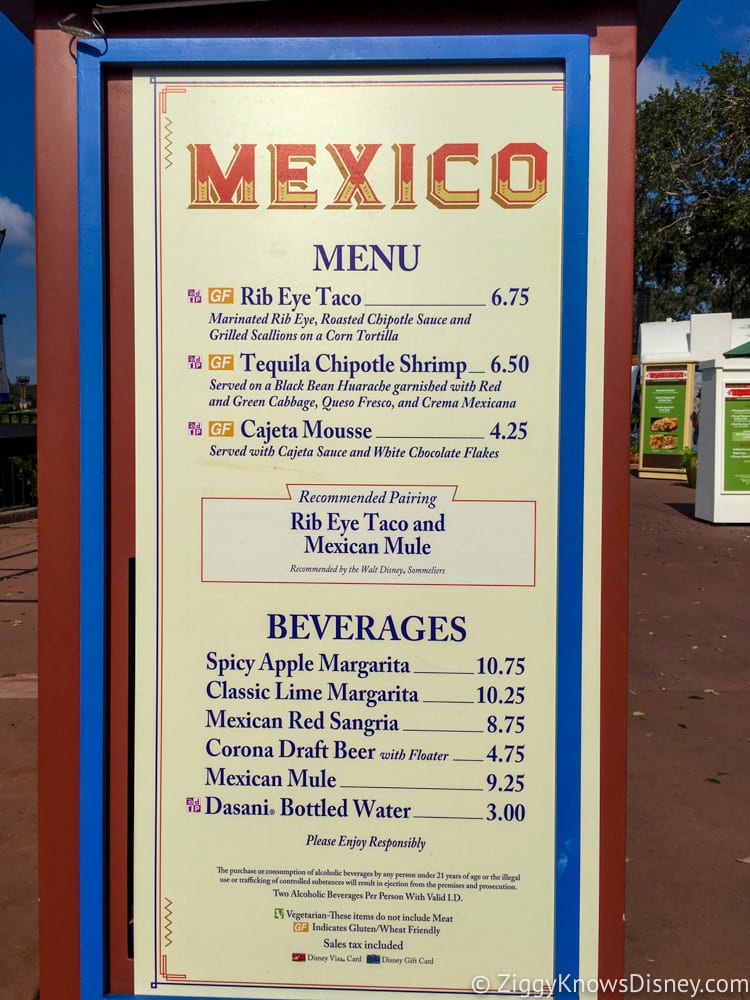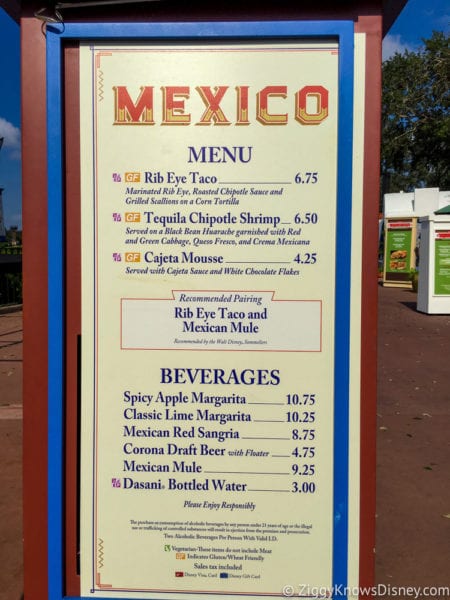 2018 Menu:
Food:
Short Rib Tostada: Corn Tortilla topped with Short Ribs, Black Beans, Salsa Verde and Spring Onion ($6.50)
Shrimp Quesadilla: Corn Tortilla with Shrimp, Oaxaca Cheese and topped with Spicy Guajillo Sauce and Sesame Seeds ($7.25)
Coconut Rice Pudding served with Mango Coulis (GF) (V) ($4.25)
Beverages:
Cerveza Por Favor: Dos Equis Draft Beer with a hint of Almond ($4.75)
Mariachi Loco: Margarita with Libelula Tequila Joven, Mango Purée and Chamoy ($9.00)
Ay Caramba: Smoky Margarita with Gracias A Dios Mezcal, Lime Juice and Ancho Reyes Chile Liqueur ($10.25)
La Chancla: Red Wine Sangria mixed with Fruit Juice ($8.75)
El Padrino: Blackberry Mexican Punch with Velo Blanco Tequila ($9.50)
Menu Review:
Short Rib Tostada ($6.50):
Wow, is the Short Rib Tostada good!!  The meat is really tender, you can tell it's been marinating for a long time.  The tostada itself is fried and very crunchy and there's a black bean spread below the meat, plus guacamole and some red onion on top.  It's an exquisite combination of flavors that jumps right out at you.  The only problem though is it's very small.  Don't even think about sharing this as you'll be done in two bites maximum.  Great taste but a bit expensive for what you get.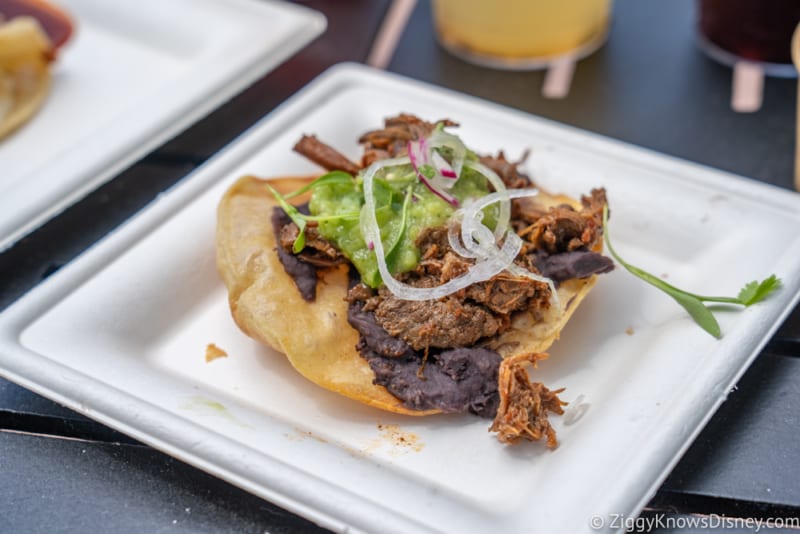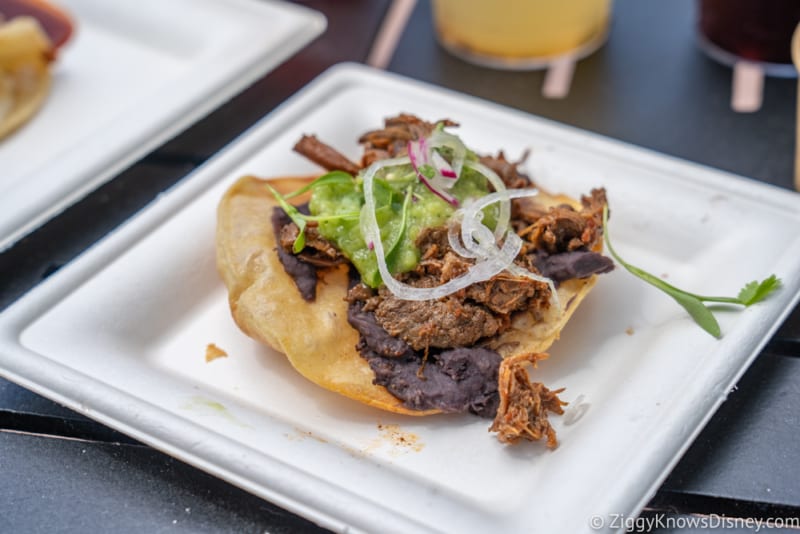 Shrimp Quesadilla ($7.25):
Another item with great flavor, but packed into a small package.  The Shrimp Quesadilla was incredible well flavored.  The shrimp are folded up into a yummy flour tortilla and smothered in Oaxaca Cheese.  The Spicy Guajillo Sauce I found to be similar to a spicy BBQ sauce and we loved the flavor of it.  A little smokey and just the right spice.  While I love the taste, it's hard to recommend a $7.25 snack, you will eat, once again in two bites.  I really want to love this and hope Disney makes a bigger version of it next year!

Coconut Rice Pudding ($4.25):
So I've never had rice pudding before, and I don't think I'm going to have it again either.  Ok, I'm exaggerating just a tad, but I really didn't like this.  I mean right away, rice doesn't sound like it needs to be in any desserts, unless we're talking about Rice Krispy treats, then that's a whole other story!  The only thing I liked about it was that it really had a strong coconut flavor, so if you like coconut this could be good.  But I was just off-put by the whole texture of it all and the others I was with said it doesn't really come close to authentic homemade rice pudding.  Here's hoping to something different in 2019!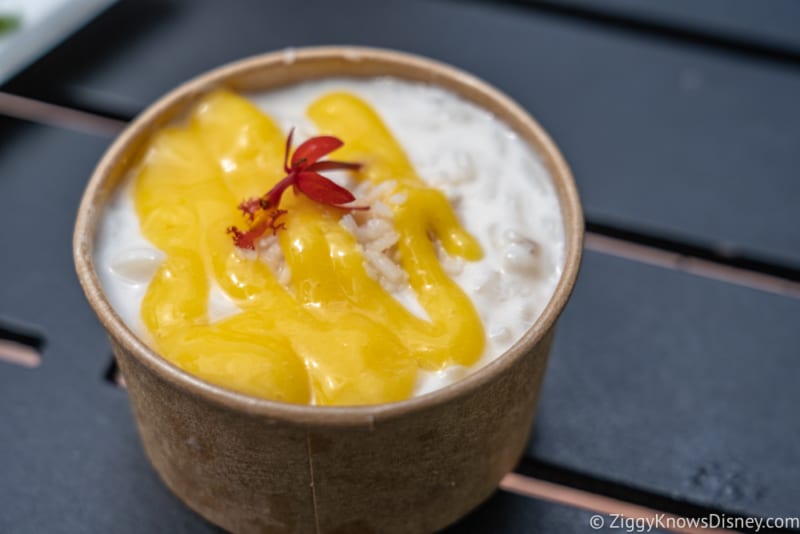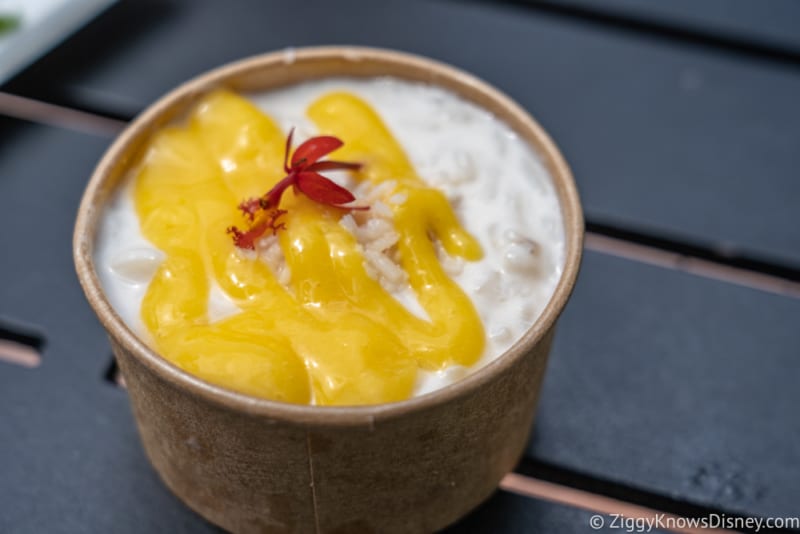 Mariachi Loco: Margarita with Libelula Tequila Joven, Mango Purée and Chamoy ($9.00):
We loved this margarita.  The Mango flavor was super abundant in this and made it all so refreshing.  Yeah it might have been because my fave was melting off from the sun at this point, but nonetheless, it was delish.  There was just a hint of pickled fruit or pepper in there too I couldn't tell, but I'd recommend this again to anyone who's a mango fan.

Ay Caramba: Smoky Margarita with Gracias A Dios Mezcal, Lime Juice and Ancho Reyes Chile Liqueur 
($10.25):
I've never had a smokey margarita before either, and this was definitely one of the more unique drinks I've tried here.  It's really smokey, and I get like a bit of a tamarind flavor in there.  There's a strong lime taste on the backend, but still smokey.  No need for BBQ with this margarita you're all set!  All kidding aside it was very creative and I applaud whoever came up with this.  For sure worth trying.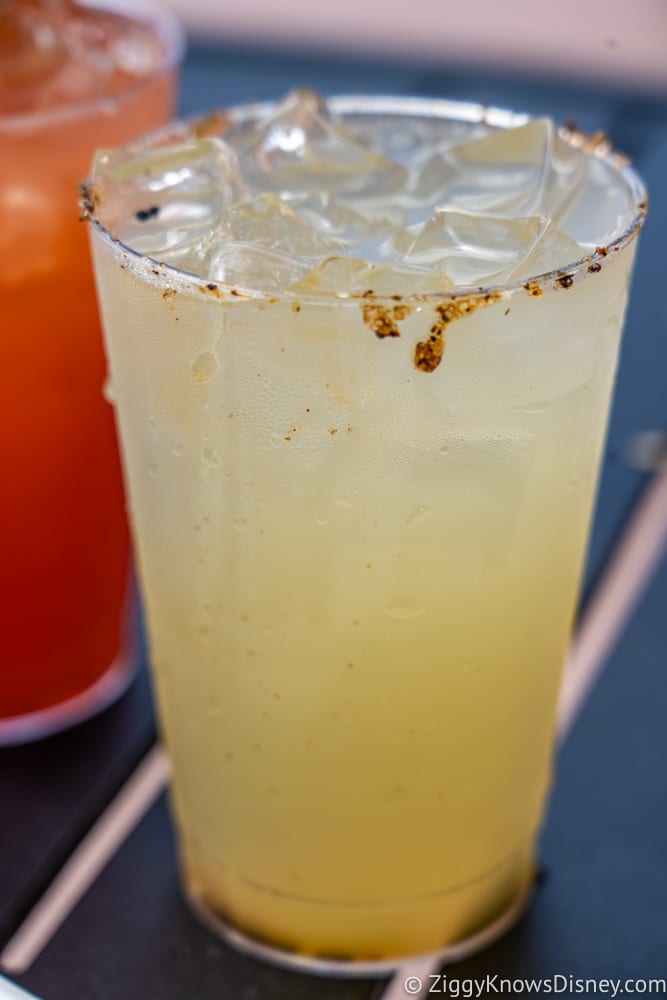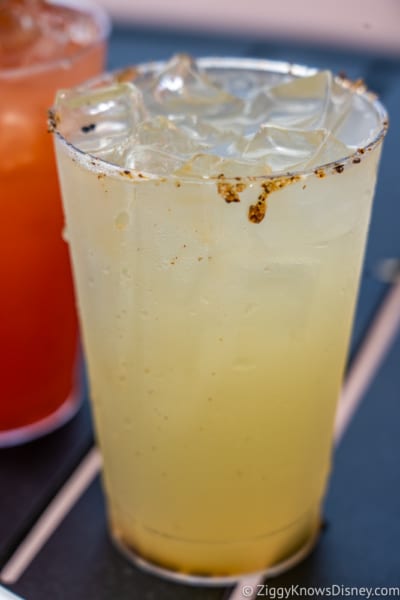 El Padrino: Blackberry Mexican Punch with Velo Blanco Tequila ($9.50):
I loved the El Padrino, because I love anything Blackberry.  I can't say anything but this refreshed the heck outta me when I was drinking it, and I found it very delightful.  The blackberry taste was strong which was awesome, and I thought it had the right balance of sweet and tart, and also balanced well by the alcohol.  I'm partial to Blackberry so I'll definitely be getting this again soon!

Booth Summary and Grade:
Like some others I've mentioned before, I can't say anything about the quality of the food and drink here, it was all top notch.  The Shrimp Quesadilla and the Short Rib Tostada are mouthwateringly good.  The only thing is they are really expensive.  Even the margaritas are high priced, which is the premium you pay for having the unique flavors they offer.  You can get a better deal right next door at Choza de Margarita though where they are just as good.  Either up your portions or lower your prices and until then I have to hold back a super high score.
If you have to get just one thing:

Mariachi Loco



I want you to be able to have the best info on the Festival so you have a great time and don't waste your time!  Take a look at all of my 2018 Epcot Food and Wine articles including:
Your Thoughts:
I want to know what you think about the Mexico Review at the 2018 Epcot Food and Wine Festival…
Which is your favorite item?
Which do you still want to try?
Let us know in the comments section below!
If you enjoyed this article, as always I appreciate it if you'd share it with others via social media.  I work hard at making this website into a useful resource for you and your family to plan your visit to the Disney Parks and I hope it can help you! Thanks 🙂
Need Help Planning Your Disney Vacation?  Show You the World Travel is Here to Help!
Just fill out the form below and someone will contact you for all your Disney Vacation Planning Needs….
[rainmaker_form id="19792″]
---
---