Japan is back once again for the Food and Wine Festival and it has a whole new menu!  Chicken Teriyaki Bun, Beef Nigiri and a Spicy Roll are what you are going to find when you visit.  We're excited to see how they taste so let's dive into our Japan Review for the 2018 Epcot Food and Wine Festival!
Japan Marketplace:
I love Japanese architecture so looking at a structure like the Japan marketplace is incredible: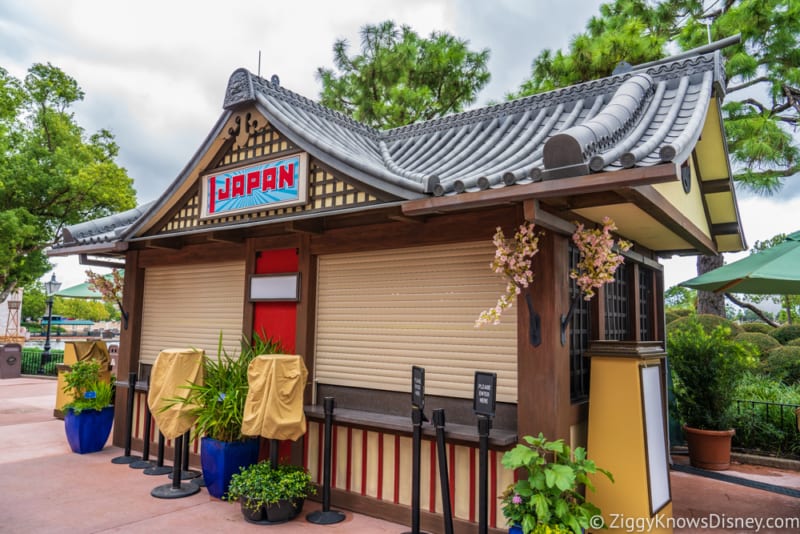 Look at the gorgeous surroundings nearby of the Japan Pavilion: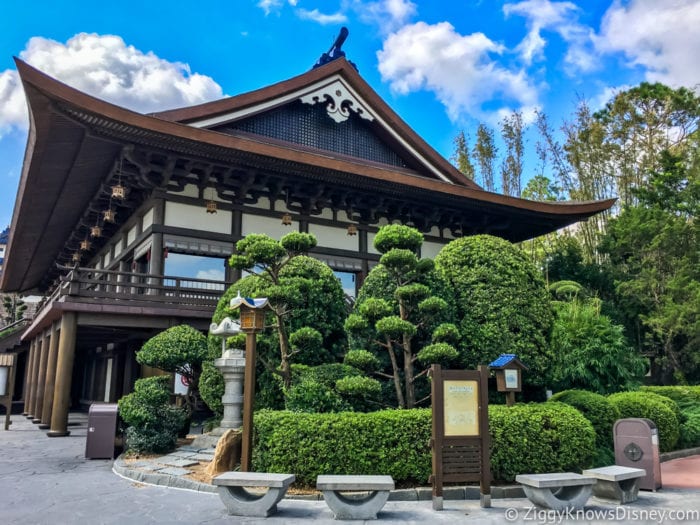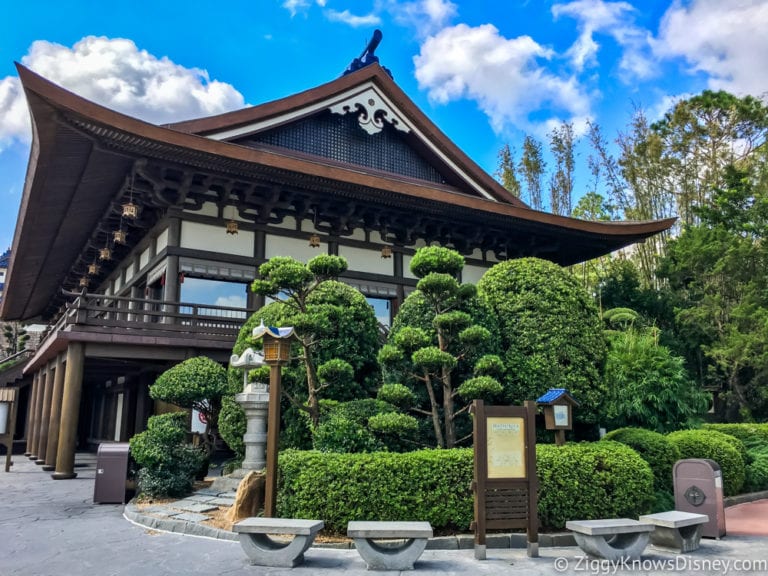 Japan Menu:
So the menu in Japan is totally changed since last year.  In fact every food item is totally different.  That will either be really good or really bad!  I'm sad they got rid of the Teriyaki Ginger Pork and the Salmon BLT Sushi Roll, but I'm happy to try out the Chicken Teriyaki Bun, the Spicy Roll and the Beef Nigiri!
2017 Menu: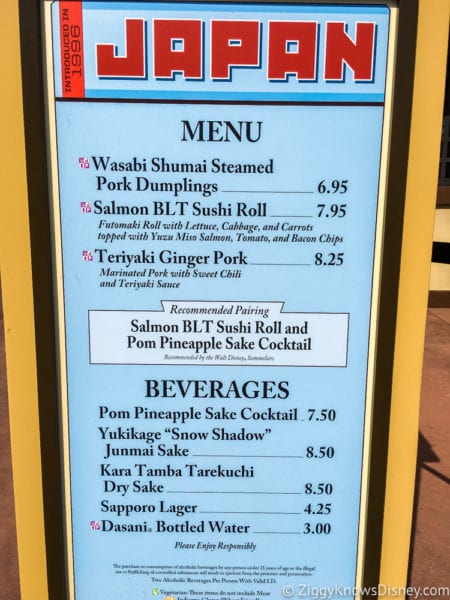 2018 Menu: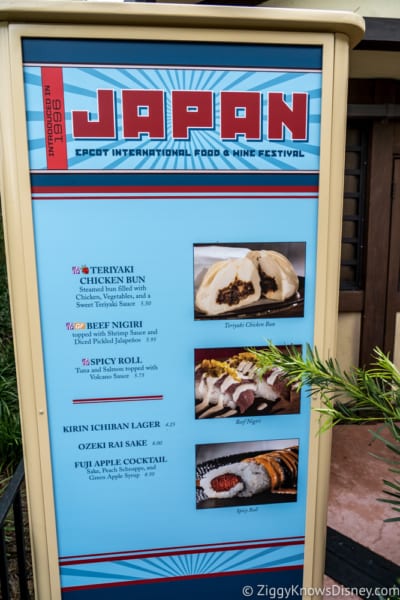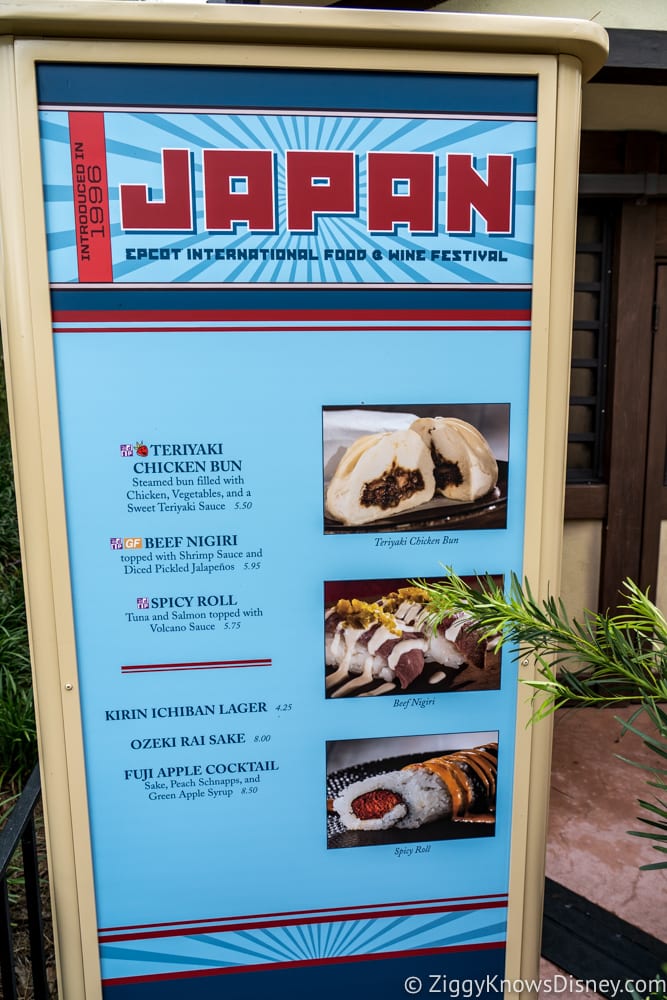 Food:
Teriyaki Chicken Bun: Steamed bun filled with Chicken, Vegetables and a Sweet Teriyaki Sauce (KA) ($5.50)
Beef Nigiri topped with Shrimp Sauce and Diced Pickled Jalapeños (GF) ($5.95)
Spicy Roll: Tuna and Salmon topped with Volcano Sauce ($5.75)
Beverages:
Kirin Ichiban Lager ($4.25)
Ozeki Rai Sake ($8.00)
Fuji Apple Cocktail: Sake, Peach Schnapps and Green Apple Syrup (8.50)
Menu Review:
Teriyaki Chicken Bun ($5.50):
Of all the new items this was the one I was most interested in trying.  It reminds me a lot of the Cheeseburger Buns from Satu'li Canteen, and those are ridiculously good!  I liked this just as much, if not better!  First of all it was a really good size!  Secondly that bun is so dang soft and squishy, but in a good way!  If you haven't had anything similar then it's hard to explain but it's a wonderful consistency that breaks apart real easily: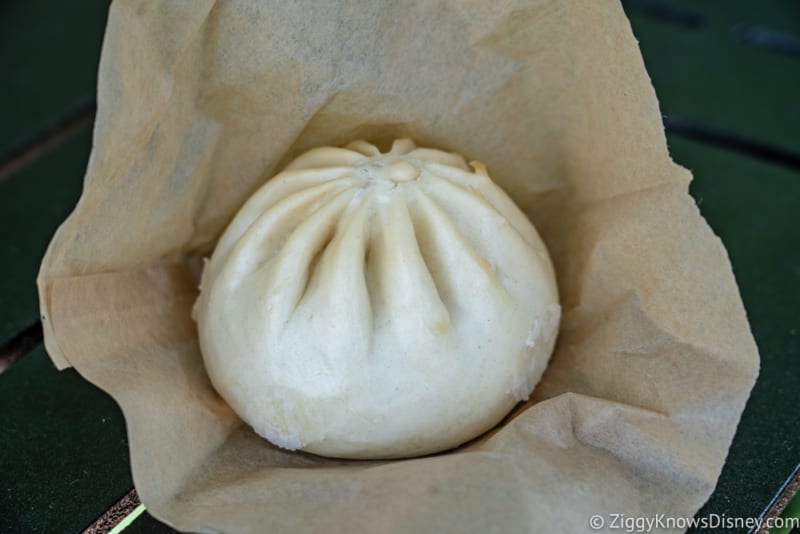 I like teriyaki flavor a lot so the chicken mixture inside was fantastic for me!  The chicken was cut up real small and there are also little chunks of veggies in there.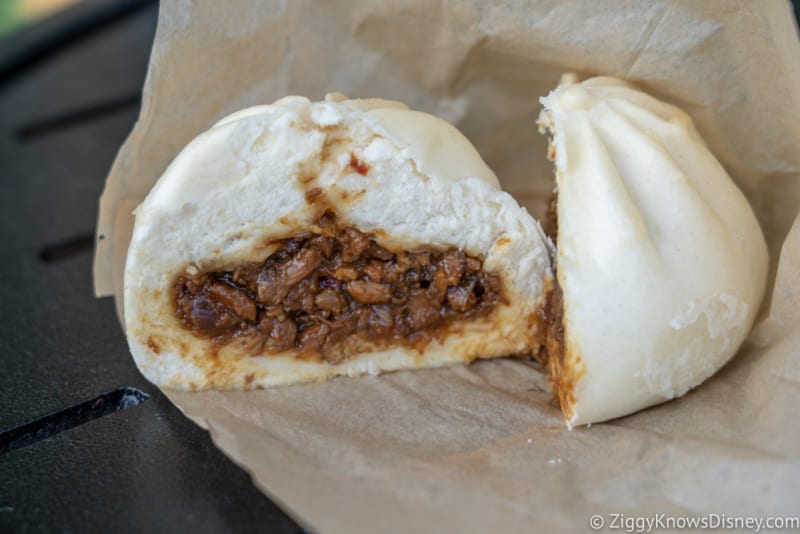 The Teriyaki Chicken buns were a success and something I'd like to see more of moving forward!
Beef Nigiri topped with Shrimp Sauce and Diced Pickled Jalapeños ($5.95):
I wasn't too fond of the Beef Nigiri on the other hand.  The rice was too pressed down, which is Sushi Sin #1.  Plus the meat on top was kind of bland and tasteless.  The shrimp sauce added something, but it wasn't enough for me to recommend it.  Bring back the BLT Sushi please!!

Spicy Roll ($5.75):
Lastly was the Spicy Roll.  While this is new this year, it's not exactly new to the Japan marketplace at Food and Wine as it's appeared before.  At $5.75 it's a pretty decent size portion which I noticed right away, but again that rice is a little to pressed for my tastes.  The tuna a salmon mixture inside was really flavorful, and it was very smooth, like a paste consistency.  I didn't think the volcano sauce on top was super spicy, but it definitely packed a kick so if you don't like spicy at all I'd stay away.  Overall it was good and might be something you like if you're into those flavors.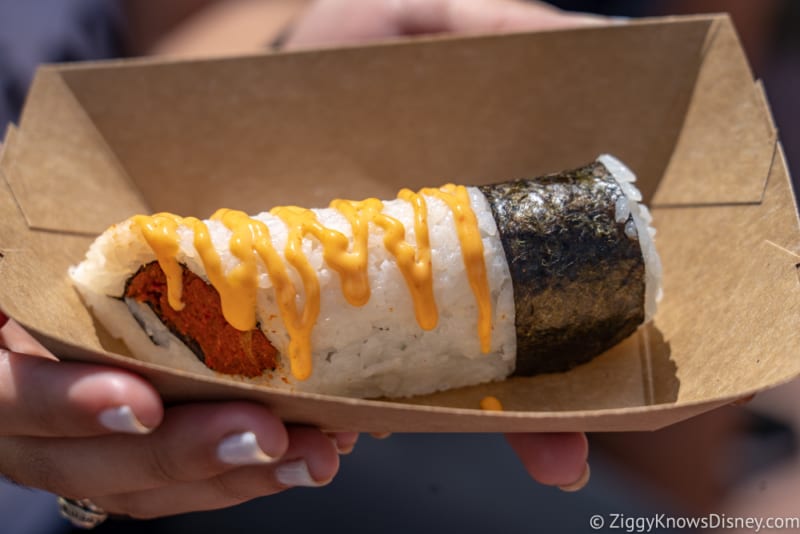 Booth Summary and Grade:
The Japan marketplace was good this year, but I think it took a step backwards from last year.  The Spicy Roll and Teriyaki Chicken Bun were both good and worth getting, but the Beef Nigiri can be skipped altogether imo.  If they replaced that with the BLT Sushi from last year or the Ginger Pork then we'd be telling another story.  And why is there still no dessert in Japan?  Don't they do that there?
If you have to get just one thing:

Chicken Teriyaki Bun



Japan Review

Overall Grade -

7.5/10
I want you to be able to have the best info on the Festival so you have a great time and don't waste your time!  Take a look at all of my 2018 Epcot Food and Wine articles including:
Your Thoughts:
I want to know what you think about the Japan Review at the 2018 Epcot Food and Wine Festival…
Which is your favorite item?
Which do you still want to try?
Let us know in the comments section below!
If you enjoyed this article, as always I appreciate it if you'd share it with others via social media.  I work hard at making this website into a useful resource for you and your family to plan your visit to the Disney Parks and I hope it can help you! Thanks 🙂
Need Help Planning Your Disney Vacation?  Show You the World Travel is Here to Help!
Just fill out the form below and someone will contact you for all your Disney Vacation Planning Needs….
[rainmaker_form id="19792″]
---
---