Hawaii is back again for the 2018 Epcot Food and Wine Festival and all of your favorites are back too.  Last year's mega-hit the Teriyaki-glazed SPAM Hash is back along with the Kalua Pork Slider and Tuna Tataki.  It's gonna be awesome so let's see if it's as good as I remember for our Hawaii Review at the 2018 Epcot Food and Wine Festival…
Hawaii Marketplace:
Hawaii always gets a tons of action, not just because the food is incredible, but it's literally the first Food and Wine marketplace you see when entering World Showcase from Future World.  It's hard to miss with it's straw roof and traditional Pacific architecture…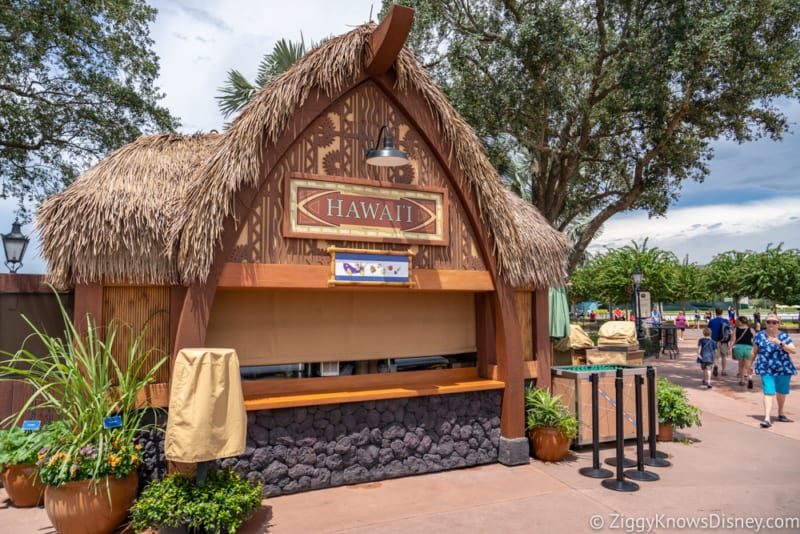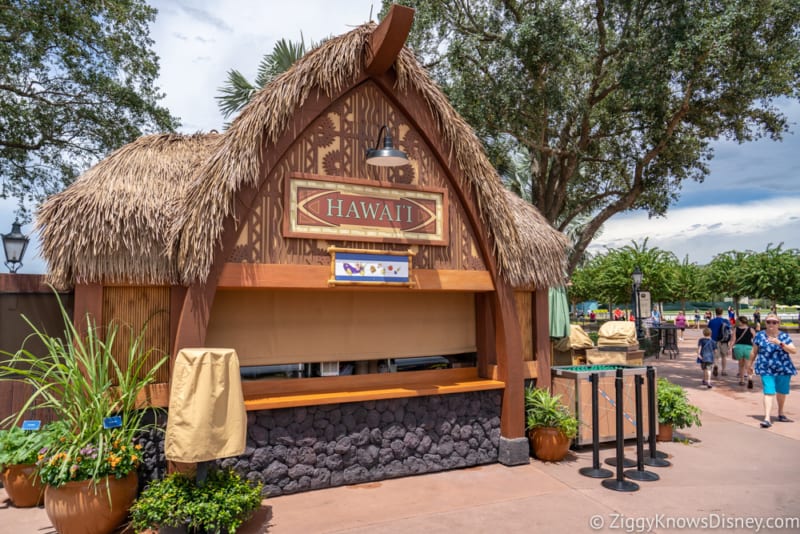 Hawaii Menu:
There aren't really any changes from last year accept a 0.25 cent increase in price for a couple of the items.  Other than that, the menu is the same.  Normally we'd complain about that, but since we like everything in Hawaii, it's ok for us!
2017 Menu: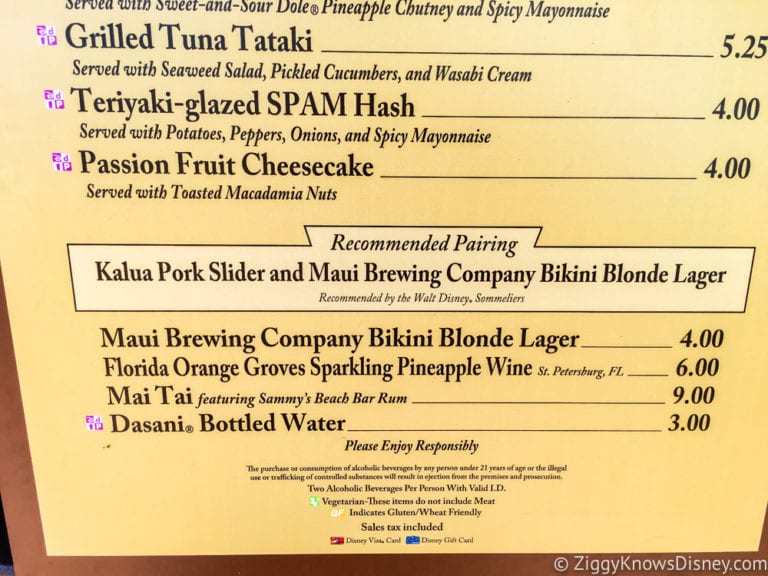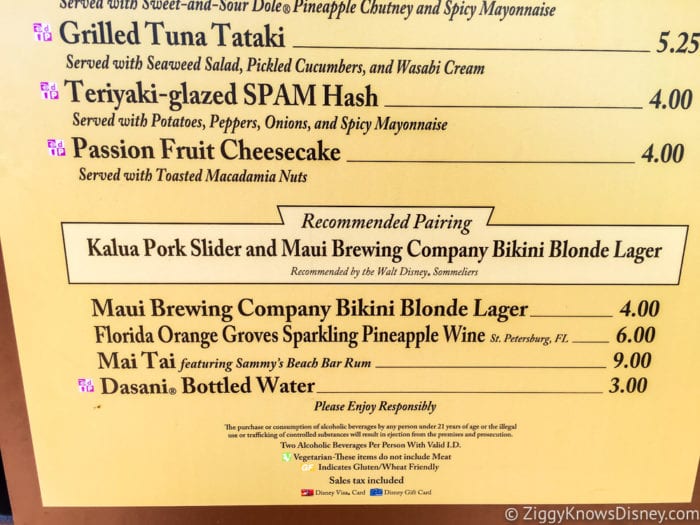 2018 Menu: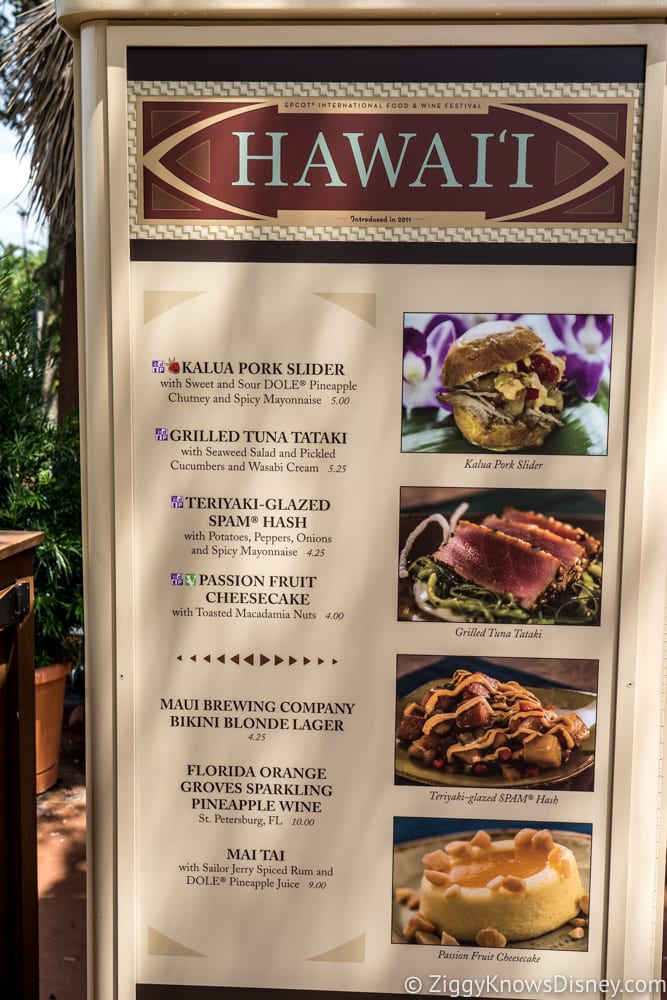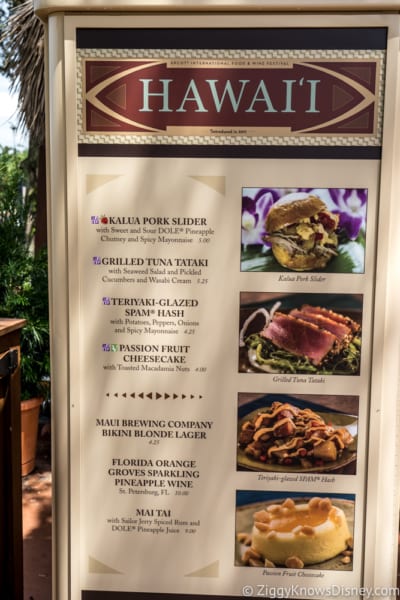 Food:
Kalua Pork Slider with Sweet and Sour DOLE® Pineapple Chutney and Spicy Mayonnaise (KA) ($5.00)
Grilled Tuna Tataki with Seaweed Salad, Pickled Cucumbers and Wasabi Cream ($5.25)
Teriyaki-glazed SPAM® Hash with Potatoes, Peppers, Onions and Spicy Mayonnaise ($4.25)
Passion Fruit Cheesecake with Toasted Macadamia Nuts (V) ($4.00)
Beverages:
Maui Brewing Company Bikini Blonde Lager ($4.25)
Florida Orange Groves Sparkling Pineapple Wine, St. Petersburg, FL ($10.00)
Mai Tai with Sailor Jerry Spiced Rum and DOLE Pineapple Juice ($9.00)

Menu Review:
Kalua Pork Slider ($5.00):
This has to be one of the most popular menu items at Food and Wine every year.  We personally really like it.  The sweet and sour DOLE Pineapple chutney is incredible on top of the pork.  I think it depends who is serving the sliders when you go because we've gotten them really full of pork sometimes, and almost empty others, so that's going to make a big difference in whether or not you like it.  But when you get a good one and the chutney, mayo and pork are all working in unison, it's a special thing!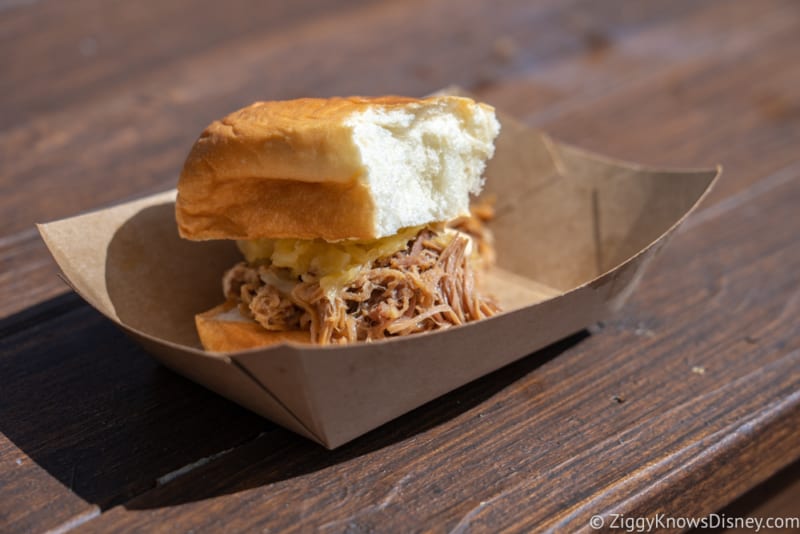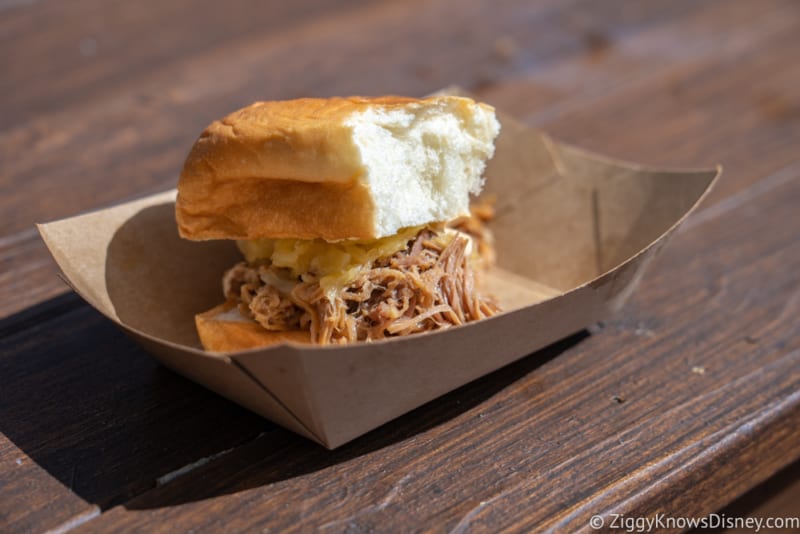 Grilled Tuna Tataki ($5.25):
Tuna is one of our favorite fish, and the Grilled Tuna Tataki has always been one of the absolute best ones around Food and Wine every year.  It's still excellent, great quality, very fresh, something you feel like you would find in a upscale restaurant.  I'm not crazy about the Pickled Cucumbers and Wasabi Cream, but the Tuna is really really good.  Only problem is the quantity which has been reduced by 25% from last year with the price staying the same.  Look at last year's photo: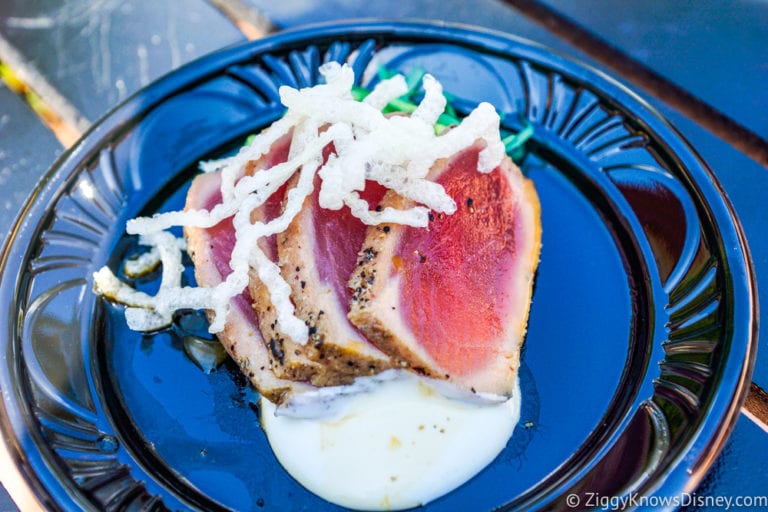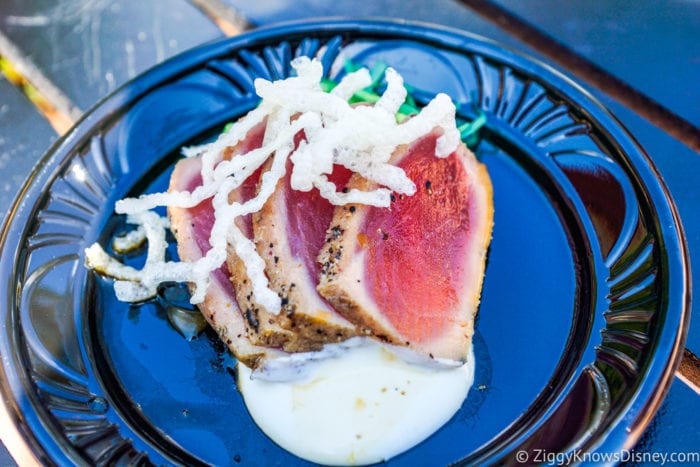 4 piece of tuna.  Now look at this year's:

Just 3!  I applaud Disney for not increasing the price, but reducing the portion size by 25% is even worse than just raising it the normal 0.25 cents.  This is the norm around Food and Wine this year and very disappointing…
Teriyaki-glazed SPAM® Hash ($4.25):
The SPAM Hash was one of the absolute best things I ate at last year's festival, and I was hoping to find the same thing this year.  Thank goodness nothing has changed here!  Yeah you need to get over the fact that it's SPAM, but once you do, you'll be introduced to a real flavor explosion in your mouth.  It's really incredible!!  It's full of potatoes, SPAM, peppers, onions and a spicy mayo.  It's a little salty from the teriyaki sauce for sure, but not too much that it overpowers the food. A also you get a really good size portion for only $4.25, which is one of the steals of the Festival.  Get over your misconceptions about SPAM and treat yourself to this unforgettable dish!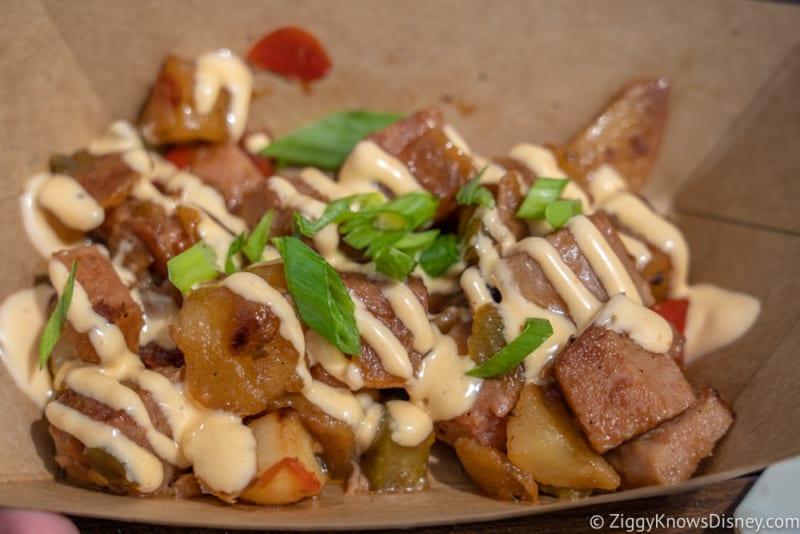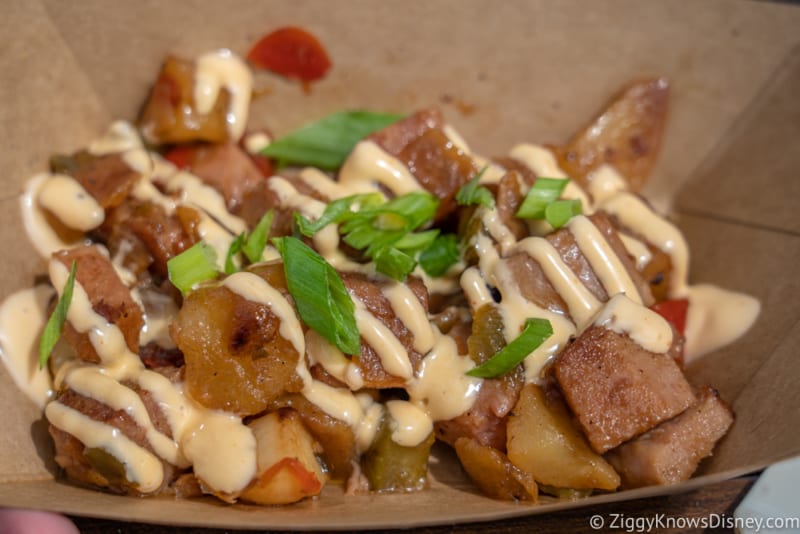 Passion Fruit Cheesecake ($4.00):
Since we really loved our Maple Bourbon Cheesecake over at The Cheese Studio, we were really excited about the Passion Fruit Cheesecake here in Hawaii.  We we're disappointed at all!  Like its cousin, it's super light a creamy, and melts in your mouth.  The passion fruit flavor is really strong, giving it a fun a fruity flavor, and the macadamia nuts give it traditional Hawaiian character.  I love the little pool of passion fruit cream on top too!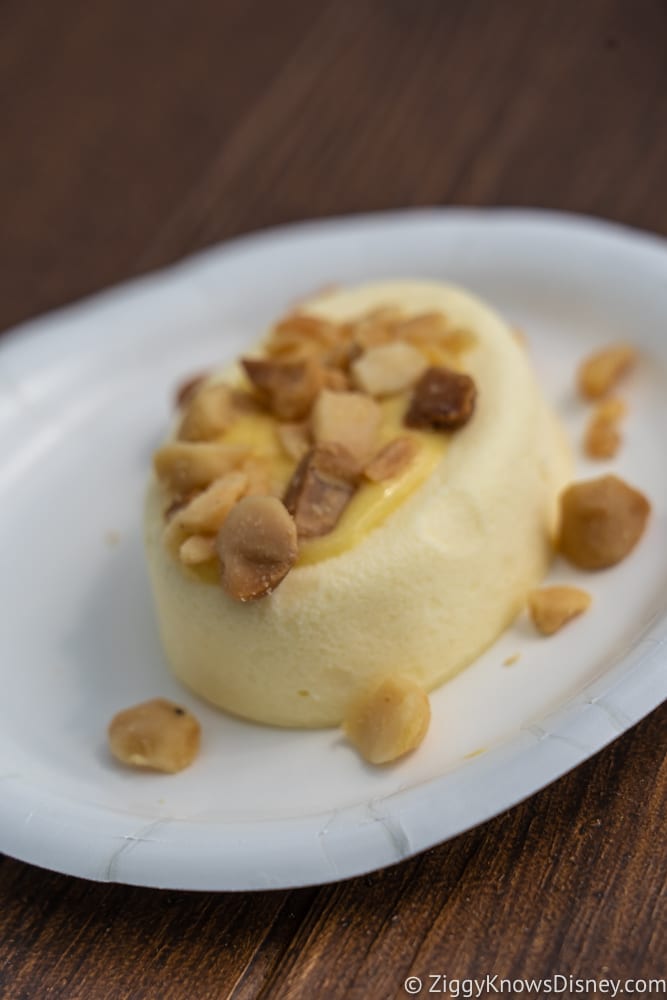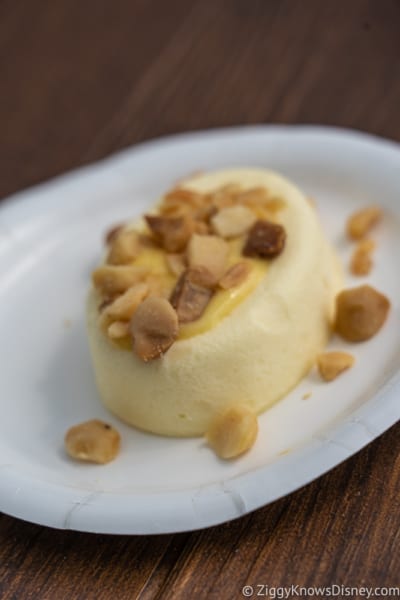 Look at the way that cream oozes down…Mmmmmmm!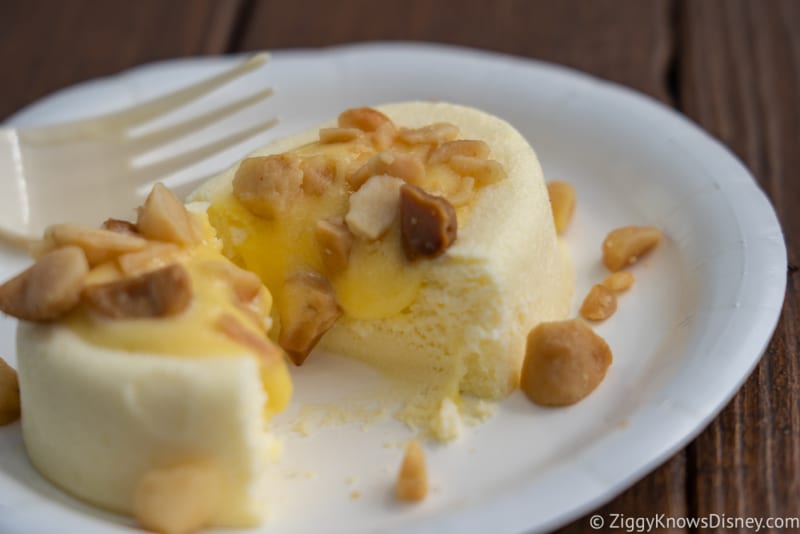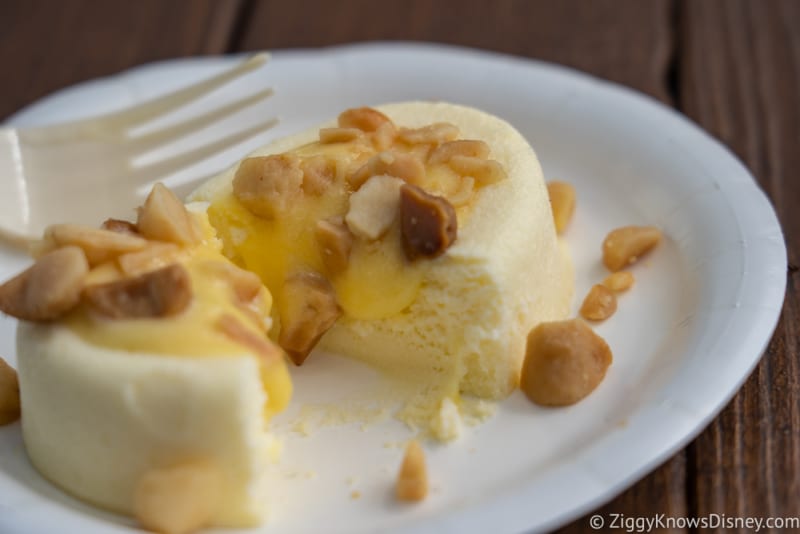 This is another winner and one of the better desserts around Food and Wine.
Maui Brewing Company Bikini Blonde Lager ($5.50):
Thin white head and a dark yellow color.  It tastes a little malty, and you can taste just a hint of citrus zest on the first sip.  Very smooth and almost no bitterness which I love.  It also has a lot of carbonation which makes it quite refreshing.  Overall a pretty nice lager and worth trying.

Booth Summary and Grade:
Hawaii was excellent overall as usual.  The Kalua Pork Slider and SPAM Hash were insane, as was the Passion Fruit Cheesecake.  All those are music gets this year.  I'd skip the Tuna, not because it isn't good quality but the portion is just too small for the price.  Hawaii needs to be on everyone's list of must-stop marketplaces this year!
If you have to get just one thing:

SPAM Hash



Hawaii Review

Overall Grade -

8.5/10
I want you to be able to have the best info on the Festival so you have a great time and don't waste your time!  Take a look at all of my 2018 Epcot Food and Wine articles including:
Your Thoughts:
I want to know what you think about the Hawaii Review at the 2018 Epcot Food and Wine Festival…
Which is your favorite item?
Which do you still want to try?
Let us know in the comments section below!
If you enjoyed this article, as always I appreciate it if you'd share it with others via social media.  I work hard at making this website into a useful resource for you and your family to plan your visit to the Disney Parks and I hope it can help you! Thanks 🙂
Need Help Planning Your Disney Vacation?  Show You the World Travel is Here to Help!
Just fill out the form below and someone will contact you for all your Disney Vacation Planning Needs….
[rainmaker_form id="19792″]
---
---