When they announced that Earth Eats was coming back in 2018 I was really happy, and then it put me over the edge seeing that they are getting a totally different menu than last year.  This is our favorite part of Food and Wine when the different marketplaces take chances on new and exciting menus and don't force what isn't working.  But was this a wise move on their part?  Let's find out in my Earth Eats Review: 2018 Epcot Food and Wine Festival.
Earth Eats Marketplace:
Over in the corner garden of Future World West, and near Active Eats and Coastal Eats, I think this is one of the all-around best locations at the festival.  One look confirms that to be true: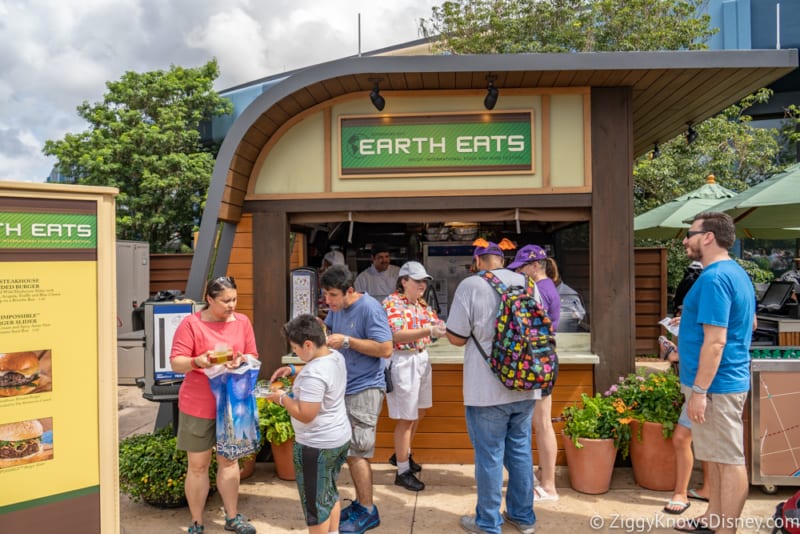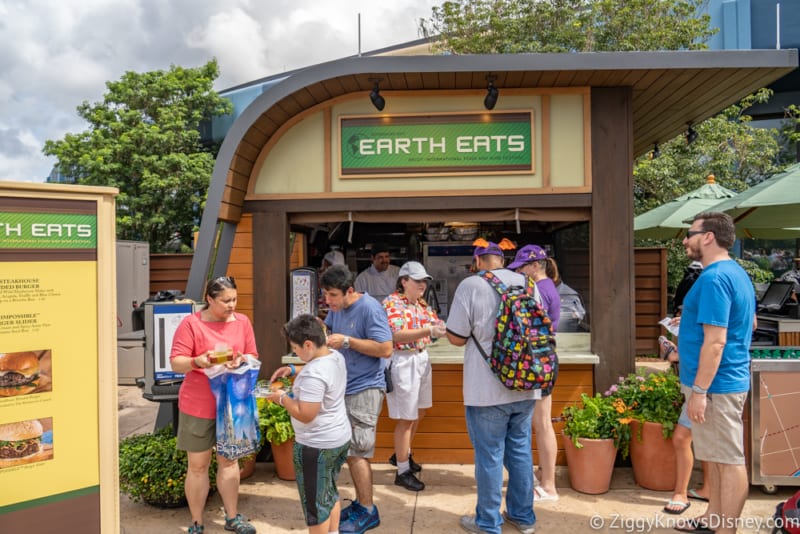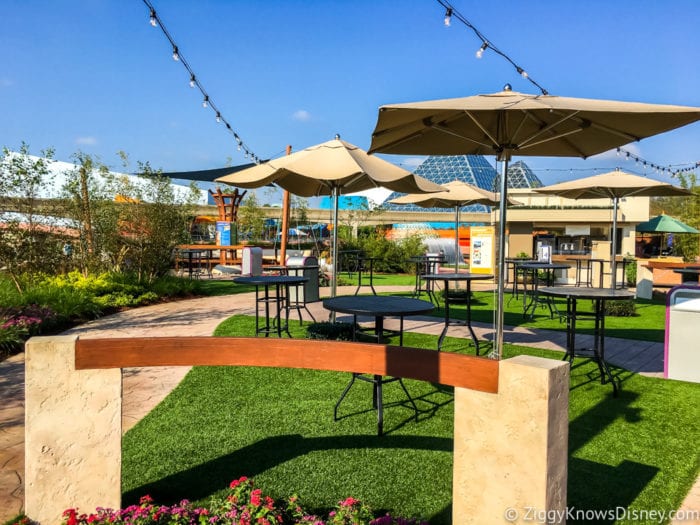 Earth Eats Menu:
Last year the Earth Eats menu was totally different.  In fact it was actually the exact one from The CHEW Collective in 2016, just renamed.
2017 Menu: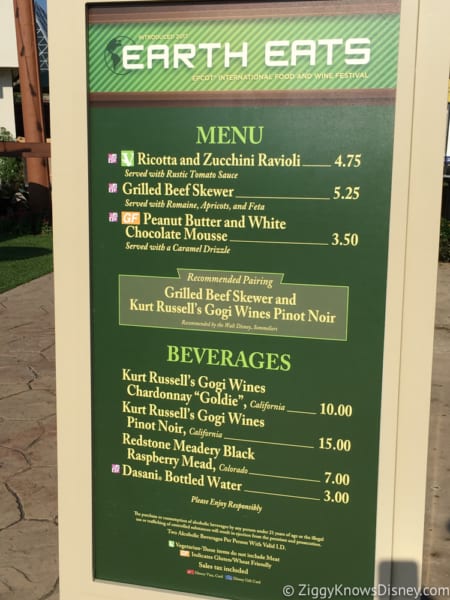 2018 Menu:
This year it's undergone a total overhaul and nothing remains.  There are two burger options The Steakhouse Blended Burger and The IMPOSSIBLE Burger Slider which both sound incredible!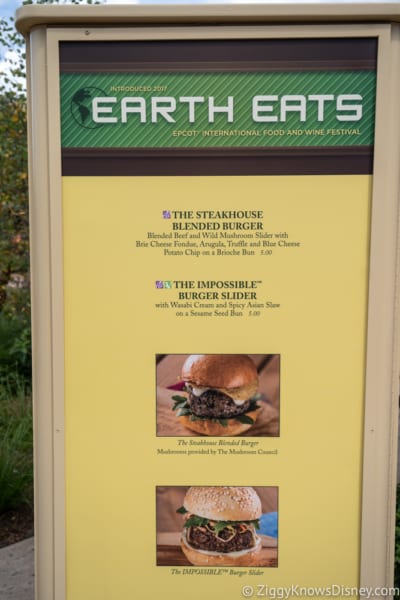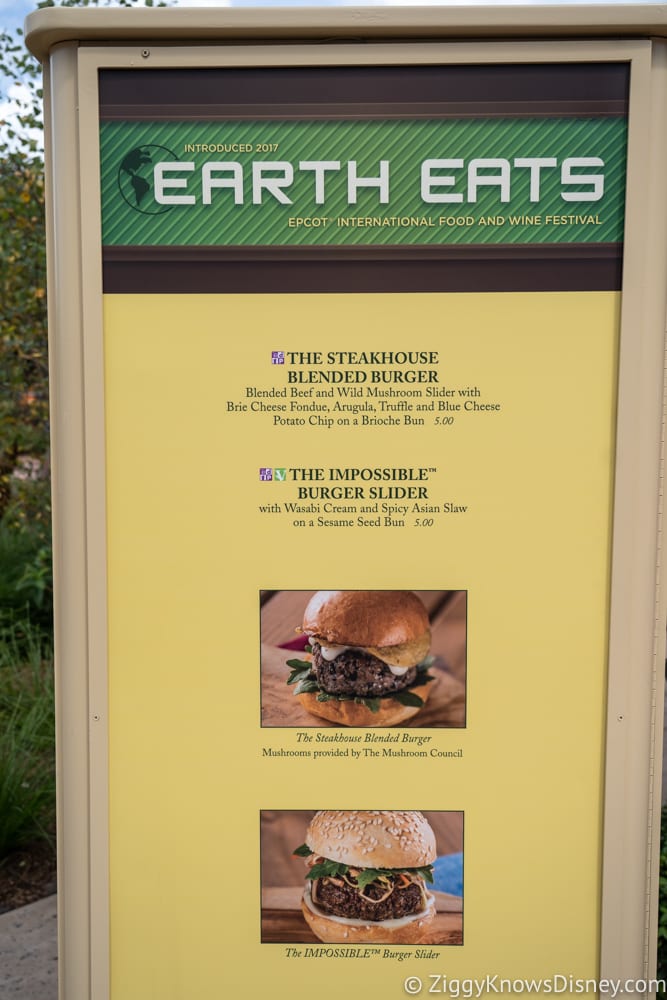 Earth Eats
Food:
The Steakhouse Blended Burger: Blended Beef and Wild Mushroom Slider with Brie Cheese Fondue,  Arugula, Truffle and Blue Cheese Potato Chip on a Brioche Bun ($5.00)
The IMPOSSIBLE™ Burger Slider with Wasabi Cream and Spicy Asian Slaw on a Sesame Seed Bun (V) ($5.00)
Beverages:
Health-Ade Kombucha Pink Lady Apple ($6.50)
Health-Ade Kombucha Pomegranate ($6.50)
Health-Ade Kombucha Beet-Lime ($6.50)
Kombucha Flight ($6.50)
Menu Review:
The Steakhouse Blended Burger ($5.00):
Before I saw the Steakhouse Blended Burger I was expecting a super small slider, instead this is actually a pretty big portion!  Burgers are hard to do for mass crowds so I was expecting something slightly under 'burnt to a crisp.'  Thankfully that's nothing close to what I got!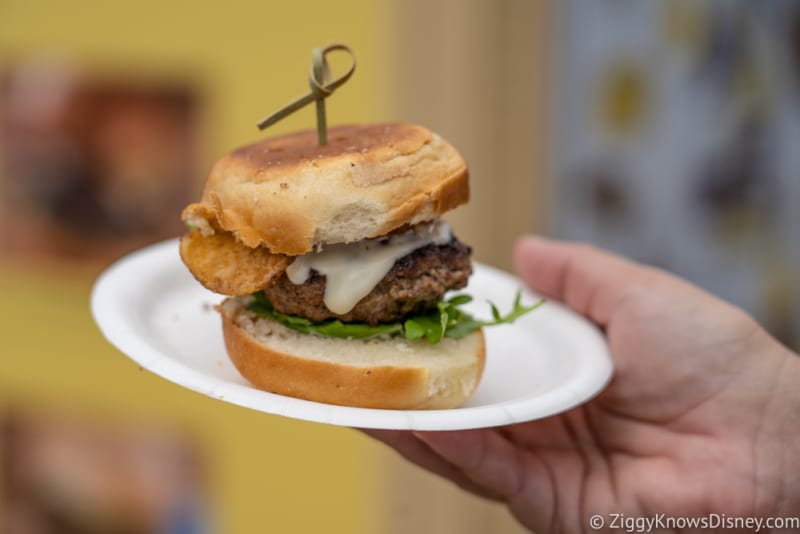 This burger was really juicy, the juice was dripping down my hand!  It was full of mushrooms too and the gooey, gooey, brie fondue and blue cheese chip were an awesome contrast in flavors!  Sometimes you  just want a good ole fashion burger and thankfully this is so much more than that.  Definitely give it shot, especially for $5!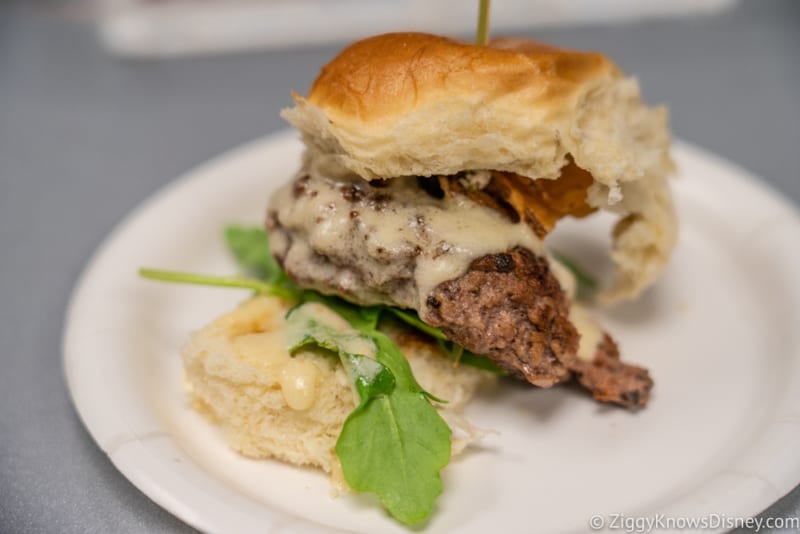 The IMPOSSIBLE™ Burger Slider ($5.50):
I'll be honest, I wasn't looking forward to the Impossible Burger Slider at all.  Just the thought of eating a veggie burger at a Food and Wine Festival seems to go against everything I believe in.  Luckily this was actually pretty decent.  It was a little less juicy than the Steakhouse Burger, which is to be understood, but actually hard to tell it wasn't real meat.  Also a decent portion.  A must-try for any vegetarians at Food and Wine.

Booth Summary and Grade:
Even though there are only 2 items on the menu at Earth Eats this year, they are both good ones.  It has something for vegetarians and also for meat-lovers!  I'll put the Steakhouse Blended Burger on my list of Must-Try NEW Items at Food and Wine for sure and tel you to stop by Earth Eats at least once to try it!  Next year I'd like to see the menu expanded a little, maybe add a dessert, but we're off to a good start with a totally reinvented menu!
If you have to get just one thing:

Steakhouse Blended Burger



Earth Eats Review

Overall Grade -

7.5/10
I want you to be able to have the best info on the Festival so you have a great time and don't waste your time!  Take a look at all of my 2018 Epcot Food and Wine articles including:
Your Thoughts:
I want to know what you think about the Earth Eats Review at the 2018 Epcot Food and Wine Festival…
Which is your favorite item?
Which do you still want to try?
Let us know in the comments section below!
If you enjoyed this article, as always I appreciate it if you'd share it with others via social media.  I work hard at making this website into a useful resource for you and your family to plan your visit to the Disney Parks and I hope it can help you! Thanks 🙂
Need Help Planning Your Disney Vacation?  Show You the World Travel is Here to Help!
Just fill out the form below and someone will contact you for all your Disney Vacation Planning Needs….
[rainmaker_form id="19792″]
---
---