Coastal Eats is another marketplace that was new in 2017 and is back again this year.  I'm super happy it is because it was one of my Top 10 from last year and the same menu of Scampi Dip, Lump Crab Cake and Seared Sea Scallops are back!!  I LOVEEEEE Scallops!  Will they impress as much this year though??  Let's find out in this Coastal Eats Review: 2018 Epcot Food and Wine Festival….
Coastal Eats Marketplace:
This is located in one of the best areas of the Food and Wine Festival, right in the same courtyard as Earth Eats and Active Eats.  I love this area for all the green that's here, lots of space and the tables are some of the best too!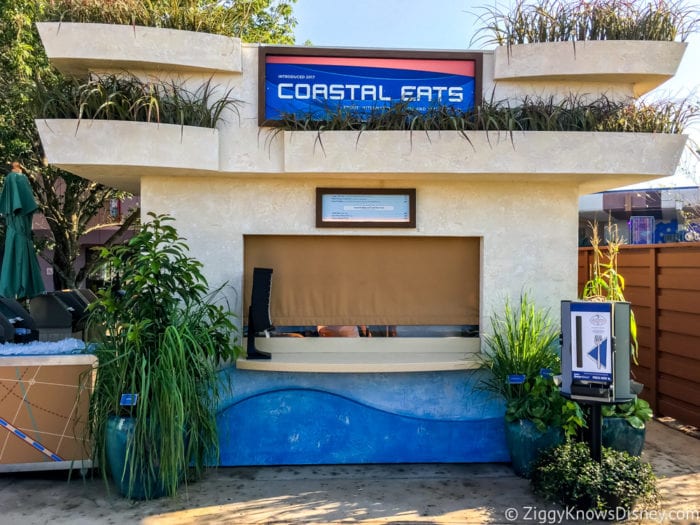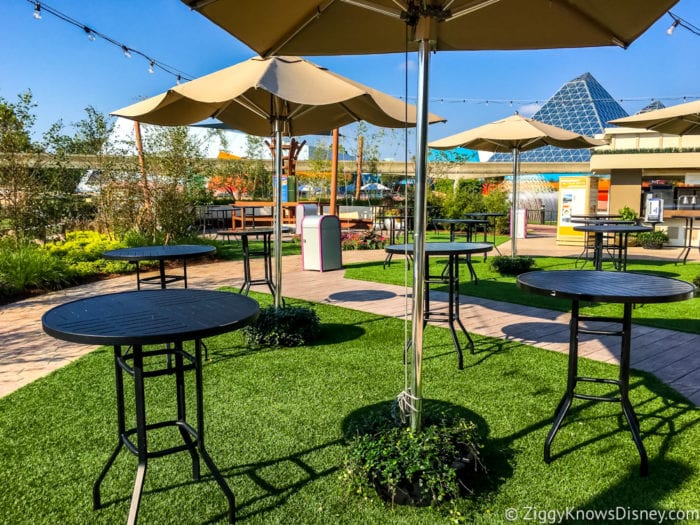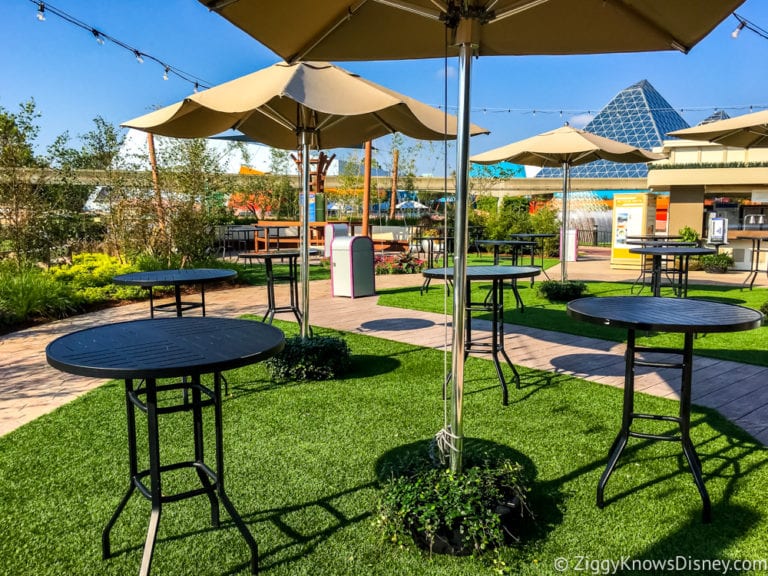 Coastal Eats Menu:
Nothing has changed here for the food, which is a good thing as they were all incredible last year.  The only difference is the wine labels changed, but the type of wines remain Pinot Gris and Pinot Noir.
2017 Menu: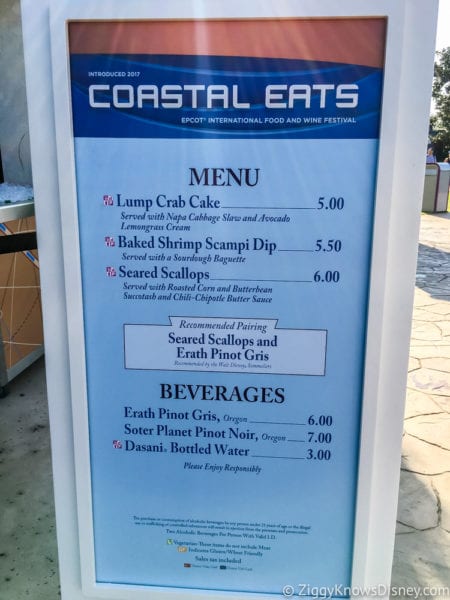 2018 Menu: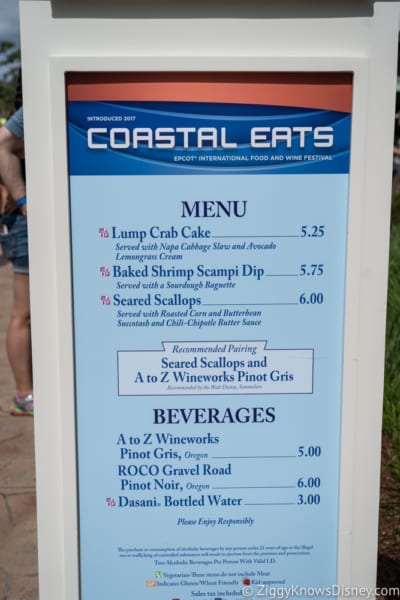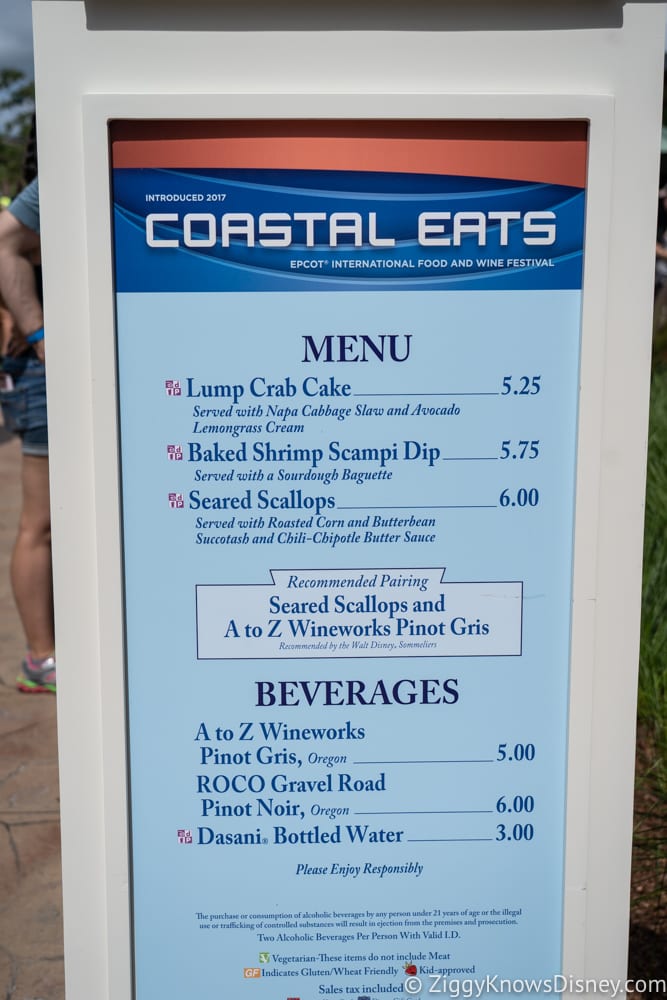 Food:
Lump Crab Cake with Napa Cabbage Slaw and Avocado-lemongrass Cream ($5.25)
Baked Shrimp Scampi Dip with Sourdough Baguette ($5.75)
Seared Scallops with Roasted Corn, Butterbean Succotash and Chili-chipotle Butter Sauce ($6.00)
Beverages:
A to Z Wineworks Pinot Gris, Oregon ($5.00)
ROCO Gravel Road Pinot Noir, Oregon ($6.00)

Menu Review:
Lump Crab Cake ($5.25):
I'm not usually a huge fan of crab cakes, but I can get on board with this one!  Last year I remember it blew away my expectations, and this year it was still really, really good.  Crab Cakes aren't your typical theme park food either, making this one all the more impressive!  There were lots of crab chunks in there, it wasn't all filler (the first good sign).  Secondly the cake was cooked excellent, not dry at all but juicy and bursting with real crab flavor.  A little sweet even.  If you like avocado then you will really like the cream sauce on top.  Great value for just over $5.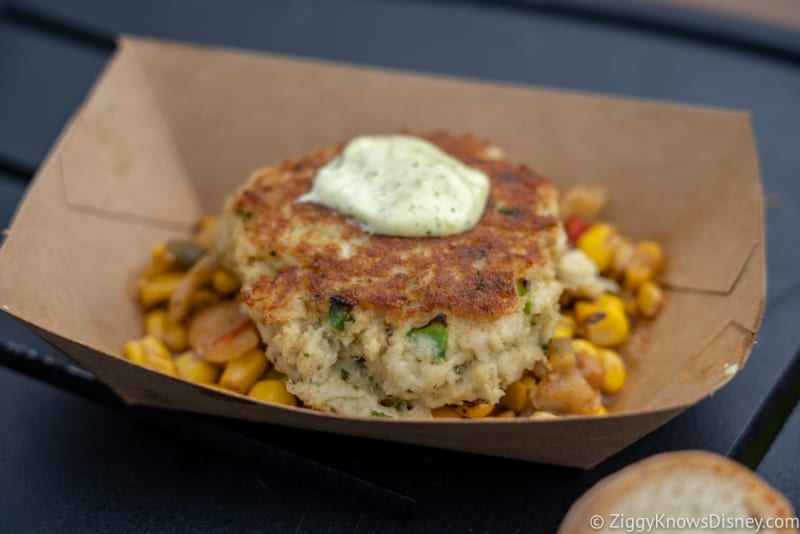 Baked Shrimp Scampi Dip ($5.75):
Garlic, check.  Cheese, check.  Shrimp, check.  The Baked Shrimp Scampi Dip is just as good as I remember it from last year too!  I absolutely love garlic, and you get a bunch of it with each and every cheesy, buttery bite.  I like how this year they give you two pieces of bread to dip too, improved over last year!  Order one or two of these and then just stay away from people for a while because your breath will be pretty lethal after!  Love this stuff!

Seared Scallops with Roasted Corn ($6.00):
Scallops are one of our favorite dishes period, and we always make it a point to get whatever scallops come to the Food and Wine Festival each year.  Last year we loved these scallops, but sadly we can't recommend them as highly now.  Following the same trend from other marketplaces around the festival, the portion is significantly smaller than last year.
Here's a photo from last year.  You got 3 pretty dang good sized scallops in there for $6: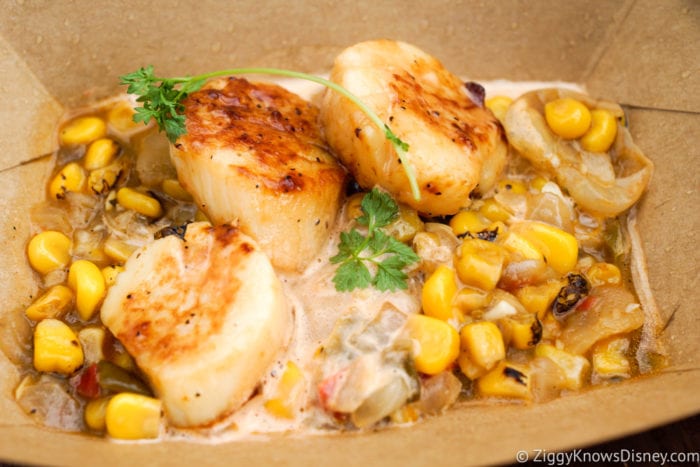 Now compare: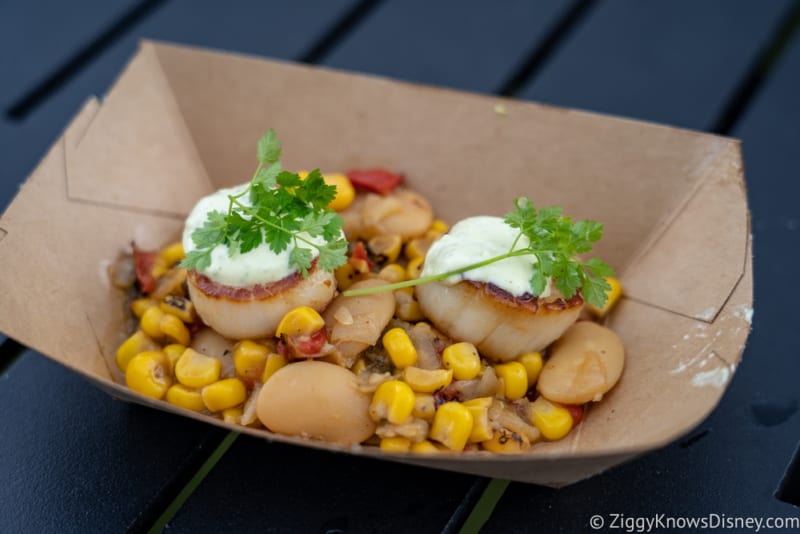 Instead of 3 you get two, ad they are smaller to boot!  Plus last year the chili-butter sauce was creamier and just had more overall flavor.  Don't get me wrong, the flavor on these is still good and the scallops are cooked perfectly, but knowing what we had last year for the same price to what you get now is an insult.
Booth Summary and Grade:
Coastal Eats still remains a great marketplace for Food and Wine.  The Crab Cake is outstanding and the Scampi Dip just as addicting as last year.  It's #1 at Food and Wine for seafood fans.  On the other hand I'm docking them just a tad from last year for the reduced portion of scallops as it's no longer the amazing must-try dish like it was.
If you have to get just one thing:

Lump Crab Cake



Coastal Eats Review

Overall Grade -

8.5/10
I want you to be able to have the best info on the Festival so you have a great time and don't waste your time!  Take a look at all of my 2018 Epcot Food and Wine articles including:
Your Thoughts:
I want to know what you think about the Coastal Eats Review at the 2018 Epcot Food and Wine Festival…
Which is your favorite item?
Which do you still want to try?
Let us know in the comments section below!
If you enjoyed this article, as always I appreciate it if you'd share it with others via social media.  I work hard at making this website into a useful resource for you and your family to plan your visit to the Disney Parks and I hope it can help you! Thanks 🙂
Need Help Planning Your Disney Vacation?  Show You the World Travel is Here to Help!
Just fill out the form below and someone will contact you for all your Disney Vacation Planning Needs….
[rainmaker_form id="19792″]
---
---