China is a MUST-DO on the Epcot Food and Wine list every year.  They are consistently in the Top 10 marketplaces at Food and Wine, and I don't think we've ever had a bad meal here!  But it's hard to continue to be at the top, so is China still there or have they slipped a bit this year?  We're going to try all the food which includes two new menu items this year.  Let's see how they hold up in my China Review: 2018 Epcot Food and Wine Festival….
China Marketplace:
China is in a wonderful spot in World Showcase, right across from the China pavilion where there is a beautiful garden great for strolling after a big day of tasting!  Also in the afternoon the entertainment is amazing here with acrobats performing some amazing feats.  Entertainment and a great meal!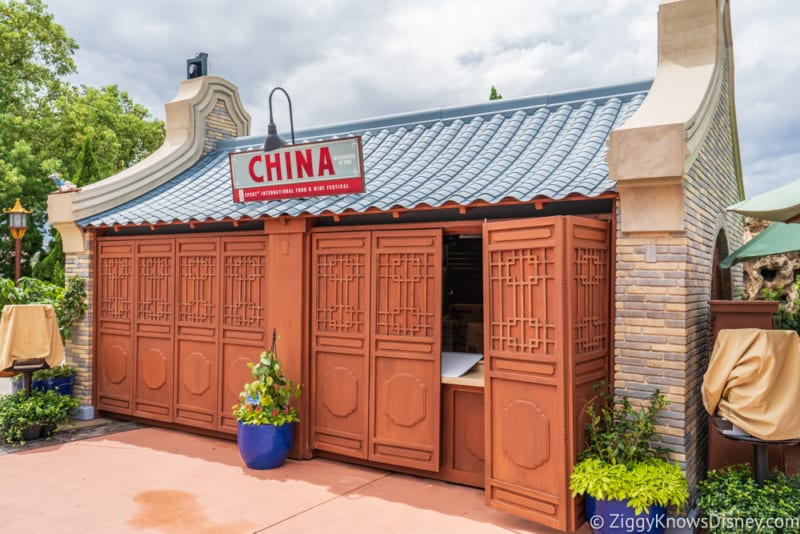 China Menu:
China definitely took some risks this year changing out half of their menu and adding two new food items in the Xi'an Pancake and Chicken Dumplings.  Let's see if it pays off.  Also we can see that one of my favorites: the Black Pepper Shrimp went up in price $1 from $5.75 to $6.75.  That's a pretty big jump and I'm not sure it's gonna be worth it…
2017 Menu: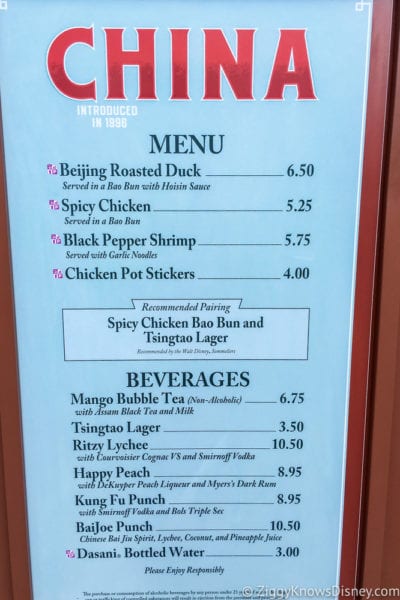 2018 Menu: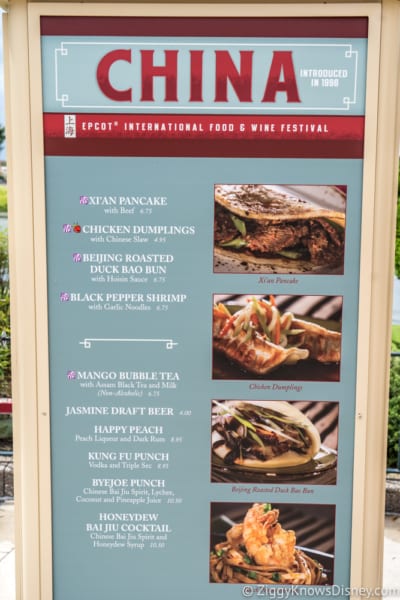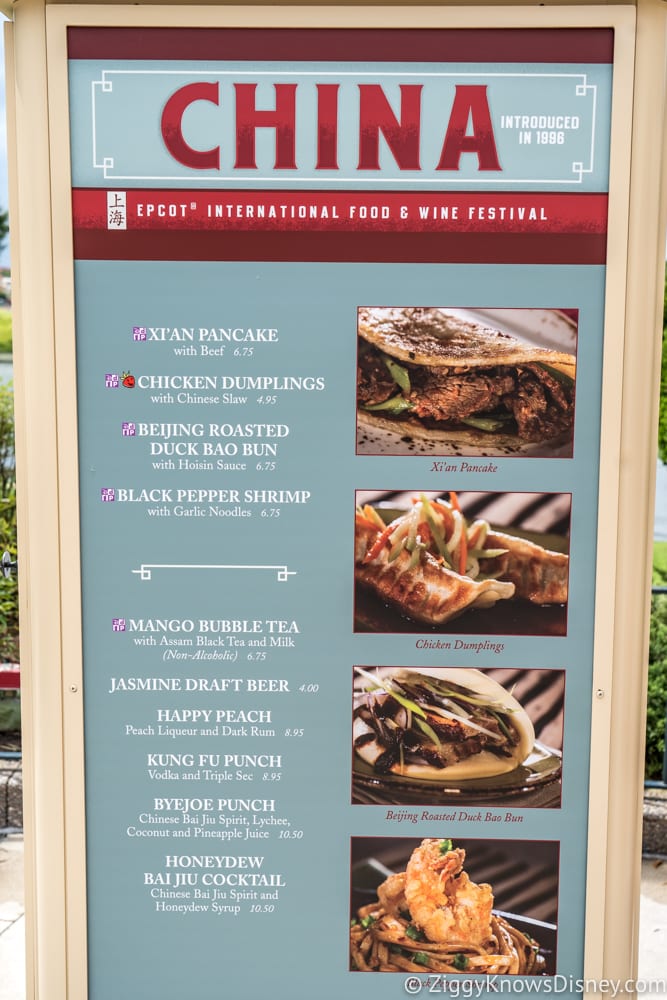 Food:
Xi'an Pancake with Beef ($6.75)
Chicken Dumplings with Chinese Slaw (KA) ($4.95)
Beijing Roasted Duck Bao Bun with Hoisin Sauce ($6.75)
Black Pepper Shrimp with Garlic Noodles ($6.75)
Beverages:
Mango Bubble Tea with Assam Black Tea and Milk (Non-alcoholic) ($6.75)
Jasmine Draft Beer ($4.00)
Happy Peach: Peach Liqueur and Dark Rum ($8.95)
Kung Fu Punch: Vodka and Triple Sec ($8.95)
Byejoe Punch: Chinese Bai Jiu Spirit, Lychee, Coconut and Pineapple Juice ($10.50)
Honeydew Bai Jiu Cocktail: Chinese Bai Jiu Spirit and Honeydew Syrup ($10.50)
Menu Review:
Xi'an Pancake with Beef ($6.75):
So this was the first new item we tried and one I was really intrigued by and one that drew mixed comments from our group.  It's a Chinese pancake loaded with spicy beef and scallions.  Wow was it good!  The beef was very tender and there was a lot of it.  It also was really big, which for the same price as the Black Pepper Shrimp you get way more (we'll get to that later).  The controversial part was the pancake itself, with some saying it was too chewy, almost like it wasn't cooked.  I think though it's supposed to be that way and they just aren't used to that texture.  I really liked it and would highly recommend trying it!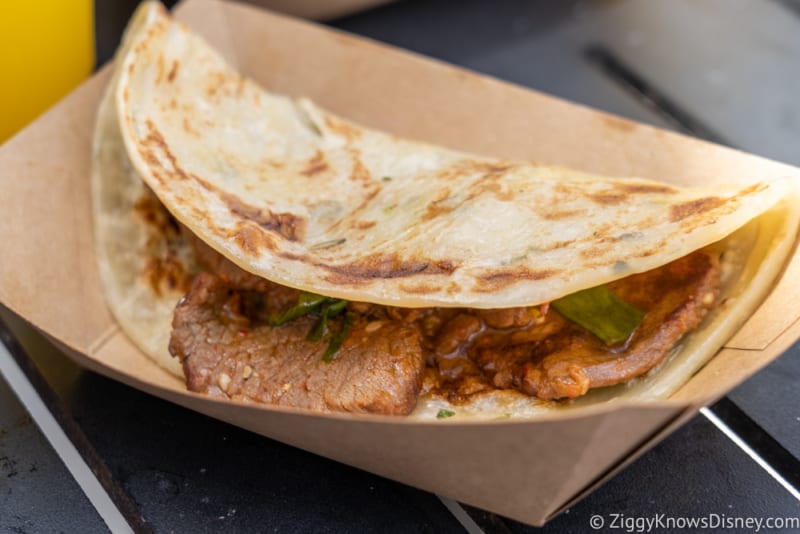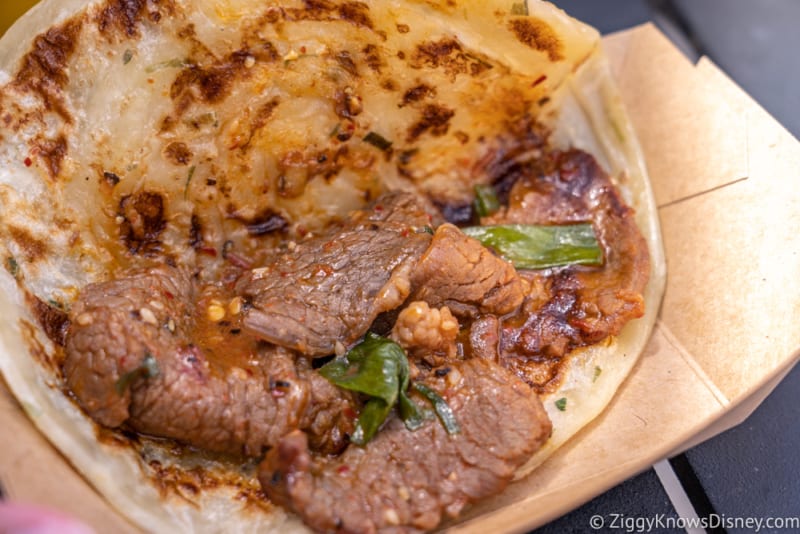 Chicken Dumplings ($4.50):
These are you average Chinese dumplings.  There was a nice sesame aftertaste, but I couldn't necessarily tell that they were made from chicken.  Not that that's a bad thing, the flavor was good, just not sure they are chicken.  While pretty tasty, the price is steep at $5, and I can't really recommend them for that reason alone.

Beijing Roasted Duck Bao Bun ($6.75):
This is always one of the best snacks at the Food and Wine Festival every year, and I didn't find anything that would change that this year either.  The duck is very moist and falls apart.  The hoisin sauce is mostly sweet and super addicting!!  Only complaint is there was a bit too much cabbage on it, but I'm nitpicking.  This was the favorite of the table and something you can't leave China without trying for sure!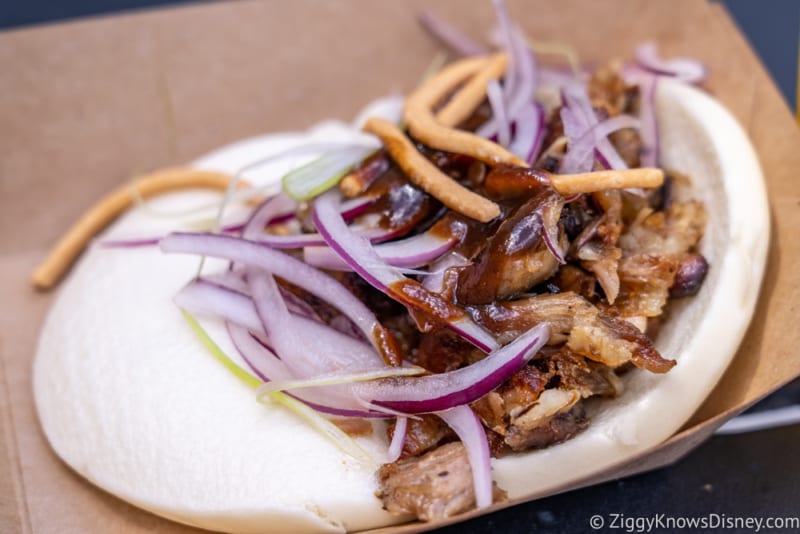 Black Pepper Shrimp with Garlic Noodles ($6.75):
Ok so I'm about to go off on a rant here.  The Black Pepper Shrimp are always one of my favorite items at Food and Wine, always.  Everything about the flavor was on again this year as usual.  They were deliciously spicy and the garlic flavor makes your mouth water.  I could slurp up those noodles all day long.  But….where are all the shrimp.  Last year and the year before, you know how many shrimp they gave you?  4. You  know how many you get now?  Look at the picture: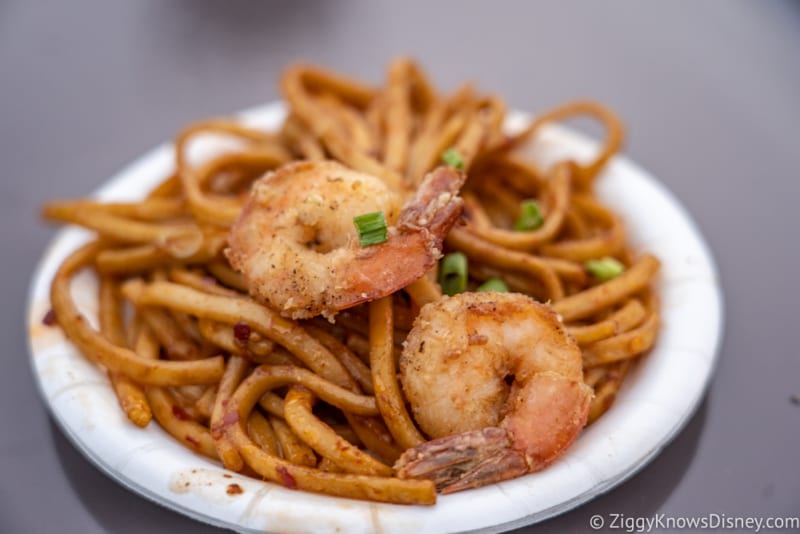 That's right, only 2.  And they're not any bigger than last year, they are the same size.  But the price of this dish went up $1 in the meantime.  I've made this rant before, but I'm gonna do it again.  I don't mind paying more, but not for less food than you've always given me, I just can't do that.  And no matter how delicious the Black Pepper Shrimp is, I'm gonna have to tell people not to get it because it's not worth the cost.
Mango Bubble Tea ($6.75):
I had this last year and it was the worst thing I've ever drank so let's just leave it at that and move on.
Kung Fu Punch ($8.95):
This on the other hand was awesome!  I mean first of all with a name like: Kung Fu Punch, you know you can't resist it.  But I liked everything about it: the sweetnesss level was right on, the mango, and the alcohol content were all right.  It even gives off a little bubbly texture which we dug.  Also the drink size was good for the price.  Best drink I've had in China and one you want to try if thirsty.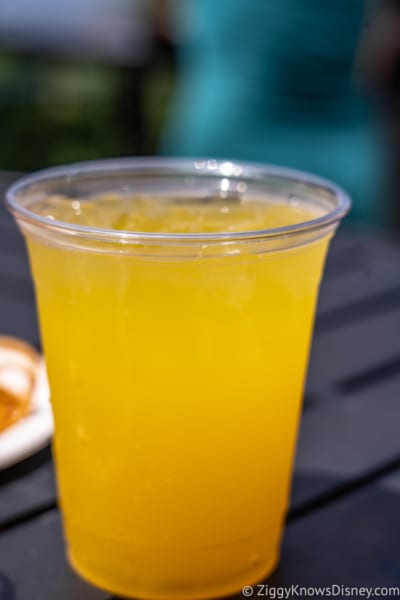 Booth Summary and Grade:
I hate to do this because I love how everything in China tasted, but I'm gonna have to deduct some points for the blatant price raising going on here and cutting of food size.  That doesn't take away from how good the Xian Pancake was or the fact that the Duck Bao Bun still remains one of my favorite snacks at Food and Wine. The strength of the menu still holds up well against other marketplaces, but China had the potential to be #1 this year, which I for sure won't make it now.
If you have to get just one thing: 

Being

 Roasted Duck Bao Bun

China Review

Overall Grade -

9/10
I want you to be able to have the best info on the Festival so you have a great time and don't waste your time!  Take a look at all of my 2018 Epcot Food and Wine articles including:
Your Thoughts:
I want to know what you think about the China Review at the 2018 Epcot Food and Wine Festival…
Which is your favorite item?
Which do you still want to try?
Let us know in the comments section below!
If you enjoyed this article, as always I appreciate it if you'd share it with others via social media.  I work hard at making this website into a useful resource for you and your family to plan your visit to the Disney Parks and I hope it can help you! Thanks 🙂
Need Help Planning Your Disney Vacation?  Show You the World Travel is Here to Help!
Just fill out the form below and someone will contact you for all your Disney Vacation Planning Needs….
[rainmaker_form id="19792″]
---
---