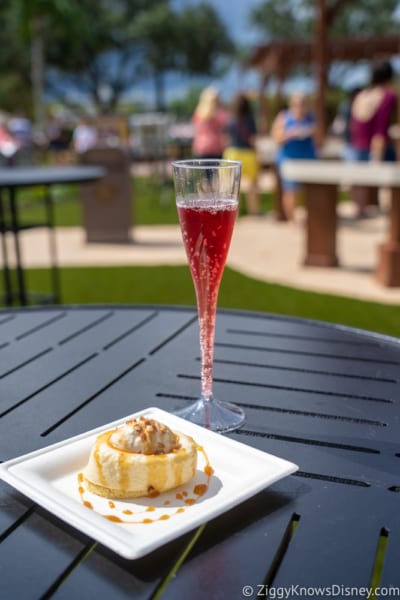 Last year the The Cheese Studio, Hosted by Boursin Cheese was brand new and brought some really solid choices to Food and Wine especially the delicious Braised Beef "Stroganoff" and the innovative Cheese Trio.  They're back again in 2018 but are they stand-outs like last year??  Let's find out in my Cheese Studio Review: 2018 Epcot Food and Wine Festival….
The Cheese Studio hosted by Boursin® Cheese Marketplace:
My favorite area of the Food and Wine Festival is Future World West and this stretch of marketplaces tucked into this corner.  It's found on the pathway leading from World Showcase to Future World West, right in between the Wine and Dine Studio and The Chocolate Studio: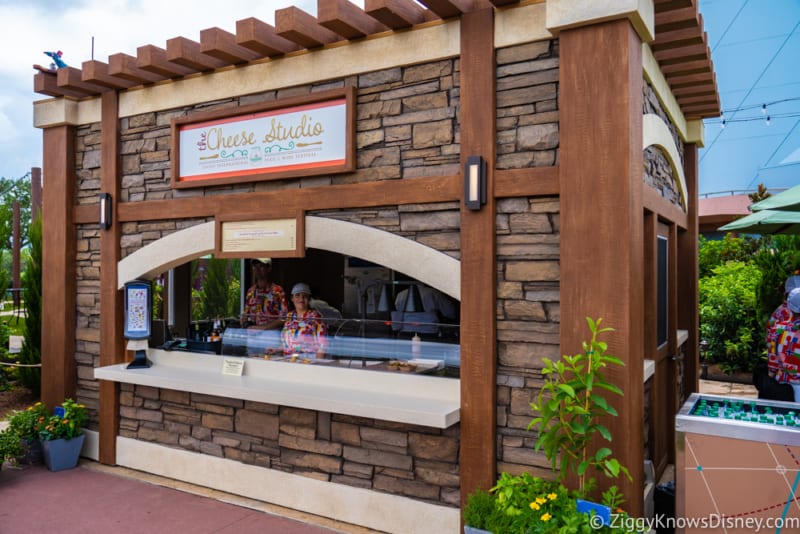 Look at the beautiful eating area which is especially nice in the evening all lit up: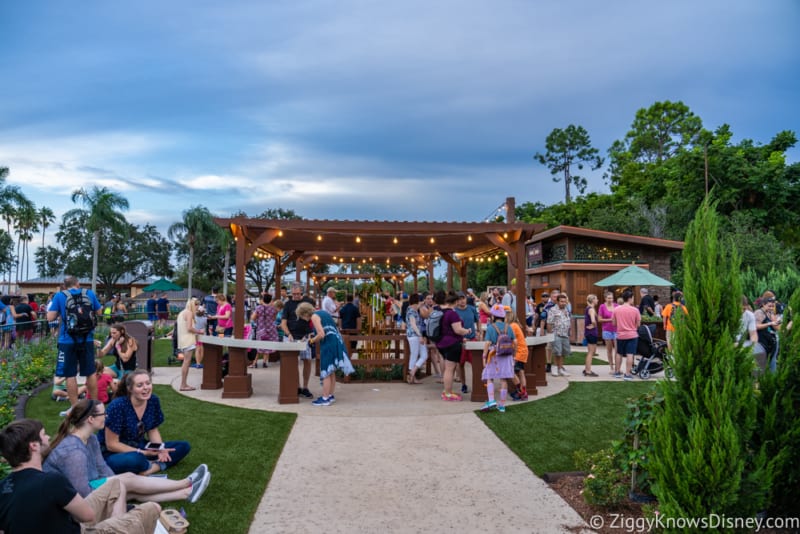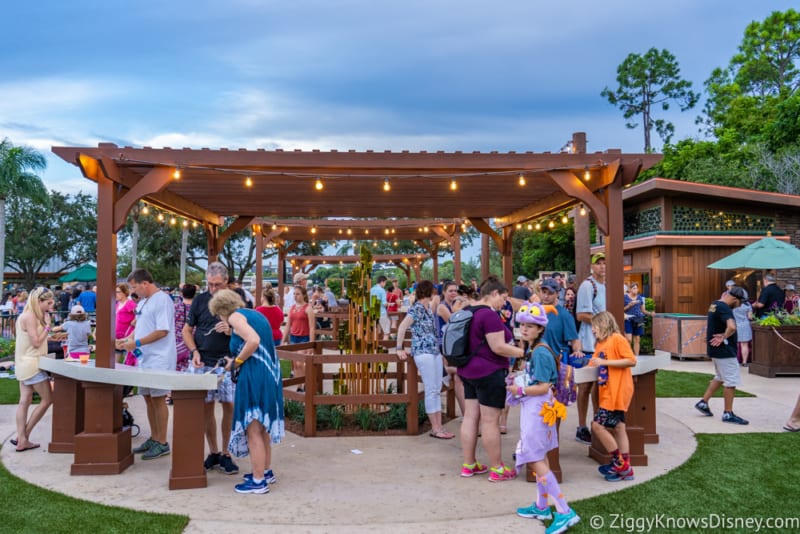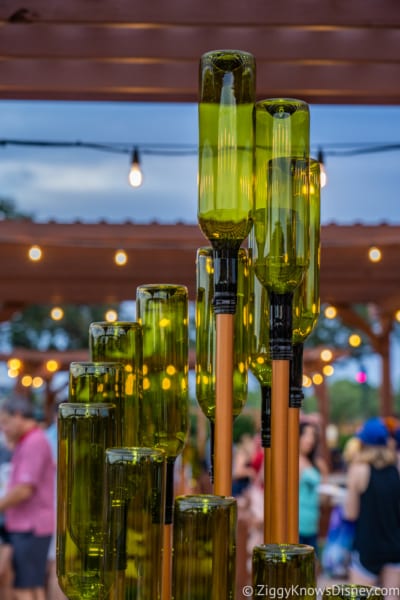 Cheese and wine, the unbeatable combo!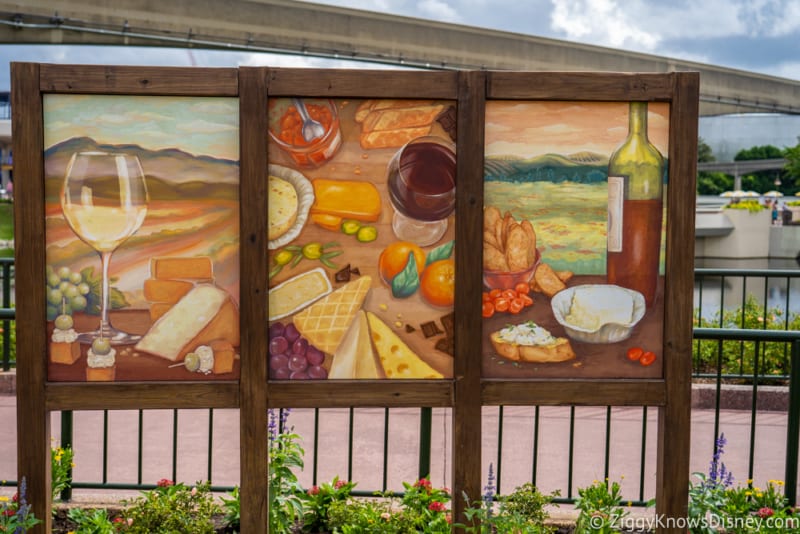 The Cheese Studio Menu:
I'm happy that basically they took off the only thing on the menu from last year that I wasn't crazy about and replaced it with a Maple Cheesecake!!  You don't have to convince me at all about that!  There are also a nice variety of wines that are seemingly paired nicely with the cheeses on the menu.
2017 Menu: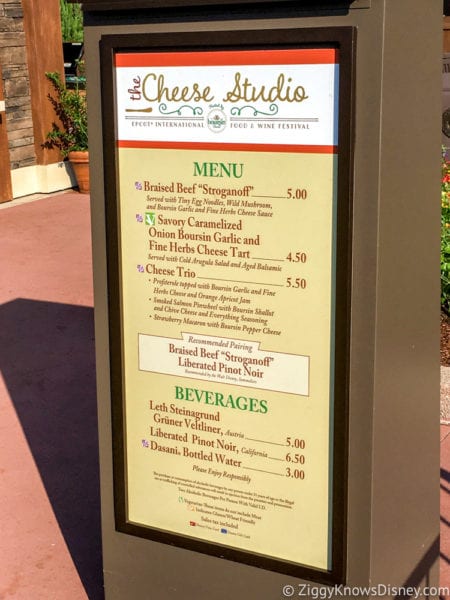 2018 Menu: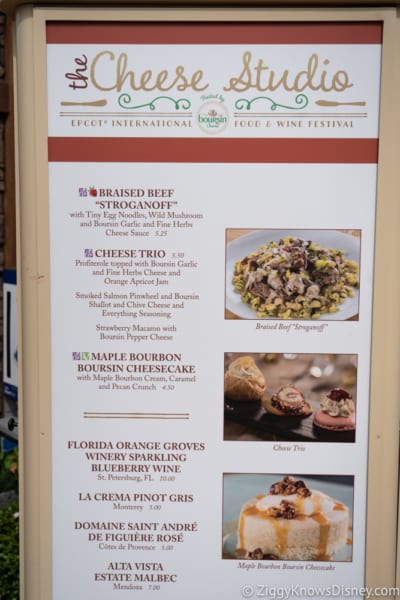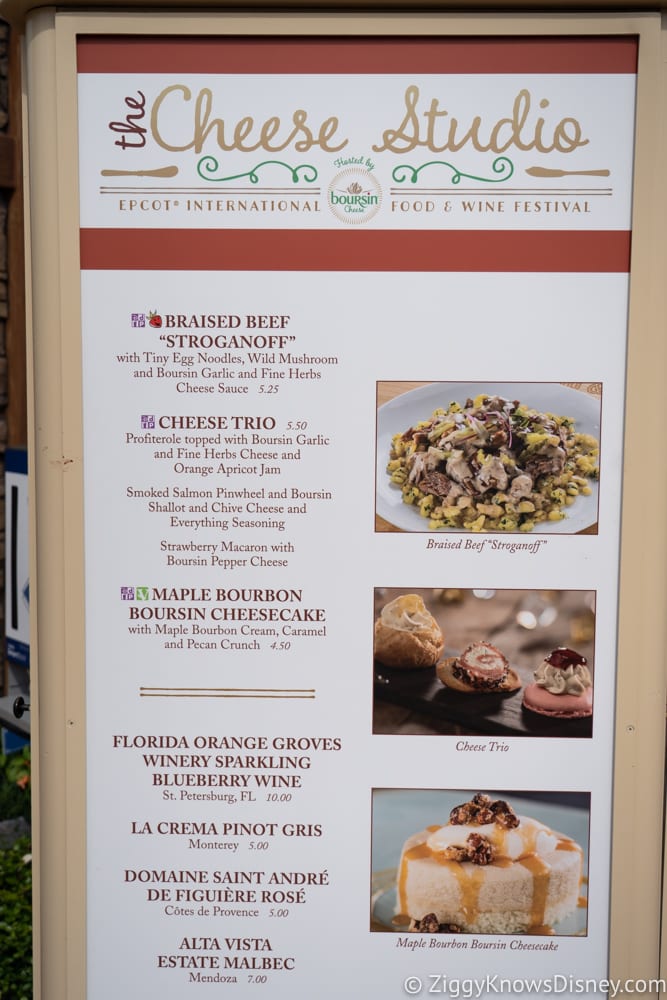 Food:
Braised Beef Stroganoff with Tiny Egg Noodles, Wild Mushroom and Boursin Garlic with Fine Herbs Cheese Sauce (KA) ($5.25)
Cheese Trio: Profiterole topped with Boursin Garlic and Fine Herbs Cheese and Orange Apricot Jam; Smoked Salmon Pinwheel with Boursin Shallot and Chive Cheese and Everything Seasoning; Strawberry Macaron with Boursin Pepper Cheese ($5.50)
Maple Bourbon Boursin Cheesecake with Maple Bourbon Cream, Caramel and Pecan Crunch (V) ($4.50)
Beverages:
Florida Orange Groves Winery Sparkling Blueberry Wine, St. Petersburg, FL ($10.00)
La Crema Pinot Gris, Monterey ($5.00)
Domaine Saint André de Figuière Rosé, Côtes de Provence ($5.00)
Alta Vista Estate Malbec, Mendoza ($7.00)
Menu Review:
Braised Beef Stroganoff with Tiny Egg Noodles ($5.25):
First we tried out the Beef Stroganoff.  This is a holdover from last year, but one that we really loved so we weren't upset it's back again!  It was exactly as good as I remember it.  The meat was super tender and you could cut it with a fork.  I also love the creamy sauce they put over the top.  That worked especially well together with the tiny egg noodles which soaked up the sauce.  If you've had German spaetzle before then you have a good idea of how these taste.  While a little smaller than last year's portion, it's still a good value and a filling option.  Get this!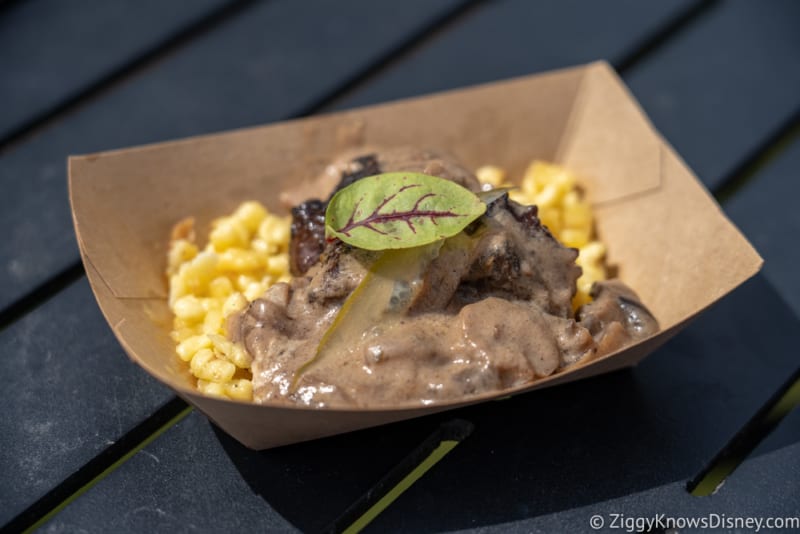 Cheese Trio ($5.50):
Of all the cheese trios available at Food and Wine this year, this is for sure one of the more innovative ones.   It has a Profiterole, Smoked Salmon Pinwheel and Strawberry Macaroon.  We were all undecided on which was our favorite.  The Profiterole was our favorite and the garlic and herbs cream cheese inside was so light and airy.  The smoked salmon Pinwheel was also really good and the chives cream cheese is to die for!  Lastly the Strawberry Macaroon is a unique twist on a French dessert, but this time done as a savory option.  Very delicate and smooth.

My favorite of the three was the Profiterole, but all of them are worth trying.
Maple Bourbon Boursin Cheesecake ($4.50):
While I really liked the first two options at The Cheese Studio, the Maple Bourbon Boursin Cheesecake was by far the highlight of the menu for me!  This thing is do light and creamy and just melts in your mouth, no need to even chew!  It was like a flavor explosion in your mouth with the combo of cheese and maple.  It had just the right balance between sweet, but not too sweet.  I don't think they could have improved on this dessert at all and I'm going to keep going back here over and over again for it!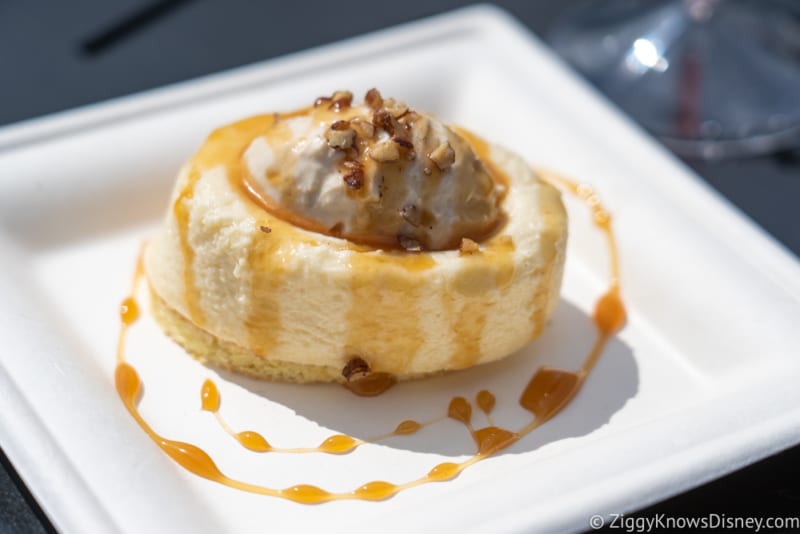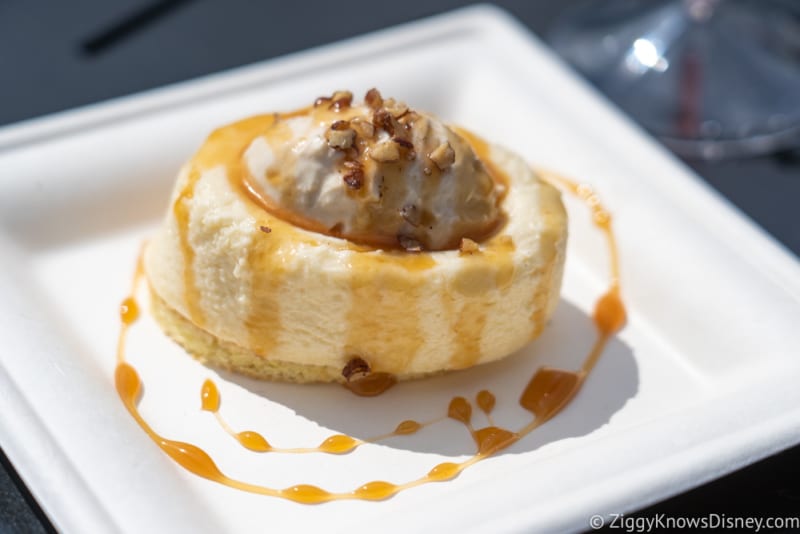 Florida Orange Groves Winery Sparkling Blueberry Wine ($10.00):
Of course when you are eating the Cheesecake you also need something good to wash it down, and the Sparkling Blueberry Wine is just that!  It is a bit expensive, but the blueberry accents worked incredibly well with the cheesecake and every bite and sip I just kept saying to myself: "Wow!"  Probably my favorite sparkling wine at Food and Wine this year and a must-try!

Booth Summary and Grade:
Everything we had at The Cheese Studio this year was awesome, especially the Maple Bourbon Boursin Cheesecake which made our list of the Must-Try NEW Items from Food and Wine.  Its score went way up from last year and it's a must-stop marketplace at Food and Wine where you can be sure of ordering anything and not being disappointed!
If you have to get just one thing:

Maple Bourbon Cheesecake



The Cheese Studio Review

Overall Grade -

9/10
I want you to be able to have the best info on the Festival so you have a great time and don't waste your time!  Take a look at all of my 2018 Epcot Food and Wine articles including:
Your Thoughts:
I want to know what you think about The Cheese Studio Review at the 2018 Epcot Food and Wine Festival…
Which is your favorite item?
Which do you still want to try?
Let us know in the comments section below!
If you enjoyed this article, as always I appreciate it if you'd share it with others via social media.  I work hard at making this website into a useful resource for you and your family to plan your visit to the Disney Parks and I hope it can help you! Thanks 🙂
Need Help Planning Your Disney Vacation?  Show You the World Travel is Here to Help!
Just fill out the form below and someone will contact you for all your Disney Vacation Planning Needs….
[rainmaker_form id="19792″]
---
---