Canada is always one of my favorite booths at the Food and Wine Festival, which is due in large part to two of my favorite items every year: the Canadian Cheddar Cheese Soup and the Filet Mignon with Truffle Butter Sauce!!  You absolutely can't leave here without trying them, chichis exactly what we plan on doing!  Let's see if they are still as amazing as before in my Canada Review: 2018 Epcot Food and Wine Festival….
Canada Marketplace:
You can't miss the Canada booth, it's located right on the World Showcase loop in…Canada.  And its outside is exactly how you were imagining it…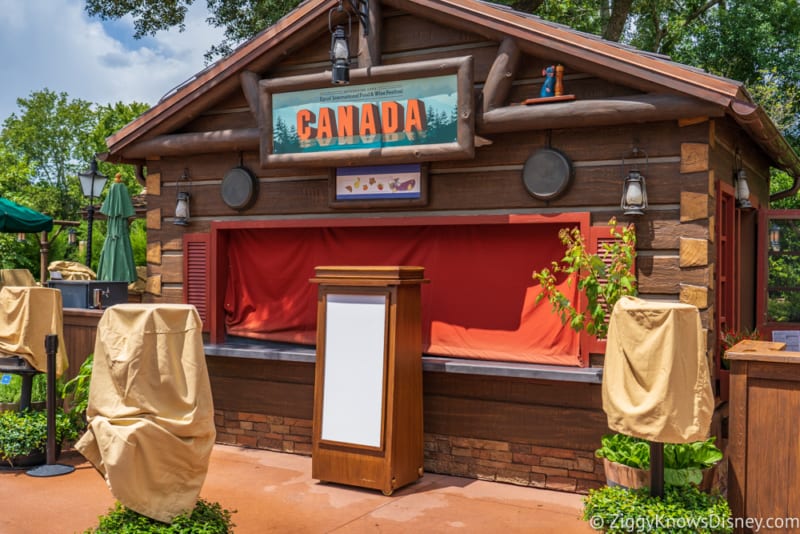 It's located in a great spot, and while you are still waiting for your food to digest from what's assuredly 10 other booths you've tried by now, take a stroll in the lovely gardens behind the Canada marketplace, it's one of the most peaceful spots in all Epcot!
You can also find one of the hidden Remys hiding up above!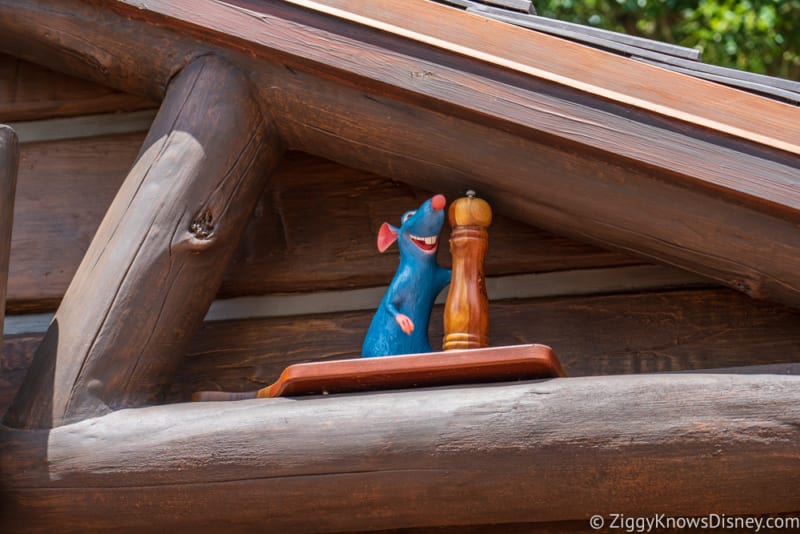 Canada Menu:
Even though I absolutely LOVE the Cheddar Cheese Soup and Filet Mignon and never want to see them go (because who doesn't love a steaming hot bowl of soup in late August in Florida??) it's disappointing to see basically the exact same menu again from last year, and the year before, and the year before.  It would be nice if they added something else to make it a contender for best booth at the Food and Wine Festival.  Hey, at least the prices didn't go up!
2017 Menu: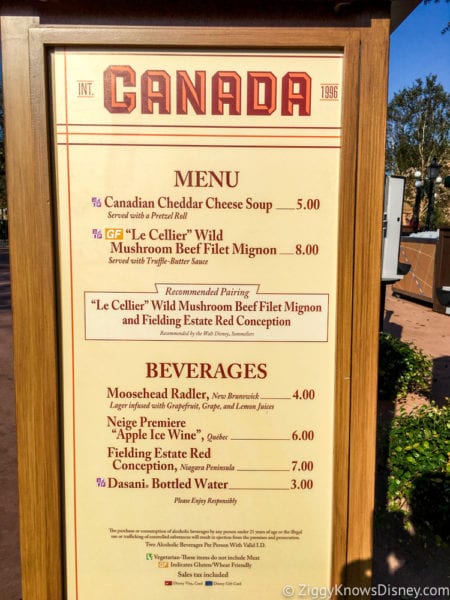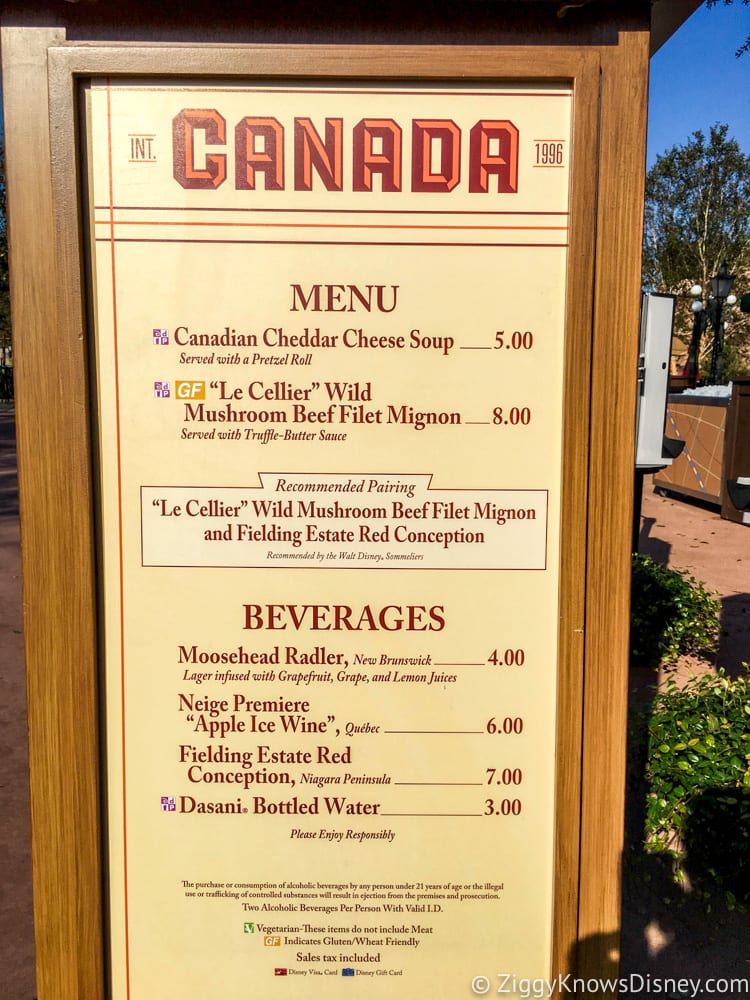 2018 Menu: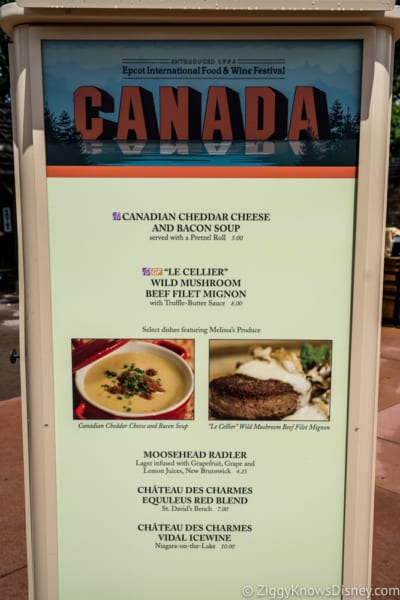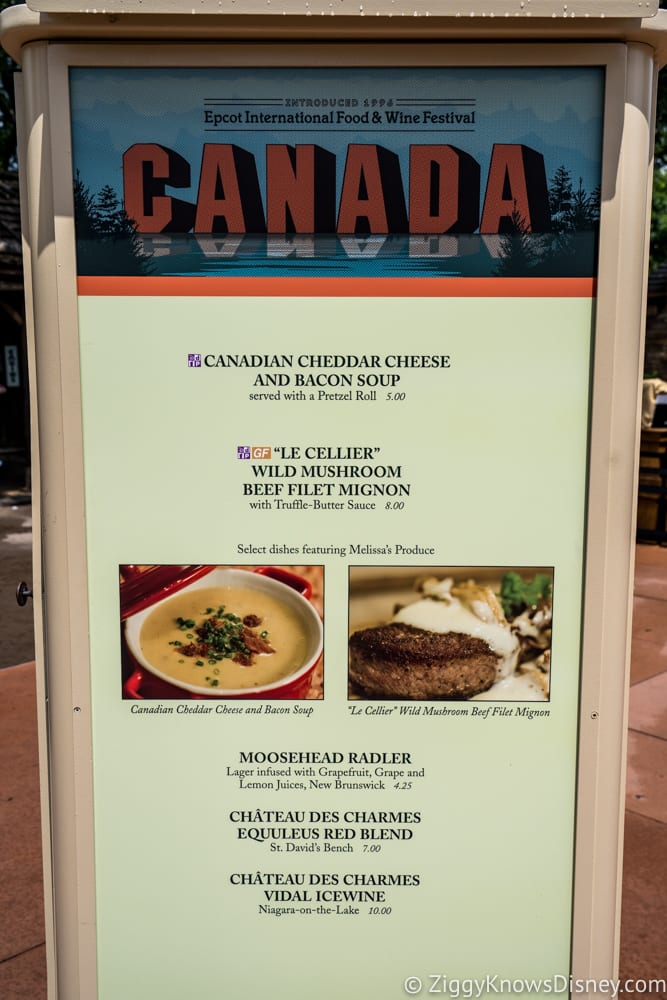 Food:
Canadian Cheddar Cheese and Bacon Soup served with a Pretzel Roll ($5.00)
Le Cellier Wild Mushroom Beef Filet Mignon with Truffle-Butter Sauce (GF) ($8.00)
Beverages:
Moosehead Radler: Lager infused with Grapefruit, Grape and Lemon Juices, New Brunswick ($4.25)
Château Des Charmes Equuleus Red Blend, St. David's Bench ($7.00)
Château Des Charmes Vidal Icewine, Niagara-on-the-Lake ($10.00)
Menu Review:
Canadian Cheddar Cheese and Bacon Soup (w/ Pretzel Roll) ($5.00):
So if anyone asks you if you tried that awesome cheddar cheese soup, THIS is where thy are talking about!  I don't know what I can say about this soup that will describe it enough to you, it's something you need to try for yourself to fully comprehend.
If you see dozens of people eating this stuff even though it's blazing hot out, there's a reason.  It's honestly my #1 or 1a soup on property (Smoked Mushroom Bisque from Territory Lounge is the other) and something you can't leave the Epcot Food and Wine Festival without trying.  Plus they give you one of those amazingly chewy pretzel rolls with it to dunk in the soup.  Get this soup for sure and don't ask questions!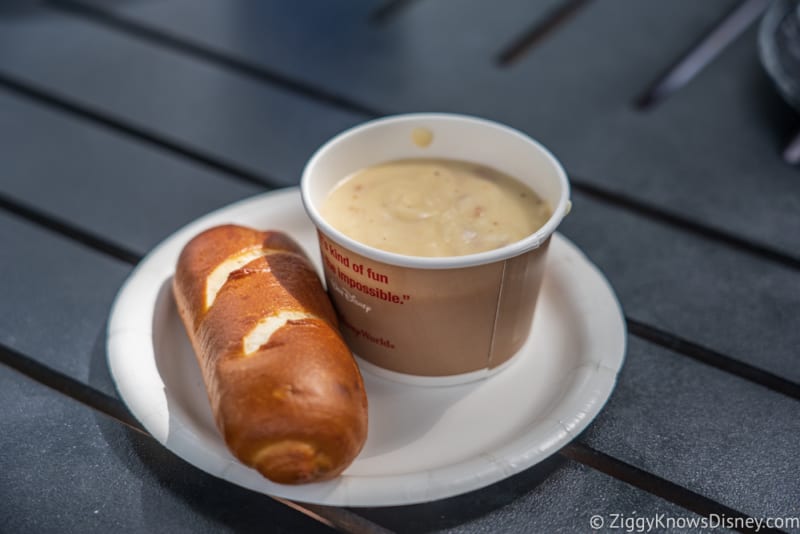 Le Cellier Wild Mushroom Beef Filet Mignon ($8.00):
Classic food and wine dish that can't be missed!  This thing, and the cheddar cheese soup are the reason it's almost iposssible to get a reservation at Le Cellier, but it's the reason you keep trying anyways!  Very succulent pice of meat, which was cooked perfect for me (very tender).  But if an incredible cut of meat wasn't enough, it's covered in a truffle butter sauce which will blow your mind and takes this dish to a whole other level.  It's one of the more expensive items at Food and Wine, but if I'm choosing between this and pasta with red sauce over in Italy for the same price….I don't think you even have to ask if there's a choice here!

Moosehead Radler ($4.00):
This is an interesting beer, that many beer fans hate on because it's fruity, but one that I really like.  It's fruity with strong aroma of lemon and grapefruit.  Little hoppiness, and very fruity and refreshing.  It's exactly the kind of drink I'm looking for on a long walk around World Showcase.  The grapefruit taste is amazing and lingers a bit after you swallow.  Awesome choice!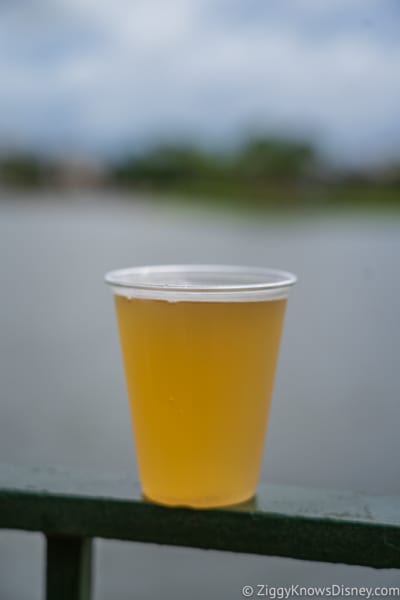 Booth Summary and Grade:
Big shocker here, Canada was fantastic once again!  You really have to try both the Cheddar Cheese Soup and the Filet Mignon if you haven't got the chance yet.  Run there, trust me!  Again though I say the same thing every year, and that is Canada needs to be a little more creative.  There are so many new marketplaces over the last couple years that are original and innovative and frankly they're leaving Canada behind a bit.  I don't want to see my favorites go away, but at least add one more item that you rotate yearly.  You know I'm going to keep coming back every time, but I'm going to keep complaining too until Disney addresses this.
If you have to get just one thing: Filet Mignon and Cheddar 

Cheese

 Soup!

Canada Review

Overall Grade -

8.5/10
I want you to be able to have the best info on the Festival so you have a great time and don't waste your time!  Take a look at all of my 2018 Epcot Food and Wine articles including:
Your Thoughts:
I want to know what you think about the Canada Review at the 2018 Epcot Food and Wine Festival…
Which is your favorite item?
Which do you still want to try?
Let us know in the comments section below!
If you enjoyed this article, as always I appreciate it if you'd share it with others via social media.  I work hard at making this website into a useful resource for you and your family to plan your visit to the Disney Parks and I hope it can help you! Thanks 🙂
Need Help Planning Your Disney Vacation?  Show You the World Travel is Here to Help!
Just fill out the form below and someone will contact you for all your Disney Vacation Planning Needs….
[rainmaker_form id="19792″]
---
---