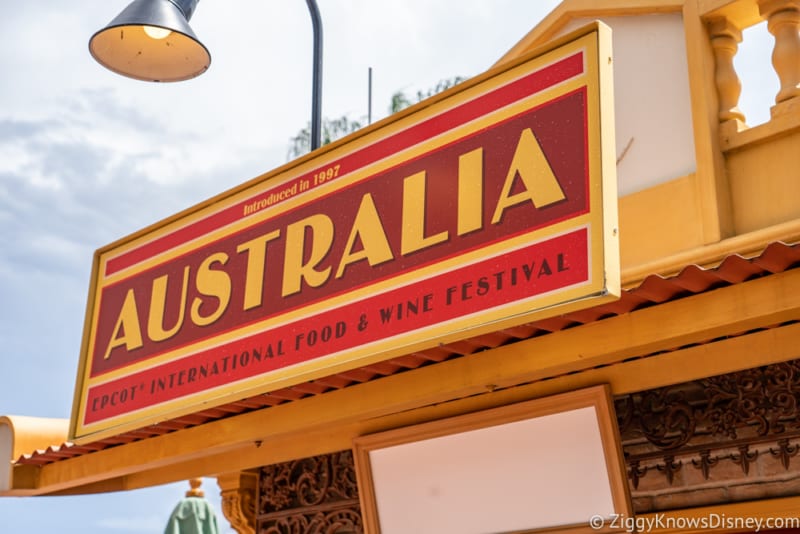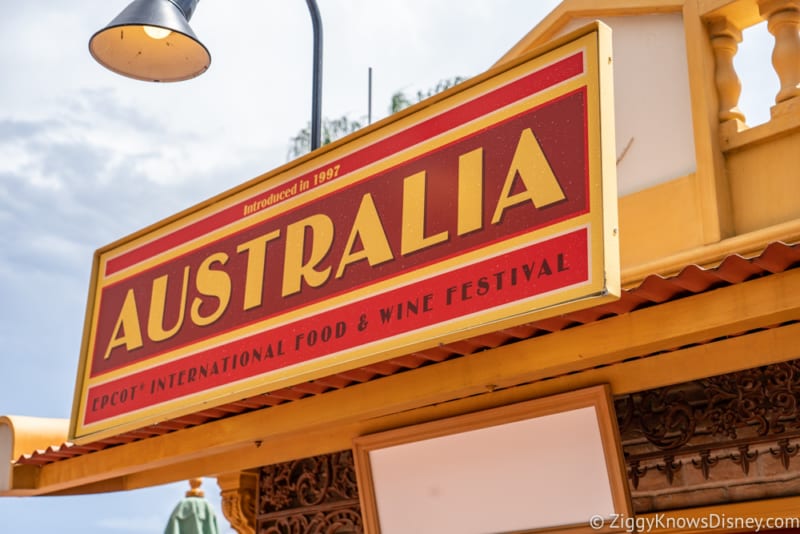 The Australia booth is always a Epcot Food and Wine staple, and it's so popular that it's menu hardly ever changes (don't touch my Lamington!!).  I always find myself stopping back again and again for some of my favorite dishes at Food and Wine!  Let's see if the quality is still up to par in my Australia Review: 2018 Epcot Food and Wine Festival….
Australia Marketplace:
When you enter World Showcase from Future World go right and a couple booths down on the right and you'll find Australia!  You can't miss it will all the red color!!  Not much has changed since last year: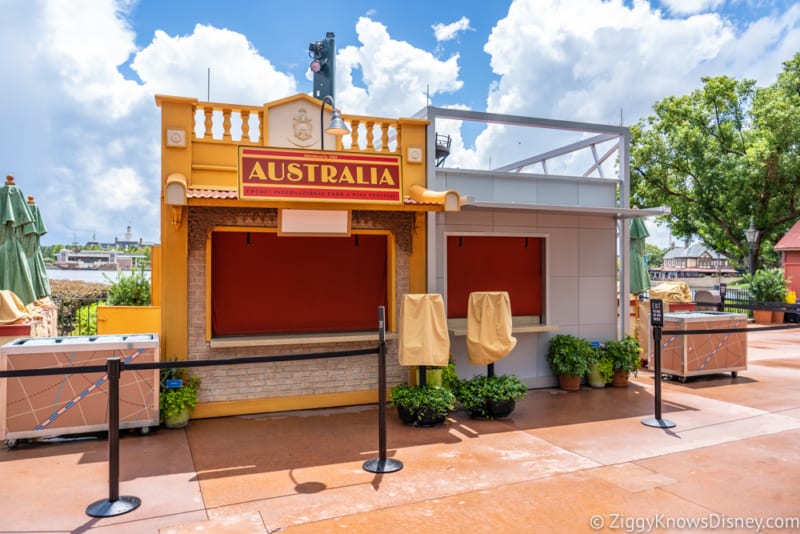 This is a high traffic area so at times it can be hard to get a seat…
Australia Menu:
2017 Menu: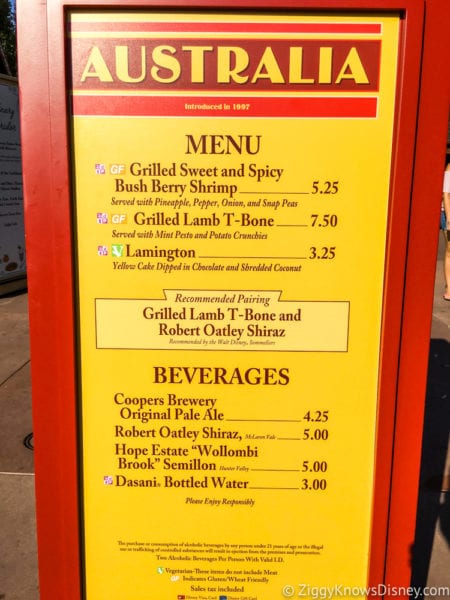 2018 Menu: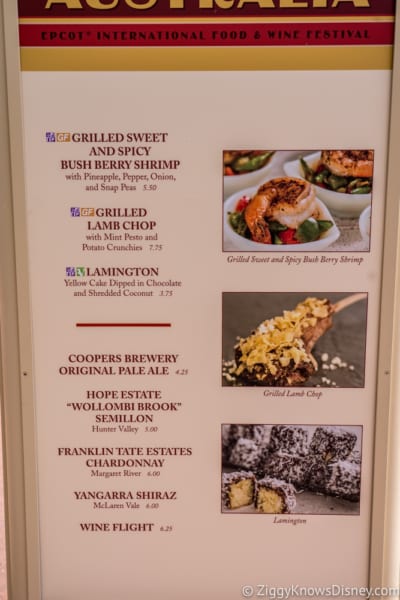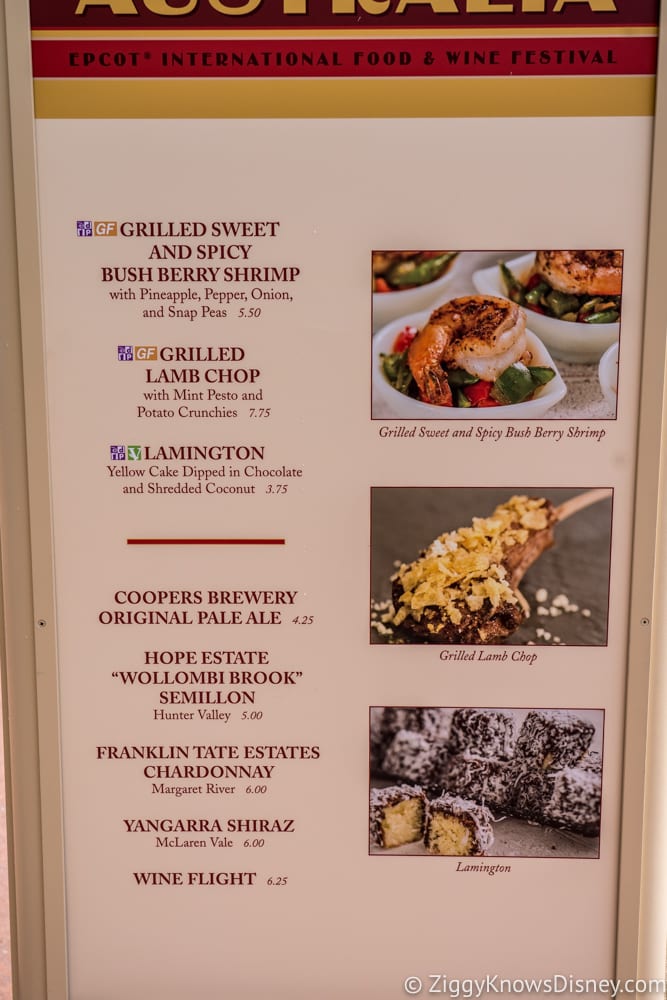 The only changes are that the Bush Berry Shrimp went up 0.25 cents and the Lamington 0.50 cents.  Guess Disney realized that was undervalued…
Food:
Grilled Sweet and Spicy Bush Berry Shrimp with Pineapple, Pepper, Onion and Snap Peas (GF) ($5.50)
Grilled Lamb Chop with Mint Pesto and Potato Crunchies (GF) ($7.75)
Lamington: Yellow Cake Dipped in Chocolate and Shredded Coconut (V) ($3.75)
Beverages:
Coopers Brewery Original Pale Ale ($4.25)
Hope Estate "Wollombi Brook" Semillon, Hunter Valley ($5.00)
Franklin Tate Estates Chardonnay, Margaret River ($6.00)
Yangarra Shiraz, McLaren Vale ($6.00)
Wine Flight ($6.25)
Menu Review:
Grilled Sweet and Spicy Bush Berry Shrimp ($5.50):
What was once one of the best bargains last year at Food and Wine has now turned into mediocre at best.  Yes this dish is incredible as far as flavor goes.  The sauce is packed with seasoning and a lot of heat too.  The veggies are all great and some of the best you'll find at the festival.  The problem is that last year they gave you 4 shrimp for $5.25, and now you get 2 shrimp for $5.50.  I understand inflation, but something just doesn't add up here.  Maybe it was a fluke that happened to us, but if not then that's going wayyyy to far!  Before I would list it as one of the best dishes, and now I have a hard time recommending it even though the flavor is great…
Here's a picture from 2017 just so you can see: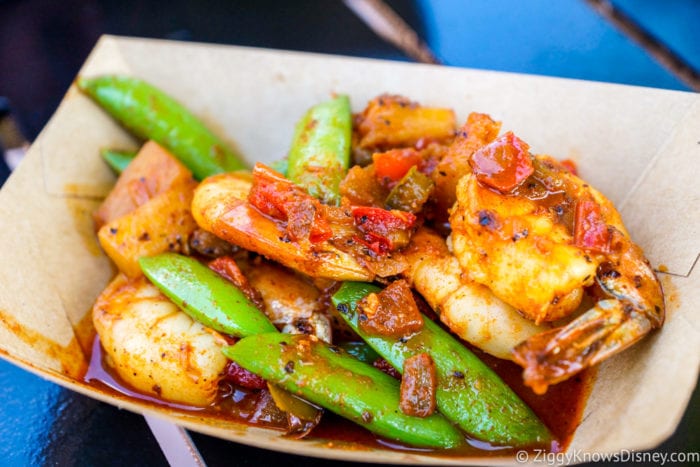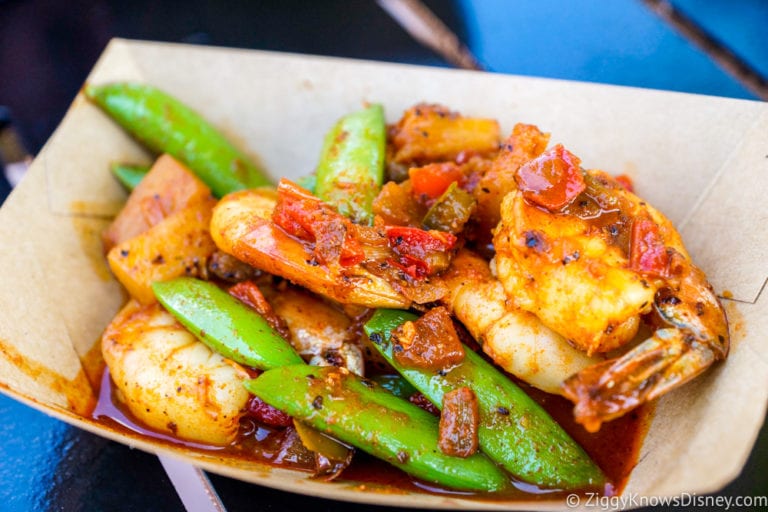 and now 2018: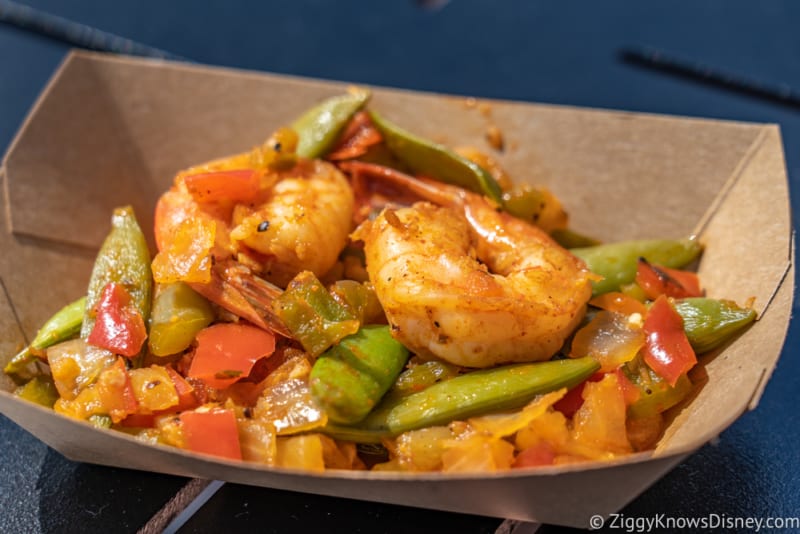 Grilled Lamb Chop with Mint Pesto and Potato Crunchies ($7.75):
Oh geez, here we go again.  I love the Grilled Lamb Chop, I think even though it's hard to make good lamb, they do it excellent here.  It's super juicy and the combo of mint and potatoes crunchies is amazing.  Again the problem was that the price went up 0.25 cents but the size went considerable down.  Last year it was a T-Bone and this year a chop.
Here's a photo from 2017: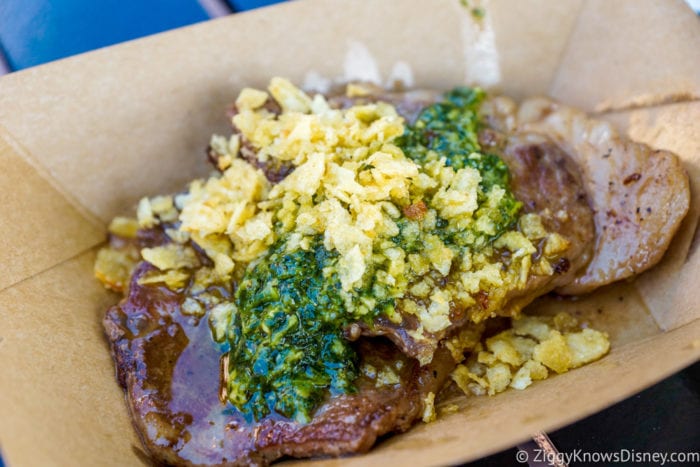 Now 2018: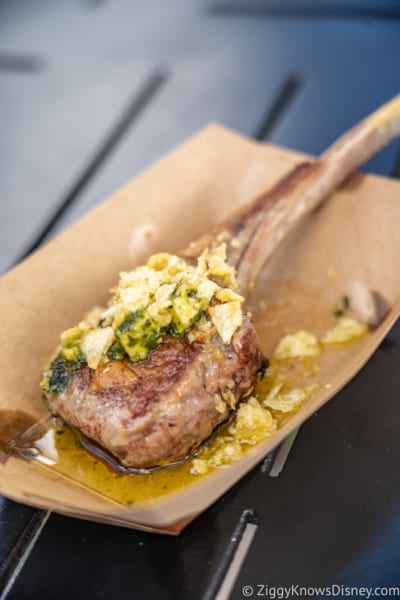 The meat took up the whole bottom of the dish last year, while this year it barely makes a dent.  At $7.75 I can't recommend it, again no matter how much I do love the flavor…
Lamington: Yellow Cake ($3.75):
The price on the Lamington went up by 0.50 cents this year, but at least so did the size this time!  Everything we loved about the Lamington last year is back and more!  So usually I don't like yellow cake at all, but these are so moist and fresh tasting that you don't get any of the bad qualities of cake.  They are dipped in chocolate, then coconut and they are so succulent I could eat them all day long.  Get this and then get it again!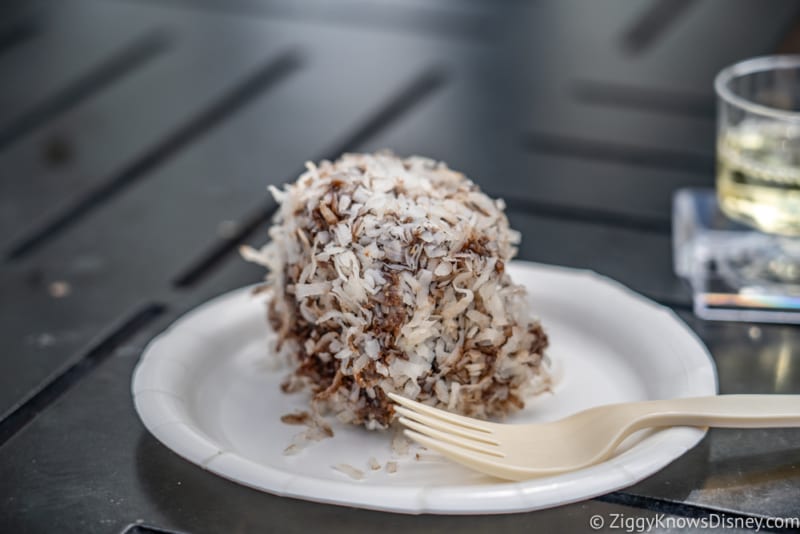 Booth Summary and Grade:
Australia took a big hit for us this year at Food and Wine, and it had nothing to do with the menu choice or flavor of the food, but just based on the price.  I know Disney is expensive, it's always been that way.  But you can't increase the prices on these snacks while cutting the food quantity in half just about and expect people to just keep buying it.  I'm ok with getting charged a lot, but at least make me feel like I'm getting a good sized portion too.
If you have to get just one thing:

Lamington



Australia Review

Overall Grade -

7/10
I want you to be able to have the best info on the Festival so you have a great time and don't waste your time!  Take a look at all of my 2018 Epcot Food and Wine articles including:
Your Thoughts:
I want to know what you think about the Australia Review at the 2018 Epcot Food and Wine Festival…
Which is your favorite item?
Which do you still want to try?
Let us know in the comments section below!
If you enjoyed this article, as always I appreciate it if you'd share it with others via social media.  I work hard at making this website into a useful resource for you and your family to plan your visit to the Disney Parks and I hope it can help you! Thanks 🙂
---
---