The Active Eats marketplace made its debut last year and was a mild success.  The Loaded Mac 'n' Cheese is what most people come here for, but how does it stack up this year?  Let's find out in my 2018 Epcot Food and Wine Festival Active Eats Review….
Active Eats Marketplace:
You can find the Active Eats booth in one of my favorite corners in Future World West, in a beautiful garden it shares with Coastal Eats and Earth Eats where the Next Eats sign is: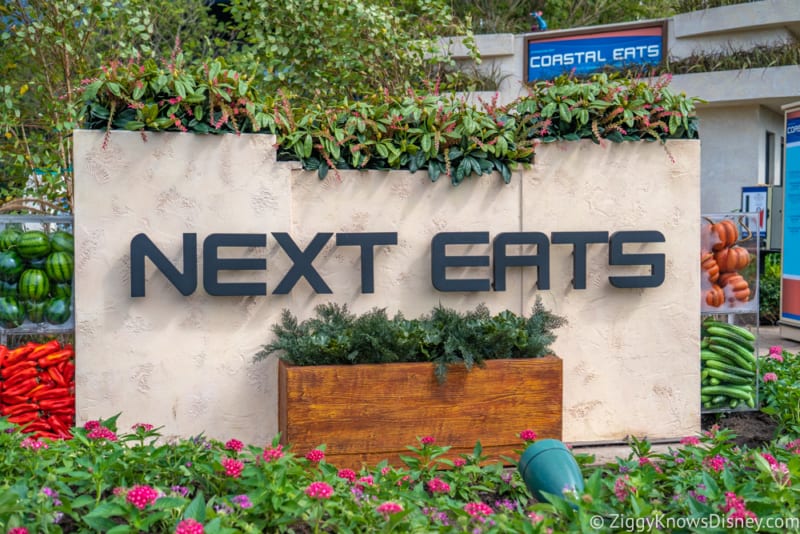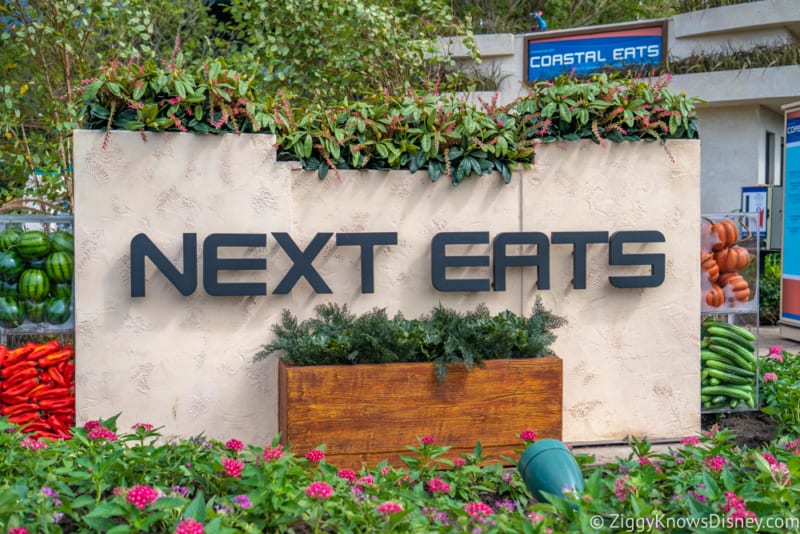 Here's the Active Eats Marketplace: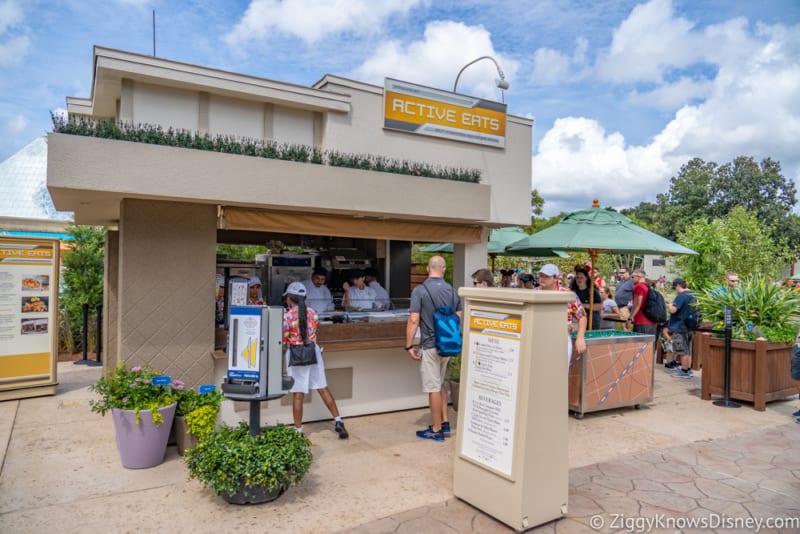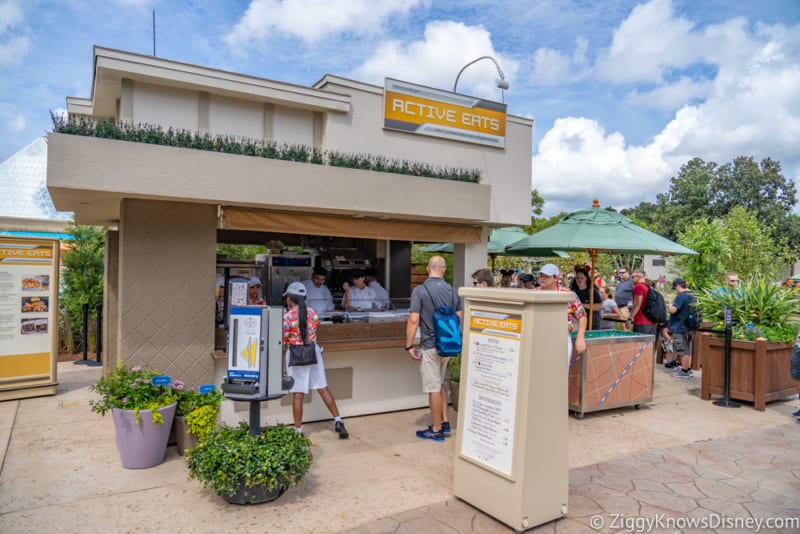 Seating area: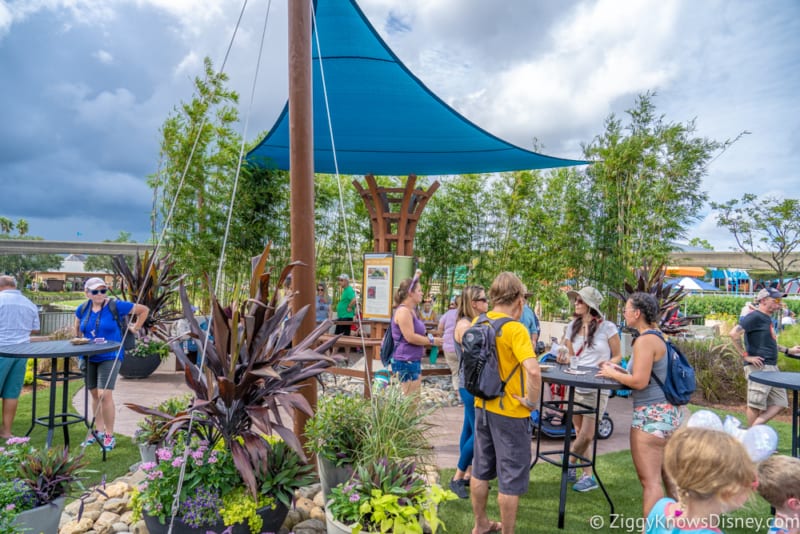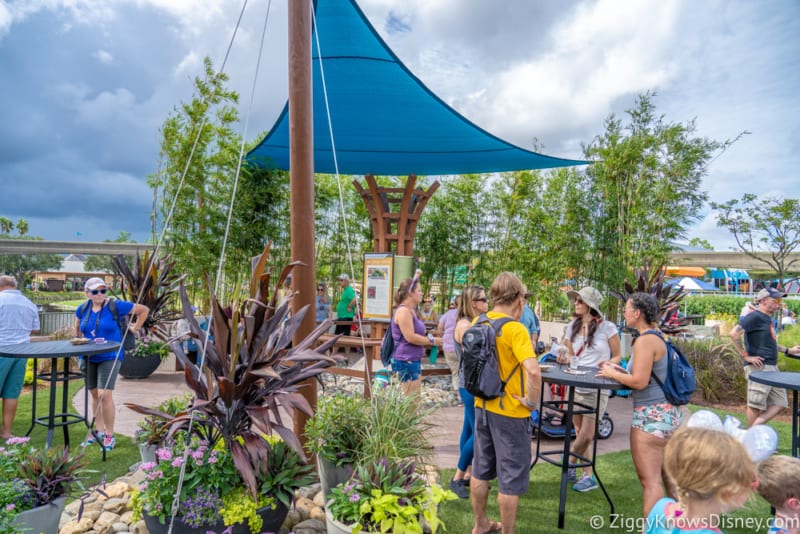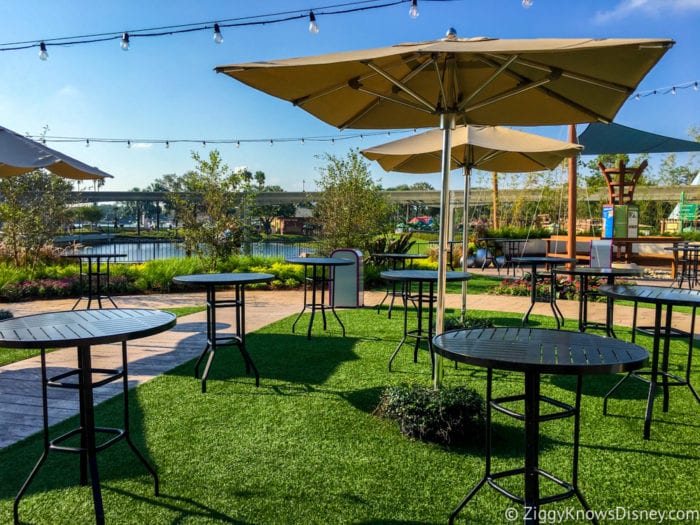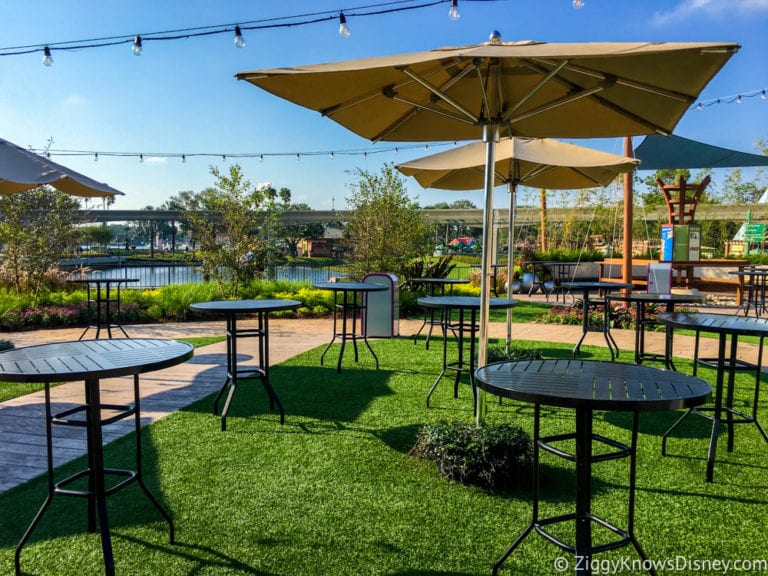 Active Eats Menu:
2017 Menu: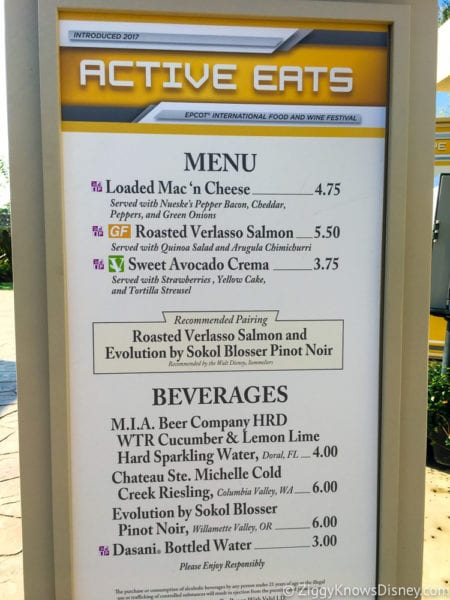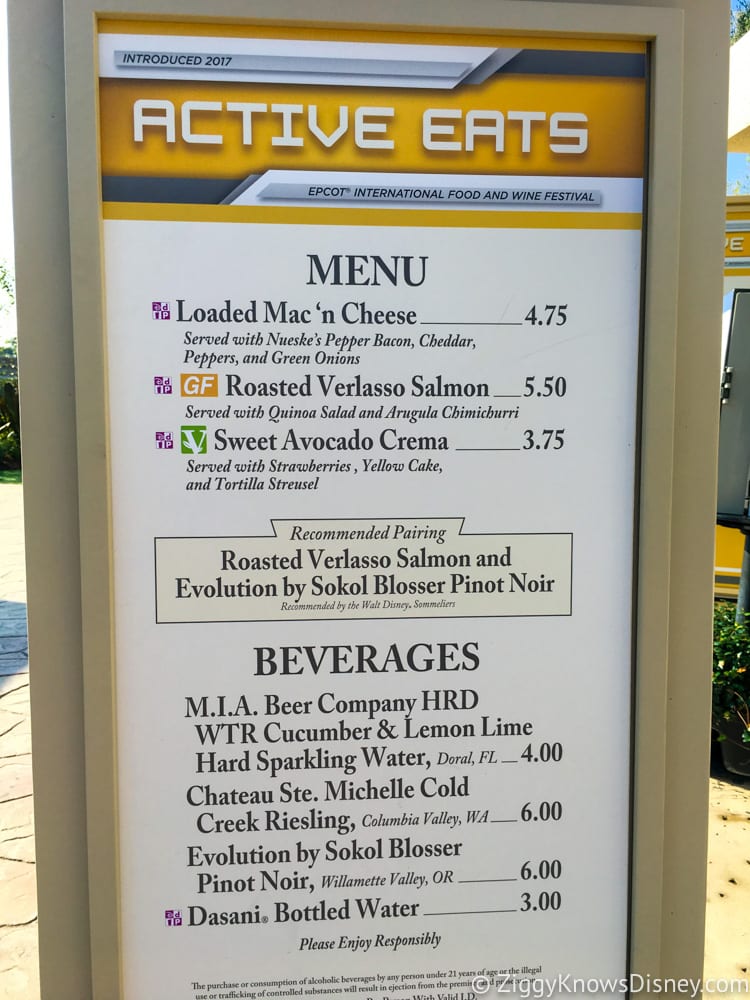 2018 Menu:
So the biggest difference between last year's menu and this year's is that the dessert was traded out.  Last year they had the sweet Avocado Crema, and this year it's been replaced by the Active Eats Energy Bar Bites.  We we're crazy about the Avocado Crema so this is a welcome change.  The remaining food items also went up 0.25 cents, but that's expected.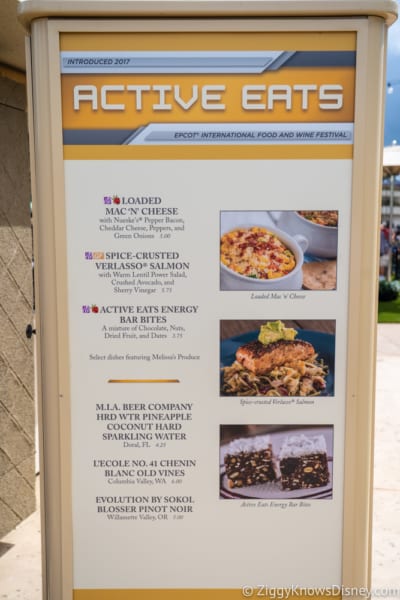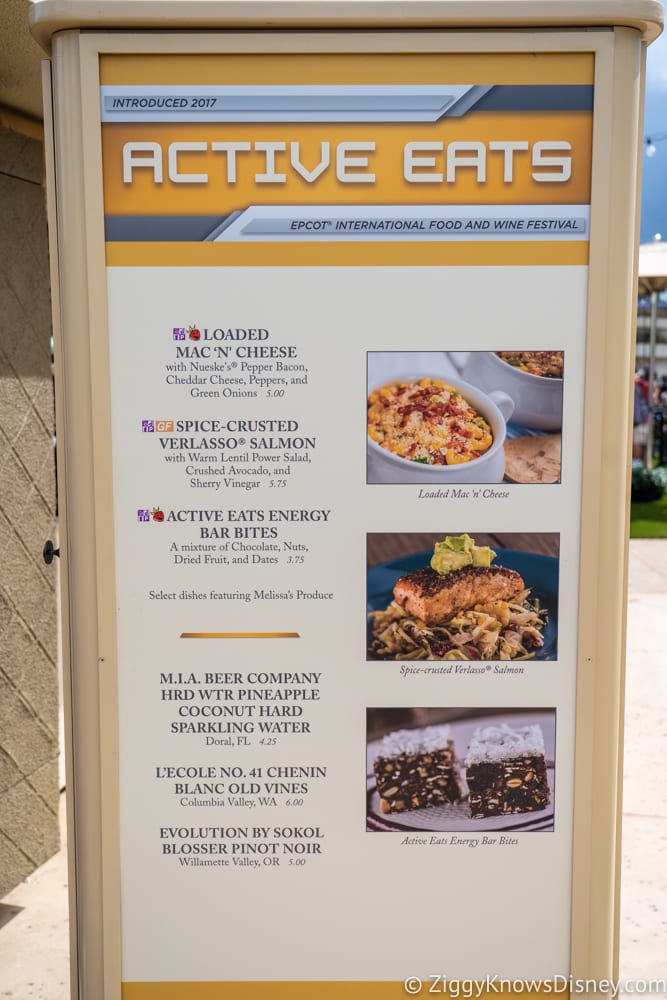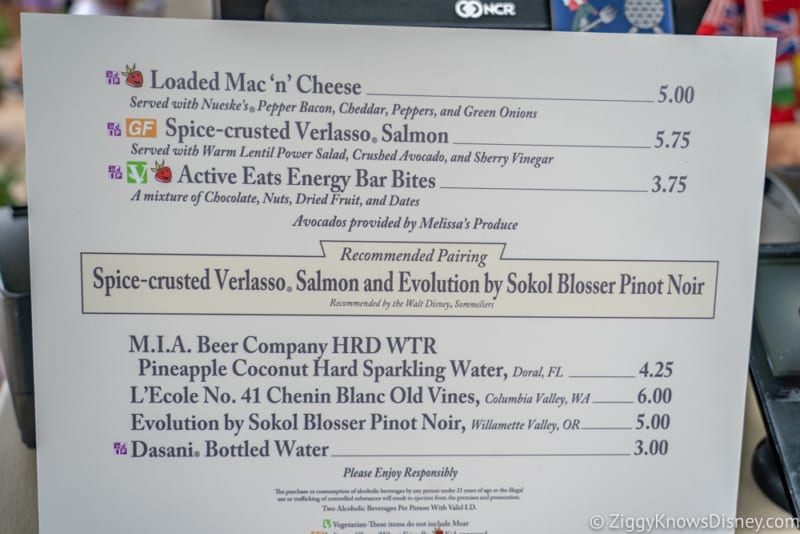 Food:
Loaded Mac 'n' Cheese with Nueske's® Pepper Bacon, Cheddar Cheese, Peppers and Green Onions (KA) ($5.00)
Spice-crusted Verlasso® Salmon with Warm Lentil Power Salad, Crushed Avocado and Sherry Vinegar (GF) ($5.75)
Active Eats Energy Bar Bites: a mixture of Chocolate, Nuts, Dried Fruit and Dates (V) (KA) ($3.75)
Beverages:
M.I.A. Beer Company HRD WTR Pineapple Coconut Hard Sparkling Water, Doral, FL ($4.25)
L'Ecole No. 41 Chenin Blanc Old Vines, Columbia Valley, WA ($6.00)
Evolution by Sokol Blosser Pinot Noir, Willamette Valley, OR ($5.00)
Menu Review:
Loaded Mac 'n' Cheese ($5.00):
So this used to be at the Farm Fresh booth in World Showcase, but last year it was moved over to Active Eats.  We used to love it, but even last year the taste had changed and the portion size shrunk wayyy down.  I didn't think it was possible but this year was even smaller.  You really want to like it considering it has tons of cheese and bacon, but again the taste just wasn't that strong and it was just mildly good.  There are better mac and cheeses elsewhere at the Food and Wine Festival so it's a skip for me.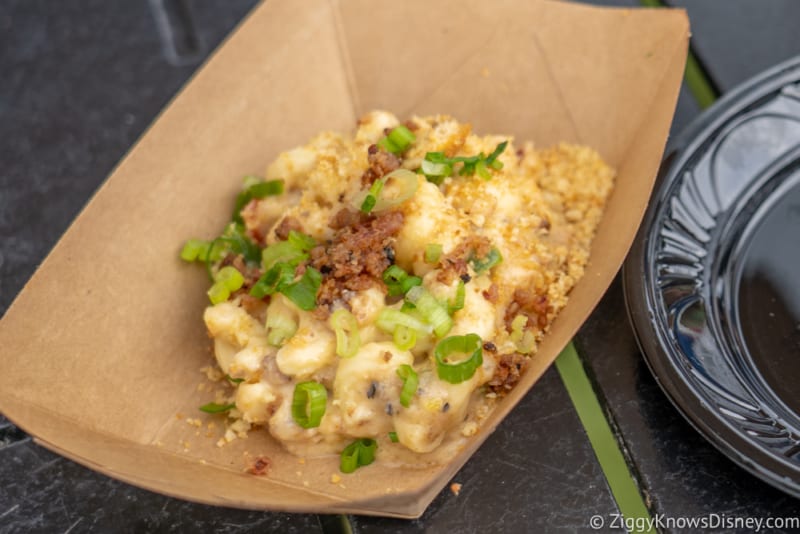 Spice-crusted Verlasso® Salmon ($5.75):
Unlike the Loaded Mac and Cheese, I'd come back again for the Spice-crusted Verlasso Salmon any day of the week!  The fish itself was not a huge portion, but it was very moist and full of flavor.  I really like the seasoned exterior and the contrast of textures.  Not easy to cook fish like this for thousands of people and they do an excellent job!  I think last year's version was a bit better because I'm partial to the chimichurri sauce, but anyone who likes avocado will love this topping, and the lentils were good too, a bit crunchy.  Excellent option and one of the best fish dishes at the festival.

Active Eats Energy Bar Bites ($3.75):
The Active Eats Energy Bar Bites are a big upgrade over last year's dessert and are like two dense brownies.  They are very rich and chocolaty, and full of nuts.  You can also taste the sweetness of the dates inside which i really liked.  The shaved coconut on top is a nice touch and my favorite part was the raspberry sauce to dip them in.  I wish there was a little more of it because I love the combo of chocolate and raspberry.  Overall a solid new choice, just make sure you have something to drink because they are rich tasting.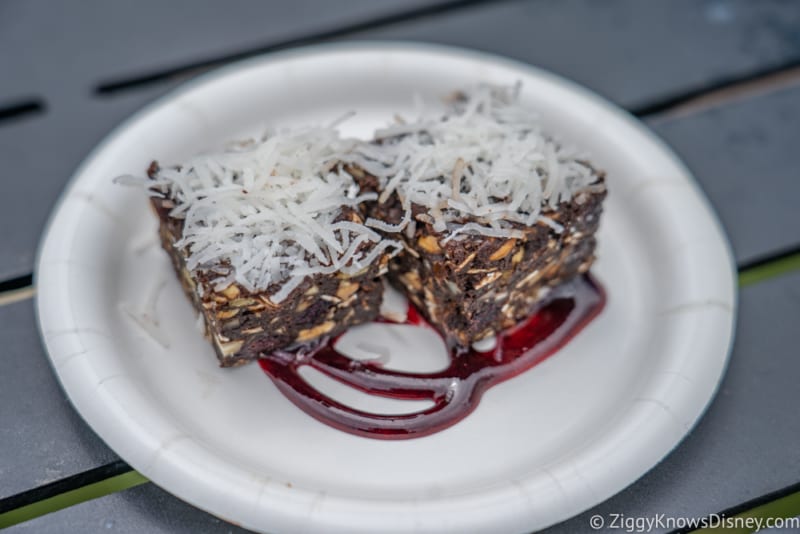 M.I.A. Beer Company HRD WTR Pineapple Coconut Hard Sparkling Water ($4.25):
I wasn't too thrilled with the Pineapple Coconut Hard Sparkling Water.  It tasted like I was drinking a mini seltzer for $4.25.  I could taste the coconut in there for sure, but it didn't seem like there was any alcohol at all.  Overpriced and not really having much taste just doesn't do it for me…
 
Booth Summary and Grade:
Overall I liked the Active Eats marketplace this year.  I liked the change in dessert to the Active Eats Energy Bars, thought they were real solid.  I loved the Salmon as usual, even though last years's was a tad better.  Still not a fan of their Mac and Cheese which is a shame because the dish has so much potential and was easily one of the best sellers on the first day.  I'm boosting up the grade just a little from last year, still with a lot of room for improvement.
If you have to get just one thing:

Spice Crusted Verlasso Salmon



Active Eats Review

Overall Grade -

7.5/10
I want you to be able to have the best info on the Festival so you have a great time and don't waste your time!  Take a look at all of my 2018 Epcot Food and Wine articles including:
Your Thoughts:
I want to know what you think about the Active Eats Review at the 2018 Epcot Food and Wine Festival…
Which is your favorite item?
Which do you still want to try?
Let us know in the comments section below!
If you enjoyed this article, as always I appreciate it if you'd share it with others via social media.  I work hard at making this website into a useful resource for you and your family to plan your visit to the Disney Parks and I hope it can help you! Thanks 🙂
---
---